MiLady 3D3N
CLOSE
View More Thumbnails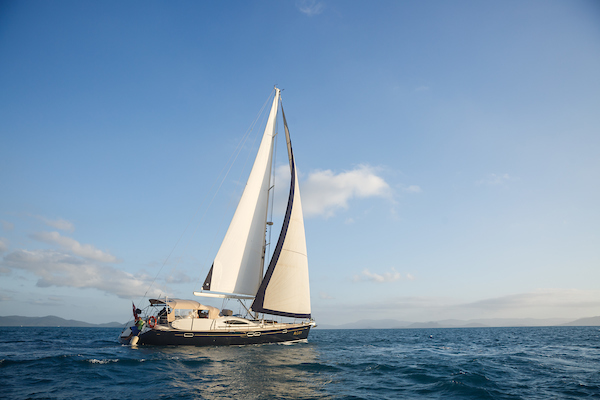 Loading...
Departure Times
Departs: 3:30pm - Friday
Returns:
12:00pm - Monday
Departure Point: Airlie Beach
Pricing Options
RRP $1250

$1179 AUD / Person
- Private Double Cabin with Ensuite ($2358 Total)
(Between: 01 Oct 2018 and 31 Mar 2022)
RRP $1250

$1179 AUD / Person
- Private Twin Cabin with Ensuite ($2358 Total)
(Between: 01 Oct 2018 and 31 Mar 2022)
RRP $1450

$1379 AUD / Person
- Private Master Cabin with Ensuite ($2758 Total)
(Between: 01 Oct 2018 and 31 Mar 2022)
RRP $1200

$1079 AUD / Person
- Private Quad Cabin with Ensuite ($4316 Total)
(Between: 01 Oct 2017 and 31 Mar 2022)
Sail around the stunning Whitsundays on board MiLady for an unforgettable experience in one of the most beautiful parts of Australia!
Sail for 3 days and 3 nights and explore all the best parts of the Whitsundays
Only 6 guests per tour for an intimate experience where you can escape the crowds!
Enjoy all the comforts of home on board MiLady
Visit Whitehaven Beach, Hill Inlet Lookout and fringing reefs of the Whitsundays for an extended time during your lengthy tour!
Hop on board the trip of a lifetime and enjoy 3 days in paradise with plenty of time to relax, explore and more!

Clear your schedule and jump aboard MiLady for a memorable trip filled with quality food, pristine snorkelling, and glistening beauty of Whitehaven Beach and Hill Inlet Lookout. With a long tradition of sailing, including winning the Southern Ionian Regatta, MiLady proves she is built for speed and power, without compromising comfort.
---
Highlights & Features
Small group sailing tour
Spacious cabins with ensuites
Fully air-conditioned 54ft yacht
Newest commercial vessel in the area
Snorkel the Great Barrier Reef Marine Park
Visit Whitehaven Beach and Hill Inlet Lookout
All snorkelling equipment provided
Gourmet meals freshly prepared on board
Electric winches for fast cruise sailing
Authentic sailing experience
Stand-up paddleboards
Licensed vessel (no BYO)

---
Important Information:
MiLady also offers a 2 Day, 2 Night tour
A shark shield antenna has been installed for passenger safety while snorkelling. If you have any medical conditions, please check with us before booking to make sure this tour is suitable for you.
Sample Itinerary
Whitehaven Beach
Being riddled with undefinable beauty, Whitehaven Beach on Whitsunday Island is widely known as the best beach in Australia (if not the world!). Travellers come from all corners of the globe to set foot in the famous 7 kilometre stretch of pure white silica sand enriched with turquoise waters and playful wildlife.

Hill Inlet Lookout
Always unique and ever changing, the swirling sands of Hill Inlet Lookout must be seen to be believed. Venture to the lookout point above Whitehaven Beach and Hill Inlet and absorb the amazement of the sands below. Moving with each passing moment, they create a masterpiece of aqua, azure, topaz and white as the colours of the ocean and silica sands blend together for a truly magical experience.

Snorkelling
Leap into the unknown as you snorkel in the Whitsundays! Your once-in-a-lifetime experience will begin as you are suited up with gear and brought to one of the many flourishing coral reefs around the islands, where you will get to get in and greet the world that awaits below. Teeming full of life and brimming with colour, the reefs in the Whitsundays are unlike anywhere else in the world and will give you a feeling and experience unlike any other! Keep an eye out for Maori Wrasse, sea turtles, stingrays, clownfish, parrotfish and more - there is so much to see, you won't want to miss a thing.

Layout
Private double cabin: One double bed in a private cabin, with ensuite bathroom.
Private twin cabin: Two single beds in a private cabin, with ensuite bathroom.
Private master cabin: One queen bed in a private cabin, with ensuite bathroom.
Private quad cabin: One queen bed and two single beds in a private cabin, with two ensuite bathrooms.
More Information
What To Bring
Please a hat and sunscreen, money to purchase drinks onboard, a rain jacket during summer months (Jan-April) and warmer clothes during winter months (June-September).
What's Included
Morning tea
Delicious Lunch
Afternoon tea
Coffee and tea
Chilled water
Snorkelling equipment
Marine Park fees and National Park fees
Stinger/wet suits
What's Extra
Licensed vessel (no BYO). You can purchase soft drinks and alcoholic beverages on board.
Excess luggage can be stored at several places in town including most boat check-in offices, most hostels, your pre/post tour accommodation, or at Airlie Beach Bag Storage. Most charge between $5-15pp for the duration of your trip.
Terms and Conditions
---
Important Information:
This is a water-based activity, for safety reasons ALL passengers must be able to swim and speak fluent English.
A Shark Shield antenna has been installed on this vessel. Anyone with a pacemaker, who is pregnant, or has a health condition could be affected by the electric field and should not use the device. Some examples of health conditions include:
Heart disease
A history of heart problems
Peripheral vascular decease
Stroke
A history of fainting
A history of epilepsy
Lung disease
This device is attached to the vessel to protect guests while snorkeling. If you are unable to use this device, you will not be able to partake in this tour's snorkelling component. Please contact us before booking if you have any concerns.
---
Your Responsibilities:
Please advise us before booking if any passengers are under 18 years old to ensure this is the appropriate trip.
You must reconfirm all booked tours prior to travel as specified on your voucher. If applicable, notes such as dietary requirements, pick-up locations and additional fees should also be confirmed at this time. Reconfirmations cannot be actioned through Sailing Whitsundays/Mr Travel, and must be done so directly through the Service Operator as specified on each ticket.
It is your responsibility to notify us of ticket discrepancies. Please read through the details on your voucher thoroughly to ensure all details such as passenger names, ages and dates of travel on vouchers are correct.
It is the responsibility of all passengers travelling to advise both your travel agent at the time of booking and vessel check-in agent before boarding of any medical conditions including food allergies you may suffer from.
You need to allow adequate time to check-in prior to the specified departure time.
---
Prices/Extra Costs:
All prices are stated in Australian dollars and include GST. Surcharges over peak holiday seasons may apply.
The Service Operator reserves the right to alter prices and extra costs. Extra costs may include EMC fees, Stingersuit/Wetsuit Hire, Luggage Storage, Insurance, Linen Hire, National Park Fees, Fuel Levies, Dietary Fees, etc. Bonds may also apply.
We will also endeavour to communicate these extra costs with you at the time of booking, and on your ticket. However, it is your responsibility to confirm which (if any) additional costs apply with each Service Operator upon reconfirming your trip.
---
Travel Risk/Insurance:
It should be noted that adventure travel involves risk. Whilst we make every effort to safeguard clients, we cannot be responsible for personal injury or loss due to the actions of our clients which are beyond our control. We highly recommend that all clients have travel insurance covering illness, injury, loss or damage to personal belongings and not being able to travel on the confirmed date of departure. You should also ensure your travel insurance will cover special circumstances including weather events preventing guests from travelling to their tour departure destination and cancelled flights due to unforeseen circumstances.
---
Merchant Fees:
Please be aware operators pass on credit card merchant fees so there is a non-refundable 1% surcharge for VISA and MASTERCARD card purchases.
---
Other:
Terms and Conditions (including the Cancellation Policy) are subject to change. The most recent versions can be found online on the relevant product pages.
All ticket/voucher reissues attract a $20 administration fee.
---
Cancellations
---
Client Cancellations:
No shows or client cancellations made at anytime forfeit 100% of the total ticket price.
Transfers between tours can be made at the suppliers discretion, however, it should be noted that supplier fees may apply. Tour transfers also incur a $20 administration fee.
It is compulsory that all cancellation requests are in writing and sent via email to admin@mr-travel.com. Cancellations attempted via online chat or phone will not be actioned.
---
Supplier Cancellations:
The Service Operator reserves the right to alter prices, alter itineraries, apply a fuel surcharge, cancel departures, arrange alternative transport and vary itineraries and services if necessary.
All departures and itineraries are subject to weather. Tours may be changed or cancelled for any reason (including not meeting minimum numbers) at the discretion of the Service Operator. If the Service Operator has to cancel the trip or activity (prior to departure) and we cannot offer a suitable alternative, then a refund will be given minus a 20% administration fee and any associated card fees. We strongly recommend that you have travel insurance, especially during the wet season.
In the unlikely event of your trip being cancelled or stood down, all guest communication is required to go through our Online Store via telephone or email. While there is a Sailing Whitsundays retail outlet located Airlie Beach, please be aware that they operate as a separate entity and are unable to access reservations made by the Mr Travel online department.
---
Refunds:
All refunds are in Australian Dollars and must be made to the card of payment. Sailing Whitsundays/Mr Travel is not liable for exchange rate fluctuations or fees, or any other merchant/bank fees associated with domestic and/or international transactions.
Where a full refund is applicable, there is the option to transfer the whole cost of the tour to another tour or "Credit" to avoid the administration fee. A transfer fee of $20 will apply.
You will be emailed confirmation once the refund has been processed. Once the refund has been processed, it may still take time for the banks to clear the amount. Please allow 7-10 business days for the funds to clear into Australian accounts and up to 21 business days for international accounts.
---
Accountability/Misconduct:
All Service Operators have the right to provide client feedback and to cancel bookings based off of feedback from other Service Operators.
Please enjoy your travel experience in a kind and responsible manner.
Sailing Whitsundays/Mr Travel will treat this as any normal client cancellation and therefore the cancellation fees stated in the Client Cancellation Policy will apply.
---
Thank you for booking with our East-Coast travel experts here at Mr Travel/Sailing Whitsundays. If you would like any further advice, assistance in arranging accommodation, transfers or additional tours please get in touch.
---
"Our three-night sail on MiLady was an absolute highlight of our time in Australia. We debated between the two- and three-night trips, and I'm so glad we did the extra night. What a treat to have the luxury of time in the Whitsunday Islands! We experienced it all aboard MiLady: relaxing tranquility, the stunning scenery, fun snorkeling, exhilarating sailing, luxurious beaches, and five-star food! Grant was our skipper, and we were lucky enough to have both Vera and Lindsay aboard as well. Vera was knowledgeable about the geography and natural history of the islands, and spent a lot of time with us looking at maps and fish charts. She led our snorkeling trips and I was amazed at all that we saw. She also made sure we never got hungry! I don't know how she managed to create such amazing meals from the small galley, but we happily ate it all! The morning we spent at Whitehaven Beach was unbelievable. We anchored on the other side of the island and hiked to Hill Inlet Lookout. The views were as breathtaking and unreal as expected! We then went down to the beach, and Lindsay took us to a secluded side beach. There were a couple of other people on the beach who left about half an hour after we arrived, and we then had the beach to ourselves for a good hour before anyone else came. I'm sure by early afternoon there were dozens of folks there, but the magic of MiLady is that we had moved on by the time most of the the day boats had arrived. The wildlife watching was terrific: we saw birds, whales, dolphins, and turtles from the boat, and of course all kinds of fish and sea life while we were snorkeling. We were in the master cabin, and it was very comfortable. I appreciated the en suite bathroom and being able to take a hot shower after snorkeling. The sun deck was a comfy spot to read, watch for whales and other wildlife, or just enjoy the sunset. We had amazing weather so we generally ate up there too. From waking up to the sounds the ocean, to coffee on the deck, to top-notch food, to snorkeling and wildlife watching and reading on the deck and doing nothing but watching the islands go by--wow, what an amazing trip!"
Leanne Froud
"How does one do justice in a few words to the experience of sailing in paradise . An elegant mature Yacht well appointed, but above all else it's always about the crew. Kieren and Vera were so warm and gracious from the very start. Every moment with them ,whether in conversation or just hanging out with the breeze in our face and a cold drink in our hand was the stuff you dream of. The locations Kieren took us too, made us feel that he was sharing his own secret islands that no one else had discovered . Every meal Vera prepared was beautifully presented , simple but delicious ( and we are foodies). If you want to experience something few ever do ,than spend a few days on Mi Lady and if your lucky enough to get Kieran and Vera than just lie back and get ready to experience your fantasy becoming reality ."
Daryl Kinnane
"The most AMAZING experience! - Everything about this trip was fantastic from the skipper Kieran to the deckhands Luke and Julianna. Amazing wildlife experiences and amazing scenery. This trip is a must if you are in the Whitsundays. Thank you so much for a trip of a lifetime!!"
Elouise Edwards