MiLady 3D3N
CLOSE
View More Thumbnails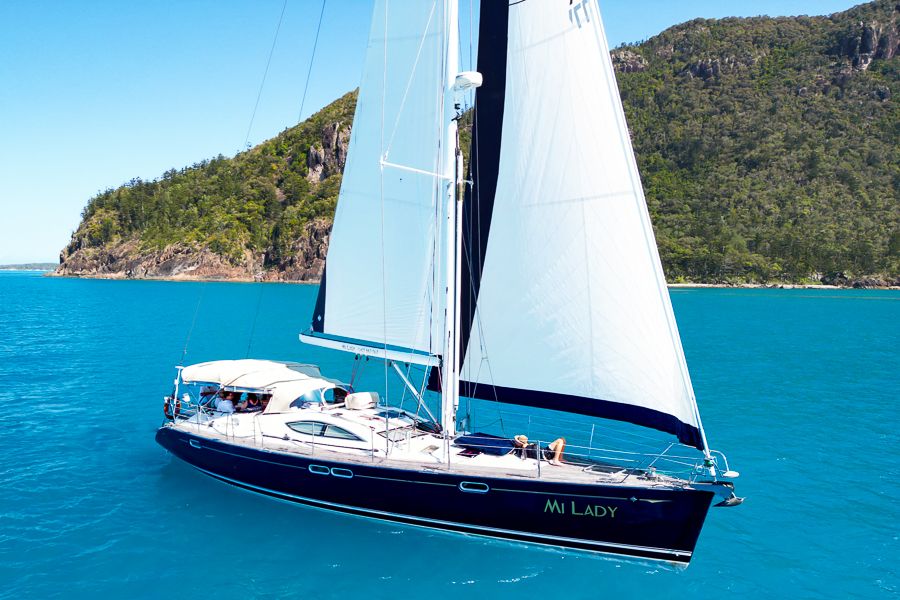 Loading...
Departure Times
Departs: 3:30pm - Friday
Returns:
12:00pm - Monday
Departure Point: Coral Sea Marina, Airlie Beach
Pricing Options
$3025 AUD / Cabin
- Private Double Cabin with Ensuite
(Between: 01 Sep 2023 and 01 Sep 2024)
$3025 AUD / Cabin
- Private Twin Cabin with Ensuite
(Between: 01 Sep 2023 and 01 Sep 2024)
$3509 AUD / Cabin
- Private Master Cabin with Ensuite
(Between: 01 Sep 2023 and 01 Sep 2024)
$5808 AUD / Cabin
- Private Quad Cabin with Ensuite
(Between: 01 Sep 2023 and 01 Sep 2024)
Highlights
| | | |
| --- | --- | --- |
| | Hill Inlet Lookout | Great Barrier Reef |
| | SUPs | Snorkelling |
| | | |
Sail around the stunning Whitsundays on board MiLady for an unforgettable experience in one of the most beautiful parts of Australia!
Sail for 3 days and 3 nights and explore all the best parts of the Whitsundays
Only 6 guests per tour for an intimate experience where you can escape the crowds!
Enjoy all the comforts of home on board MiLady
Visit Whitehaven Beach, Hill Inlet Lookout and fringing reefs of the Whitsundays for an extended time during your lengthy tour!
Hop on board the trip of a lifetime and enjoy 3 days in paradise with plenty of time to relax, explore and more!
Reviews
Overall Rating
5.0 / 5.0
Based on 7 reviews
Reviews by our Sailing Whitsundays customers
The skipper and crew were excellent and did their utmost to overcome the challenges posed by the weather and issues that arose with the boat as a result of wet conditions. Food was plentiful and boat comfortably accommodated the 6 guests and crew . Small numbers was a real plus. Highly recommend.
We just completed a 3-day trip in November. Lyle & Katie were impressive! They took great care of us & we had an amazing trip! Milady is such a beautiful vessel. Our cabin was extremely comfortable & the food was fantastic. If I ever make it back I will book again!
Christine Dill
, 23 Nov 22
I thoroughly enjoyed our cruise. Lyle and Katie were terrific!! They made sure we were comfortable, well fed and Lyle was very knowledgeable about the Whitsundays. I would highly recommend this cruise to people. Snorkeling was great and Whitehaven is spectacular.
Awesome experience - amazing itinerary, fab boat, great Skipper and Deckie (Aaron and Daisy) who were also super friendly and very knowledgeable, great food - would highly recommend
Our three-night sail on MiLady was an absolute highlight of our time in Australia. We debated between the two- and three-night trips, and I'm so glad we did the extra night. What a treat to have the luxury of time in the Whitsunday Islands! We experienced it all aboard MiLady: relaxing tranquility, the stunning scenery, fun snorkeling, exhilarating sailing, luxurious beaches, and five-star food! Grant was our skipper, and we were lucky enough to have both Vera and Lindsay aboard as well. Vera was knowledgeable about the geography and natural history of the islands, and spent a lot of time with us looking at maps and fish charts. She led our snorkeling trips and I was amazed at all that we saw. She also made sure we never got hungry! I don't know how she managed to create such amazing meals from the small galley, but we happily ate it all! The morning we spent at Whitehaven Beach was unbelievable. We anchored on the other side of the island and hiked to Hill Inlet Lookout. The views were as breathtaking and unreal as expected! We then went down to the beach, and Lindsay took us to a secluded side beach. There were a couple of other people on the beach who left about half an hour after we arrived, and we then had the beach to ourselves for a good hour before anyone else came. I'm sure by early afternoon there were dozens of folks there, but the magic of MiLady is that we had moved on by the time most of the the day boats had arrived. The wildlife watching was terrific: we saw birds, whales, dolphins, and turtles from the boat, and of course all kinds of fish and sea life while we were snorkeling. We were in the master cabin, and it was very comfortable. I appreciated the en suite bathroom and being able to take a hot shower after snorkeling. The sun deck was a comfy spot to read, watch for whales and other wildlife, or just enjoy the sunset. We had amazing weather so we generally ate up there too. From waking up to the sounds the ocean, to coffee on the deck, to top-notch food, to snorkeling and wildlife watching and reading on the deck and doing nothing but watching the islands go by--wow, what an amazing trip!
How does one do justice in a few words to the experience of sailing in paradise . An elegant mature Yacht well appointed, but above all else it's always about the crew. Kieren and Vera were so warm and gracious from the very start. Every moment with them ,whether in conversation or just hanging out with the breeze in our face and a cold drink in our hand was the stuff you dream of. The locations Kieren took us too, made us feel that he was sharing his own secret islands that no one else had discovered . Every meal Vera prepared was beautifully presented , simple but delicious ( and we are foodies). If you want to experience something few ever do ,than spend a few days on Mi Lady and if your lucky enough to get Kieran and Vera than just lie back and get ready to experience your fantasy becoming reality .
Elouise Edwards
, 28 Oct 19
The most AMAZING experience! - Everything about this trip was fantastic from the skipper Kieran to the deckhands Luke and Julianna. Amazing wildlife experiences and amazing scenery. This trip is a must if you are in the Whitsundays. Thank you so much for a trip of a lifetime!!