Habibi
CLOSE
View More Thumbnails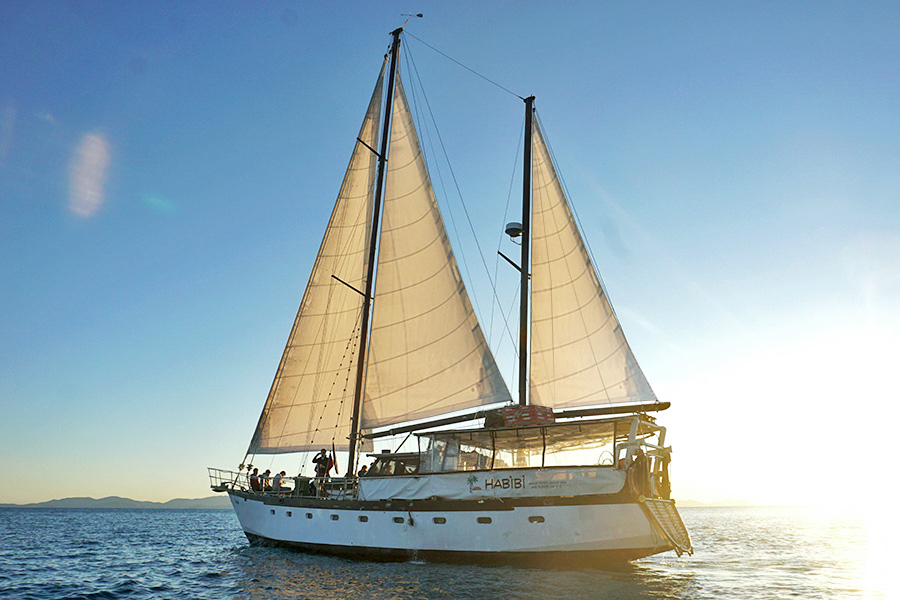 Loading...
Departure Times
Departs: 8:30am - Mon, Wed, Fri
Returns:
4:00pm - Tue, Thu, Sat
Departure Point: Airlie Beach
One of the best best budget-friendly trips, and an unforgettable sailing experience!
Great value for money for those on a budget who are still seeking an awesome experience!
Social, fun trip that has a young crowd and fun crew
This trip is full of sunbathing, swimming, snorkelling and exploring, all while making new friends and having the ultimate Whitsundays experience
---
---
For many years now, Habibi has been the favourite pick among backpackers and students seeking a quality boat trip that fits their budget too! She is a beautifully equipped and appointed sailing vessel that will enhance your Whitsundays sailing experience in every way possible. Explore the amazing marine life over colourful coral reefs at the very best snorkelling locations on this adventure tour and get to see the diversity and beauty of the Great Barrier Reef Marine Park. Guests will also be taken to the unique and famous Whitehaven Beach and Hill Inlet Lookout for some exploring and quality beach time. Back on board, you can also enjoy the spacious decks which provide lots of shaded areas and plenty of seating space for socializing or relaxing. Habibi has something for everyone to enjoy their time in the Whitsundays! Downstairs, you will find spacious cabins and portholes that offer an abundance of natural light, making the bunks even more spacious and comfortable. The entire interior is lined and decorated with rich exotic timbers to enhance the warm nature of the boat.

---
Highlights & Features:
Visit Whitehaven Beach and Hill Inlet Lookout
Budget-friendly and social trip
All meals prepared on board by your awesome crew
Fresh, clean linen provided for all guests
Snorkelling gear and tutorials provided to help you make the most of your time in the water
Alfresco Dining
BYO alcohol and soft drinks
Spacious open plan/dorm style cabins
Enjoy all that the Whitsundays has to offer such as snorkelling, sunbathing, sailing and observing the unique wildlife, without having to empty your pockets.

Sample Itinerary
Show Less
Your 2 day and 1 night sailing tour will take you around the beautiful Whitsunday Islands, hopping from one amazing bay to another calm cove. Prior to leaving the marina, your skipper will brief you and outline the trip agenda based on the projected weather and tidal conditions. Our many destinations include Blue Pearl Bay, known for its diverse marine life, Langford Reef, where you walk along ...
Read More
Your 2 day and 1 night sailing tour will take you around the beautiful Whitsunday Islands, hopping from one amazing bay to another calm cove. Prior to leaving the marina, your skipper will brief you and outline the trip agenda based on the projected weather and tidal conditions. Our many destinations include Blue Pearl Bay, known for its diverse marine life, Langford Reef, where you walk along your own secluded sand bar at low tides; and Nara Inlet, where you can see waterfalls and aboriginal cave paintings. You will also get to visit the most incredible beach in the world, Whitehaven Beach and the equally famous Hill Inlet Lookout!
Whitehaven Beach and Hill Inlet Lookout
Stretching more than 7kms and formed from pure silica sand, getting you to Whitehaven Beach is one of your crew's prime focuses. Take a quiet stroll along the waterline, play a game of beach cricket or soccer with your fellow passengers or simply sit back and soak up the sun! Get ready to be blown away from the spectacular view of Whitehaven from Hill Inlet Lookout. The short bush walk to get there offers you the perfect chance to stretch your legs and enjoy the flora and fauna up close.
Snorkelling
When you aren't at Whitehaven Beach or sailing to your next destination, your crew will be encouraging you to get in the water to observe the amazing marine life at the stunning snorkelling locations around the Whitsunday Islands. You will have many opportunities to snorkel the Great Barrier Reef Park, and rest assured we will get you to all the talked about hot-spots in the area! If you have never snorkelled before or you are a non-swimmer, our crew will happily provide you with a tutorial and offer you flotation devises to put you at ease.
Evenings on Habibi are relaxed and social and are a great time to grab a drink after a hard day exploring or to simply stargaze on the decks. You are welcome to bring your own alcohol on board, eskies are provided to keep your drinks nice and cool.

More Information
Show Less
What To Bring
Please only bring a small soft overnight bag without any zippers (ie. a reusable shopping bag). A zipless souvenir bag can be purchased at the boat's check-in office for a few dollars....
Read More
What To Bring
Please only bring a small soft overnight bag without any zippers (ie. a reusable shopping bag). A zipless souvenir bag can be purchased at the boat's check-in office for a few dollars. Ensure you pack clothes, a hat, swim-wear, beach towel, sunscreen 30+, warm pullover for the evenings (seasonal) and cash/card for onboard purchases. Please feel free to bring on board a reusable water bottle and/or additional snacks.
Excess luggage can be stored at several places in town, for example, your boat check-in office or at your accommodation, and they usually charge between $5-10pp for the whole trip.
What's Included
Skipper
Crew
Meal
Linen
Wetsuit hire
Snorkelling equipment
Marine Park fees
What's Extra
BYO soft drinks and alcohol (no glass or red wine)
Terms and Conditions
---
Important Information:
This is a water-based activity, for safety reasons ALL passengers must be able to swim and speak fluent English.
---
Your Responsibilities:
Please advise us before booking if any passengers are under 18 years old to ensure this is the appropriate trip.
You must reconfirm all booked tours prior to travel as specified on your voucher. If applicable, notes such as dietary requirements, pick-up locations and additional fees should also be confirmed at this time. Reconfirmations cannot be actioned through Sailing Whitsundays/Mr Travel, and must be done so directly through the Service Operator as specified on each ticket.
It is your responsibility to notify us of ticket discrepancies. Please read through the details on your voucher thoroughly to ensure all details such as passenger names, ages and dates of travel on vouchers are correct.
It is the responsibility of all passengers travelling to advise both your travel agent at the time of booking and vessel check-in agent before boarding of any medical conditions including food allergies you may suffer from.
You need to allow adequate time to check-in prior to the specified departure time.
---
Prices/Extra Costs:
All prices are stated in Australian dollars and include GST. Surcharges over peak holiday seasons may apply.
The Service Operator reserves the right to alter prices and extra costs. Extra costs may include EMC fees, Stingersuit/Wetsuit Hire, Luggage Storage, Insurance, Linen Hire, National Park Fees, Fuel Levies, Dietary Fees, etc. Bonds may also apply.
We will also endeavour to communicate these extra costs with you at the time of booking, and on your ticket. However, it is your responsibility to confirm which (if any) additional costs apply with each Service Operator upon reconfirming your trip.
---
Travel Risk/Insurance:
It should be noted that adventure travel involves risk. Whilst we make every effort to safeguard clients, we cannot be responsible for personal injury or loss due to the actions of our clients which are beyond our control. We highly recommend that all clients have travel insurance covering illness, injury, loss or damage to personal belongings and not being able to travel on the confirmed date of departure. You should also ensure your travel insurance will cover special circumstances including weather events preventing guests from travelling to their tour departure destination and cancelled flights due to unforeseen circumstances.
---
Merchant Fees:
Please be aware operators pass on credit card merchant fees so there is a non-refundable 1% surcharge for VISA and MASTERCARD card purchases.
---
Other:
Terms and Conditions (including the Cancellation Policy) are subject to change. The most recent versions can be found online on the relevant product pages.
All ticket/voucher reissues attract a $20 administration fee.
---
Open Date Vouchers / Gift Certificate:
Shipping Costs are in addition to the ticket price and will be added at check-out. Shipping costs are non-refundable and do not makeup part of the ticket value.
E-Vouchers incur no shipping fees.

You have 5 years to use the value of the voucher. Seasonal Price Rises will apply if travelling out the current seasons pricing. Vouchers can be exchanged for free up to the full value of the voucher excluding credit card fees and charges.
Cancellations
---
Client Cancellations:
All cancellations forfeit 25% of the recommended retail price (RRP) - not the discounted/sale price. No shows or client cancellations made within 21 days of departure forfeit 100% of the total ticket price.
Transfers between tours can be made at the suppliers discretion, however, it should be noted that supplier fees may apply. Tour transfers also incur a $20 administration fee.
It is compulsory that all cancellation requests are in writing and sent via email to admin@mr-travel.com. Cancellations attempted via online chat or phone will not be actioned.
---
Supplier Cancellations:
The Service Operator reserves the right to alter prices, alter itineraries, apply a fuel surcharge, cancel departures, arrange alternative transport and vary itineraries and services if necessary.
All departures and itineraries are subject to weather. Tours may be changed or cancelled for any reason at the discretion of the Service Operator. If the Service Operator has to cancel the trip or activity (prior to departure) and we cannot offer a suitable alternative, then a refund will be given minus an administration fee equal to 20% of the recommended retail price and any associated card fees. We strongly recommend that you have travel insurance, especially during the wet season.
In the unlikely event of your trip being cancelled or stood down, all guest communication is required to go through our Online Store via telephone or email. While there is a Sailing Whitsundays retail outlet located Airlie Beach, please be aware that they operate as a separate entity and are unable to access reservations made by the Mr Travel online department.
---
Refunds:
All refunds are in Australian Dollars and must be made to the card of payment. Sailing Whitsundays/Mr Travel is not liable for exchange rate fluctuations or fees, or any other merchant/bank fees associated with domestic and/or international transactions.
Where a full refund is applicable, there is the option to transfer the whole cost of the tour to another tour or "Credit" to avoid the administration fee. A transfer fee of $20 will apply.
You will be emailed confirmation once the refund has been processed. Once the refund has been processed, it may still take time for the banks to clear the amount. Please allow 7-10 business days for the funds to clear into Australian accounts and up to 21 business days for international accounts.
---
Accountability/Misconduct:
All Service Operators have the right to provide client feedback and to cancel bookings based off of feedback from other Service Operators.
Please enjoy your travel experience in a kind and responsible manner.
Sailing Whitsundays/Mr Travel will treat this as any normal client cancellation and therefore the cancellation fees stated in the Client Cancellation Policy will apply.
---
Thank you for booking with our East-Coast travel experts here at Mr Travel/Sailing Whitsundays. If you would like any further advice, assistance in arranging accommodation, transfers or additional tours please get in touch.
Reviews
Overall Rating
5.0 / 5.0
Based on 107 reviews
Reviews by our Sailing Whitsundays customers
Darcie Raleigh
, 21 Jun 18
I have just gotten off habibi and i had the most amazing time! The crew made it so much fun. We did 2 snorkels and spent all day on Whitehaven beach exploring, drinking and playing cricket. Returning home with the best memories and a little bit of sunburn. Thankyou for an unforgettable weekend.
Thank you to the crew - you are great guys! And thank you for the real story behind Finding Nemo!
Mike and Georgi
, 18 Mar 18
Cheers guys for an amazing trip! Had fun from start to finish!
Vivienne, Carlo and Helena
, 25 Feb 18
Thank you for having us! We had a great time... We really enjoyed it and the amazing meals! We hope to see you again!
Had an unforgettable time with an amazing encounter with turtles. Whitehaven was beautiful and we had the best crew. It was a irreplaceable experience!
We had a great time on Habibi! Dan, Ray and Bek were great and made us feel like we were part of the crew. Thanks for the great trip!
This trip was great for the price. The food was good and they catered for vegetarians. The crew was great and we all had a few drinks at night and had a great time. We visited beautiful Whitehaven Beach and got there quite early in the morning, before the majority of other boats got there. Habibi is a good option for backpackers looking to save money or to visit the islands at a low cost.
This has been an awesome experience, glad my first reef snorkel were out here because it was gorgeous and everyone was super helpful in making sure everyone had a good time! Would go again in a heartbeat. Thanks for everything.
I loved my stay on Habibi, the crew was super friendly and helpful, food was great and the places visited were fantastic. Glad I visited during the warm season.
Thank you so much for this experience! Very very good crew! Delicious Meals, always smile, assistance... Thank you, you did your job so well!! I will definitely recommend your Habibi to the other backpackers. Thank you !
David - Sweden
, 28 Jan 15
Thanks for a great experience! Awesome places with the best crew. A big plus for the structure of the boat and infinity of the food. I would totally recommend this tour.
AGAIN AGAIN!!! Class time, thanks guys!
Great time here, Cool crew and great people on board. Than you for this awesome time here
Had an amazing 3 days on Habibi, seen some unreal sight, loved the sea turtles. Jam and Grant have been amazing and so friendly, loved every minute and had an unforgettable time. Would recommend Habibi to anyone.
What an amazing few days! I love the boat, its nice to see a more traditional looking boat, plus it makes you feel like a pirate! Loved the staff, all so friendly and helpful. They made you feel at him and get everyone involved. There cooking is amazing, top food! Couldnt have asked for a better trip around the islands. I will certainly be recommending Habibi to everyone who comes here. A memory I wont forget!
Thanks for a fantastic sailing trip, the crew was amazing and the food great. Nothing to complain about.
The trip was even better than I expected. Great staff, great food, great place. Look forward to coming back!
Sick food, Sick people, sick time! Plus I saw a turtle! Need I say more?! Much love Habibi x
Spag bol was bangin! Thanks for the trip, a lot more than expected. Great staff, great food. I LIKE THE BOAT cheers Habbi x
Such a great trip! Beautiful weather, great crew and an experience I will always remember. The food was awesome and the drinking game was probably the funniest game I have ever played. Thanks
The best thing about this trip was that it felt most like sailing with good friends. It was genuine, cosy and I really felt comfortable the whole time. You guys are amazing and so nice, funny, helpful and caring that it is hard to be in a bad mood around you guys. Thank you for everything!
Thanks very much for an incredible 3 days guys. the trip was a lot more than I expected. Highlights were the super friendly and entertaining staff, plus the food was amazing, I will definitely recommend HABIBI to others. Thanks Habibi
It was a great boat trip with friendly staff, good food and beautiful stops along the way. My favourite part of the trip was seeing George haha
Was a fab trip with such friendly + welcoming staff. the stop offs were beautiful, the food was amazing & the official Habibi Game was hilarious. George was a massive highlight of the trip.... Thank you Guys !!xx
Doro, Lukas, Leon and Kristin
, 11 Mar 14
It was a great trip, thanks a lot! The food was very good and the snorkelling and the jumping out of the ship as well.
I really had a great time on this boat, everyone was so nice to me these couple of days was awesome, thx a lot again!!
Loved the trip. Good group of people. Great food. Great staff. Highlight was Whitehaven beach, great that we were the first group there. Thanks for a lovely time.
Leonie and Meike
, 04 Mar 14
Thanks for the trip! It was very much fun! Especially snorkelling
Michael & Evelyn.
, 04 Mar 14
Great trip, beautiful beaches and a ;opt of fun! Thanks to the captain and his crew!! (The pasta bolognaise was awesome!)
Thanks a lot for am awesome Whitsundays experience guys! We won't forget this trip, the people and the great food!
Stacey and Conor
, 25 Feb 14
Great trip, great crew! Snorkelling was amazing and so was the food!
Great trip, had the time of my like. Mankini is not just a piece of swimwear its a way of like!
Had a great time - great people, great food and of course great goon! Thanks to Ryan and Richie for a good laugh
Had a great time! Saw the biggest fish & stroked a TURTLE!! God craic. Big Thanks
Best way to see the Whitsundays! Amazing crew! Ryan and Richie grand craic thanks a million!
Ariane, Annika & Nina
, 12 Feb 14
Thank you for this great trip. We had an amazing time. Especially the Whitehaven beach was simply gorgeous! We really enjoyed it!
Had a fab time on Habibi. Definetely favourite time in OZ so far. Thank you all so much. Food was amazing and loads of chats and giggles with new friends, made it even better. Laura xxx
This is the best trip I have ever done! So many funny and nice people, thank you for he good food, the plaecvs you showed us and the amazing time! I really enjoyed it!
Thank you Rachel, Greg and Ryan for this amazing trip. Especially Whitehaven beach was beautiful and I enjoyed the time on Habibi very much.
Thanks a lot for this trip and for being the first group on Whitehaven beach. Awesome places, snorkelling , food and crew. See ya!
Thanks for everything, it was really nice trip, and it was the best day of the year in Australia. Whitsundays are just awesome and you are actually really nice crew. Thanks again.
Julie - France
, 21 Jan 14
Thank you very much for this amazing trip during these 2 days! Ill never forget it!
Seriously it was a crazy trip thanks a lot. Ill never forget the Whitehaven beach it was really nice. Thanks to all the crew I saw a lot of crazy things during the snorkelling, thank you very much.
Been amazed. Awesome trip, great crew and food. Thank you I had a really nice time.
Alestodo - Brazil
, 08 Jan 14
Great time! One of the most beautiful beaches I have ever seen The crew is the best! Thank guys!
It was an amazing trip! I had a good time thanks for all.
Thanks for this gorgeous trip! Saw some nice animals and one of the best spots in the world. I won't ever forget it!!! Thanks mates!
A real and complete sea experience, in one of the most beautiful spots in the worl. Great how many onboard! (Next time, the Italians wil take care of the Bolognese :)) Michael
Fernanda - Brazil
, 16 Dec 13
Awesome experience. It was great to be here! I could notice that the crew really enjoyed and put a lot of effort in what they do. Food was great. Really nice time!
It was a truly great experience! I only wish I had more time to explore Whitsunday Islands
Cristian - Argentina
, 16 Dec 13
AMAZING SAILING TRIP!! Great Crew and beautiful land. Thanks a lot!! Keep in making it so fun!!
Fernanda, Brazil
, 15 Dec 13
Awesome experience. It was great to be here! I could notice that the crew really enjoyed and pit a lot of effort into what they do. Food was great, really nice time!
Great fun - Lovely group Love the big fish :) Thanks a million
Thanks for guiding us to these amazing spots
Nice trip, great team, amazing spots, Thank you
Still impressed of this beautiful nature. Thanks for this amazing experience! Nice to meet all these nice people.
An amazing trip around the Whitsunday Island and the reefs and nice people!
Really good boat with lots of room! Amazing nature and seeing all the turtles was awesome. I hope we all meet up in Airlie Beach afterwards.
Great trip! Beautiful nature, nice people & good crew! Worth every dollar
Kate aka Miss Canada
, 21 Oct 13
Amazing trip! Great boat & crew & food I would book the trip again :) Best way to travel around the Whitsundays!!!!
The 5 Nation Girls
, 12 Oct 13
Habibi is an amazing boat, nice crew, great food & we had a really, really good time! The snorkelling spots were awesome, all in all totally worth it :) xoxo The 5-Nation-Girls
Irish Leprechauns
, 01 Oct 13
Top of the morning to ya! Brilliant and beautiful experience, get to do and see it all from sailing to snorkelling to sunsets! SUPER. Accommodating crew who are fun and informative they definitely make sure you don't miss a thing! Beautiful plain sailing.. oh yeah! and the best bolognaise sauce ever! Thanks Habibi you little Irish Leprechauns.
This is my first time to voyage in my life go sailing. Thank you Habibi give me the first :) Habibi is really interesting. Let me so happy. I won't forget the happy memories! Thanks shipmaster and seafarers! Thanks for the ship's friends! We shared with the good memory. 2 Chinese Girls. I miss you
What an experience! Great crew, true blue Aussie skipper and crazy kiwi made the trip entertaining. Well fed always and totally awesome, highly recommended. Will be back again end of year, thanks guys!
It was a 5 star trip! I really enjoyed everything of this trip. The crew was pretty entertaining and I would totally recommend this trip to everyone else. Greg & Ryan did a very good job. A 1000 thanks
Awesome Aussie and kiwi crew with an amazing team! It was a great experience. Nice meals, good snorkelling a lot of beautiful fishes and coral and a marvellous beach! Habibi trip highly recommended, thanks lot guys.
I never was sailing before but due to you Ill go again. I had so much fun. It was amazing trip which Ill never forget. I only can say nice boat nice guys wonderful trip. Hope you enjoyed it too. Wish you all the best.
Thank you for a really awesome trip! I had a brilliant time sailing the Whitsundays! The group was great and everyone was so enthusiastic! One of my favourite trips in Australia. Thanks for the memories!
Just wanted to say thank you to Sailing Whitsundays and to phil for giving us a wonderful three days on Habibi it was a great bunch of people and I had a really good time with my brother, thanks again guys
Thanks for a great tour over Easter, we were lucky with the weather, really do hope to come back again sometimne the Whistundays are a beautiful place to visit.
Great trip on Habibi. One of the cheaper boats but definately one of the most fun! I will miss you all!
I was recomended On Ice! i loved it. We went paddle boarding and windsurfing. So much fun!
We saw whales on board Enid! The boat was beautifull and the crew were friendly! great trip.
Loved the cruise and all the activities. The food was awesome and the crew were great. I won't forget this trip!
Chris and niola
, 05 Mar 10
What a trip! loved the sailing, snorkelling and amazing food. The crew outdid themselves.Thanks for everything
Chris and niola
, 05 Mar 10
What a trip! loved the sailing, snorkelling and amazing food. The crew outdid themselves.Thanks for everything
Emma and Peter
, 05 Mar 10
Giles, Mel and Dave, thanks for the past 2 days. We really enjoyed it. (especially ther food) Snorkelling was brilliand too. All the best!
Vincent, Sam Malou
, 05 Mar 10
Dear Captain and the Team! Thanks for all. Very good trip with beautiful places and a very friendly team. Merci beaucoup, au revoir et bonne continuation.
These couple of days have been fantastic! I've had a great time! The snorkelling was amazing! Thanks for good food and good fun!
Anna Maria Sofia and Maggie
, 05 Mar 10
Thank you for these wonderful days! We've had a lot of funu. Good fun, good food. Cheers from Sweden!
Jvanca and Milde
, 05 Mar 10
Dear Habibi, Thanks for the great trip. Habibi the boat that rocks!!!
These were the most amazing days of my life! Thanks for eveything
Groovy Greg, Awesome Aj plus Fuky Fern
, 27 Sep 09
Had a great time! LOve the snorkelling especially crew were lovely and generallt had lots of fun!
The snorkelling was ezcellent. On a scale from 1-10 this trip was 100% excellent.
It was a lovely trip and I enjoyed it! It was great to be at whitehaven beach so early in the morning with out many people. Thanks for all!
Very good cruie, good trip with good staff, good food and goodmusic. Thanks for all!
A grand old adventure. Sailing, snorkelling and star gazing spectacular. Thanks to you all for hosting a majical trip.
Thanks for the trip. I really enjoyed the whithaven beach. All in all it was great!
Thank you so much! I love the Whitsundays! Best beach ever. It was my first time to spend nights on a boat but I enjoyed it. I love Australia.
Thanks so much for a great time. the great barrier reef looks amazing even better than pictures. I had so much fun. Enjoyed snorkelling. Oz is amazing.
Its always been my dream to come to Australai and swim in the Great Barrier Reef. Thanks so much for making this trip so memroable and giving me the spring break of a lifetime, Whitehaven beach was goegeous and I cant wait to come back again sometime. cheers
Merci Beaucoup! Had fun and fishes plus turtles were amazing. Very good trip and so friendly crew.
Awesome trip, perfect weather, saw everything. Turtles, dolphines, Sailing was great. Thank you very much to the friendly crew I had a great time.
Super sailing seaventure. Fab friendd, freat group, spectacular snorkelling, cool crew, great games. Good time always remembered. Thanks for everything much appreciated.
Seeing the dolphines and fish was much fun. Thank you everyone for a brilliant trip, will never forget it. ever.
A bit aprehensive before hand but immediately enjoyed the moment we got on the boat. Great crew. Many thanks for Greg and Aj and Fern for giving us a great experience with memeoried that will last us a life time. P.S Fun also for the over 50's.
Had a great time with people on this boat. thanks for all first time snorkelling for me and the spots werte just amazing. Hope to see come back soon to do the trip again.
A had an awesome time, saw many things including turtles. Met some good people and had a good time thanks.
Your out on the water swimming with fish, surrounded by good company, singing along to a diverse music selection, eating well prepared meals and sleeping under the darling stars and moon. What more can you ask for. I'm satisfied. Cheers.
Great trip everything was Great. Thankyou very much. Top boat, top crew!
Lauren, Ryan, Ellie, Meki
, 27 Jul 09
We had a nice time. Thanks. Snorkelling was great. Loved it! Good crew, Good food, Good Tan.
Becky, Lorna, Ian, Paul
, 27 Jul 09
We had a great time cheers! Crew were good, let us play our misic and very friendly/chatty. Snorkelling was wicked and crew were very considerate for first timers. Loads of food and ''ladies forst'' rule siotes us. Whitsundays are beautiful and we will be reccommending this trip to all our friends back home.
Juliana, Fabiana,
, 27 Jul 09
We had a good time here. Thanks for everything. It was our first tim snorkelling and it waa awesome. the food was beautiful. We really had a lot of fun.
Meghan, Andrea, Whitney
, 27 Jul 09
Thanks you guys are the best! We enjoyed sleepinh outside on deck. The food was delicious. Habibi is something we will never forget.
Thanks for an amazing trip! Food, sailing, snorkelling, beaches, everything was awesome. Something I wont foret anytime soon. You guys were real friendly and welcoming.
This is my first time to sail and everything is interesting to me. I'm so happy and lucky to meet such great crew. Thanks for giving me an amazing trip. I love Habibi!!!!
Great Value for money a budget trip but loads of food and crew were great! thanks Rob for the sailing lesson and Daniel for the yummy meals.