Entice 3D3N
CLOSE
View More Thumbnails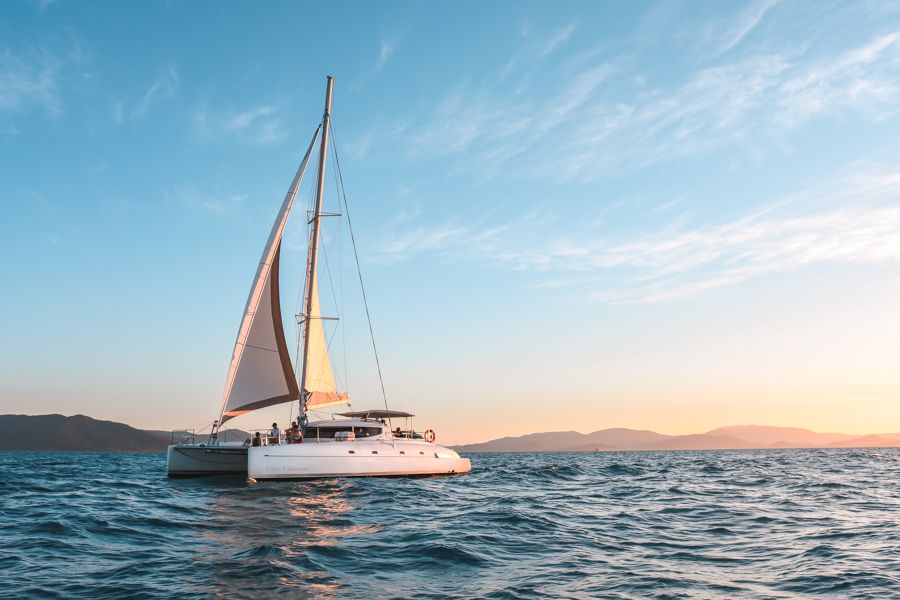 Loading...
Departure Times
Departs: 4:00pm - Friday
Returns:
2:00pm - Monday
Departure Point: Coral Sea Marina, Airlie Beach
Pricing Options
RRP $780

$749 AUD / Person
- Shared Single Accommodation
(Between: 01 Jul 2023 and 21 Dec 2023)
RRP $1010

$968 AUD / Person
- Private Triple Cabin (requires 3 people) ($2904 Total)
(Between: 01 Jul 2023 and 21 Dec 2023)
RRP $1020

$982 AUD / Person
- Private Triple Cabin with Ensuite ($2946 Total)
(Between: 01 Jul 2023 and 21 Dec 2023)
RRP $1100

$1065 AUD / Person
- Private Double/Twin Cabin (required 2 people) ($2130 Total)
(Between: 01 Jul 2023 and 21 Dec 2023)
RRP $1140

$1099 AUD / Person
- Private Double Cabin with Ensuite (requires 2 people) ($2198 Total)
(Between: 01 Jul 2023 and 21 Dec 2023)
RRP $1140

$1099 AUD / Person
- Private Twin Cabin with Ensuite (requires 2 people) ($2198 Total)
(Between: 01 Jul 2023 and 21 Dec 2023)
Highlights
| | | |
| --- | --- | --- |
| Whitehaven Beach & Hill Inlet | | |
| | | Marine Life |
| Snorkelling | | |
Play, relax and drink in the adventure aboard our ever-popular, extended Entice catamaran experience!
Where island fun and comfort meet, Entice will have you unwinding amongst the stunning Whitsunday Islands at your own pace.
Indulge in an intimate, charming and laid-back atmosphere with only 10 guests on board at any time!
With an impressive collection of water toys, turn the pristine oceans into your playground and make a splash with Entice!
Spend ample time snorkelling the Whitsundays Fringing Reef and exploring Whitehaven Beach on this extended tour in paradise.
Reviews
Overall Rating
5.0 / 5.0
Based on 16 reviews
Reviews by our Sailing Whitsundays customers
Virginie Ritter
, 22 Aug 23
Great trip! Jay and Micky were great hoste, we enjoyed every moment. Thank you.
Excellent all round, welcoming and professional staff. Food was great. It was exciting to be sailing in some big winds.
Outstanding! Food as great and site selection excellent especially getting us to Whitehaven overlook and Betty's before the crowds. Oscar and Maike were an outstanding team!
Our experience was brilliant- the 3 days/ 3 nights was the perfect length of time to be on the boat. The snorkelling and activities were fabulous, our skipper Oscar and our wonderful hostess Maike were top class. The food was really good and overall we really enjoyed our time on the boat- thank you!
It was my second time with Sailing Whitsundays, and both times with amazing. The staff are friendly and welcoming; Greg ( Garry ) and Steph ( Sophie) went above and beyond to ensure we were looked after. We will definitely be back for a 3rd, 4th etc.
Torsten Amarell
, 14 Dec 22
Couldn't be better! Exceeded all our expectations. Skipper Kane is so knowledgeable and fun. Would definitely recommend and book again. Absolute highlight! Thank you!
Phil Anderson
, 30 Nov 22
Dan and Pete made every effort to provide an interesting tour to our group of various ages. We had some avid snorkelers who Pete showed great spots to go and he watched carefully for a safe experience. We also had others who are nervous about the water but were accommodated with hiking beach Time.
Daniel Frederick Pollock
, 17 Nov 22
This was an excellent charter. The value and experience can't be beat, best 3 days I have spent on a holiday. It was a great mix of casual cruising, relaxing and a tone of snorkeling along with seeing the Whitsundays beaches. Our skipper and deck hand were fantastic. We snorkeled a lot, amazing!
Absolutely fantastic experience. Pete the skipper knew all the snorkelling spots. Amazing coral reef and abundant fish was on offer. Stef was the sweetest and most professional deckhand. Would highly recommend this experience
Rachel Elliott
, 16 Nov 22
We were lucky enough to get captain Pete. The adventure started and the good times began. Steph our deckie was so amazing and the food was delicious. The crew went above and beyond to meet expectations. We snorkel, hiked, and explored all the whitsundays had to offer.
Anne Nørgaard Laugesen
, 09 Nov 22
Wonderful experience. The crew Kane and Sophie were great at taking care of us and finding the best spots for us to snorkel. The boat had a good size. And the other guests made the trip very memorable. Highly recommended.
Sailing on Entice goes down as one of my best life experiences. Capt Pete is a bit quirky, but he absolutely knew his stuff. He scouted really well, and our snorkeling was exceptional. Abundant fish, coral, not overcrowded and super safe. Delicious fresh food and lots of it! Thank you so much!!
Avril Anderson
, 14 Oct 22
Wonderful experience. Pete and Buzz did everything they could to show us the highlights of the Whitsundays. Lots of snorkeling and swimming in different spots. The vessel is very comfortable with good storage for a sailing boat. Plentiful quality food. No need for shoes except for going ashore.
Michael Williams
, 07 Oct 22
This was a wonderful experience that my wife & I enjoyed immensely. All of expectations were met with the places we visited and what we managed to fit in on a 3 night sail. Great value for money
I know people often write to complain but just wanted to tell you what a wonderful time my husband and I had onboard Entice! Greg was absolutely fabulous: his knowledge, passion and care/safety is second to none. Roci was really personable and enthusiastic, I know she is new, but she is a real asset to the crew already. We had fabulous weather so that helped, but the staff really made the trip great rather than good! Congratulations and thank you, I will be recommending you to everyone I know.
How do you rate the experience overall?? 5 out of 5!!