The Solway Lass, a Brief History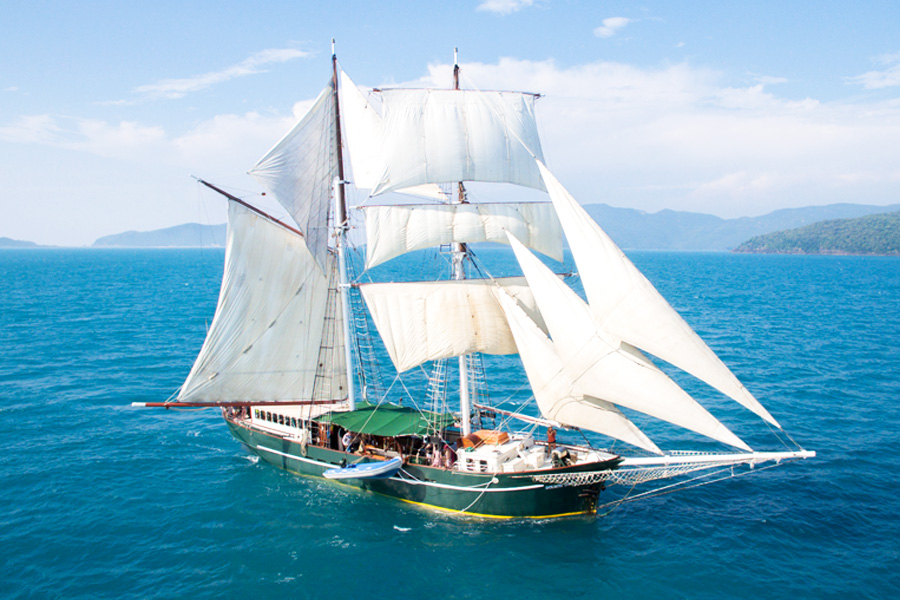 The Solway Lass sails proudly as one of the most iconic vessels in the Whitsunday Islands. She is over 100 years old, and her long life at sea had filled with a rich history that covers much of the world and many great events.
Constructed in 1902 in Holland, she was originally named Stina. She was renamed Adolf from 1905 and worked primarily throughout the Baltic Sea. During World War I she was taken as a prize of war by the British, whereupon she became a Q-ship, or a decoy for enemy submarines. From there her carried on until the end of the war. Upon the war's end she was sold to a coal merchant in Liverpool, where is worked until 1924 when she was sold again to a Scottish Shipping Company, located in the Solway Firth. Here she was named Solway Lass for the first time. She had a new engine installed and she worked carrying coal and other supplies between Scotland, Ireland and Britain.
The second dramatic turn in her history occurred in 1937, when she ran aground in Sandymount, Dublin, during a catastrophic snow storm. Shortly after this, she was sold to Danish company and was again used to ferry cargo around the Baltic Sea. With the outbreak of World War II, Solway Lass was seized by the German Navy, where she was used as a supply ship until she was sunk by a German mine. Unfortunately for Solway Lass, she sat at the bottom of the ocean as a wreck until the conclusion of the war where she was hauled from the bottom to be fixed and reused.
Once repaired, she was renamed Bent, before being renamed several times over the next few decades. She eventually worked in Denmark, and then sailed across the Atlantic, through the Panama Canal and arrived to work in Fiji as a coastal trader. After more than ten years working in Fiji she was purchased by an Australian owner and sailed to Sydney, were she was rebuilt in Sydney Harbour in 1985.
She was named Solway Lass again, and began sailing Sydney Harbour as a pleasure cruise vessel and took part in the first fleet re-enactment that celebrated 200 years of Australian colonisation. From there she was sailed north to the Whitsunday Islands, where she now works as one of the area's most famous and recognisable vessels, running three day cruises throughout the Whitsunday Islands and Great Barrier Reef. Her history is remembered by her crew and her guests today will often be told of her rich life and wide travels.