Proserpine Rock Wallabies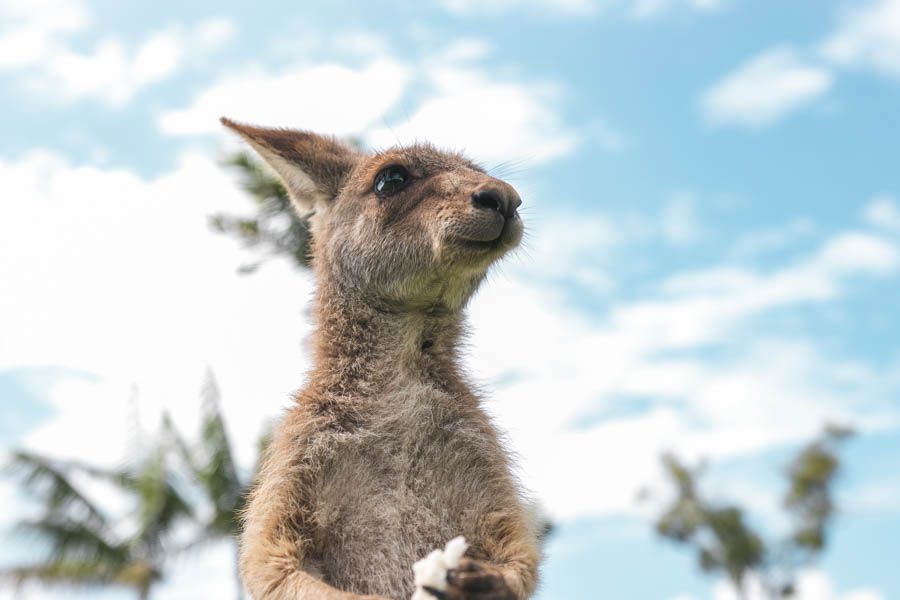 The Proserpine rock-wallaby is an endangered species of wallaby that lives in rocky outcrops and ledges in Northern Queensland, and has been on the endangered list since 1992. Small, brown and agreeably very cute, they are shy around people and spend most of their days sleeping in sheltered areas.
Related to kangaroos, Proserpine rock-wallabys are macropods that feed off plants and carry their young in a pouch. They prefer to live in larger groups in a size-related hierarchy that are run by the biggest male.
These unique creatures are native the Proserpine area and some of the Whitsunday Islands and are not naturally occurring anywhere else in the world. As part of their recovery plan, a population was introduced to Hayman Island in 1998, which has become an independent breeding colony.
They grow to be 64 cm long and 60 cm tall and can weigh up to 8.8kg. They are mostly brown with brownish-yellow limbs with black paws and feet and their tails usually end in a white or cream tip. Being quite shy, they will usually run away if approached, and are best viewed quietly from a distance!
Not to be confused with the rock-wallaby, the Proserpine rock-wallaby is a unique species in itself. It wasn't discovered until 1977, but due to loss of habitat, it was put on the endangered list in 1992. They are susceptible to disease as well as introduced toxic plants and have been known to be threatened by cats, dogs and traffic.

There is a national recovery plan in place to improve the conservation status of the Proserpine rock-wallaby through habitat protection, increase in public participation and reduction of threats. You can read more about how to help the Proserpine rock-wallaby here.