Best Agents For Superyacht Hire
From corporate incentives to tasteful birthday parties, superyachts are a lavish and unforgettable way to explore the Whitsunday Islands and the Great Barrier Reef. If you're ready to dive into your next island adventure, you may be wondering who to book with, and how to do so. In this article, we will compare luxury agents, direct operator booking and yacht brokers so you can understand your options when chartering luxury vessels!
---
Should I hire a superyacht through an agent or directly?
When planning your next yacht holiday or event, the process is made easier when booking through a local agent, such as Sailing Whitsundays. Take advantage of local knowledge, friendly service, connections and event planning without paying any fees at all.
---
Reasons to charter a yacht through an agent
Are there any extra or hidden fees when booking with an agent? Usually no, but it depends on the agent. Travel agents are commission-based, meaning a small percentage of the hire cost goes to the agency. In our case, we pride ourselves in maintaining a no-hidden fees system, so guests will never a cent more when booking through us rather than directly. As such, you can book with ease, let us take care of the details and benefit from our wealth of local knowledge accumulated from over 20 years in the industry!
Whether you're planning a corporate or private event, booking your superyacht occasion is made easier by booking through an agency. With our local team on the ground to assist you with all of the specifics, you can rest assured we'll have everything perfect for your day, right down to the little details. We specialise in birthdays, anniversaries, Christmas and New Year's parties, corporate and team building, product launches, engagements and hens/bucks parties.
Luxury is more luxurious without planning
Ditch the worrying and planning by going through a travel agent with your next yacht hire. Simply advise our staff of your preferences and secure your hire dates and we will sort out the rest! We'll book your airport transfers, accommodation and everything in between too to ensure your total Whitsunday stay is perfect. From catering to water toys to important hire conditions and the whens, wheres and hows, hiring a superyacht through an agent is the most stress-free option for your next holiday, event or corporate incentive.
By booking through a local agent, you will benefit from the abundance of local knowledge at your disposal. Many yachts and superyachts are stationed in the Whitsundays permanently, whereas some are only available in the area seasonally. As such, it's smoother to have a small team of expert Whitsunday agents to assist you in tailoring your itinerary while utilising their local knowledge and connections.
Find the perfect vessel with more variety
With a range of yachts, luxury catamarans, superyachts and megayachts, Sailing Whitsundays has a vessel for any and every kind of occasion! Sip champagne at sunset for a decadent work Christmas party, propose in style on an intimate, tasteful yacht or snorkel the Great Barrier Reef in Whitsunday luxury. Details like catering, water toys, music, entertainment and crew are coordinated by local agents and your knowledge skipper for an unforgettable island experience.
---
What is a yacht broker?
A yacht broker is a professional who helps you buy and sell yachts, known for a specialised understanding of the industry, vessels, legal documents, the purchasing process and optimising your sale. Yacht brokers work off commissions.
---
How to book a Whitsunday Superyacht
Are you ready to book your next yacht adventure where luxury and world wonders combine? Browse our excellent array of world-class yachts and superyachts on offer, with something for every group, event and vision. You can enquire and reserve your preferred dates online with a booking, with live support from our Airlie Beach agents helping you every step of the way.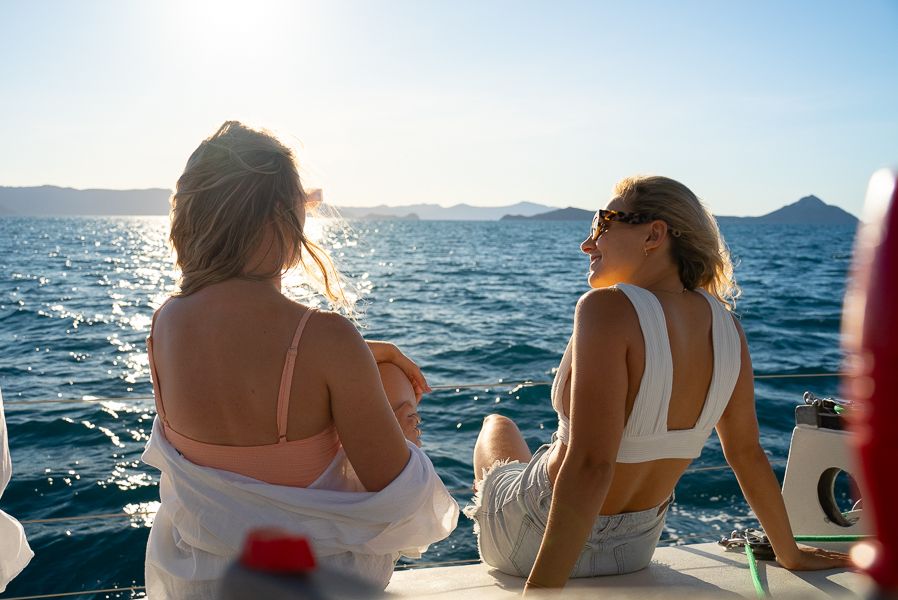 ---
Best Whitsunday agent for superyacht hire
With the most extensive selection of yachts and superyachts in the Whitsundays, Sailing Whitsundays is the best agent for your next superyacht charter experience! Whether you're after an intimate weekend family charter, a sunset event sail or a lavish product launch with a guest list, we've got a sublime vessel for every occasion! With expert local knowledge, 5-star customer service and a 24/7 support line, we will coordinate the next yacht experience of your dreams, seamlessly!
---
Are you ready to taste the luxury of the Whitsundays?

Get in touch with our local experts today, or browse our wide variety of day and overnight superyacht charters!