Southern Cross Day Tour
CLOSE
View More Thumbnails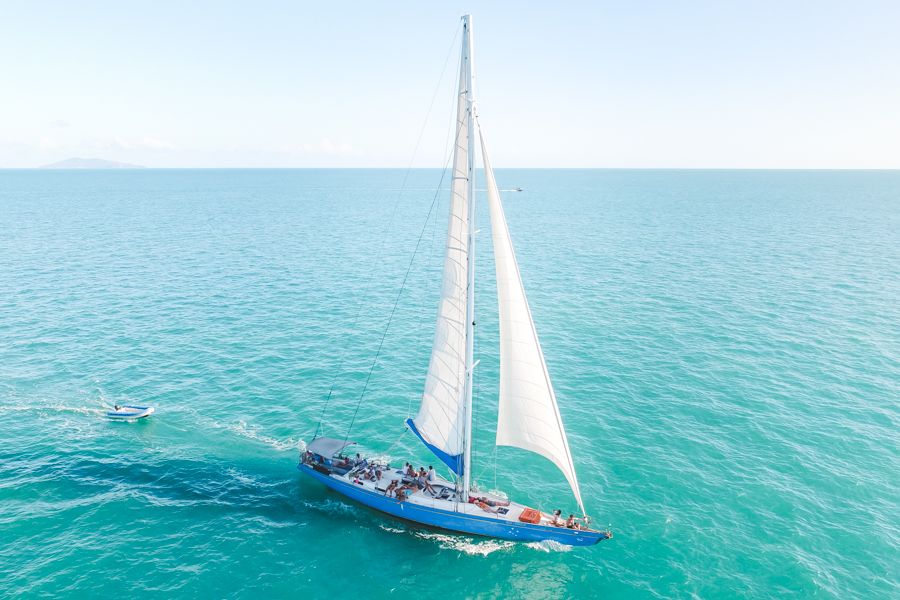 Loading...
Departure Times
Departs: 9:00am - Daily
Returns:
5:00pm - Daily
Departure Point: Coral Sea Marina, Airlie Beach
Pricing Options
RRP $179

$169 AUD / Person
- Adult
(Between: 31 Mar 2022 and 31 Mar 2023)
RRP $135

$125 AUD / Person
- Child (3 -15 years)
(Between: 31 Mar 2022 and 31 Mar 2023)
RRP $556

$460 AUD / Person
- Family Rate (2A+2C)
(Between: 31 Mar 2022 and 31 Mar 2023)
$0 AUD / Person
- Infant (18mths - 2yrs)
(Between: 01 Jun 2020 and 31 Mar 2024)
Sail on the famous America's Cup Yacht and see the best of the Whitsundays!
Perfect for the whole family!
Real adventure sailing on a famous racing yacht.
Journey to the beautiful northern Whitsunday islands.
Enjoy a wide range of activities including paddle-boarding and snorkelling.
---
---
The Southern Cross Day Tour offers not only an exciting day of sailing, but will also take you to the best parts of the northern Whitsundays. Langford Reef and Black Island are rated two of the most beautiful locations in the Whitsundays. Nestled between Hayman Island and Hook Island these two tropical wonders offer a great day trip for adventurous guests.

Highlights & Features:
Visit Langford Reef and Black Island
Snorkel gear and instruction all included
Morning tea and afternoon tea included
Lunch freshly prepared on board by your crew
Authentic sailing experience
Snorkelling at an amazing reef
Great for couples, friends and families
Onboard toilet and both indoor and outdoor seating
Stand-up paddle boards
BYO alcohol
Jump onboard this popular all inclusive day tour around the Whitsundays to take advantage of the full range of activities that are offered! Time time to relax and enjoy the area natural beauty.

Sample Itinerary
Show Less
Langford Reef
Langford Island is a pristine and uninhabited island in the Whitsundays that has a fringing coral reef ideal for snorkelling. Langford Island features a long sand spit that all but disappears at high tide. It is one of the more defining features of the island and it stretches for several hundred metres at low-tide and is perfect for beach picnicking, swimming and sunbathing. The s...
Read More
Langford Reef
Langford Island is a pristine and uninhabited island in the Whitsundays that has a fringing coral reef ideal for snorkelling. Langford Island features a long sand spit that all but disappears at high tide. It is one of the more defining features of the island and it stretches for several hundred metres at low-tide and is perfect for beach picnicking, swimming and sunbathing. The soft sands are a perfect place to hang out in between snorkelling, which you can do right off the beach.
The fringing reef surrounding Langford Island contains a large number of small and colourful fish species, which hang out around the bommies that have formed around the spit. A bommie is a cluster of coral that forms in column and is great for exploring, as you are able to swim around them and see them from all angles. The many fishes species that live here call these bommies home. At Langford Spit, snorkellers will find an abundance of underwater gardens to explore, and more often than not, be able to spot a turtle or two! Turtles like to hang out here and are always an amazing sight to see while enjoying the warm blue waters. This a great place to swim alongside them while in the Whitsundays.
Black Island
Also known as Bali Hai, Black Island is one of the most popular snorkel locations within the Whitsunday islands with it's fringing coral, clear calm waters and bustling marine life population. Though it is a minuet island compared to others in the Whitsundays, Black Island is a mariners haven, safely situated by a green zone between among Stonehaven, Langford and Hayman Island. Perfect for snorkelling and scuba diving, green sea turtles, giant clams, colourful corals and exotic fish can be seen frequently.
The History of Southern Cross...
Southern Cross was the winner of the Louis Vuitton Cup by successfully out-sailing competitors to make it to the final of the Americas Cup, a world-famous and prestigious sailing race. Southern Cross was built specifically to race against the Americans in Newport to win the Americas Cup. The race itself is held in a different location each year, attracting competitive sailors from all over the world. Built in Perth in Western Australia, Southern Cross measures 68ft in length with a single mast which is 97ft high and is made of aluminium, making her ideal for sailing at top speeds. As a true Aussie icon, her name represents the Southern Hemisphere's most famous constellation, the Southern Cross, which is easily spotted from the Whitsundays. The constellation itself is so bright and well known, it has been used traditionally in navigation, aiding sailors to make their way across the seas. Now its your chance to join this legendary vessel and sail around the Whitsundays at speed!

---
Please note:
The itinerary described is a sample only. Itineraries will vary based on the weather and tides and professional judgement of the Captain.
More Information
Show Less
What To Bring
Swimmers
Sunglasses
Sunscreen
Sun Hat
Jumper (if weather is cool)
Towel
Camera
Cash for drinks
Guests may also bring their own snacks and water
BYO Alcohol, no glass, please
What's In...
Read More
What To Bring
Swimmers
Sunglasses
Sunscreen
Sun Hat
Jumper (if weather is cool)
Towel
Camera
Cash for drinks
Guests may also bring their own snacks and water
BYO Alcohol, no glass, please
What's Included
Morning Tea and Afternoon tea
Lunch
Snorkel equipment, mask, snorkel and wetsuit
Marine and National Park Fees
Courtesy transfers from select local accommodations
What's Extra
Any dietary requirements (such as vegetarian, vegan, pescatarian, gluten-free diets and dairy/lactose-free) will need to pay a surcharge of $15 per person payable on check in. Kosher and Halal diets are unable to be catered for.

Public Holiday Surcharge:
A once-off fee of $20 per person (payable at check-in) applies to departures on ALL public holidays:
Between Easter Friday – Easter Monday inclusive.
Anzac Day - 25th April
Labour Day - 1st May
Queen's Birthday - 3rd Oct 2022 & 2nd Oct 2023
Christmas - Between 26 - 28 December inclusive.
New Years - 1st January
Australia Day - 26th January
Terms and Conditions
---
Your Responsibilities:
Please advise us before booking if any passengers are under 18 years old to ensure this is the appropriate trip.
You must reconfirm all booked tours prior to travel as specified on your voucher. If applicable, notes such as dietary requirements, pick-up locations and additional fees should also be confirmed at this time. Reconfirmations cannot be actioned through Sailing Whitsundays/Mr Travel, and must be done so directly through the Service Operator as specified on each ticket.
It is your responsibility to notify us of ticket discrepancies. Please read through the details on your voucher thoroughly to ensure all details such as passenger names, ages and dates of travel on vouchers are correct.
It is the responsibility of all passengers travelling to advise both your travel agent at the time of booking and vessel check-in agent before boarding of any medical conditions including food allergies you may suffer from.
You need to allow adequate time to check-in prior to the specified departure time.
---
Prices/Extra Costs:
All prices are stated in Australian dollars and include GST. Surcharges over peak holiday seasons may apply.
The Service Operator reserves the right to alter prices and extra costs. Extra costs may include EMC fees, Stingersuit/Wetsuit Hire, Luggage Storage, Insurance, Linen Hire, National Park Fees, Fuel Levies, Dietary Fees, etc. Bonds may also apply.
We will also endeavour to communicate these extra costs with you at the time of booking, and on your ticket. However, it is your responsibility to confirm which (if any) additional costs apply with each Service Operator upon reconfirming your trip.
---
Travel Risk/Insurance:
It should be noted that adventure travel involves risk. Whilst we make every effort to safeguard clients, we cannot be responsible for personal injury or loss due to the actions of our clients which are beyond our control. We highly recommend that all clients have travel insurance covering illness, injury, loss or damage to personal belongings and not being able to travel on the confirmed date of departure. You should also ensure your travel insurance will cover special circumstances including weather events preventing guests from travelling to their tour departure destination and cancelled flights due to unforeseen circumstances.
---
Transfers:
The Service Operator reserves the right to limit courtesy transfers to select local accommodations. Private residences or Airbnb properties may be asked to meet at the closest confirmed location. Failure to meet at the specified pick-up location may be treated as "No Show", for which the Client Cancellation Policy applies.
---
Merchant Fees:
Please be aware operators pass on credit card merchant fees so there is a non-refundable 1% surcharge for VISA and MASTERCARD card purchases.
---
Other:
Terms and Conditions (including the Cancellation Policy) are subject to change. The most recent versions can be found online on the relevant product pages.
All ticket/voucher reissues attract a $20 administration fee.
---
Open Date Vouchers / Gift Certificate:
Shipping Costs are in addition to the ticket price and will be added at check-out. Shipping costs are non-refundable and do not makeup part of the ticket value.
E-Vouchers incur no shipping fees.

You have 5 years to use the value of the voucher. Seasonal Price Rises will apply if travelling out the current seasons pricing. Vouchers can be exchanged for free up to the full value of the voucher excluding credit card fees and charges.
Cancellations
---
Client Cancellations:
No shows or client cancellations made within 24 hours of departure forfeit 100% of the total ticket price.
Sailing Whitsundays are required to notify the operator of any cancellations within the specified cancellation period (24 hours). It is your responsibility to make sure you submit your cancellation request with adequate time, and during standard business hours (9am-5pm), to allow us to contact the tour provider.
Transfers between tours can be made at the suppliers discretion, however, it should be noted that supplier fees may apply. Tour transfers also incur a $20 administration fee.
It is compulsory that all cancellation requests are in writing and sent via email to admin@mr-travel.com. Cancellations attempted via online chat or phone will not be actioned.
---
Supplier Cancellations:
The Service Operator reserves the right to alter prices, alter itineraries, apply a fuel surcharge, cancel departures, arrange alternative transport and vary itineraries and services if necessary.
All departures and itineraries are subject to weather. Tours may be changed or cancelled for any reason at the discretion of the Service Operator. If the Service Operator has to cancel the trip or activity (prior to departure) and we cannot offer a suitable alternative, then a refund will be given minus a 20% administration fee and any associated card fees. We strongly recommend that you have travel insurance, especially during the wet season.
In the unlikely event of your trip being cancelled or stood down, all guest communication is required to go through our Online Store via telephone or email. While there is a Sailing Whitsundays retail outlet located Airlie Beach, please be aware that they operate as a separate entity and are unable to access reservations made by the Mr Travel online department.
---
Refunds:
All refunds are in Australian Dollars and must be made to the card of payment. Sailing Whitsundays/Mr Travel is not liable for exchange rate fluctuations or fees, or any other merchant/bank fees associated with domestic and/or international transactions.
Where a full refund is applicable, there is the option to transfer the whole cost of the tour to another tour or "Credit" to avoid the administration fee. A transfer fee of $20 will apply.
You will be emailed confirmation once the refund has been processed. Once the refund has been processed, it may still take time for the banks to clear the amount. Please allow 7-10 business days for the funds to clear into Australian accounts and up to 21 business days for international accounts.
---
Accountability/Misconduct:
All Service Operators have the right to provide client feedback and to cancel bookings based off of feedback from other Service Operators.
Please enjoy your travel experience in a kind and responsible manner.
Sailing Whitsundays/Mr Travel will treat this as any normal client cancellation and therefore the cancellation fees stated in the Client Cancellation Policy will apply.
---
Thank you for booking with our East-Coast travel experts here at Mr Travel/Sailing Whitsundays. If you would like any further advice, assistance in arranging accommodation, transfers or additional tours please get in touch.
Reviews
Overall Rating
5.0 / 5.0
Based on 16 reviews
Reviews by our Sailing Whitsundays customers
We had a great day sailing to Langford Island, it was the first time sailing and it was amazing. The food was really nice, and the boat had plenty of space. The crew was amazing, friendly, entertaining and very responsive to all requests. The island was cool, snorkel, swimming exploring the island and beach. Well worth the visit.
Sailing was a wonderful experience and would definitely recomend to others. staff were absolutely wonderful especially with a 3 month old on board.
Steven Dorman
, 07 Jul 22
We had Isaac, penny and pinky as our larrikin crew. Penny was our skipper and was brilliant at ensuring a comfortable trip. Isaac and pinky were were always on hand and willing to help, with Isaac having knowledge of the local area, and pinky having enough enthusiasm to carry a whole cruise ship.
Sailing around the Whitsundays with the Southern Cross was a big adventure! The wind was just perfect and we sailed the whole way back on one side, having the ultimate sailing experience. Langford Island is beautiful and I even spotted a baby shark and stingrays. The views from the lookout are very nice and our snorkel spot was great with so many different corals. I can only recommend it!
So good!! Amazing walks, snorkels and peaceful places to moor for the night.
Food was delicious and the overall vibe was so relaxed, organised and fun! We felt well cared for + safe and had the best time. I am so glad this was part of our honeymoon.
Langford Island is a beautiful and cute little islands with reef around it to explore, a lookout and beach to just relax on. Enjoyed heaps sailing around the northern part of the Whitsundays!
Spent the day sailing around on the Southern Cross day charter and it was everything we could of hoped for. My fiancé and I have a passion for sailing and the crew was lovely enough to let us get involved and I couldn't of asked for a better experience sailing the Whitsundays for the first time.
The boat was really fun, proper sailing! We visited Reef and saw turtles! :)
I really enjoyed my day race Sailing the Whitsundays on Southern Cross, I even got to drive!
Great spent on the Southern Cross. The team is excellent, the tour was awesome, snorkelling is excellent. A serious company to have a fun day, for a reasonable price. Just a perfect day. Thanks guys !!
We had a great time and would go back any day. Totally recommend it.
My family and myself went out on a day drip with Southern Cross to explore Hill Inlet and Whitehaven beach. the weather wasn't fantastic to start with and left us with quite a rough trip to go over. The crew, Mark and Georges, transformed the situation into a great adventure and sailing experience. Since we had 2 kids with us, not comfortable with the snorkeling, Georges showed them fishes and Corals from the boat alongside with some good knowledge. We had a great time and would go back any day. Totally recommend it.
Graeme and Nollene
, 03 Jan 17
Thanks for a fun day out sailing to Whitehaven, Also a big thankyou for letting our son steer the boat a great day had by all.
Excellent Day, crew made the trip. Enjoyable, friendly, helpful and extremely fun. Felt very safe at all times. Commentary on history and sailing tips added to the overall experience. thank you guys
We had a really great day and nothing was missing! The spots were really nice , the crew were more than friendly and our activities were well planned. It was an amazing trip and I will remember everything for a very long time . Thankyou so much guys!