Dive, Beach & Fly Combo
CLOSE
View More Thumbnails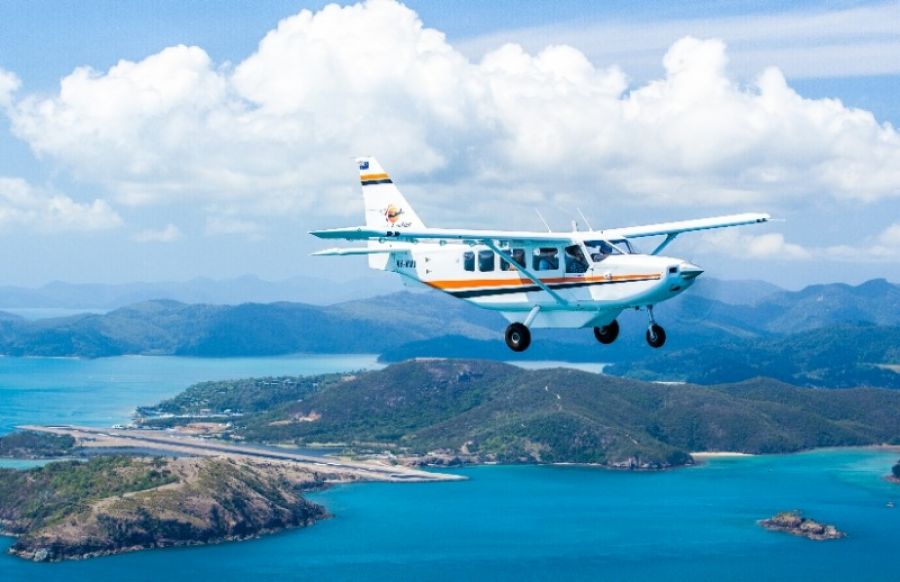 Loading...
Pricing Options
RRP $727

$645 AUD / Person
- Adult
(Between: 01 Jun 2021 and 30 Mar 2022)
RRP $517

$465 AUD / Person
- Child (4-14 Years)
(Between: 01 Jun 2021 and 30 Mar 2022)
RRP $2488

$2125 AUD / Family
- Family (2A+2C)
(Between: 01 Jun 2021 and 30 Mar 2022)
Taste the sun, salt, sand and sky on this three day adventure package that will take you to new heights and depths of the pristine Whitsunday Islands!
Cruise through the tropical waters to Whitehaven Beach on our ever-popular Whitsunday Bullet!
Explore our slice of paradise from above on a Scenic Flight over Heart Reef
Immerse yourself in the breathtaking outer reef with a scuba dive on our Great Barrier Reef Tour.
See the wonders of the Whitsundays from every angle, as you soak up tropical bliss and natural beauty on this exclusive island adventure package!
The perfect experience for those looking to jump into the adventure of a lifetime, Dive, Beach & Fly will show you the very best spots of the Whitsundays, with an exquisite balance of island relaxation and exploration excitement!

Satisfy your hunger for adventure as you fly high in the sky, cruise speedily through the water and uncover the marine mysteries deep below with our exclusive Dive, Beach & Fly package!
Hang out with tropical fish in the depths of the deep blue, soar amongst the clouds as the panoramic views simply astound you, and zoom off to Whitehaven Beach in style! Let the Whitsunday Islands become your natural playground as you Dive, Beach & Fly through magnificent ecosystems with this action-packed combo.
Highlights and Features
An immersive scenic flight over the Whitsunday Islands
A full day of island exploration aboard Whitsunday Bullet
An action-packed scuba-diving experience at Hardy Reef
Tick all of the famous spots off of your bucket list
Three days of authentic Whitsunday adventure, from above and below
Discover pristine hidden gems, guided by our local crew
Vibrant corals and marine life at your fingertips
Complimentary, delicious meals and tasty snacks provided
Friendly, experienced crew will take care of everything
An absolutely perfect choice for those looking for the full Whitsunday experience in just three days, Dive, Beach & Fly's action-packed itinerary will provide you with a bang for your buck while you make memories to last a lifetime!
Tour 1
GSL: Scenic Flight to Heart Reef
A quintessential Whitsunday experience awaits you, so hop aboard GSL's scenic flight to Heart Reef to witness the remarkable islands from above! Soar in style, as the azure oceans and thriving tropical islands sparkle from a unique perspective! Highlights include Shute Harbour, Daydream Island, Molle Islands, Whitsunday Island, Hill Inlet, Hamilton Island, Bait Reef, Hardy Reef, Heart Reef Hook Island and Whitehaven Beach... just to name a few!
Keep an eye out for the local marine life residing below, including lemon reef sharks, stingrays, turtles, dolphins and even Humpback whales! Every passenger receives a window seat for exclusive panoramic views of the magical Whitsunday Islands, and the mysteries nestled amongst them. Enjoy the entertaining and informative commentary from your local, professional pilot, while you fill yourself with tropical bliss and magnificent hues.
A perfect way to take your island adventure to new heights, GSL's Scenic Flight to Heart Reef will take you to cloud nine... in tropical paradise! An unmissable and exclusive way to see the Reef for keen adventurers, you might not ever want to come down from this charming and exciting flight!
Highlights:
Soar over the Great Barrier Reef, Whitehaven Beach, the Whitsunday Islands and more
Panoramic views of stunning island scenery
A full hour of air time
Every passenger receives a window seat
Experience luxury and adventure in this sleek overwing aircraft
Informative and fun in-flight commentary
Tour 2
Whitsunday Bullet Day Tour
Whitsunday Bullet is an absolute crowd favourite, renowned for her sleek, stable and zippy design, and made for jetting guests from one tropical paradise to the next! The Whitsunday Islands are your oyster aboard Bullet, so grab a hat and your sense of adventure as Bullet delivers you to the world-famous Whitehaven Beach, Hill Inlet Lookout and the Great Barrier Reef Marine Park.
With an itinerary that maximises your time at naturally astounding destinations, you will have ample time to frolic on Whitehaven's pure silica shores, take a cool dip in the crystal walks and embark on light bushwalks around the island. Don't forget your cameras as you journey up to Hill Inlet Lookout, where the swirling white sands and bright turquoise waters show you what it looks like when art meets nature! Guests will enjoy full access to stand-up paddleboards, snorkel gear, stinger suits and guided instruction, so jump on in and explore the glassy waters of the Great Barrier Reef from above or below.
Our professional crew provide freshly prepared, locally sourced lunch and snacks throughout the day to fuel even the fussiest of island adventurers! As one of the most popular day experiences in the Whitsundays, Bullet will have you basking in that island glow without missing a second of the adventure!

Highlights:
Visit Whitehaven Beach and Hill Inlet Lookout
Snorkel world-class fringing reefs
Rub shoulders with incredible marine life
Delicious, smorgasbord lunch
Access to stand-up paddleboards
Smooth and speedy sailing through the Whitsunday Islands
Panoramic, lush island views
All snorkel gear, stinger suits and instructions provided
Fun, experienced and informative crew
Alcohol for sale onboard
Tour 3
CW: Great Barrier Reef Day Tour
Explore the bustling underwater cities of some of the best fringing reefs in the world, on this immersive Great Barrier Reef Tour! Kaleidoscopic corals, friendly tropical fish, majestic green turtles, shimmering sea creatures and delicate ecosystems await your discovery, so let's get diving! As one of the few tours in the Great Barrier Reef Marine Park that offers scuba diving, this hands-on adventure will have you discovering the depths of the ocean like never before!
Boasting an abundance of activity options, the Great Barrier Reef Tour will make anybody and everybody's underwater adventure dreams come true! Go deeper with a scuba-dive, or float upon the surface with a snorkel. Or, if you prefer to stay dry, head on down to the state-of-the-art underwater viewing chamber... it's like stepping into another planet! Dazzling colours, elaborate textures and effervescent interactions can be found in these naturally thriving ecosystems.
Head on up to the Hardy Reef floating pontoon, where guests can kick back and relax on a sun lounge or enjoy the delicious buffet lunch! Providing you with the perfect balance of adventure, relaxation and a social atmosphere, the Great Barrier Reef Tour is bound to impress! So what are you waiting for? Grab your flippers and explore the deep blue on this action-packed day tour!



Highlights:
Snorkel and/or scuba dive through the stunning Great Barrier Reef
A full-day tour with a jam-packed itinerary
A stable, spacious floating pontoon in Hardy Reef
Spectacular marine life just below the surface
Amazing underwater viewing chamber
Free use of snorkel gear and stinger suits
Complimentary buffet lunch
Afternoon tea, snacks, tea and coffee provided
Additional activities available for purchase
Luxurious pontoon sun lounges
Accommodation
Still need accommodation? Get in touch with our local travel experts to chat about our array of luxury accommodation in Airlie Beach!
More Information
What To Bring
Please refer to each individual product for a full guide on "What To Bring" for each tour.
What's Included
Please refer to each individual product for a full guide on "What's Included" for each tour.
What's Extra
Please refer to each individual product for a full guide on "What's Extra" for each tour.
Terms and Conditions
Please refer to each individual product for the full "Terms & Conditions" of each tour.
Open Date Vouchers / Gift Certificate:
Shipping Costs are in addition to the ticket price and will be added at check-out. Shipping costs are non-refundable and do not makeup part of the ticket value.
E-Vouchers incur no shipping fees.

You have 5 years to use the value of the voucher. Seasonal Price Rises will apply if travelling outside the current seasons pricing. Vouchers can be exchanged for free up to the full value of the voucher excluding credit card fees and charges.
Cancellations
Please refer to each individual product for the full "Cancellation Policy" of each tour.


If you have any questions, don't hesitate to contact our friendly travel experts, here!