GSL Scenic Flight to Heart Reef
CLOSE
View More Thumbnails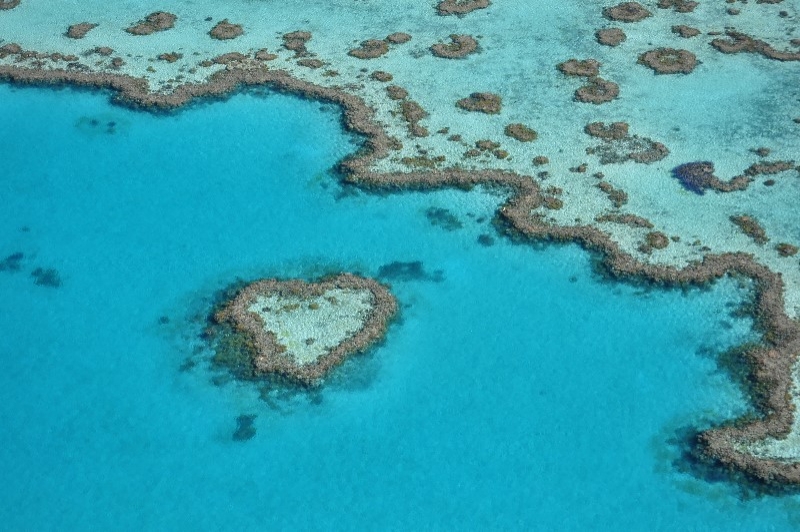 Loading...
Pricing Options
$219 AUD per Person
- General
(Between: 31 Mar 2017 and 30 Mar 2018)
$279 AUD per Person
- Reef & Island Flight with Hamilton Island Airport Transfer
(Between: 31 Mar 2017 and 30 Mar 2018)
Fly over the beautiful heart reef and enjoy a flight into the heart of the Whitsundays
Experience the Whitsundays from above with an amazing one hour flight over the scenic Heart Reef. Your breathtaking flight will take you over is the islands and bays of the Whitsundays all the way out to the Outer Reef, cruising over Whitehaven Beach, Hill Inlet and the Great Barrier Reef with the romantic destination of the Heart Reef, a Whitsundays favourite.
You Might Also Be Interested In:
Perfect Highlights PackageHeart of the WhitsundaysGSL Aviation Fly n Cruise Package 1 - Northern ExposureGSL Aviation Fly n Cruise Package 1 - Southern Lights
---
The Reef and Island Scenic Flight is GSL Aviation's signature flight, taking passengers for a truly remarkable scenic tour over the one and only Whitsundays. If you want to see and experience the best of the Whitsundays, join GSL for this once-in-a-lifetime flight. The flight includes it all - Whitehaven Beach and Hill Inlet Lookout, the Great Barrier Reef, Bait Reef, Hardy Reef, Hook Reef and the romantic Heart Reef, a Whitsundays favourite.
All passengers are guaranteed a window seat so they can have the best view during their scenic flight. You'll enjoy informative commentary from your pilot who will point out all the amazing views below and let you know what to keep an eye out for. Cruise low over the reefs for the best point of view and glide over Whitehaven Beach to see the swirling sands from high above - this flight offers the best view of the beautiful Whitsundays.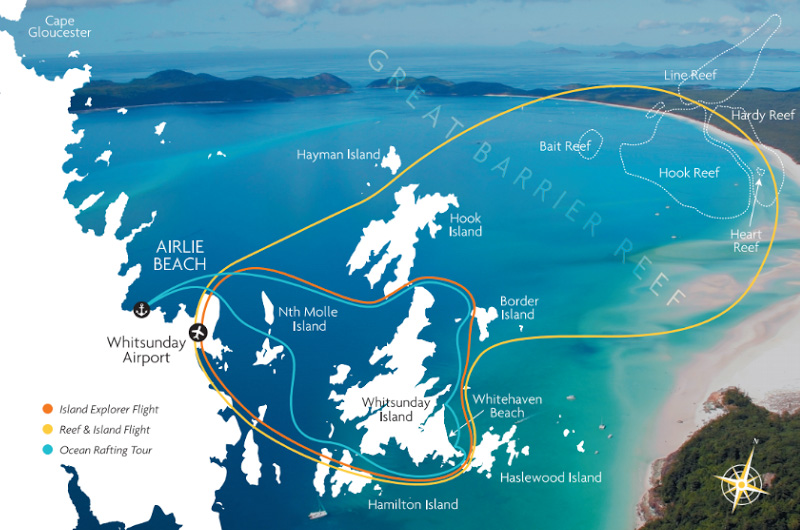 Reef and Island Scenic Flight Features:
Scenic flight over the Great Barrier Reef, Whitehaven Beach and Whitsunday Islands
A full hour in the air with stunning views
All passengers have windows seats with our over wing aircraft
Highlights, Shute Harbour, Daydream Island, Molle Islands, Whitsunday Island
Hill Inlet, Hamilton Island, Hook Island, Whitehaven Beach
Bait Reef, Hardy Reef, Heart Reef
In flight commentary
See the 30 minute GSL Island Explorer Scenic Flight
With the opportunity to see all of these incredible sights in one tour, the GSL Aviation Reef and Island Scenic Flight must be booked in advance. Don't miss this amazing opportunity during your visit to the beautiful Whitsundays.
---
Combine a Reef and Island Scenic Flight with a Hamilton Island Airport Transfer - a fantastic way to spruce up your transfer to the Hamilton Island airport!
Please note:
GSL Aviation have a minimum of 4 guest do any form of Hamilton Island pick ups or drop offs
Passengers depart Whitsunday Airport (Airlie Beach) and fly direct enroute to Hamilton Island and the arrival/departure point is at Hamilton Island airport main terminal
Direct flight transfers from Whitsunday Airport to Hamilton Island depart 70 mins prior to Airline departure at Hamilton Island Airport. Please be at Whitsundays Airport 30 mins prior to GSL flight departs
Standard weight restriction for baggage is 15kg. Oversize bags may be rejected for carriage regardless of weight, please confirm with booking agent, additional weight is at pilots discretion
Extra large baggage, large strollers and car baby seats cannot be accommodated on flights
Please note:
You MUST include your body weights and pick up location when booking this tour.
BOOK WITH US TODAY! CALL 1800 550 751 OR (07) 4914 2425 IF LOCAL
What To Bring
Camera (polarised glasses make the reef clearer)
Video camera
Light jacket for cooler months
What's Included
Scenic one hour flight over the Islands and reef, In-flight commentary, Includes Scenic views of Whitehaven beach and Heart Reef, Small groups of people
All flights prices are per person and include GST and Marine Parks Fees.
Terms and Conditions
All flights are operated at the discretion of GSL Whitsundays, and are subject to weather conditions, air traffic control and other influences outside of our control. There is a 2.5% credit card surcharge.
Cancellations
Once a reservation has been made a cancellation fee of 100% will be charged if cancelled within 72 hours prior to departure. All cancellations will forfeit up to 30% of total ticket price. We recommend travel insurance
"We have been to Airlie many times but never seen Heart Reef! I am glad we booked the one-hour Reef and Island Scenic flight as it didn't disappoint! The weather was perfect and we even lucky to see several whales as an added bonus. Seeing Heart Reef and Whitehaven from the plane was well worth the money spent!"
Shona
Thu 13 Jul 2017
"Just wow. 1 hour flight over the Whitsundays and Heart reef was stunning. Very happy we chose to do this! I was a little worried about the price but it was worth every penny and will not hesitate to recommend to anyone I meet on my Australia journey."
Melanie Collingwood
Wed 02 Nov 2016
"This was one of the most beautiful and special experiences of my life! Despite the cloud cover, we still were able to get amazing views of the Whitsundays, Whitehaven Beach, Hill Inlet and the Outer Great Barrier Reef. I got some amazing pictures to show to my family and friends and also memories to last a lifetime. I would recommend this tour to everyone wanting to have a special experience in the Whitsundays!!"
Janice
Fri 30 Sep 2016