CW: Great Barrier Reef Adventures
CLOSE
View More Thumbnails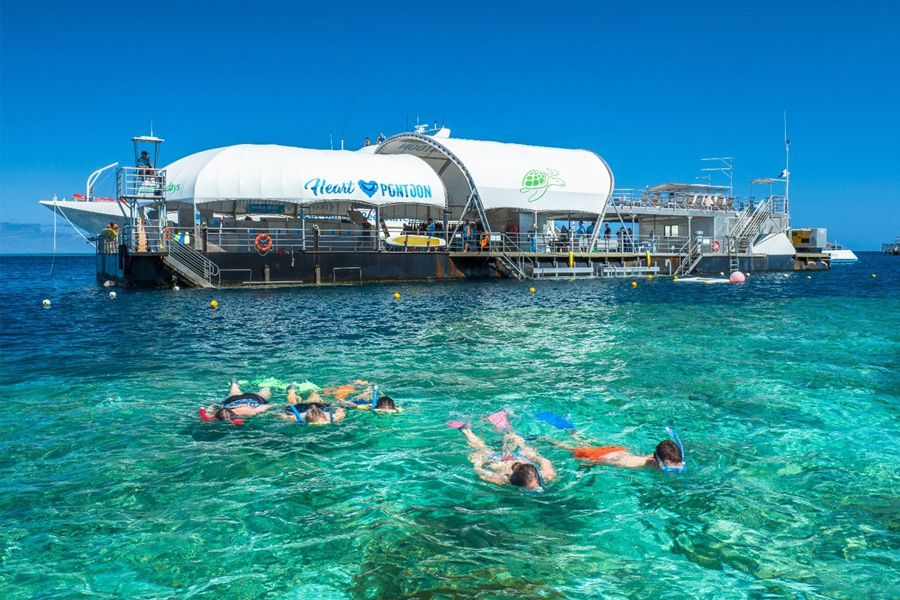 Loading...
Departure Times
Departs: POA: 8am | DDI: 8:20am | HTI: 9am - Tue, Wed, Sat, Sun
Returns: POA: 6:10am | DDI: 5:30pm | HTI: 5:00-5:10pm - Tue, Wed, Sat, Sun
Pricing Options
$237 AUD / Person
- Backpacker
(Between: 01 Apr 2020 and 31 Mar 2021)
$279 AUD / Person
- Adult
(Between: 01 Apr 2020 and 31 Mar 2021)
$729 AUD / Family
- Family (2A+2C)
(Between: 01 Apr 2020 and 31 Mar 2021)
$0 AUD / Person
- Infant (0-3 years)
(Between: 12 Nov 2019 and 31 Mar 2021)
$129 AUD / Person
- Child (4-14 years)
(Between: 01 Apr 2020 and 31 Mar 2021)
$274 AUD / Person
- Senior (60+ years)
(Between: 01 Apr 2020 and 31 Mar 2021)
KIDS GO FREE - Ask us for more details!*
See the Outer Great Barrier Reef on an action-packed full day trip!
Spend a day on a pontoon on the Great Barrier Reef!
Snorkelling and scuba diving available
One of the few day trips to visit the Outer Great Barrier Reef
See marine life up close in our underwater observatory
Great for the whole family!
Introductory and certified divers welcome
Join the Great Barrier Reef Adventure for one of the most unique and amazing trips to the outer reef via the Whitsundays! Cruise to the Outer Reef on board our comfortable, spacious and stable Cruise Whitsundays boat, before arriving at Hardy Reef, home to our pontoon, for a day of fun and adventure. Spend the day at sea for a once-in-a-lifetime experience, experiencing the Outer Reef and its amazing marine life, amazing activities, snorkelling, swimming and relaxing! During your cruise, you will get to the see the best of the Whitsunday Islands, taking in the spectacular scenery and then make your way to the infamous and amazing Great Barrier Reef.
During your day trip, you'll have the chance to enjoy not only the amazing location but also the best of the reef. You can snorkel and swim, as well as see the coral from the unique perspective in our underwater viewing chamber. You'll enjoy a delicious buffet lunch and also take the opportunity to try scuba diving or enjoy a scenic flight at an extra cost. The pontoon offers guests a spacious and stable way from which to enjoy the beautiful Outer Great Barrier Reef, and promises to be the trip of a lifetime!
---
Highlights & Features:
Visit the Great Barrier Reef
On stable pontoon with plenty of room for relaxing
Snorkelling gear and wet/stinger suit
Buffet lunch
Morning and afternoon teas/coffees
Semi-submersible
Fun for the whole family
Underwater viewing chamber
Sun loungers on top deck
Several other activities available for purchase on board such as scuba diving, scenic flights, snorkel tours
Experience Queensland's most innovative and spacious reef pontoon located at Hardy Reef. Featuring Queensland's largest and most spectacular underwater viewing chamber, this unique and amazing day trip is the perfect way to spend your time in the Whitsundays.
---
Like to stay longer?
You can also stay the night on the pontoon and sleep under the stars! Reefsleep 2 days/ 1 night under the stars on the Great Barrier Reef!
---
Important Information
Youth must be aged 15-17 and have a valid high school ID
Backpackers must be aged 18-35 and have either a valid backpacker card OR proof of staying at an Airlie Beach hostel, campervan, or Sailing Whitsundays approved Airbnb.
*KIDS GO FREE: Valid for travel until the 17th of September 2020. Terms and conditions apply - 1x free child per 1x full fare adult. Offers are not combinable. Subject to availability.
Sample Itinerary
The pontoon, known as Reefworld, is adjacent to coral walls, the length of which you can explore by snorkelling as much as like during your day. The reef surrounding the pontoon has its own ecosystem with magnificent corals and a diversity of marine life found only in sheltered areas. It provides a unique world for you to explore and the prolific fish life will surprise and delight you - especially the giant grouper!
Guided snorkelling tours are also available to purchase on board with small groups the guide will take you to very special spots where giant Maori Wrasse, coral formations, tropical fish, turtles and reef sharks are there to be seen. You can also check out the view of the reef from our underwater viewing chamber, one of our favourite pontoon activities.
From the pontoon, you can also try your hand at scuba diving! Both introductory divers and certified divers are welcome to explore the diversity of the Great Barrier Reef from the pontoon, where its beauty will be right at your fingertips. There is no better place to experience the magic of your first scuba dive than at the outer Great Barrier Reef where you will have an unforgettable dive experience alongside other new divers and your experienced instructor! Experienced divers will also be thrilled at the abundance of marine life surrounding the pontoon, where they can enjoy spectacular dives at specially selected sites with a variety of coral formations and marine life. Scuba diving on the Great Barrier Reef is a bucket list item for any diver, and Hardy Reef will not disappoint!
Please advise us at the time of booking if you would like to add any of the above optional extras.
Please note: Age and medical restrictions apply to all activities with Great Barrier Reef Adventures. Please ask us if you have any questions.
---
Guided Snorkel Tour
If you would like a deeper understanding of the sights you will see, take a guided snorkelling with Reef Safari. Your guide will point out and name all the amazing species you will encounter along the way, so you will know all the amazing things you're witnessing!
Scenic flights
For an unforgettable sightseeing experience at the Great Barrier Reef, take the ride of your life in a helicopter. Enjoy the maze of coral reef below you as you fly above the magnificent Great Barrier Reef and out over the iconic Heart Reef
Photos
The team of onboard photographers will capture those hard to get shots - perhaps of your first underwater experience, getting up close and personal with a groper or Maori Wrasse! Photos are available for purchase at the end of the day, where you can walk away with your captured memories that will last a lifetime!

Massages
For the ultimate in peace and tranquillity indulge in a soothing massage while overlooking the incredible Great Barrier Reef. The relaxing surroundings, combined with the lull of the ocean and softness of the ocean breeze will make for an unforgettable and serene experience.
Please note the above optional activities are available for an additional cost and can be booked at the pontoon. The minimum age for Seabob is 12 years old.

---
More Information
What To Bring
Please bring only a small bag with:
Photo identification
Sun protection (hat, sunscreen, sunglasses etc)
Swim-wear
Beach towel
Camera
Jumper or jacket (seasonal)
Cash or credit cards for onboard purchases
What's Included
Snorkelling equipment
Wet/stinger suit
Buffet lunch
Morning and afternoon tea and coffees
What's Extra
On board purchase such as drinks, alcohol and snacks

Photographs

Souvenirs

Scenic flights

Guided snorkelling tours

Scuba diving (subject to medical conditions and age restrictions)
Terms and Conditions
---
Important Information:
*KIDS GO FREE: Valid for travel until the 17th of September 2020. Terms and conditions apply - 1x free child per 1x full fare adult. Offers are not combinable. Subject to availability.
Infants 0-3 years travel free of charge, however no infant meals are included. Guests must be able to show valid ID at check in to support their ticket type (i.e Senior or Child ticket). If you cannot produce the valid identification to meet your ticket requirements, you will not be able to travel without paying a surcharge/difference in fare.
The "Backpacker" price shown is only available clients between the age of 18-35 years who are able to present a genuine backpacker card or proof backpacker accommodation. Backpacker cards are classified as Student Flights, ISIC, YHA, IYTC, ISE, Nomads, Base, or SUT cards. Backpacker accommodation is defined as a hostel, campervan or Sailing Whitsundays accredited Airbnb. Clients will be asked to present their card, photo identification and accommodation receipt at check-in. If the above cannot be produced, the client will not be able to travel without paying a surcharge and may face cancellation fees. The operator retains full rights to grant or refuse a backpacker discount at its absolute discretion so that the backpacker price is only made available to genuine backpackers. Please assist us by adhering to these conditions.
---
Your Responsibilities:
Please advise us before booking if any passengers are under 18 years old to ensure this is the appropriate trip.
You must reconfirm all booked tours prior to travel as specified on your voucher. If applicable, notes such as dietary requirements, pick-up locations and additional fees should also be confirmed at this time. Reconfirmations cannot be actioned through Sailing Whitsundays/Mr Travel, and must be done so directly through the Service Operator as specified on each ticket.
It is your responsibility to notify us of ticket discrepancies. Please read through the details on your voucher thoroughly to ensure all details such as passenger names, ages and dates of travel on vouchers are correct.
It is the responsibility of all passengers travelling to advise both your travel agent at the time of booking and vessel check-in agent before boarding of any medical conditions including food allergies you may suffer from.
You need to allow adequate time to check-in prior to the specified departure time.
---
Scuba Diving/Medical Disclosure:
Age and medical restrictions apply to diving activities. A medical questionnaire must be completed. Divers cannot fly for 24 hours after diving and the company accepts no liability for medical conditions experienced as a result of flying after diving. All diving is operated by Reef Safari Pty Ltd and booking to dive with them deems acceptance of the terms and conditions as published on their website www.reefsafari.com.
---
Prices/Extra Costs:
All prices are stated in Australian dollars and include GST. Surcharges over peak holiday seasons may apply.
The Service Operator reserves the right to alter prices and extra costs. Extra costs may include EMC fees, Stingersuit/Wetsuit Hire, Luggage Storage, Insurance, Linen Hire, National Park Fees, Fuel Levies, Dietary Fees, etc. Bonds may also apply.
We will also endeavour to communicate these extra costs with you at the time of booking, and on your ticket. However, it is your responsibility to confirm which (if any) additional costs apply with each Service Operator upon reconfirming your trip.
---
Travel Risk/Insurance:
It should be noted that adventure travel involves risk. Whilst we make every effort to safeguard clients, we cannot be responsible for personal injury or loss due to the actions of our clients which are beyond our control. We highly recommend that all clients have travel insurance covering illness, injury, loss or damage to personal belongings and not being able to travel on the confirmed date of departure. You should also ensure your travel insurance will cover special circumstances including weather events preventing guests from travelling to their tour departure destination and cancelled flights due to unforeseen circumstances.
---
Transfers:
Transfers are at an additional cost. Please enquire if you would like to add transfers to your booking.
The Service Operator reserves the right to limit courtesy transfers to select local accommodations. Private residences or Airbnb properties may be asked to meet at the closest confirmed location. Failure to meet at the specified pick-up location may be treated as "No Show", for which the Client Cancellation Policy applies.
---
Merchant Fees:
Please be aware operators pass on credit card merchant fees so there is a non-refundable 1% surcharge for VISA and MASTERCARD card purchases.
---
Other:
Terms and Conditions (including the Cancellation Policy) are subject to change. The most recent versions can be found online on the relevant product pages.
All ticket/voucher reissues attract a $20 administration fee.
---
Cancellations
---
Client Cancellations:
All cancellations forfeit 25% of the recommended retail price (RRP) - not the discounted/sale price. Cancellations made 7 days - 48 hours prior to travel date forfeit 50% of the RRP. No shows or client cancellations made within 48 hours of departure forfeit 100% of the total ticket price.
Transfers between tours can be made at the suppliers discretion, however, it should be noted that supplier fees may apply. Tour transfers also incur a $20 administration fee.
It is compulsory that all cancellation requests are in writing and sent via email to admin@mr-travel.com. Cancellations attempted via online chat or phone will not be actioned.
---
Supplier Cancellations:
The Service Operator reserves the right to alter prices, alter itineraries, apply a fuel surcharge, cancel departures, arrange alternative transport and vary itineraries and services if necessary.
All departures and itineraries are subject to weather. Tours may be changed or cancelled for any reason at the discretion of the Service Operator. If the Service Operator has to cancel the trip or activity (prior to departure) and we cannot offer a suitable alternative, then a refund will be given minus a 20% administration fee and any associated card fees. We strongly recommend that you have travel insurance, especially during the wet season.
In the unlikely event of your trip being cancelled or stood down, all guest communication is required to go through our Online Store via telephone or email. While there is a Sailing Whitsundays retail outlet located Airlie Beach, please be aware that they operate as a separate entity and are unable to access reservations made by the Mr Travel online department.
---
Refunds:
All refunds are in Australian Dollars and must be made to the card of payment. Sailing Whitsundays/Mr Travel is not liable for exchange rate fluctuations or fees, or any other merchant/bank fees associated with domestic and/or international transactions.
Where a full refund is applicable, there is the option to transfer the whole cost of the tour to another tour or "Credit" to avoid the administration fee. A transfer fee of $20 will apply.
You will be emailed confirmation once the refund has been processed. Once the refund has been processed, it may still take time for the banks to clear the amount. Please allow 7-10 business days for the funds to clear into Australian accounts and up to 21 business days for international accounts.
---
Accountability/Misconduct:
All Service Operators have the right to provide client feedback and to cancel bookings based off of feedback from other Service Operators.
Please enjoy your travel experience in a kind and responsible manner.
Sailing Whitsundays/Mr Travel will treat this as any normal client cancellation and therefore the cancellation fees stated in the Client Cancellation Policy will apply.
---
Thank you for booking with our East-Coast travel experts here at Mr Travel/Sailing Whitsundays. If you would like any further advice, assistance in arranging accommodation, transfers or additional tours please get in touch.
---
"An amazing way to experience the Great Barrier reef, I really enjoyed the diving and snorkelling as many of the larger fish you will not see on a usual boat trip take up residency under the Pontoon. Time flies on this tour."
Ryan
"If you want to snorkel the GBR this is a great option, even as families. There are guided snorkeling areas, kids' section as well as an underwater observatory and submarine which are free to use. The lunch is buffet, good selection of foods."
Leigh Fields
"Booked the family on this tour. The vessel was large and comfortable with plenty of space to move about. Once we arrived at the pontoon we had a blast taking tours on the semisubmersible, snorkelling on the reef and splashed out on a 10min helicopter scenic flight over Heart Reef. Certainly not to be missed! Would recommend this tour to families in a heartbeat."
Tim Hobbs
"A large pontoon with everything you need for an amazing day at the reef. The resident maroi wrasse followed us around the entire time during our drift dive. It's really given me a new perspective on fish personalities! Hardy Reef is a great site with marine diversity and large coral formations."
Bianca
"Sailed with these guys on a few of their tours and have never been let down. They continue to exceed our expectations. "
Tylor Horne
"I didn't get seasick! Food is awesome! 10/10 "
Francis O'Reilly
"I have completed many dives in the past but my friend completed her first dive at the pontoon today I am impressed with how easy they make it for her. The moon pool on the platform is a very good place to practice and the instructor made her very relaxed and happy before she did her dive. "
Annika
"I am not usually one to write reviews but I feel compelled to write one for this trip. Exceptional. I struggle to find any faults at all. The boat journey out to the reef was smooth and the crew are engaging and attentive. Well organised trip and to a high professional standard. The pontoon itself is stunning with a plethora of activities to keep you occupied. I could not recommend this tour anymore. "
Ben Fraser
"I had reservations about going out to a pontoon as we have been to some in the past that are too overcrowded but this pontoon is different, there is so much going on you never find yourself as a loss of things to do. It is spacious and very well staffed, the snorkelling was some of the best I have done and I have done A LOT of snorkelling. The glass bottom boat is a nice touch, very informative about the reef so you actually learn something too! I will definitely do it again if I find myself in Airlie! "
Ebony P
"I chose to book the pontoon because my mother is disabled and finds it hard to get around. Even though she couldn't snorkel she still had a fantastic time. She sat in the sun loungers on the pontoon, went in the glass bottom boat and checked out the underwater observatory. We all enjoyed our lunch together on the deck. She thoroughly enjoyed the day and it turned out to be the highlight of her entire trip. Thank you so much to the staff who did everything they could to make it a fantastic day. "
Hakeem Diaz
"This is a very well made trip. The crew are so helpful and the snorkelling was amazing. Food is also very good! "
Ella Nielsen
"I usually suffer from getting seasick but this boat is HUGE so I had no issues. Pro tip - They do Gopro hire on the boat, you just keep the SD at the end of the day."
Hanna Franks
"I have lived in the area for 4 years and had my parents visit from Wales, it is their first time to Australia so i wanted them to see the reef. My dad is 58 and has always wanted to go diving, so wheres a better place to do your first dive than the Great barrier reef! The staff are really good, they let you try out the diving to see if your comfortable, if your not they will give you the money back. We had a great experience and they have the pictures up on the wall back home. "
Glyn Thomas
"As a keen diver, I enjoyed the experience that Hardy Reef Pontoon offered us. We booked 2 certified dives, which were taken on different parts of the reef. The coral and marine life were amazing. A big maori wrasse (named Wanda), followed us the entire time! Yes, it is a big boat welcoming a lot of people, but we found that it was a comfortable journey and we appreciated having all the staff available to assist us with our every need. They even have marine biologists on board who share insight about the ecosystems."
Bianca. S.
"This has topped off an already awesome holiday! The staff were so friendly and helpful! My 8 year old daughter was encouraged (by staff) and her confidence sky rocketed! Went from being a bit worried to dragging me all around the reef! This was by far one of the best experiences I have ever had, and will remember it for the rest of my life. Thank you reef world!!"
Hayley
"Staff were brilliant - every person was helpful, happy and clearly knew what they were doing and enjoyed their job. Diving was great, food was great, cannot fault any part of the day. I did two dives, down to 20m and fish, corals, starfish, turtles etc were amazing."
Sam
"Amazing trip to the outer Great Barrier Reef with the Cruise Whitsundays team! My wife and I tried scuba for the fist time and were looked after perfectly by our instructor. What an unbelievable experience, would recommend to all!"
John
"Well worth the journey. Great Barrier Reef is so beautiful. Beyond expectations. Crew were outstanding and very friendly, food was very yummy. I also did my first dive, unreal."
Shane Walker