Boomerang
CLOSE
View More Thumbnails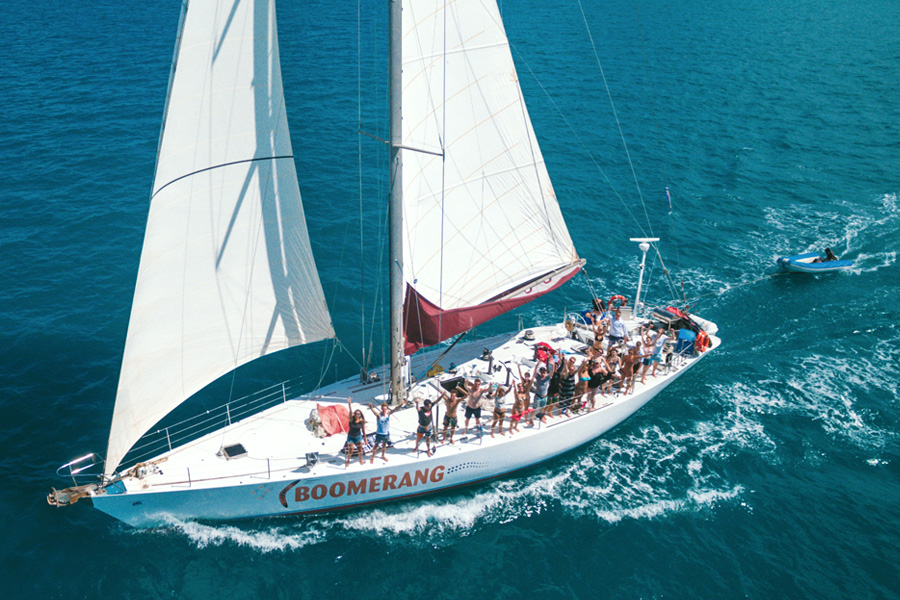 Loading...
Departure Times
Departs: 2:00pm - Mon, Thur, Sat
Returns: 11:00am - Wed, Sat, Mon
The authentic sailing boat Boomerang will take you on a thrilling tour of the Whitsundays
Take on the Whitsundays with speed on board a true racer!
See the best parts of the Whitsundays visiting Whitehaven Beach, Hill Inlet Lookout and colourful coral reefs
Lively crew who will keep you entertained and having fun the whole time
Great social tour for hanging out with a younger crowd - great for backpackers and solo travellers
Reviews
Overall Rating
4.8 / 5.0
Based on 42 reviews
Reviews by our Sailing Whitsundays customers
Me and 3 of my best friends took a 2d/2n trip onboard Boomerang for my birthday, and it was everything I imagined it to be and more! I spent my birthday on Whitehaven beach, snorkelling the Whitsundays where I spotted a turtle and in the evening watched the most incredible sunset. We met some fantastic people, including the crew onboard and just laughed for two days straight. I will be revisiting the Whitsundays in the future.
My best 2 days in Australia, out of 4 months of travel!!! Amazing views, great yacht, super nice crew!! Will definitely do it again one day, on board of Boomerang for sure.
Very good adventure! Seen a lot and had a very good time on the Boomerang. The crew is awesome. I will recommend this trip to others!
Crew were friendly and knowledgeable. Generous food which was always tasty and lots of variety. Trip took us to some excellent snorkelling spots. Would recommend!
Funny trip, amazing on the ocean! Its my first time to experience sailing! Its really cool! Thank you guys a lot! Make my trip so wonderful!
Great trip, Thanks for a good time
I am very surprised because I have found out an amazing kindness, crew and excellent food. Everything was excellent and I hope come back.
A really nice tour, thank you so much for helping us explore this beautiful ocean. I loved snorkelling and scuba diving with you guys! Wonderful memories, thanks a lot!
Excellent Trip, crew were amazing and good fun
Great Adventurers with an awesome team. Spots visited were amazing!
Romain Canteret
, 24 Nov 14
Great experience. Good schedule. Nice snorkelling spot.
10/10
Definitely loved it. Will probably volunteer to be on a crew some day!
Great Experience! snorkelling was awesome!
The timing of the different stops is very good, the food also. Wed had really great weather. Thanks a lot for the great experience.
It was a great trip! Especially the crew i'd strongly recommend a raise for everyone of these blokes.
Charlotte Wix
, 02 Jul 14
Great experience! would highly recommend. Many many thanks x
Great time - crew was fantastic! Might want to create sound proof booth to house the snorers or pass out ear plugs or have those who snore sleep in the raft 1000miles from boat while reassuring them they are still good people :) Loved the food and ate like royalty
Awesome time, although the sleeping spaces deserve new mattress!
Cool crew, smiling and happy. The places where we went were amazing and beautiful. The food was good. The team on the boat was very friendly! Would go again
Awesome trip with very friendly and entertaining crew, exciting experiences and a overall nice atmosphere
Good crew, good food, nice people, well relaxed.
Great service by the crew. Had a great time w/ you guys!! Great food service. Will definitely recommend. ONLY drawback was broken toilet seat. Have a great summer & happy new year.
Great trip, friendly crew creates laid back atmosphere!
James Rainford
, 19 May 14
Fun crew, friendly people, great vibes and views. 10/10
Amazing trip - Amazing crew. Thank you guys!
QUALITY OF TRIP - 10/10
CREW - 10/10
FOOD - 10/10
BOAT - 10/10
Would you travel again - YES
Great fun experience and great crew. Would be better if 2 whole days and 2 nights. Jack also needs bigger tears in his shorts!! Thanks Guys, loved it!
QUALITY OF TRIP - 10/10
CREW - 10/10
FOOD - 10/10
BOAT - 10/10
Would you travel again - YES
Great crew. Plenty of time @ Whitehaven :) Appreciated the mats to sleep on deck!
Check in office experience 10/10 Quality of the adventure 10/10 Your crew 10/10 The quality of the food 10/10 Presentation of the Boat 10/10 I would do it again
Trevor Evenson
, 02 Feb 14
Liam ran a great boat! Food was awesome
Beth Woodhouse
, 02 Feb 14
Crew were awesome. Relax environment. Great boat.
Georgia Harvey
, 14 Jan 14
Was really good. Great food. Crew was helpful and nice. Enjoyable learning about sailing ad the environment of Whitsundays.
Amazing!! Mels cooking is better than my mums!
Really enjoyed it, crew were very friendly & relaxed.
Crew were excellent and made the trip a success from the start! Gunther is an excellent chef! 10 out of 10!!!
Nice experience, good time, the teams fantastic with us. Never will I forget.. I think that I will come back soon!
Fantastic crew, great food, good mix of organised events and time to do your own thing. 10 out of 10
Fantastic trip, wouldnt change a thing!
Really good craic. Toast in the morning would have made my day - the crew was fantastic !
Had an amazing time - beautiful scenery, boat was brilliant and the crew were really friendly and nice. Would definitely recommend to a friend.
10 out of 10. Great Experience on this boat, very nice crew and very nice people.
All crew on board are amazing, food was top notch. Everyone on board made this trip unreal. Whitsundays wouldn't be as awesome without the Boomerang crew!
Fantastic Trip, Crew were amazing and kept everyone entertained