Mantarays in the Whitsundays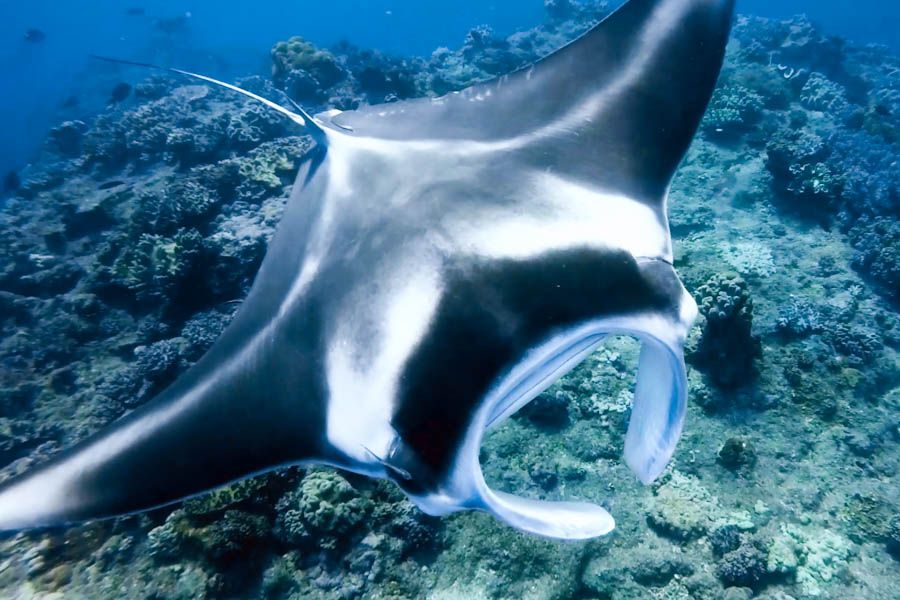 Possibly the most popular of all marine life found in the Whitsundays is the majestic manta ray. As one of the Great Barrier Reef's "Great 8," they are certainly a highly sought out animal to cross paths with in the Whitsundays.
These special type of rays are easiest spotted in the region in the winter when humpback whales are also on their annual migration. Their movements range from graceful and slow, to bursts of speed that can have them leaping out of the water. They filter feed on plankton and swirl through the water vertically with their feeding apparatus open, and catch plankton as water passes through them.
Many travellers head out on a Whitsundays tour in the hope to see a manta ray in their own natural environment, to the extent that a popular snorkel site has been fittingly named 'Manta Ray Bay'. They are curious by nature, often swimming close to snorkellers and divers in and around the inner fringing reef off the islands. These elasmobranchs differ from other rays because they have no stinging barb, so they are also an incredibly safe animal to swim with.
Manta rays in the region have been known to stay around Manta Ray Bay at certain times of the year and can also be found around the islands, cruising the shoreline and often surface nearby anchored vessels. Manta Rays are harmless to humans and spend their time eating plankton and travel along using their incredibly large "wings" which can sometimes be seen from above the surface.
The best chance to see a manta ray in their natural habitat is on an overnight sailing trip. Chat to our team today to pick the perfect boat trip for your chance to see these magnificent creatures!