WS Jetski Tours: Airlie Adventure
CLOSE
View More Thumbnails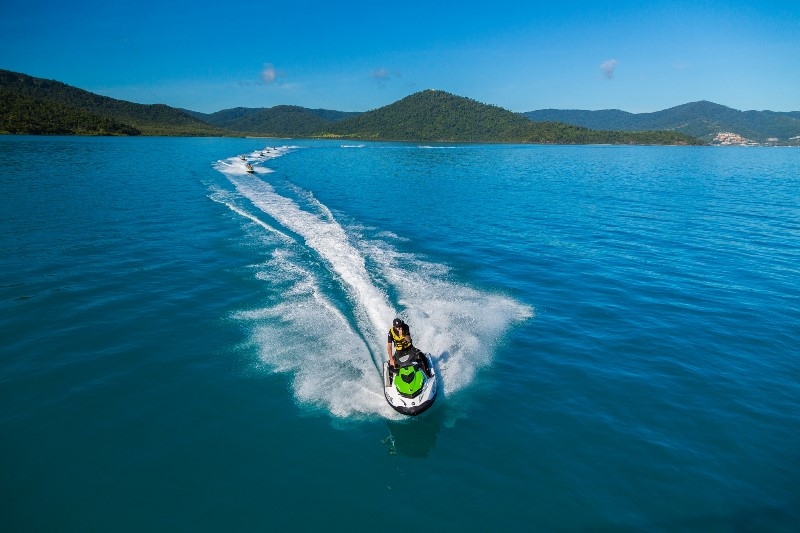 Loading...
Departure Times
Departs: Please Enquire via Check Availability - Daily
Returns:
Please Enquire via Check Availability - Daily
Departure Point: Airlie Beach
Pricing Options
$250 AUD / Jetski
- Jetski (Up To 2 People)
(Between: 01 Apr 2023 and 31 Mar 2024)
Find out why Whitsunday Jetski Tours is so popular on one of their guided jetski tours around the Whitsunday Islands.
Approximately 1.5 hours of fun-filled jetskiing
Informative and entertaining commentary by qualified tour guide
Sea turtles, dugongs, seabirds and seasonal humpback whales are often encountered
No experience necessary, no license required
---
Zoom around the Whitsunday waters on your very own jet ski with no experience necessary! Whitsunday Jetski Tours will take you around some of the most beautiful island with plenty of surprises along the way. This popular trip is a must-do while in the Whitsundays with all tours departing from Airlie Beach, with courtesy pick ups from your Airlie Beach accommodation. Drive your own jetski out to view the Whitsunday Islands from the protection of the coastline, before exploring Airlie's beautiful bays and enjoying some turtle spotting.
Highlights & Features:
Approximately 1.5 hours of fun filled jetskiing
Informative and entertaining commentary by qualified guide
All riding apparel, safety gear & bottled water
Sea turtles, dugongs and sea birds are often encountered
Free photos provided on Facebook
Complimentary pick up and drop off from Airlie Beach accommodation
Ages 8 and up
The Airlie Adventure tour is a great way to get out and experience the thrill of jet-skiing while cruising through the Whitsundays. It's also known as the Turtle Tour, and is an adventure tour that ventures out to Pioneer Bay to give guests a chance to see Airlie Beach and regular sea turtle encounters.

Wind Guide:
10 knots – smooth, dry ride
15 knots – partly smooth some choppy small waves
20 knots plus – choppy water spray and large waves.
These adventure tours operate in most weather conditions. However, management reserve the right to change itinerary or times in extreme weather conditions.

---
Important Information:
Must be able to swim wearing a lifejacket.
Minimum passenger age is 8 years and over, minimum driver age is 16 years and over.
Weight restrictions apply, with each jetski allowing a maximum of two people or 230kg.
A reasonable level of fitness is required as some conditions can be physically demanding. Thorough safety briefing and demonstrations provided by qualified tour guide and all safety gear and full riding apparel is supplied. The tours are fully supervised with radio contact at all times.
More Information
Show Less
What To Bring
Casual clothes
Sunscreen
Towel
Hat
Swimwear
What's Included
All informative & entertaining commentary by qualified guide
All riding apparel including tops, sunglasses/goggles and hat and safety gear.
Photos included and available on Facebook
Courtesy pick up and drop off from select local accommodations (please enquire if unsure)
What's Extra
Nothing, it's all included!
Terms and Conditions
---
Important...
Read More
What To Bring
Casual clothes
Sunscreen
Towel
Hat
Swimwear
What's Included
All informative & entertaining commentary by qualified guide
All riding apparel including tops, sunglasses/goggles and hat and safety gear.
Photos included and available on Facebook
Courtesy pick up and drop off from select local accommodations (please enquire if unsure)
What's Extra
Nothing, it's all included!
Terms and Conditions
---
Important Information:
Any person who may be pregnant cannot participate in jetski tours. A reasonable level of fitness is required as some conditions can be physically demanding. A signed release will be required from all participants on departure. We recommend you take out travel insurance & assess your suitability to this activity prior to commencement.
Weight restrictions apply, maximum of 2 people per jetski or 200kg per jetski. Minimum driver age is 16 years. Minimum passenger age is 8 years.
Due to the nature of using digital cameras in the harsh saltwater operational environment, adverse weather conditions, and the possibility of operator error or camera failure, we cannot guarantee provision of photos.
---
Your Responsibilities:
Please advise us before booking if any passengers are under 18 years old to ensure this is the appropriate trip.
You must reconfirm all booked tours prior to travel as specified on your voucher. If applicable, notes such as dietary requirements, pick-up locations and additional fees should also be confirmed at this time. Reconfirmations cannot be actioned through Sailing Whitsundays/Mr Travel, and must be done so directly through the Service Operator as specified on each ticket.
It is your responsibility to notify us of ticket discrepancies. Please read through the details on your voucher thoroughly to ensure all details such as passenger names, ages and dates of travel on vouchers are correct.
It is the responsibility of all passengers travelling to advise both your travel agent at the time of booking and check-in agent before boarding of any medical conditions including food allergies you may suffer from.
You need to allow adequate time to check-in prior to the specified departure time.
---
Prices/Extra Costs:
All prices are stated in Australian dollars and include GST. Surcharges over peak holiday seasons may apply.
The Service Operator reserves the right to alter prices and extra costs. Extra costs may include EMC fees, Stingersuit/Wetsuit Hire, Luggage Storage, Insurance, Linen Hire, National Park Fees, Fuel Levies, Dietary Fees, etc. Bonds may also apply.
We will also endeavour to communicate these extra costs with you at the time of booking, and on your ticket. However, it is your responsibility to confirm which (if any) additional costs apply with each Service Operator upon reconfirming your trip.
---
Travel Risk/Insurance:
It should be noted that adventure travel involves risk. Whilst we make every effort to safeguard clients, we cannot be responsible for personal injury or loss due to the actions of our clients which are beyond our control. We highly recommend that all clients have travel insurance covering illness, injury, loss or damage to personal belongings and not being able to travel on the confirmed date of departure. You should also ensure your travel insurance will cover special circumstances including weather events preventing guests from travelling to their tour departure destination and cancelled flights due to unforeseen circumstances.
---
Transfers:
The Service Operator reserves the right to limit courtesy transfers to select local accommodations. Private residences or Airbnb properties may be asked to meet at the closest confirmed location. Failure to meet at the specified pick-up location may be treated as "No Show", for which the Client Cancellation Policy applies.
---
Merchant Fees:
Please be aware operators pass on credit card merchant fees so there is a non-refundable 1% surcharge for VISA and MASTERCARD card purchases.
---
Other:
Terms and Conditions (including the Cancellation Policy) are subject to change. The most recent versions can be found online on the relevant product pages.
All ticket/voucher reissues attract a $20 administration fee.
---
Open Date Vouchers / Gift Certificate:
Shipping Costs are in addition to the ticket price and will be added at check-out. Shipping costs are non-refundable and do not makeup part of the ticket value.
E-Vouchers incur no shipping fees.

You have 5 years to use the value of the voucher. Seasonal Price Rises will apply if travelling out the current seasons pricing. Vouchers can be exchanged for free up to the full value of the voucher excluding credit card fees and charges.
Cancellations
---
Client Cancellations:
No shows or client cancellations made within 24 hours of departure forfeit 100% of the total ticket price.
Sailing Whitsundays are required to notify the operator of any cancellations within the specified cancellation period (24 hours). It is your responsibility to make sure you submit your cancellation request with adequate time, and during standard business hours (9am-5pm), to allow us to contact the tour provider.
Transfers between tours can be made at the suppliers discretion, however, it should be noted that supplier fees may apply. Tour transfers also incur a $20 administration fee.
It is compulsory that all cancellation requests are in writing and sent via email to admin@mr-travel.com. Cancellations attempted via online chat or phone will not be actioned.
---
Supplier Cancellations:
The Service Operator reserves the right to alter prices, alter itineraries, apply a fuel surcharge, cancel departures, arrange alternative transport and vary itineraries and services if necessary.
All departures and itineraries are subject to weather. Tours may be changed or cancelled for any reason at the discretion of the Service Operator. If the Service Operator has to cancel the trip or activity (prior to departure) and we cannot offer a suitable alternative, then a refund will be given minus a 20% administration fee and any associated card fees. We strongly recommend that you have travel insurance, especially during the wet season.
In the unlikely event of your trip being cancelled or stood down, all guest communication is required to go through our Online Store via telephone or email. While there is a Sailing Whitsundays retail outlet located Airlie Beach, please be aware that they operate as a separate entity and are unable to access reservations made by the Mr Travel online department.
---
Refunds:
All refunds are in Australian Dollars and must be made to the card of payment. Sailing Whitsundays/Mr Travel is not liable for exchange rate fluctuations or fees, or any other merchant/bank fees associated with domestic and/or international transactions.
Where a full refund is applicable, there is the option to transfer the whole cost of the tour to another tour or "Credit" to avoid the administration fee. A transfer fee of $20 will apply.
You will be emailed confirmation once the refund has been processed. Once the refund has been processed, it may still take time for the banks to clear the amount. Please allow 7-10 business days for the funds to clear into Australian accounts and up to 21 business days for international accounts.
---
Accountability/Misconduct:
All Service Operators have the right to provide client feedback and to cancel bookings based off of feedback from other Service Operators.
Please enjoy your travel experience in a kind and responsible manner.
Sailing Whitsundays/Mr Travel will treat this as any normal client cancellation and therefore the cancellation fees stated in the Client Cancellation Policy will apply.
---
Thank you for booking with our East-Coast travel experts here at Mr Travel/Sailing Whitsundays. If you would like any further advice, assistance in arranging accommodation, transfers or additional tours please get in touch.
Customers who viewed this item also viewed...
Reviews
Overall Rating
4.9 / 5.0
Based on 19 reviews
Reviews by our Sailing Whitsundays customers
Had the best time on the jetskis! The crew were friendly, fun and had plenty of local knowledge! Would do it again 10/10!
This was my first time driving a jetski and I had an absolutely amazing time exploring and seeing Airlie from the waters. We drove past the big mansion where Johnny Depp stayed while filming Pirates of the Caribbean, and even got to see some turtles. Was a great adrenalin rush. Couldn't wipe the smile off my face. Highly recommend it!
Daragh McDonagh
, 21 Feb 23
Last Tuesday I was lucky enough to get out on the WS Airlie Adventure Jetski Tour with my girlfriend. We had a great experience from start to finish with the guides doing all they could to make it the best trip possible. Once checked in we got a complimentary bottle of water and were given a safety briefing in which we were told all of the dos and don'ts when it comes to jetski safety and how to maximise our time out on the water. Once the briefing was over we threw on a bit of sun cream and headed down to the skis. Lucky for us the jetskis were only 3 weeks old and all in supreme condition. After getting our life jackets and one last quick run through on how to operate the jetski we started the tour. The jetskis had plenty of storage space under the steering wheel for drinks, hats etc. We were on the last jetski that got into the water meaning we were at the back of the line which followed the guide. Initially I thought it would have been better to be right up the front but after the first 10 minutes I realised being at the back meant we could set our own pace, going as fast or slow as we wanted. Although it was slightly overcast the water conditions were good, calm in areas while also a bit choppy in others meaning we got the full experience. On our way to pioneer point we had a nice mix of building speed on straight runs while also getting to do some zigzags and testing our skills with the beautiful Airlie backdrop over our shoulders. We briefly stopped once we got to Pioneer point, had a drink of water, a small chat and then one of the guides took some pictures of us. Stopping at Pioneer point gave us the chance to swap driver too which was nice. We had a new tour guide who was training on our trip, because we had an additional guide and a group with differing ability we were split into two smaller groups at the halfway point, one more adventurous than the other. We then went turtle spotting which was amazing, we saw at least 4 turtles and took some more pictures. After the turtle spotting we made our way back to the Marina. Overall it was a great trip with high quality jetskis, professional tour guides and loads of turtles… what a combo. Will definitely be going back and would 100% recommend it to a friend.
Saw a turtle! The trip was great, would definitely recommend to a friend who LOVES adventure
loved it :) Cant wait to come back and do it again
The Airlie Adventure was great, i think it was a good amount of time out on the water, however it would have been good if we went a little further around the islands. Our instructor was awesome and we were able to go pretty fast which was fun! My partner jumped on and had a drive and she loved it too. Great little day activity.
Super day out, had the best time.
Really great value tour with my friend sharing a jetski. saw plenty of the coast too
loved the jetski guided tour around the coast, saw plenty of fish and went pretty fast aswell
Had the best time jet skiing, the skis seemed to be new and well maintained which was reassuring
Fun day out on the jet skis, guide was really great at spotting wildlife
The jet skis were a blast. My partner and I had so much fun. We saw some turtles which was a nice bonus. Overall it was great fun.
This tour was a really fun opertunity to get on the water and see some local water life while also getting some thrills along the way.
Thought the tour was really cool, chilled out jet ski adventure looking at the beautiful shoreline. Houses and hills were very cool.
Lachlan Walker
, 04 Aug 22
This was an awesome way to end our trip. If you are in Airlie and short of time but looking for something extremely fun to do, book in a JetSki tour, highly recommend.
Heaps of fun racing around the bay at full speed! Very professional and funny guide. Would do it again in a heartbeat :)
faster the better is right! it was our first time jet skiing and we felt really save with the tour guide and he was lots of fun and made our adventure even more exciting. 10/10
We went out on a rough day, but it was so much fun to ride the waves out in the bay, jumping over the higher waves and going fast when smooth! At half time passengers can swap driver and you get a chocolate bar :) The guides are super friendly and like to make jokes. Fantastic tour!