Commercial Crew Course
CLOSE
View More Thumbnails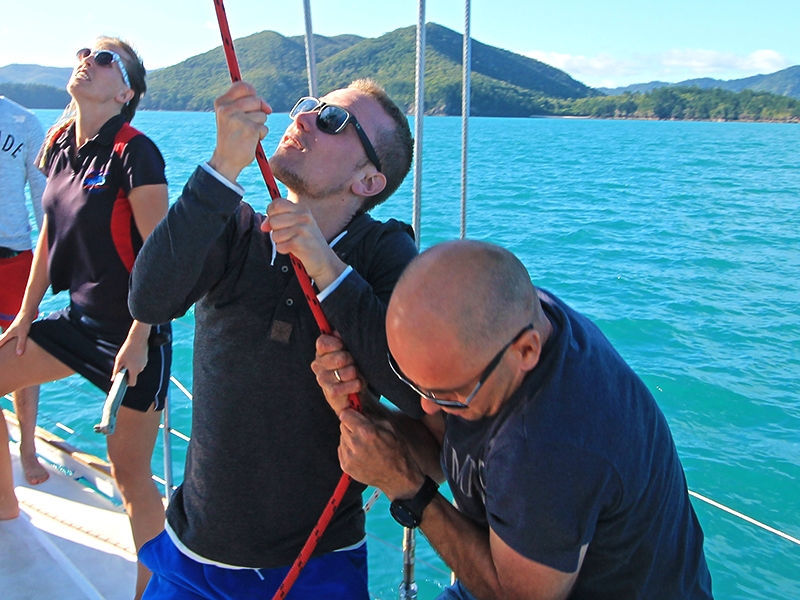 Loading...
Departure Times
Departs: 9.00am - Monday
Returns:
4.00pm - Saturday
Departure Point: Airlie Beach
Pricing Options
$899 AUD / Person
- International Cert of Competence (3D/2N)
(Between: 01 Apr 2021 and 31 Dec 2023)
$1899 AUD / Person
- International Crew Course (6D/6N)
(Between: 01 Apr 2021 and 31 Dec 2023)
$3499 AUD / Person
- International Flotilla Skipper Cert (18D/17N)
(Between: 01 Apr 2021 and 31 Dec 2023)
$4499 AUD / Person
- International Bareboat Skipper Cert (23D/22N)
(Between: 01 Apr 2021 and 31 Dec 2023)
A fun and practical course, introducing you to the overall running of a yacht!
Lean theory and skills to sailing
Train from on board Eureka II
International Yacht Training program syllabus
Visit top Whitsundays locations as added bonus
Walk away with sailing experience and knowledge!
The Commercial Crew Course includes training on safety, regulations and manoeuvres enabling students to build their confidence and knowledge of yachts. Your course will take place on board the most modern performance yacht Eureka II, which is a Sydney 60 in full commercial survey, meeting the National Standards for Commercial Vessels (NSCV)! While completing Theory and Practice on board the yacht, over the 6 days and 5 nights participants also get to experience the beautiful Whitsunday Islands, including around 2 hours to experience Whitehaven Beach, plus snorkelling on the Pristine Fringing Coral Reefs extending from Hook and Hayman Islands. Your course will include, accommodation onboard, all meals freshly prepared onboard, snorkel equipment and instruction, Professional Instructor, Course Notes, Commercial Sea-time Log Book, Course Certificate. From day 1 of this training, you will be earning valuable commercial sea-time signed-off in your Log Book. You will be given a comprehensive set of course notes, tailored to meet the requirements of working on a commercial yacht in the Whitsundays.


The Commercial Crew Course covers the International Yacht Training Program Syllabus
Marine Terminology

Types of vessels, parts of vessels and equipment names
Safety Equipment - life jackets, flares, life raft, first aid kit, fire Extinguishers, safety harnesses, VHF radio
Relative direction, fore/aft, bows/stern, ahead/abeam/astern, port/starboard, windward/leeward

Marine Ropework

Review the following knots - round turn and two half hitches, clove hitch, figure of eight stopper knot
Tie the following knots - bowline, reef knot, rolling hitch and sheet band

Basic Rules of the Sea

Collision avoidance, between sailing vessels, power and sailing vessels and power vessels
Keep right (starboard) side in channelled, buoys, beacons and buoyage systems

Introduction to Weather

Sources of weather forecasts
Importance of weather for yachtsmen, to sail or not to sail

Sails and Sail Handling

Explanation of how sails work
Points of sail and sailing terms
Parts of the rigging, standing and running

Boat Handling Under Power

Effects of wind, tide and currents
Basic manoeuvring

Planning the First Voyage

Briefing about passage, to include introduction to charts, tide tables, weather forecasts

Safety onboard and equipment

Location and use of - life jackets, flares, life raft, first aid kit, fire extinguishers, safety harnesses, VHF radio
Do's and Don'ts aboard a yacht
Emergency situations, MOB, Fire etc.

Vessel Equipment & Instruments

VHF radio, sounder, log, GPS, Radar
Dinghy location, inflation, launch and recovery outline

Engine Checks & Maintenance

Lubricant condition and levels, coolant condition and levels, drive belt tension and condition
Tool, kit, spare parts and service items
Visual checks and aids to monitoring engine condition
Engine room discipline and cleanliness

Deck Hand Seamanship

Stowage for sea, above and below decks
Correct use of, care and stowing of ropes, lines and fenders, and throwing a line
Mediterranean bows/stern-to mooring

Sails & Sail Handling
Sailing Vessel Handling Skills

Propeller effect when in gear ahead and astern
Rudder effect, rudder and propeller effect
Steer a triangular compass course

Marine Terminology

Seaworthiness, stability factors
Types of ropes, qualities, uses
Whipping and splicing

Basic Rule of the Sea

Introduction to lights, shapes and sound signals

Marine Charts & Compass

How to use a compass
Course steered, and bearings of objects from the vessel
Basic fix using hand bearing compass and plotting fix
Course to steer, distance and ETA

Sails & Sail Handling

Sail types, storm jib, storm trysail, construction and uses
Selection of headsails

Marine Manners, Customs & Etiquette

Courtesy in marinas and anchorages, vessels alongside and prevention of unnecessary noise
Safety of vessel and crew
Responsibility of Skipper, authority and stress factors
Crews duties and responsibilities

Safety Checks

Location of skin fittings/through hulls, and sea cocks
Engine warning lights and alarms
Emergency stopping of runaway engine, fuel cut off, etc

Deck Hand Seamanship

Slipping from and mooring to:

An alongside berth
A mooring buoy
Fore and aft buoys or piles - where applicable

Sails & Sail Handling

Bending on, hoisting, lowering and reefing mainsails etc.
Handling and coordination of main sheets and jib sheets
Sail controls, effect of halyards, outhauls, topping lift and kicking
Strops or vangs
Sail trim, tension, kicking strops/vang etc.

Sailing Vessel Handling Skills

Under Sail
Steering, tacking, gibing, turning upwind/downwind, luffing up, bearing away, trim
Sail a triangular course
Sail a compass course
Heaving to, lying a hull
Under Power
Steer a compass course
MOB, anchoring, pick up a mooring buoy
Propeller effect when in gear ahead and astern
Rudder effect, rudder and propeller effect
Steer a triangular compass course
From day one of this course, you will start building up your sea time, earning valuable experience that will be signed off in you log book and can be counted towards your sailing qualifications. The Commercial Crew course is the perfect place to develop your interest in yachting.

Boat Layout
Tap the hotspots on the floor plan below to view Eureka II.
Loading...


Private Double Cabin - Double bed in private cabin, requiring 2 people
Shared Accom - Double and single beds in shared/open plan area
Sample Itinerary
Whitehaven Beach
Guests on board Eureka II will get to enjoy a stop at the ever-so stunning Whitehaven Beach. Famous for its pure silica sands and seemingly endless shoreline, Whitehaven Beach has been voted one of the best beaches in Australia. It is located on the largest island of the 74 Whitsunday Islands, providing a perfect beach escape.
Hill Inlet Lookout
A short bushwalk in land will lead you to the equally famous Hill Inlet Lookout, which will give you unparalleled views of the beach below and the swirling sands of Hill Inlet. The swirling sands below are created through the ever-changing tides that leave behind a kaleidoscope of blue and white. Capture this moment in a photo and in memory while on board Eureka II.
Snorkelling
The crew on board Eureka II will take you to all the hot spots in the area and provide you with all the necessary gear and tuition if you need it. Below the waterline the Whitsundays offers an array of colourful corals and amazing marine mammals and fish. The waters are a pristine blue and a beautiful temperature year round. Because of the low passenger numbers this vessel can get to locations that are more remote and off the beaten track so your guaranteed a unique experience without the crowds.

More Information
Show Less
What To Bring
Please bring only a small soft bag with: change of clothes, hat, swim-wear, beach towel, sunscreen 30+, warm pullover for the evenings (seasonal). You will also need to bring your own alcoholic beverages, available for purchase at the marina or in town. No glass bottles please.

Excess luggage can be stored at several places in town including at your accommodation. Most charge between $5-10pp for the duration of your trip....
Read More
What To Bring
Please bring only a small soft bag with: change of clothes, hat, swim-wear, beach towel, sunscreen 30+, warm pullover for the evenings (seasonal). You will also need to bring your own alcoholic beverages, available for purchase at the marina or in town. No glass bottles please.

Excess luggage can be stored at several places in town including at your accommodation. Most charge between $5-10pp for the duration of your trip.
What's Included
Skipper, crew, drinking water, meals, linen, wetsuit hire, snorkelling equipment, Marine Park fees and wet weather jackets if needed. Courses include live on yacht, course notes and certificates.

What's Extra
BYO alcohol(no glass Soft drinks available for purchase on board.
Terms and Conditions
---
Your Responsibilities:
Please advise us before booking if any passengers are under 18 years old to ensure this is the appropriate trip.
You must reconfirm all booked tours prior to travel as specified on your voucher. If applicable, notes such as dietary requirements, pick-up locations and additional fees should also be confirmed at this time. Reconfirmations cannot be actioned through Sailing Whitsundays/Mr Travel, and must be done so directly through the Service Operator as specified on each ticket.
It is your responsibility to notify us of ticket discrepancies. Please read through the details on your voucher thoroughly to ensure all details such as passenger names, ages and dates of travel on vouchers are correct.
It is the responsibility of all passengers travelling to advise both your travel agent at the time of booking and vessel check-in agent before boarding of any medical conditions including food allergies you may suffer from.
You need to allow adequate time to check-in prior to the specified departure time.
---
Prices/Extra Costs:
All prices are stated in Australian dollars and include GST. Surcharges over peak holiday seasons may apply.
The Service Operator reserves the right to alter prices and extra costs. Extra costs may include EMC fees, Stingersuit/Wetsuit Hire, Luggage Storage, Insurance, Linen Hire, National Park Fees, Fuel Levies, Dietary Fees, etc. Bonds may also apply.
We will also endeavour to communicate these extra costs with you at the time of booking, and on your ticket. However, it is your responsibility to confirm which (if any) additional costs apply with each Service Operator upon reconfirming your trip.
---
Travel Risk/Insurance:
It should be noted that adventure travel involves risk. Whilst we make every effort to safeguard clients, we cannot be responsible for personal injury or loss due to the actions of our clients which are beyond our control. We highly recommend that all clients have travel insurance covering illness, injury, loss or damage to personal belongings and not being able to travel on the confirmed date of departure. You should also ensure your travel insurance will cover special circumstances including weather events preventing guests from travelling to their tour departure destination and cancelled flights due to unforeseen circumstances.
---
Transfers:
The Service Operator reserves the right to limit courtesy transfers to select local accommodations. Private residences or Airbnb properties may be asked to meet at the closest confirmed location. Failure to meet at the specified pick-up location may be treated as "No Show", for which the Client Cancellation Policy applies.
---
Merchant Fees:
Please be aware operators pass on credit card merchant fees so there is a non-refundable 1% surcharge for VISA and MASTERCARD card purchases.
---
Other:
Terms and Conditions (including the Cancellation Policy) are subject to change. The most recent versions can be found online on the relevant product pages.
All ticket/voucher reissues attract a $20 administration fee.
---
Open Date Vouchers / Gift Certificate:
Shipping Costs are in addition to the ticket price and will be added at check-out. Shipping costs are non-refundable and do not makeup part of the ticket value.
E-Vouchers incur no shipping fees.

You have 5 years to use the value of the voucher. Seasonal Price Rises will apply if travelling out the current seasons pricing. Vouchers can be exchanged for free up to the full value of the voucher excluding credit card fees and charges.
Cancellations
---
Client Cancellations:
All cancellations forfeit 25% of the recommended retail price (RRP) - not the discounted/sale price. No shows or client cancellations made within 21 days of departure forfeit 100% of the total ticket price.
Transfers between tours can be made at the suppliers discretion, however, it should be noted that supplier fees may apply. Tour transfers also incur a $20 administration fee.
It is compulsory that all cancellation requests are in writing and sent via email to admin@mr-travel.com. Cancellations attempted via online chat or phone will not be actioned.
---
Supplier Cancellations:
The Service Operator reserves the right to alter prices, alter itineraries, apply a fuel surcharge, cancel departures, arrange alternative transport and vary itineraries and services if necessary.
All departures and itineraries are subject to weather. Tours may be changed or cancelled for any reason at the discretion of the Service Operator. If the Service Operator has to cancel the trip or activity (prior to departure) and we cannot offer a suitable alternative, then a refund will be given minus a 20% administration fee and any associated card fees. We strongly recommend that you have travel insurance, especially during the wet season.
In the unlikely event of your trip being cancelled or stood down, all guest communication is required to go through our Online Store via telephone or email. While there is a Sailing Whitsundays retail outlet located Airlie Beach, please be aware that they operate as a separate entity and are unable to access reservations made by the Mr Travel online department.
---
Refunds:
All refunds are in Australian Dollars and must be made to the card of payment. Sailing Whitsundays/Mr Travel is not liable for exchange rate fluctuations or fees, or any other merchant/bank fees associated with domestic and/or international transactions.
Where a full refund is applicable, there is the option to transfer the whole cost of the tour to another tour or "Credit" to avoid the administration fee. A transfer fee of $20 will apply.
You will be emailed confirmation once the refund has been processed. Once the refund has been processed, it may still take time for the banks to clear the amount. Please allow 7-10 business days for the funds to clear into Australian accounts and up to 21 business days for international accounts.
---
Accountability/Misconduct:
All Service Operators have the right to provide client feedback and to cancel bookings based off of feedback from other Service Operators.
Please enjoy your travel experience in a kind and responsible manner.
Sailing Whitsundays/Mr Travel will treat this as any normal client cancellation and therefore the cancellation fees stated in the Client Cancellation Policy will apply.
---
Thank you for booking with our East-Coast travel experts here at Mr Travel/Sailing Whitsundays. If you would like any further advice, assistance in arranging accommodation, transfers or additional tours please get in touch.
---