SV Whitehaven 2D1N
CLOSE
View More Thumbnails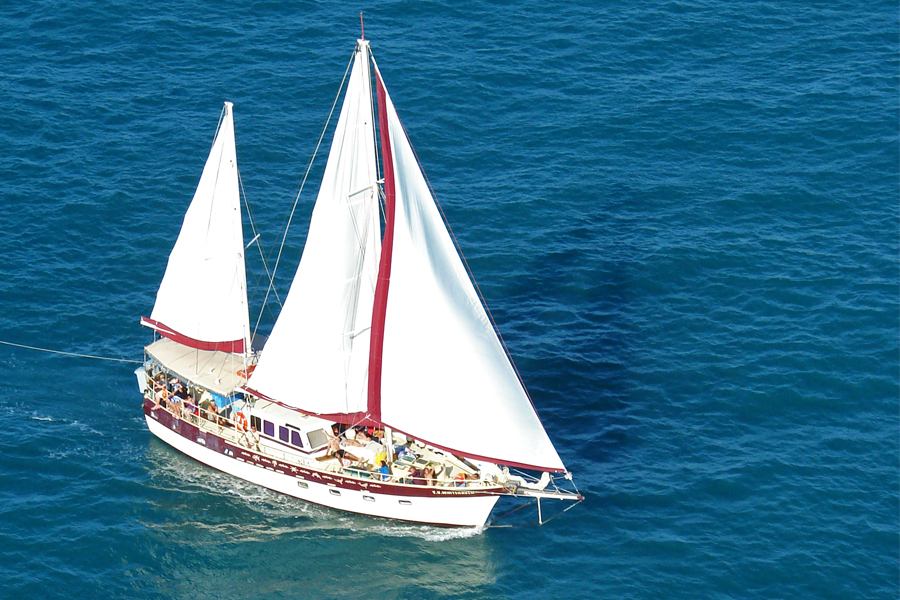 Loading...
Departure Times
Departs: 8:30am - Fri & Sun
Returns:
4:00pm - Sat & Mon
Departure Point: Airlie Beach
Pricing Options
RRP $349

$339 AUD / Person
- Shared Accom
(Between: 01 Apr 2021 and 31 Mar 2023)
See more, explore more, do more on SV Whitehaven!
Join the eco-adventure of a lifetime
Visit Whitehaven Beach and Hill Inlet Lookout
Great tour for those who want to explore the wilderness of the Whitsundays!
Emphasis on snorkelling, beach time and eco-guided kayak exploration
A fun boat that's a great choice for those short on time
Big, open decks, plenty of deck seating and huge aft deck with shade, she's the ideal safari boat!
Reviews
Overall Rating
4.9 / 5.0
Based on 14 reviews
Reviews by our Sailing Whitsundays customers
We went to all the spots that you'd expect with a few extras thrown in - sunset on the sand bank was a particularly awesome addition. Whitehaven Beach speaks for itself! Just remember to take everything you think you may need as there aren't shops along the way (alcohol, suncream etc) but also remember to pack light, you only need swimmers and a couple of T-Shirts really!
Crew was brilliant always pointing out the best areas while we were sailing and skipper spotted wild dolphins before we did. Snorkelling by blue coal Island was awesome, so many beautiful fish and coral to see. Got to Whitehaven early the next day and walked to the lookout point first, was speechless. Once on the beach the sand was so soft and spent the morning lazing in the water with fish and stingrays swimming round me. Wonderful food was provided throughout the weekend and sleeping on deck was fun under the stars saw a shooting star was lucky to see that. Thank you to the awesome crew for taking me to Paradise xx
A great trip! Great weather, with even better banter! Highlights included seeing turtles, dolphins, shooting stars, the sunset and Whitehaven Beach (and finding out the boys love clash of clans). Would definitely recommend this boat, one night and two full days is the perfect amount of time to get a good tan and see a lot of what's on offer at the Whitsundays! The three kiwis make a great crew and cater for all your needs!
What an amazing cruise / sailing in the Withsundays! We were a small group of 14 people during a 2 days / 1 night adventure! Such a good atmosphere!! The crew made it easy to feel comfortable! Many activities: Whitehaven beach, we learned about astronomy during the evening, snorkelling, kayaking! Sailing was amazing and so relaxing! And the food was really good!! I definitely recommend this tour!
It was one of the best things we did so far in Australia. The crew was amazing, motivated and very friendly who made sure that everybody had a good time. We went snorkelling at two great spots, one with lots of turtles which werent afraid at all and the other place was perfect for lots of fish and coral. Its also possible to use one of the kayaks, but we preferred to stay in the water snorkelling. The food was really good. I would truly recommend this trip.
Such a great, well-run tour. Incredibly relaxed and the crew are awesome; they just love what they do and it makes them brilliant at it. Whitehaven was amazing - one of the most beautiful and individual beaches Ive seen. Best few days! Couldnt recommended them more highly!
Absolutely breathtaking experience on SV Whitehaven! Super fun and friendly crew who enjoy it just as much as you do. Amazing secluded snorkeling sites with turtles and bright corals. Cannot express how incredible this was!!!
Fantastic crew that tried to make everyone feel at ease. The crew did their best to give to passengers the best experience. Meals were very abundant, lot of snorkelling (and kayaks for those who wanted to try), nights under the stars, amazing sunsets and sunrise. The two days were unforgettable.
Was a really good trip, had plenty of time at Whitehaven Beach on the first day, and the same with the two locations for water activities the next day. Staff were really fun and friendly and the food was really good. Really good value for money, would definitely do this trip again.
Really nice crew members definitely recommend it small and friendly.
On first morning/afternoon of the trip we got to visit the amazing Whitehaven beach and spend like 3 or 4 hours there. Probably the nicest beach Ivve ever seen. The crew lead a hike to the viewpoint to overlook the beach and explain the history and general information about the area. This was really interesting. This was followed by two great snorkel stops. I couldnt recommend this trip enough. Crew where incredible and willing to answer any question you threw at them. The food was fantastic and plentiful. The sights will blow your mind! BOOK IT.
Cecile & Marjolein
, 31 Oct 12
Everything was really perfect: Whitehaven Beach was paradise, food was excellent, snorkelling places were awesome, great stories about the fishes, swimming with alot of turtles, meeting nice people on the boat, geta good tan on the sundeck... the crew were absolutely WICKED!!!! We will definitely recommend SV Whitehaven!!
Hey Guys! Thank you for this great trip! We enjoyed very very much. Everything was great, the boat, the crew, the food and the activity! we like how you do this, it was all really cool and relaxed! Thank you to show us the PARADISE, all this wonderul places and for told us very much interesting things. We will never forget this 3 days. Nice Greetings :-) Andrea and Richard
Had such an amazing trip - so friendly and relaxing. Enjoyed the snorkelling and kayaking. Just wish the water was warmer! Kate was a fantastic chef, and no idea how she managed to feed 26 of us all so well! Leon was full of knowledge and it was so nice to have someone genuinely passionate about what they do. Dave was hilarious, loved his stories about the sharks v crocs. Thank you so much for making this boatride so fantastic. Kirsty, Scotland