SV Whitehaven
CLOSE
View More Thumbnails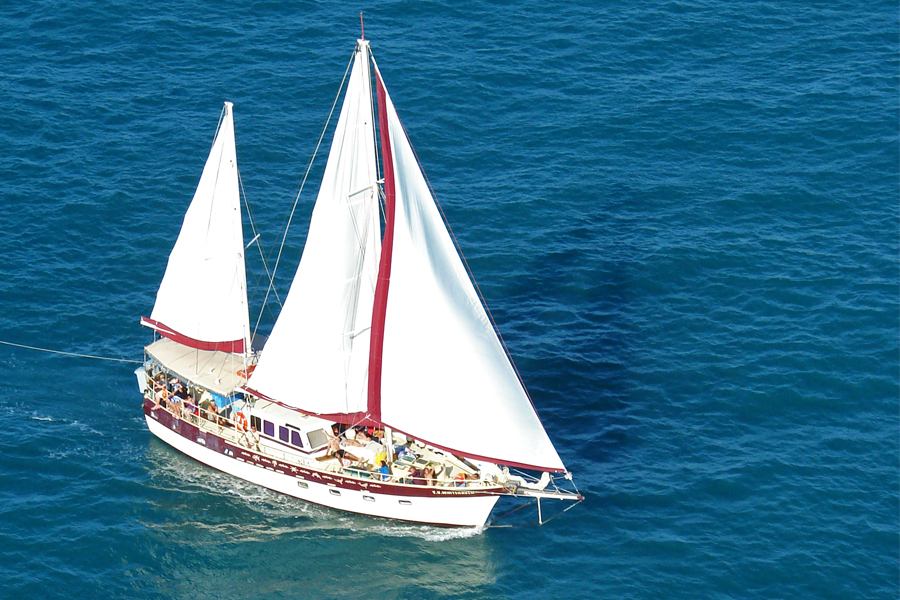 Loading...
Departure Times
Departs: 8:30am - Wed, Fri & Sun
Returns: 4:00pm - Thu, Sat & Mon
Pricing Options
$395 AUD per Person
- Shared Accom
(Between: 01 Apr 2018 and 01 Apr 2020)
See more, explore more, do more on SV Whitehaven!
The 17.5m Eco Accredited Safari Beach Boat SV Whitehaven will take you for a magical overnight cruise on tropical waters of the Whitsundays in style and comfort. With an emphasis on snorkelling, plenty of beach time and visiting the hotspots including Whitehaven Beach and plenty of eco-guided island exploration, than you are in the right place. With big open decks to sunbathe on, plenty of deck seating and huge aft deck permanent shade, she is the ideal safari boat. SV Whitehaven is an Advanced Eco Accredited safari, adventure packed, informative and fun.
Onboard SV Whitehaven you have the choice of getting hands-on involved with the crew and the activities available or enjoying the rest & relaxation that comes with being on board such a spacious vessel. With the eco-accredited and experienced Safari Guides, guests will be able to experience bushwalking, snorkelling and exploring the Whitsunday Island National Park with plenty to learn and explore! This tour prides itself on having plenty of beach time and offering quality information so if you are someone with a sense of adventure, enjoys exploring new terrain and is intrigued by new knowledge, this is the perfect safari tour for you!


SV Whitehaven Eco Safari Features:
Free fun kayak tours so you see as much as possible
Learn to sail with exciting hands-on experience
Bush walking with special access to Ngaro Island Trails, Aboriginal Culture and Ecology tours
Extensive time at Whitehaven Beach
Snorkel on the amazing reefs of the Whitsundays
Spacious decks ideal for relaxing and sunbaking
Takes out 24 passengers making this the perfect private charter vessel
All meals are freshly prepared onboard
Please note, any dietary requirements incur a $10 surcharge payable on check in.
Fun organised activities
Snorkelling equipment and instruction are provided
Eco-accredited and highly knowledgeable guides and tours
All bedding provided for each guest
Boat Layout

SV Whitehaven offers an open plan of shared single and double accommodation in mixed dorm cabins.
When you choose to be a passenger on board SV Whitehaven, you choose to join other tourists who love to learn while they travel! You will give yourself the chance to come away from the Whitsundays not only having had a fun-filled sailing holiday, but you will come away with the local knowledge of wildlife and aboriginals of the Whitsunday Islands. During the Safari, you will have the opportunity to observe and learn about the exceptional biodiversity of life that thrives both below and above the water! The underlying theme of your tour is that you, the guest decides where you want to go. Choose from a variety of activities such as bush walking, beach combing, snorkeling, beach fun and games! Our guides will organize activities and games. From beach cricket and volleyball to beach exploration to relaxing in the shade... do as much or as little as you like!
Sample Itinerary
Day One
Depart Airlie Beach at about 8.45am. Once on board our friendly crew will brief you about safety and sailing, before setting sail to cross the Whitsunday passage. Get involved with sailing, and take a turn at the helm under the guidance of our skill full crew.
After morning tea, at 11am arrive at your first snorkelling destination, our crew will give you an introduction to snorkelling and take you ashore by dinghy to snorkel from the safety of a protected beach, a great way to gain confidence in the water.
12.30pm head back to the ship for a scrumptious buffet lunch of cold meats, salads and rolls, all freshly prepared on board. Then set sail for the next afternoon location.
Set sail to our overnight anchorage at Nara Inlet, enjoy kayaking activities and visit the Aboriginal Caves and learn all about the Ngaro tribe from your crew.
Enjoy a hot shower, afternoon Hor dourves, a cold beer or wine and hear ourcrew tell some fascinating tales of life below and above the water on the Great Barrier Reef.
Listen out for the friendly dolphin pods which frequent the Northern islands. Enjoy a delicious dinner, and enjoy some fun on the back deck, or find a quiet spot and star gaze before falling in to bed for a good nights sleep
Day Two
Another early rise, you wouldn't want to miss a thing in this neighbourhood - mantarays, dolphins, turtles, Whales (in season). After breakfast, enjoy a kayaking expedition, and combine a bit of exercise with some wildlife spotting. Enjoy a race back to the ship to find the champion kayaking team on board!
After morning tea, its time to hit the water, for one last snorkelling opportunity - everyone will be experts by now, recognising and identifying even more marine wonders. By midday its back to the ship for a rewarding lunch before setting sail back to Airlie Beach across the Whitsunday passage. Return to Airlie Beach at 3.30-4pm (depending how fast you sail!), but the fun doesn't end here. Join your ship mates for the "After Party" were everyone gets chance to let their hair down and go a little bit wild- details provided at the end of the trip!
---
Please note:
EACH passenger must have a clear understanding of safety directions and instructions given in English by the crew and be able to complete the required safety forms in English. A passenger is only able to participate in water activities if they have a level of swimming experience. If a passenger is unable to swim they will still be able to participate in the sailing trip, but will not but able to participate in water activities such as snorkelling. In order to meet our minimum safety standards passengers must be able exit the vessel unassisted in the unlikely case of an emergency. If you have any questions please do not hesitate to ask us.
BOOK WITH US TODAY! CALL 1800 550 751 OR LIVE CHAT US NOW!
What To Bring
Upon checking in, Whitsunday Sailing Adventures will provide you with a souvenir environmental bag to pack your belongings in for the sailing trip. They ask that you only take these bags on board with you as luggage. Ensure you pack clothes, a hat, swim-wear, beach towel, sunscreen 30+, warm pullover for the evenings (seasonal) and cash/card for on board purchases. You will also need to bring your own alcoholic beverages, available at the marina or in town but please no glass bottles.
Excess luggage can be stored at several places in town including most boat check-in offices, a 24 hour locker shop on The Esplanade, most hostels, or at your accommodation. Most charge between $5-10pp for the duration of your trip.
What's Included
Skipper
Crew
Drinking water
Meals
Linen
Wetsuit hire
Snorkelling equipment
All Marine Park fees
What's Extra
BYO alcohol (no glass). Soft drinks available for purchase on board.
Terms and Conditions
To enable us to meet our duty of care and establish an acceptable level of risk, EACH passenger must have a clear understanding of safety directions and instructions given in English by the crew and be able to complete the required safety forms in English. A passenger is only able to participate in water activities if they have a level of swimming experience. If a passenger is unable to swim they will still be able to participate in the sailing trip, but will not but able to participate in water activities such as snorkelling. In order to meet our minimum safety standards passengers must be able exit the vessel unassisted in the unlikely case of an emergency.
All departures and itineraries are subject to weather. Tours may be changed or cancelled for any reason at the discretion of the Tour Operator. It should be noted that adventure travel involves risk. Whilst we make every effort to safeguard clients, we cannot be responsible for personal injury or loss due to actions of our clients which are beyond our control. We recommend that all clients have travel insurance covering illness, injury, loss or damage to personal belongings and not being able to travel on the confirmed date of departure. Please be aware operators pass on credit card merchant fees so there is a non-refundable 2.5% surcharge for VISA and MASTERCARD card purchases.
Please advise us before booking if any passengers are under 18 years old to ensure this is the appropriate trip. Also please note that you need to allow time prior to the boats departure to check in, please ask us for more details
Cancellations
All cancellations made result in 25% cancellation fee of the recommended retail price (RRP), not discounted or sale prices. All client cancellations made less than 60 days prior to departure will result in complete forfeiture of the full price of the sailing holiday. If the sailing company has to cancel the trip (prior to the boat's departure) and we cannot offer a suitable alternative, then a refund will be given minus card fees. We strongly recommend that you have travel insurance, especially during the wet season.
Please note it is the responsibility of ALL passengers traveling to advise both your travel agent at the time of booking and vessel check-in agent before boarding of ANY medical conditions including food allergies you may suffer from.
Thank you for booking with Mr Travel/Sailing Whitsundays. If you would like any advice or assistance in arranging accommodation, transfers or additional tours, please do not hesitate to contact us.
"We went to all the spots that you'd expect with a few extras thrown in - sunset on the sand bank was a particularly awesome addition. Whitehaven Beach speaks for itself! Just remember to take everything you think you may need as there aren't shops along the way (alcohol, suncream etc) but also remember to pack light, you only need swimmers and a couple of T-Shirts really!"
Julie
Sun 29 Jul 2018
"Crew was brilliant always pointing out the best areas while we were sailing and skipper spotted wild dolphins before we did. Snorkelling by blue coal Island was awesome, so many beautiful fish and coral to see. Got to Whitehaven early the next day and walked to the lookout point first, was speechless. Once on the beach the sand was so soft and spent the morning lazing in the water with fish and stingrays swimming round me. Wonderful food was provided throughout the weekend and sleeping on deck was fun under the stars saw a shooting star was lucky to see that. Thank you to the awesome crew for taking me to Paradise xx"
Charlotte
Fri 15 Sep 2017
"A great trip! Great weather, with even better banter! Highlights included seeing turtles, dolphins, shooting stars, the sunset and Whitehaven Beach (and finding out the boys love clash of clans). Would definitely recommend this boat, one night and two full days is the perfect amount of time to get a good tan and see a lot of what's on offer at the Whitsundays! The three kiwis make a great crew and cater for all your needs!"
Jonathon
Tue 04 Jul 2017
"What an amazing cruise / sailing in the Withsundays! We were a small group of 14 people during a 2 days / 1 night adventure! Such a good atmosphere!! The crew made it easy to feel comfortable! Many activities: Whitehaven beach, we learned about astronomy during the evening, snorkelling, kayaking! Sailing was amazing and so relaxing! And the food was really good!! I definitely recommend this tour!"
Tue 25 Oct 2016
"It was one of the best things we did so far in Australia. The crew was amazing, motivated and very friendly who made sure that everybody had a good time. We went snorkelling at two great spots, one with lots of turtles which werent afraid at all and the other place was perfect for lots of fish and coral. Its also possible to use one of the kayaks, but we preferred to stay in the water snorkelling. The food was really good. I would truly recommend this trip."
Ak
Mon 30 Nov 2015
"Such a great, well-run tour. Incredibly relaxed and the crew are awesome; they just love what they do and it makes them brilliant at it. Whitehaven was amazing - one of the most beautiful and individual beaches Ive seen. Best few days! Couldnt recommended them more highly! "
Jessica
Sun 29 Nov 2015
"Absolutely breathtaking experience on SV Whitehaven! Super fun and friendly crew who enjoy it just as much as you do. Amazing secluded snorkeling sites with turtles and bright corals. Cannot express how incredible this was!!!"
Eden
Thu 19 Nov 2015
"Fantastic crew that tried to make everyone feel at ease. The crew did their best to give to passengers the best experience. Meals were very abundant, lot of snorkelling (and kayaks for those who wanted to try), nights under the stars, amazing sunsets and sunrise. The two days were unforgettable."
Massi
Tue 10 Nov 2015
"Was a really good trip, had plenty of time at Whitehaven Beach on the first day, and the same with the two locations for water activities the next day. Staff were really fun and friendly and the food was really good. Really good value for money, would definitely do this trip again."
Leah
Sat 07 Nov 2015
"Really nice crew members definitely recommend it small and friendly."
Wed 16 Sep 2015
"On first morning/afternoon of the trip we got to visit the amazing Whitehaven beach and spend like 3 or 4 hours there. Probably the nicest beach Ivve ever seen. The crew lead a hike to the viewpoint to overlook the beach and explain the history and general information about the area. This was really interesting. This was followed by two great snorkel stops. I couldnt recommend this trip enough. Crew where incredible and willing to answer any question you threw at them. The food was fantastic and plentiful. The sights will blow your mind! BOOK IT."
Sephanie
Wed 12 Aug 2015
"Everything was really perfect: Whitehaven Beach was paradise, food was excellent, snorkelling places were awesome, great stories about the fishes, swimming with alot of turtles, meeting nice people on the boat, geta good tan on the sundeck... the crew were absolutely WICKED!!!! We will definitely recommend SV Whitehaven!!"
Cecile & Marjolein
Wed 31 Oct 2012
"Hey Guys! Thank you for this great trip! We enjoyed very very much. Everything was great, the boat, the crew, the food and the activity! we like how you do this, it was all really cool and relaxed! Thank you to show us the PARADISE, all this wonderul places and for told us very much interesting things. We will never forget this 3 days. Nice Greetings :-) Andrea and Richard"
Andrea
Wed 31 Aug 2011
"Had such an amazing trip - so friendly and relaxing. Enjoyed the snorkelling and kayaking. Just wish the water was warmer! Kate was a fantastic chef, and no idea how she managed to feed 26 of us all so well! Leon was full of knowledge and it was so nice to have someone genuinely passionate about what they do. Dave was hilarious, loved his stories about the sharks v crocs. Thank you so much for making this boatride so fantastic. Kirsty, Scotland"
Kirsty
Wed 31 Aug 2011