CQ Adventure Flights
CLOSE
View More Thumbnails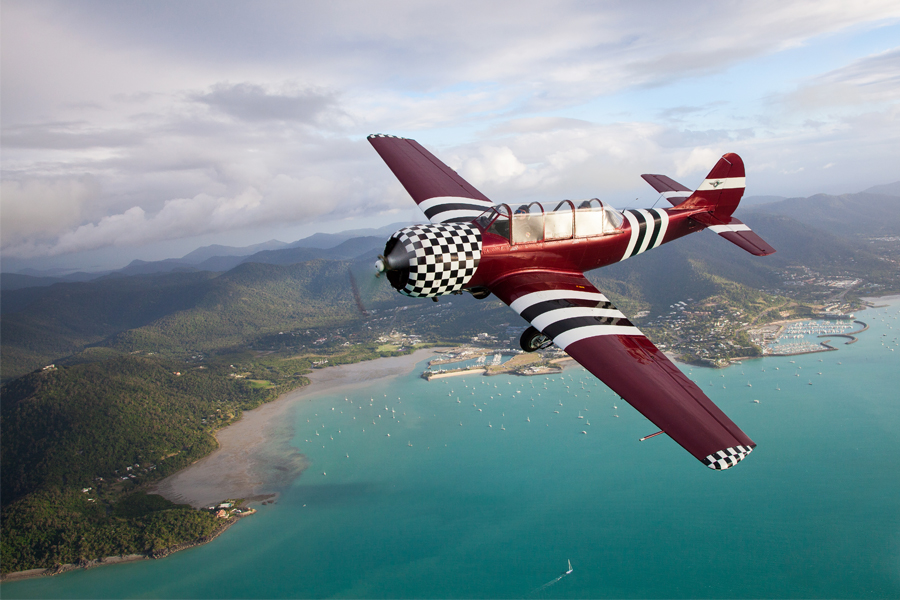 Loading...
Departure Times
Departs: Please Enquire - Daily
Returns: Please Enquire - Daily
Pricing Options
$299 AUD / Person
- Gentle Aerobatics
(Between: 29 Mar 2023 and 31 Mar 2024)
$399 AUD / Person
- Mental Aerobatics
(Between: 29 Mar 2023 and 31 Mar 2024)
$650 AUD / Person
- Beach & Screech
(Between: 01 Apr 2021 and 31 Mar 2024)
The Whitsundays Biggest Adrenaline Rush!
If you have ever wondered what it's like to fly inside of a fighter warplane, here's your chance - Flying with a fighter pilot is the aerial experience of a lifetime! CQ Adventure Flights offers three tours for you to experience all the aerobatic stunts of a combat plane, all while enjoying some of the most beautiful scenery in the world!
---
---
CQ Adventure Flights is host to one of the most unique experiences in the Whitsundays. With us you'll be able to see the Whitsundays from above while flying in a classic Yak52 Airforce trainer plane. Enjoy tricks of the trade as we flip, flop, rock and roll our way through the skies while cruising thousands of feet above Airlie Beach, Whitehaven Beach and more.
Features:
Thrilling and safe aerial tricks
Pull up to 5G+
Fly at over 300km/h
Only 10 minutes outside Airlie Beach
Cafe and bar available at the airport
Beautiful scenery
Unique experience
Top safety standards
Assist in systems check
Video available for purchase
CQ Adventure Flights offers three amazing tours for every type of adventurer, ranging from 10 to 30 minutes and all types of aerobatic stunts!
Gentle aerobatics
This tour is conducted in our Yak52 and lasts for a thrilling 10-15 minutes. With a Russian fighter pilot trainer in the cockpit, you'll get the experience the real deal as you flip and flop through the skies above. Departing from Shute Habour Airport, you'll get to fly over Airlie Beach to see the sights while climbing up to 2,500 feet in under two minutes flat. Fly upside down as you roll through the skies, enjoying the tricks and stunts of the trade.
Mental aerobatics
Enjoy the thrill of our advanced aerobatic routine for 15 - 20 minutes, where you'll get to feel what it's like for fighter pilots to fly around in combat. With pressures reaching over 5G+, you'll be pushed to the limit as we perform our extreme routine.
Beach & Screech: Insane Aerobatics over Whitehaven Beach
For this 30 minute tour, you will depart Shute Harbour Airport where you will climb to 3,500ft on a mock recon mission over Airlie Beach. Cruise up to 4,500ft above the iconic Hill Inlet and Whitehaven Beach for the perfect photo, featuring you - inverted! After you smile for the camera, you'll flip back over ad head back to Airlie Beach where you'll experience the most exciting flight of your life full of extreme flips and flops! This package includes 2 aerobatic routines and a scenic trip over Whitehaven Beach.
Call us to book today if you want a true once-in-a-lifetime thrilling adventure in the Whitsundays!
**Please arrive 15 minutes before departure for a briefing.
More Information
Show Less
What To Bring
Closed toed Shoes
Sense of fun and adventure
What's Included
Flight in a Soviet Warbird
Live Commentary
Highly Skilled Professional Pilot
What's Extra
Video of flight - $100.00
Terms and Conditions
---
Important Information:
Flight times are an approximate indication only. Please add 20 minutes for briefing.
---
Your Responsibilities:
Please advise us before booking if any passengers are under 18 years old t...
Read More
What To Bring
Closed toed Shoes
Sense of fun and adventure
What's Included
Flight in a Soviet Warbird
Live Commentary
Highly Skilled Professional Pilot
What's Extra
Video of flight - $100.00
Terms and Conditions
---
Important Information:
Flight times are an approximate indication only. Please add 20 minutes for briefing.
---
Your Responsibilities:
Please advise us before booking if any passengers are under 18 years old to ensure this is the appropriate trip.
You must reconfirm all booked tours prior to travel as specified on your voucher. If applicable, notes such as dietary requirements, pick-up locations and additional fees should also be confirmed at this time. Reconfirmations cannot be actioned through Sailing Whitsundays/Mr Travel, and must be done so directly through the Service Operator as specified on each ticket.
It is your responsibility to notify us of ticket discrepancies. Please read through the details on your voucher thoroughly to ensure all details such as passenger names, ages and dates of travel on vouchers are correct.
It is the responsibility of all passengers travelling to advise both your travel agent at the time of booking and check-in agent before boarding of any medical conditions including food allergies you may suffer from.
You need to allow adequate time to check-in prior to the specified departure time.
---
Prices/Extra Costs:
All prices are stated in Australian dollars and include GST. Surcharges over peak holiday seasons may apply.
The Service Operator reserves the right to alter prices and extra costs. Extra costs may include EMC fees, Stingersuit/Wetsuit Hire, Luggage Storage, Insurance, Linen Hire, National Park Fees, Fuel Levies, Dietary Fees, etc. Bonds may also apply.
We will also endeavour to communicate these extra costs with you at the time of booking, and on your ticket. However, it is your responsibility to confirm which (if any) additional costs apply with each Service Operator upon reconfirming your trip.
---
Travel Risk/Insurance:
It should be noted that adventure travel involves risk. Whilst we make every effort to safeguard clients, we cannot be responsible for personal injury or loss due to the actions of our clients which are beyond our control. We highly recommend that all clients have travel insurance covering illness, injury, loss or damage to personal belongings and not being able to travel on the confirmed date of departure. You should also ensure your travel insurance will cover special circumstances including weather events preventing guests from travelling to their tour departure destination and cancelled flights due to unforeseen circumstances.
---
Transfers:
The Service Operator reserves the right to limit courtesy transfers to select local accommodations. Private residences or Airbnb properties may be asked to meet at the closest confirmed location. Failure to meet at the specified pick-up location may be treated as "No Show", for which the Client Cancellation Policy applies.
---
Merchant Fees:
Please be aware operators pass on credit card merchant fees so there is a non-refundable 1% surcharge for VISA and MASTERCARD card purchases.
---
Other:
Terms and Conditions (including the Cancellation Policy) are subject to change. The most recent versions can be found online on the relevant product pages.
All ticket/voucher reissues attract a $20 administration fee.
---
Open Date Vouchers / Gift Certificate:
Shipping Costs are in addition to the ticket price and will be added at check-out. Shipping costs are non-refundable and do not makeup part of the ticket value.
E-Vouchers incur no shipping fees.

You have 5 years to use the value of the voucher. Seasonal Price Rises will apply if travelling out the current seasons pricing. Vouchers can be exchanged for free up to the full value of the voucher excluding credit card fees and charges.
Cancellations
---
Client Cancellations:
No shows or client cancellations made within 24 hours of departure forfeit 100% of the total ticket price.
Sailing Whitsundays are required to notify the operator of any cancellations within the specified cancellation period (24 hours). It is your responsibility to make sure you submit your cancellation request with adequate time, and during standard business hours (9am-5pm), to allow us to contact the tour provider.
Transfers between tours can be made at the suppliers discretion, however, it should be noted that supplier fees may apply. Tour transfers also incur a $20 administration fee.
It is compulsory that all cancellation requests are in writing and sent via email to admin@mr-travel.com. Cancellations attempted via online chat or phone will not be actioned.
---
Supplier Cancellations:
The Service Operator reserves the right to alter prices, alter itineraries, apply a fuel surcharge, cancel departures, arrange alternative transport and vary itineraries and services if necessary.
All departures and itineraries are subject to weather. Tours may be changed or cancelled for any reason at the discretion of the Service Operator. If the Service Operator has to cancel the trip or activity (prior to departure) and we cannot offer a suitable alternative, then a refund will be given minus a 20% administration fee and any associated card fees. We strongly recommend that you have travel insurance, especially during the wet season.
In the unlikely event of your trip being cancelled or stood down, all guest communication is required to go through our Online Store via telephone or email. While there is a Sailing Whitsundays retail outlet located Airlie Beach, please be aware that they operate as a separate entity and are unable to access reservations made by the Mr Travel online department.
---
Refunds:
All refunds are in Australian Dollars and must be made to the card of payment. Sailing Whitsundays/Mr Travel is not liable for exchange rate fluctuations or fees, or any other merchant/bank fees associated with domestic and/or international transactions.
Where a full refund is applicable, there is the option to transfer the whole cost of the tour to another tour or "Credit" to avoid the administration fee. A transfer fee of $20 will apply.
You will be emailed confirmation once the refund has been processed. Once the refund has been processed, it may still take time for the banks to clear the amount. Please allow 7-10 business days for the funds to clear into Australian accounts and up to 21 business days for international accounts.
---
Accountability/Misconduct:
All Service Operators have the right to provide client feedback and to cancel bookings based off of feedback from other Service Operators.
Please enjoy your travel experience in a kind and responsible manner.
Sailing Whitsundays/Mr Travel will treat this as any normal client cancellation and therefore the cancellation fees stated in the Client Cancellation Policy will apply.
---
Thank you for booking with our East-Coast travel experts here at Mr Travel/Sailing Whitsundays. If you would like any further advice, assistance in arranging accommodation, transfers or additional tours please get in touch.
Reviews
Overall Rating
5.0 / 5.0
Based on 17 reviews
Reviews by our Sailing Whitsundays customers
Wow, so much fun!! I have never laughed so much - couldn't keep a smile off my face. It just you and the pilot, Nick, so he is able to tailor the flight exactly to your liking. The aerobatics were just insane! Such an incredible view over the Whitsundays as well, and neat to say you've seen it upside down ;) An absolute MUST do for every adrenaline junkie!! Thanks Nick!
I highly recommend! My partner and I both had such a great experience flying with Nick in the stunning Yak Plane. What a unique way to see Airley Beach and the Whitsundays from high up and upside down! Nick took me for some incredibly exciting aerobatics and it was well worth it and left me smiling everytime I think about such a top experience.
I lived in Airlie Beach for couple of years and I've always seen that red plane looping over the lagoon then I decided to have a closer interest and met nick the pilot. Passionated person he take pride to show you how it works, when you combine his knowledge with a big engine, 74 ilsands on a blue turquoise water uspsidedown I would say that it's a must to do in Australia and not only Airlie Beach. Thank you nick I will come back
Can't recommend this enough. Forget the usual guff, this is something that needs to be experienced from the G to the upside down scenery. Pilot Nick is super cool in his approach and execution of aeronautics.
Thank you so much CQ Flights for the experience of a lifetime! I booked the Insane flight for my partner and I for my partners birthday and It's was AMAZING! An absolute must when in Airlie Beach. The scenery over whitsundays was spectacular and the aerobatics were were out of this world! The adrenaline was something I've never experienced!! if youre an adrenaline junkie it's a definite must!!!! Can't thank Brick enough for an experience we'll never forget!!!
This was an amazing and thrilling experience! Nick took me up to the sky and did aerobatics that left me hooked! we got up to +5 and -1 Gs. Regarding the ppl who said it was a "Rip off", to me the amount of aerobatics was just enough, too much you may start to get sick. The point of this flight is for thrilling maneuvers, if you wish to have smooth, long scenic flights Air Whitsundays would be your bet. Nick was really nice and patient with my questions as well. Overall highly recommended!
If you have any interest what so ever in this kind of thing you wont be disspointed. Great flight and Nick, the operator, is a great bloke as well.
This was the most unique way to view the breathtakingly beautiful Whitsunday/Airlie Beach. Nick, the pilot is funny, friendly and knowledgeable. I was scared but from the moment we took off the smile didn't leave my face except to say WOW, fantastic and incredible multiple times. This is a must do for visitors and locals alike.
This is a must book!,don't miss out!!! We flew out from the the airport just up the road from Airlie Beach, on arrival we had we had the safety briefing and from there we went up. The views are the best from the above and the aerobatics were awesome. This is something I would really recommend. I couldn't fault a thing, such a easy thing book and do.
Great experience overall. Good briefing, fun descriptions of the flight, awesome seeing airlie upside down! Everything about the experience is a yes. The adrenaline rush is huge and brick makes it fun the whole way through he lets you know what each manuover he's going to do is - he enjoys feedback during the flight too! He'll tell you this is his day job..... This is not a job!! It's awesome
It was my bday, and I just woke up feeling the need of an adrenaline rush for the day. Nick was my pilot for the day, and boy, the experience was more awesome cus of this guy!! Great sense of humour and such a cool guy. Totally made sure everything was safe and sound the whole time. HIGHLY RECOMMENDED!! It's not everyday you get to fly like you're in the movies! Kudos to Nick, keep flying!!
For our trip to Airlie Beach I wanted an adventure and that's what I got with Nick on the 15-minute Mental experience! It was fast, furious and adrenaline pumping the whole way. The amazing scenery of mountains meeting the turquoise waterways was an added bonus. What a full-on experience!
What an amazing surprise birthday present. OMG, I have never screamed so much , laughed so loud and had so much fun in 15 minutes before. Topped off with amazing views of Airlie Beach. Awesome!!!
One of the most incredible experiences I've ever had. Nick was so accomodating and tailored the flight to suit me. Definitely recommend to anyone who wants to see the Whitsundays from the sky. It's such a unique and amazing experience and I can't wait to go again!! It's a must-do in Airlie beach!!!! Thanks again CQ Adventure flights (Nick)
Nick took my wife and I both for aerobatics flights and it was unreal! Such a good rush. Didn't feel motion sick at all and it was good value for money. Will definitely go again. Cheers nick
I had a spare half-day in Airlie Beach and decided to give this a go - and I'm so incredibly glad I did. It's a bit more expensive than some other experiences in Airlie Beach but it's definitely worth it. The views are extraordinary and the acrobatics are such a thrilling, unique experience. What's great is that it is just you and Nick (the pilot) on-board, and he's more than happy to tailor the flight to you. This was perhaps my favourite experience in North Queensland and I would absolutely recommend it to everyone.
Just awesome! How many places can you jump in a plane and do some wild maneuvers, let alone over some of the best scenery in Australia, the Whitsundays. An absolute must do while in Airlie Beach