CQ Adventure Flights
CLOSE
View More Thumbnails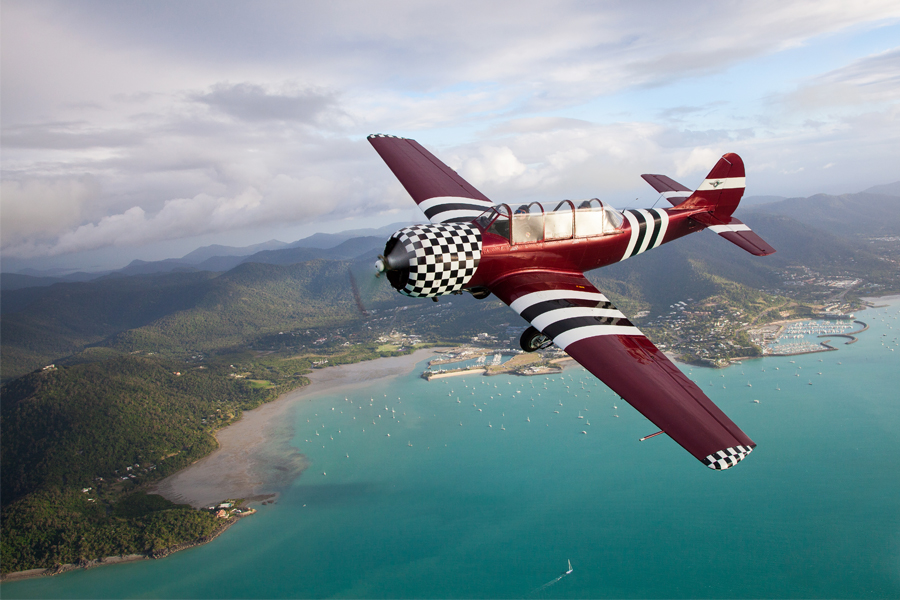 Loading...
Pricing Options
$250 AUD / Person
- Gentle Aerobatics
(Between: 01 Apr 2019 and 01 Apr 2020)
$350 AUD / Person
- Mental Aerobatics
(Between: 01 Apr 2019 and 01 Apr 2020)
$650 AUD / Person
- Beach & Screech
(Between: 01 Apr 2019 and 01 Apr 2020)
The Whitsundays Biggest Adrenaline Rush!
If you have ever wondered what it's like to fly inside of a fighter warplane, here's your chance - Flying with a fighter pilot is the aerial experience of a lifetime! CQ Adventure Flights offers three tours for you to experience all the aerial stunts of a combat plane, all while enjoying some of the most beautiful scenery in the world!
CQ Adventure Flights is host to one of the most unique experiences in the Whitsundays. With us you'll be able to see the Whitsundays from above while flying in a classic Yak52 Airforce trainer plane. Enjoy tricks of the trade as we flip, flop, rock and roll our way through the skies while cruising thousands of feet above Airlie Beach, Whitehaven Beach and more.
Features:
Thrilling and safe aerial tricks
Pull up to 5G+
Fly at over 300km/h
Only 10 minutes outside Airlie Beach
Cafe and bar available at the airport
Beautiful scenery
Unique experience
Top safety standards
Assist in systems check
Video available for purchase
CQ Adventure Flights offers three amazing tours for every type of adventurer, ranging from 10 to 30 minutes and all types of aerobatic stunts!
Gentle aerobatics
This tour is conducted in our Yak52 and lasts for a thrilling 10-15 minutes. With a Russian fighter pilot trainer in the cockpit, you'll get the experience the real deal as you flip and flop through the skies above. Departing from Shute Habour Airport, you'll get to fly over Airlie Beach to see the sights while climbing up to 2,500 feet in under two minutes flat. Fly upside down as you roll through the skies, enjoying the tricks and stunts of the trade.
Mental aerobatics
Enjoy the thrill of our advanced aerobatic routine for 15 - 20 minutes, where you'll get to feel what it's like for fighter pilots to fly around in combat. With pressures reaching over 5G+, you'll be pushed to the limit as we perform our extreme routine.
Beach & Screech: Insane Aerobatics over Whitehaven Beach
For this 30 minute tour, you will depart Shute Harbour Airport where you will climb to 3,500ft on a mock recon mission over Airlie Beach. Cruise up to 4,500ft above the iconic Hill Inlet and Whitehaven Beach for the perfect photo, featuring you - inverted! After you smile for the camera, you'll flip back over ad head back to Airlie Beach where you'll experience the most exciting flight of your life full of extreme flips and flops! This package includes 2 aerobatic routines and a scenic trip over Whitehaven Beach.
Call us to book today if you want a true once-in-a-lifetime thrilling adventure in the Whitsundays!
**Please arrive 15 minutes before departure for a briefing.
BOOK WITH US TODAY! CALL 1800 550 751 OR (07) 4914 2425 IF LOCAL
More Information
What's Extra
Video of your flight available for purchase
Videos: $100.00


Terms and Conditions
Flight times are an approximate indication only. Please add 20 minutes for briefing.
All prices are per person and are inclusive of goods and services tax. Flight routes and prices are subject to change without notice. All flights are subject to prevailing weather conditions. We can tailor flights to suit. It should be noted that adventure travel involves risk. Whilst we make every effort to safeguard clients, we cannot be responsible for personal injury or loss due to the actions of our clients which are beyond our control. We recommend that all clients have travel insurance covering illness, injury, loss or damage to personal belongings or not being able to travel on the confirmed date of departure.
Please note that in the unlikely event of your trip being cancelled or stood down, all guest communication is required to go through our Online Store via telephone or email. While there is a Sailing Whitsundays retail outlet located Airlie Beach, please be aware that they operate as a separate entity and are unable to access reservations made by the Mr Travel online department.
Please be aware operators pass on credit card merchant fees so there is a non-refundable 2.5% surcharge for VISA and MASTERCARD card purchases.
Cancellations
All cancellations forfeit 25% of the total ticket price, please note this still applies even if the company decide to cancel the trip for any reason, including weather. All client cancellations made less than 2 days prior to departure will result in complete forfeiture of the full price of the sailing holiday. We strongly recommend that you have travel insurance, especially during the wet season.