Air Whitsunday Scenic Flight to Heart Reef
CLOSE
View More Thumbnails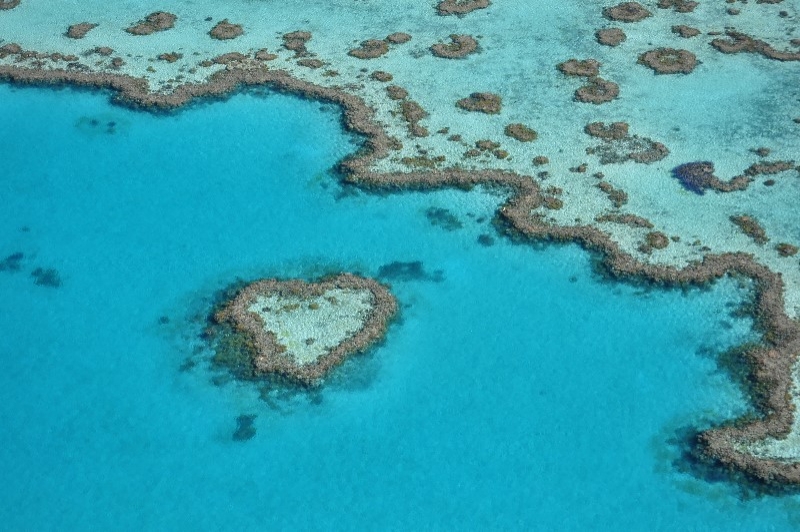 Loading...
Departure Times
Departs: Enquire - Daily
Returns:
Enquire - Daily
Departure Point: Airlie Beach
Pricing Options
RRP $289

$279 AUD / Person
- General
(Between: 31 Oct 2023 and 31 Mar 2024)
Fly over the beautiful heart reef and enjoy a flight into the heart of the Whitsundays!
Experience the Whitsundays from above with an amazing one hour flight
Fly over the the naturally formed scenic Heart Reef
Cruise over Whitehaven Beach, Hill Inlet and the Great Barrier Reef!
Everyone has a window seat for great view
---
---
The Scenic Flight to Heart Reef is Air Whitsunday Aviation's signature flight, taking passengers for a truly remarkable scenic tour over the one and only Whitsundays. If you want to see and experience the best of the Whitsundays, join Air Whitsunday for this once-in-a-lifetime flight. The flight includes it all - Whitehaven Beach and Hill Inlet Lookout, the Great Barrier Reef, Bait Reef, Hardy Reef, Hook Reef and the romantic Heart Reef, a Whitsundays favourite.
Highlights & Features:
Scenic flight over the Great Barrier Reef, Whitehaven Beach and Whitsunday Islands
A full hour in the air with stunning views
All passengers have windows seats with our over wing aircraft
Highlights, Shute Harbour, Daydream Island, Molle Islands, Whitsunday Island
Hill Inlet, Hamilton Island, Hook Island, Whitehaven Beach
Bait Reef, Hardy Reef, Heart Reef
In flight commentary
All passengers are guaranteed a window seat so they can have the best view during their scenic flight. You will get to enjoy informative commentary from your pilot who will point out all the amazing views below and let you know what to keep an eye out for. Cruise low over the reefs for the best point of view and glide over Whitehaven Beach to see the swirling sands from high above - this flight offers the best view of the beautiful Whitsundays.

---
Important Information:
You MUST include your body weights and pick-up location when booking this tour.
Sample Itinerary
Show Less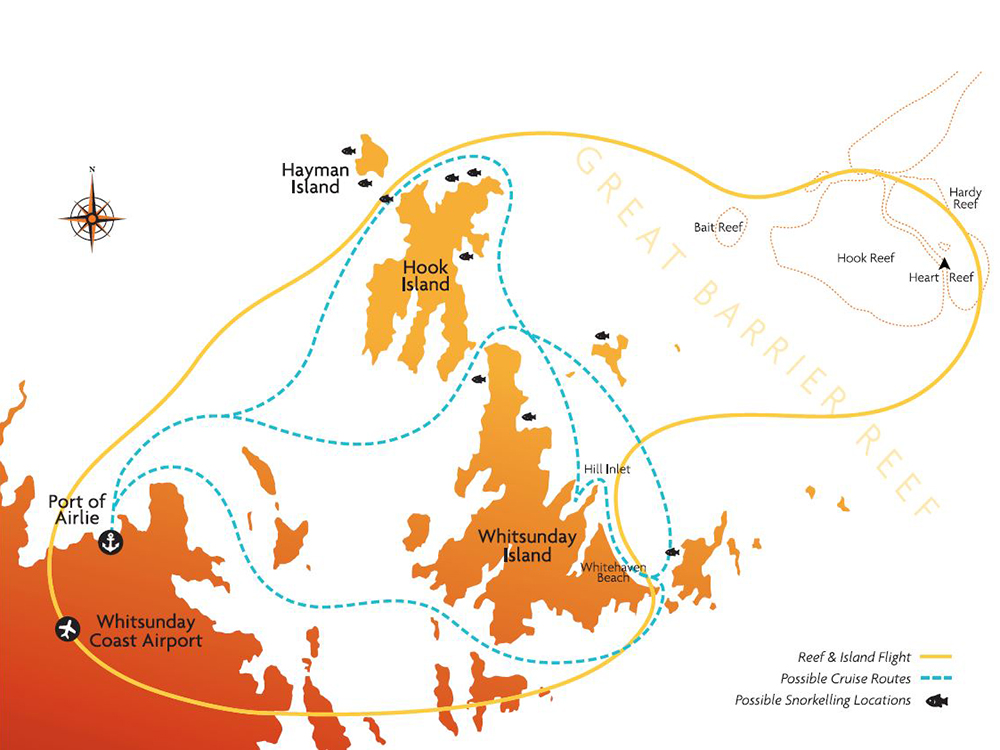 With the opportunity to see all of these incredible sights in one tour, the Air Whitsunday Aviation Reef and Island Scenic Flight must be booked in advance. Don't miss this amazing opportunity during your visit to the beautiful Whitsundays.
Read More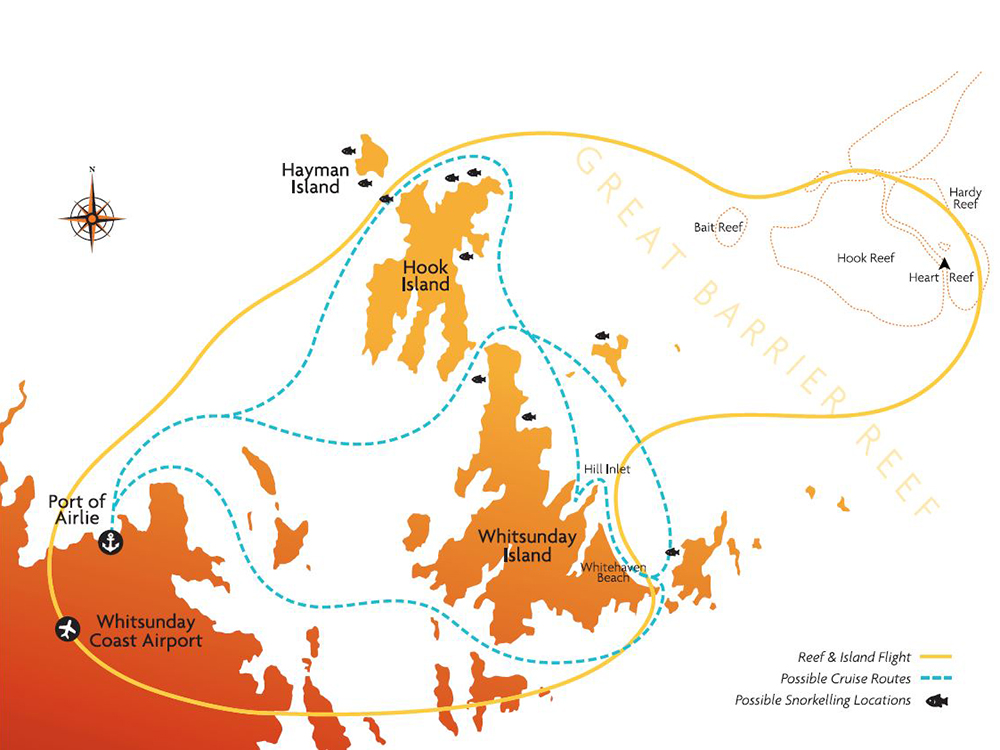 With the opportunity to see all of these incredible sights in one tour, the Air Whitsunday Aviation Reef and Island Scenic Flight must be booked in advance. Don't miss this amazing opportunity during your visit to the beautiful Whitsundays.
More Information
Show Less
What To Bring
Camera (polarised glasses make the reef clearer)
Video camera
Light jacket for cooler months
What's Included
Scenic one hour flight over the islands and reef
In-flight commentary
Includes scenic views of Whitehaven Beach and Heart Reef
Return transfers to the airport from Air Whitsunday passenger lounge in Airlie Beach
GST and all marine parks fees
What's Extra
Travel to Airlie Beach Air Whitsunday passenger lounge
Term...
Read More
What To Bring
Camera (polarised glasses make the reef clearer)
Video camera
Light jacket for cooler months
What's Included
Scenic one hour flight over the islands and reef
In-flight commentary
Includes scenic views of Whitehaven Beach and Heart Reef
Return transfers to the airport from Air Whitsunday passenger lounge in Airlie Beach
GST and all marine parks fees
What's Extra
Travel to Airlie Beach Air Whitsunday passenger lounge
Terms and Conditions
---
Important Information:
Air Whitsunday is an approved air carrier, operated under AOC 1-Q244T. Tour times listed are approximate and may vary depending on aircraft type or operational conditions.
Weight restrictions apply - 125kg max per passenger.
---
Your Responsibilities:
Please advise us before booking if any passengers are under 18 years old to ensure this is the appropriate trip.
You must reconfirm all booked tours prior to travel as specified on your voucher. If applicable, notes such as dietary requirements, pick-up locations and additional fees should also be confirmed at this time. Reconfirmations cannot be actioned through Sailing Whitsundays/Mr Travel, and must be done so directly through the Service Operator as specified on each ticket.
It is your responsibility to notify us of ticket discrepancies. Please read through the details on your voucher thoroughly to ensure all details such as passenger names, ages and dates of travel on vouchers are correct.
It is the responsibility of all passengers travelling to advise both your travel agent at the time of booking and check-in agent before boarding of any medical conditions including food allergies you may suffer from.
You need to allow adequate time to check-in prior to the specified departure time.
---
Prices/Extra Costs:
All prices are stated in Australian dollars and include GST. Surcharges over peak holiday seasons may apply.
The Service Operator reserves the right to alter prices and extra costs. Extra costs may include EMC fees, Stingersuit/Wetsuit Hire, Luggage Storage, Insurance, Linen Hire, National Park Fees, Fuel Levies, Dietary Fees, etc. Bonds may also apply.
We will also endeavour to communicate these extra costs with you at the time of booking, and on your ticket. However, it is your responsibility to confirm which (if any) additional costs apply with each Service Operator upon reconfirming your trip.
---
Travel Risk/Insurance:
It should be noted that adventure travel involves risk. Whilst we make every effort to safeguard clients, we cannot be responsible for personal injury or loss due to the actions of our clients which are beyond our control. We highly recommend that all clients have travel insurance covering illness, injury, loss or damage to personal belongings and not being able to travel on the confirmed date of departure. You should also ensure your travel insurance will cover special circumstances including weather events preventing guests from travelling to their tour departure destination and cancelled flights due to unforeseen circumstances.
---
Transfers:
The Service Operator reserves the right to limit courtesy transfers to select local accommodations and/or Airlie HQ. Failure to meet at the specified pick-up location may be treated as "No Show", for which the Client Cancellation Policy applies.
---
Merchant Fees:
Please be aware operators pass on credit card merchant fees so there is a non-refundable 1% surcharge for VISA and MASTERCARD card purchases.
---
Other:
Terms and Conditions (including the Cancellation Policy) are subject to change. The most recent versions can be found online on the relevant product pages.
All ticket/voucher reissues attract a $20 administration fee.
---
Open Date Vouchers / Gift Certificate:
Shipping Costs are in addition to the ticket price and will be added at check-out. Shipping costs are non-refundable and do not makeup part of the ticket value.
E-Vouchers incur no shipping fees.

You have 5 years to use the value of the voucher. Seasonal Price Rises will apply if travelling out the current seasons pricing. Vouchers can be exchanged for free up to the full value of the voucher excluding credit card fees and charges.
Cancellations
---
Client Cancellations:
No shows or client cancellations made within 24 hours of departure forfeit 100% of the total ticket price.
Sailing Whitsundays are required to notify the operator of any cancellations within the specified cancellation period (24 hours). It is your responsibility to make sure you submit your cancellation request with adequate time, and during standard business hours (9am-5pm), to allow us to contact the tour provider.
Transfers between tours can be made at the suppliers discretion, however, it should be noted that supplier fees may apply. Tour transfers also incur a $20 administration fee.
It is compulsory that all cancellation requests are in writing and sent via email to admin@mr-travel.com. Cancellations attempted via online chat or phone will not be actioned.
---
Supplier Cancellations:
The Service Operator reserves the right to alter prices, alter itineraries, apply a fuel surcharge, cancel departures, arrange alternative transport and vary itineraries and services if necessary. All flights are operated at the discretion of Air Whitsunday, and are subject to weather conditions, air traffic control and other influences outside of our control.
All departures and itineraries are subject to weather. Tours may be changed or cancelled for any reason at the discretion of the Service Operator. If the Service Operator has to cancel the trip or activity (prior to departure) and we cannot offer a suitable alternative, then a refund will be given minus a 20% administration fee and any associated card fees. We strongly recommend that you have travel insurance, especially during the wet season.
In the unlikely event of your trip being cancelled or stood down, all guest communication is required to go through our Online Store via telephone or email. While there is a Sailing Whitsundays retail outlet located Airlie Beach, please be aware that they operate as a separate entity and are unable to access reservations made by the Mr Travel online department.
---
Refunds:
All refunds are in Australian Dollars and must be made to the card of payment. Sailing Whitsundays/Mr Travel is not liable for exchange rate fluctuations or fees, or any other merchant/bank fees associated with domestic and/or international transactions.
Where a full refund is applicable, there is the option to transfer the whole cost of the tour to another tour or "Credit" to avoid the administration fee. A transfer fee of $20 will apply.
You will be emailed confirmation once the refund has been processed. Once the refund has been processed, it may still take time for the banks to clear the amount. Please allow 7-10 business days for the funds to clear into Australian accounts and up to 21 business days for international accounts.
---
Accountability/Misconduct:
All Service Operators have the right to provide client feedback and to cancel bookings based off of feedback from other Service Operators.
Please enjoy your travel experience in a kind and responsible manner.
Sailing Whitsundays/Mr Travel will treat this as any normal client cancellation and therefore the cancellation fees stated in the Client Cancellation Policy will apply.
---
Thank you for booking with our East-Coast travel experts here at Mr Travel/Sailing Whitsundays. If you would like any further advice, assistance in arranging accommodation, transfers or additional tours please get in touch.
Reviews
Overall Rating
5.0 / 5.0
Based on 52 reviews
Reviews by our Sailing Whitsundays customers
LESLEY MACLEAN
, 19 Nov 23
We really enjoyed the flight. We flew over farms, islands and the amazing Great Barrier Reef. The flight is another way to view this serious wonder of the reef!
Fantastic day from start to finish. Booking easy & checkin was quick & efficient. The tour departed on time. Announcements on the boat were clear & helpful. There was plenty of good food. On the pontoon there was plenty of equipment for all activities. All staff were friendly & helpful.
Simon Rossetto
, 05 Nov 23
Overall, fantastic experience! Our pilot, Jack, was entertaining, knowledgeable and made our honeymoon very special. The flight allowed us to see a lot more of the Whitsundays than we would've had the chance too and seeing the heart in person was breathtaking. Well worth the expense!
Aaaaaaaamazing !!!! I got co-pilot seat ???? The views were amazing, pilot friendly and informative. Staff were all friendly Would definitely recommned doing this tour
Adrienne Speakman 78
, 15 Oct 23
Amazing!! The pilot was very calm (great for nervous flyers!) and very entertaining. Spectacular way to take in the reef ??
Hands down one of the best Whitsunday experiences.
Great private flying experience! Justin is a truly gentleman.
Great experience ever. Thank you Irish guys hahahha
REBECCA HULME
, 23 Aug 23
Wow!!! What an experience I would 100% recommend this tour we had the best time! The views are unbelievable and the tour guide was really helpful commentating throughout the trip. If you are in the area you need to do this trip!!! Loved it
Audio was a bit hard to hear but the scenery was lovely
Briege McIlhatton
, 22 Mar 23
This flight along with the 2 day catamaran trip on Adventurer was the absolute highlight of our month long east coast trip! I will never get over the sights we witnessed and the experiences we had snorkelling and visiting hill inlet and Whitehaven beach! AMAZING!!
Ms.Panjai Paiboonpong
, 14 Mar 23
Scenic flight was excellent, organizing process was clear. Staffs very informative before flight and good service too. Highly recommend.
This is my favourite thing of my trip so far! The view is amazing! You will get it nowhere else. Everything is organised and the staff is really kind. I will remember this for the rest of my life.
We didn't get to do our tour because of weather but the team were very understanding and gave us a full refund without any hassle. I got the money the next day. Thank you.
From start to finish, an amazing experience! This is our second time with you and we loved every minutes of it! From the check in in store, to the bus driver, to the pilot, everyone was very pleasant to deal with.
Stephen Claxton
, 15 Jan 23
What a wonderful way to see the reef! From the friendly staff, the super smooth take off and landing, to the awesome view of with knowledgeable commentary, it was a great way to spend an hour in the Whitsundays.
the reef is so wonderful i feel blessed to have seen it from above
Kristy Nasrawi
, 17 Nov 22
We absolutely loved this tour. One of the highlights of our trip to the Whitsundays. Nothing can beat the incredible view from the sky and realising how big the GBR is. Unforgettable experience and would recommend as a must.
Kathryn Thomas
, 10 Nov 22
THE BEST flying and adventure experience. We had clear blue skies, clear views in our own window view of the ocean, sky and reef and an informative and funny tour guide. I would definitely recommend this tour to all travellers wanting to see the Great Barrier Reef in style!
Great trip!! The views were stunning and had an informative commentary from our pilot, the reef was so clear and were lucky enought to see the swirling sands in a great condition. Would highly recommend!
Amazing flight comfortable transportation to and from Arlie beach
Spectacular flight, friendly and helpful commander. In addition, we have been assigned the best seats to celebrate our honeymoon in the best possible way. Very happy
Great afternoon, perfect thing to end our girls holiday to Airlie Beach. Was really nice to see the islands from above after seeing it all from the water and the reef was just beautiful. The girls loved it and was a really special ending to our holidays, thankyou GSL!
Was easy to organise and really smooth with pick ups and breifings etc. The plane felt safe and was spacious and the commentary informative. The reef and islands looked great from above, a really unique exciting experience.
Really great trip, the views were beautiful and the plane super comfy, would recommend.
Amazing flight!! Was so beautiful and nice commentary.
Awesome flight over the Whitsundays, with a great commentary from the pilot.
The flight was incredible, the reef was so blue and beautiful. my wife loved it . Would recommend
Incredible views of Whitehaven and the Great Barrier Reef! Highly recommend
It was amazing! Seeing the reef from above was absolutely breath taking. My partner took me for my birthday and we went on a completely windless and cloudless day. We saw so many pods of whales I lost count. We also flew over Airlie Beach Race week which looked epic from the sky. This tour was so incredible I would definitely do it again and recommend to those who haven't done it yet. Absolutely amazing.
wow the reef from the sky is absolutely incredible. The best thing we did on holidays. Whitehaven is beautiful from every angle.
Thought the views were absolutely spectacular and did not expect the reef to be so big! staff wonderful as well and super informative.
WOW just WOW!! By far the best thing I did while in Airlie Beach, the view of Whitehaven and Heart Reef was just incredible!
Bucketlist experience! I was sitting right next to the pilot which was amazing.
I did the scenic flight yesterday in the afternoon with GSL. We took off from Proserpine Airport, the transport back and forth was very smooth. We had perfect weather conditions - the tide was around 1.2m when we flew over Whitehaven beach. Spectacular views and lots of fun. It was an amazing experience! ????
I was lucky enough to go on the scenic flight over the heart reef! It was such a beautiful experience and I loved that everyone on the plane gets a window seat! Thanks Sailing Whitsundays for making my booking experience so easy :)
The scenic flight which was definitely my highlight of my year in Australia - you can only see this view once in your life. Worth the money.
Flew over the beautiful turquoise waters to the heart reef today with my wife and kids. All the family loved it, was great that we all got our own window seats.
Amazing views! At first, you can enjoy the views over the islands like Hamilton and Hayman and then you arrive at Whitehaven Beach and the pilot turns around so that everyone can have an unobstructed view of Hill Inlet and the moving sands, which look incredible. We continued out to the reef which is just as spectacular seen from above and again everyone had the chance to see the heart reef. It's a plus that everyone has a window seat and the pilot offered in-flight commentary. So worth it!
It's a breath-taking experience! Whitehaven Beach and the Great Barrier Reef are just beautiful from above :)
The scenic flight over the Whitsundays is fantastic, so great to get another perspective. The videos of the reef I took are my favourites! Thanks
Seeing Whitehaven Beach and the Great Barrier Reef from above is so different and breathtaking, I would do it again in a heartbeat!
A must do when visiting the Whitsundays! I enjoyed every bit of it, the views are fantastic and I was able to take amazing pictures.
You are missing out, if you do not do this flight, the views are just incredible. Whitehaven Beach and the Great Barrier Reef from above are just from another world!
Catherine Arcand
, 28 Oct 19
This is clearly the most exciting activity to do in Airlie beach. Seeing the great barrier reef from above is the most beautiful thing I have ever seen in my entire life! I still cant believe what I saw there. The staff is very kind and I felt super secure during the entire flight! Can't recommend enough this activity!!!
A must do! I did the scenic flight after doing a boat trip the previous day. You cannot come to the great barrier reef without doing a flight over it, seeing its vastness and beautiful colours is something that will stay with me forever! Dont just swim at the reef do a flight, well worth spending a little extra $$
This time, the pilot brad skill is very good, smooth and comfortable, and the commentary on the way is very detailed, polite and polite, is a very pleasant flight. Every employee in this company is nice and smiling, and it make our mood so much easier……highly recommend this company and this handsome pilot!
Excellent well thought out route with good commentary to where and what the reefs are called. Excellent pilot with the heart reef left and right side of aircraft.
Weather was perfect on the day which was a bonus. All crew were fantastic and very friendly. Everyone got a window seat and the pilot gave both sides of the plane an opportunity to get great photos. It was absolutely breath taking.
Melanie Collingwood
, 02 Nov 16
Just wow. 1 hour flight over the Whitsundays and Heart reef was stunning. Very happy we chose to do this! I was a little worried about the price but it was worth every penny and will not hesitate to recommend to anyone I meet on my Australia journey.
Nice comfy plane and you see some great stuff, the reef was really cool to see and the pilot was very knowledgable and friendly. would highly recommend