Solway Lass 3D/3N
CLOSE
View More Thumbnails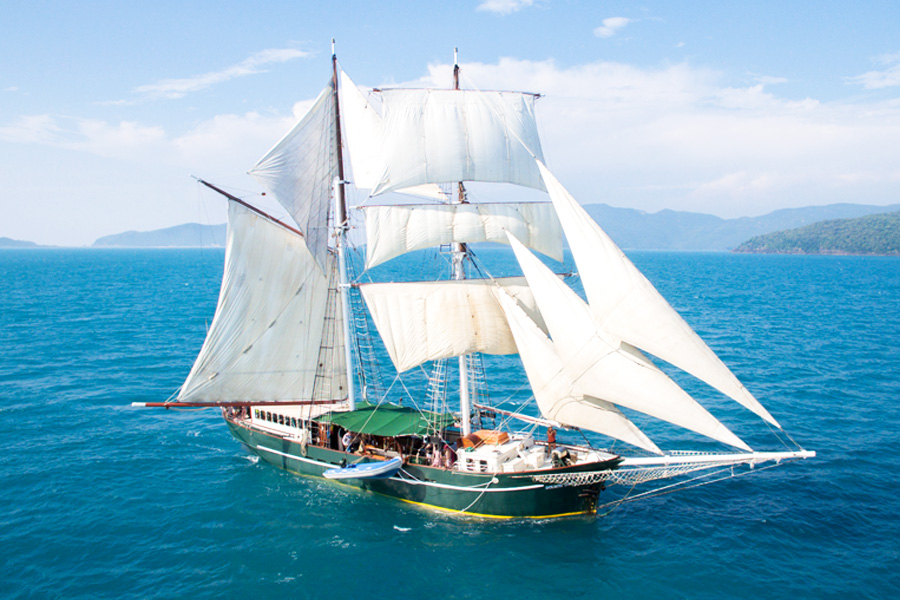 Loading...
Departure Times
Departs: 7:30pm - Tuesday, Saturday
Returns: 4:00pm - Friday, Tuesday
Sail, relax, snorkel, and explore on a classic tall ship
Sail into history on this beautiful tall ship
Enjoy the Whitsundays at length
Snorkel, swim and enjoy Solway's extra features like the rope swing and bow nets!
Solway Lass 3 day, 3 night will move to a 2 day, 2 night cruise as of the 16th of February 2019
Solway Lass is the best way to experience a traditional sailing trip around the Whitsundays - with history below your feet and sails above. Guests will learn about her long and interesting history as they explore the islands, with opportunities to snorkel, visit Whitehaven Beach and relax. Attracting a mixed group, Solway Lass is a large, stable vessel which sails around the Whitsunday islands for 3 days and 3 nights, leading you on a journey that will include plenty of activities and plenty of sights to see with tropical islands. Guests can take the opportunity to steer this amazing ship while she is at sea for an authentic sailing experience - Solway's itinerary offers something for everyone! Spend your nights in your comfortable cabin which is lined with cedar and teak softly lit with a modern brass lantern, leaving you feeling relaxed and rejuvenated.
---
Solway Lass Features
Authentic sailing experience
Air-conditioned cabins
Saloon area with a licensed bar
Hot showers and 240V power available on board
Meals freshly-prepared onboard
Enjoy swinging from the Tarzan rope!
Snorkel gear and wetsuits provided
Large spacious decks
Large cabins
Private and shared cabins available
Historic boat
If you enjoy adventure and history mixed in with a dash of paradise, look no further than Solway Lass!

---
Boat Layout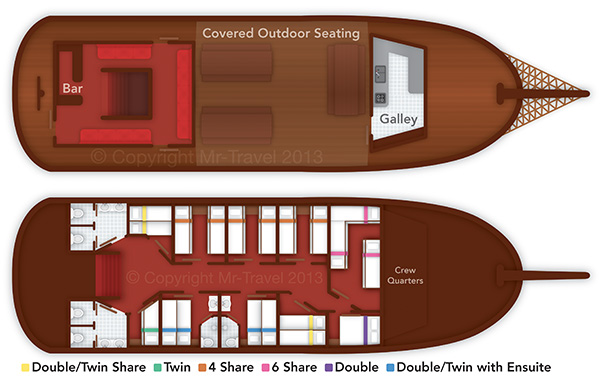 Solway Lass is a comfortable vessel, featuring air-conditioning, separate male and female bathrooms as well as 11 private double, twin or shared cabins. The cabins are appointed with brass lamps, cedar and oak timbers, personal reading lamps and comfy beds. She was originally launched in 1902 and is 88 feet long.
Shared single: Single bed in either a 4 share or 6 share cabin with shared amenities
Private twin cabin: Two single beds in a private cabin with shared amenities
Private double cabin: One double bed in a private cabin with shared amenities
Private twin ensuite cabin: Two single beds in a private cabin with a private bathroom
Private double ensuite cabin: One double bed in a private cabin with a private bathroom
*Private Triple and Quad Cabins available on request. Please enquire for more details.
---
Sample Itinerary
Solway Lass aims to spend a full three days exploring the Whitsunday Islands with adventure, relaxation and amazement at the top of the priority list. You'll get to visit Whitehaven Beach, located on Whitsundays Island, as well as Hill Inlet Lookout for an amazing and once in a lifetime experience. Known for its white silica sands and clear waters, the beaches stretch for 7 kilometres and create unique and beautiful patterns in the changing tides. One of your crew members will take you on an bushwalk up to lookout where you can see them for yourself and learn about the local wildlife and history along the way. and along the way. Guests will also have the chance to snorkel in the beautiful reefs surrounding the Whitsunday Islands, getting to see the amazing and diverse sea and amazing coral formations that live below. With Solway Lass' amazing history, stunning structure, and fun itinerary, you're sure to have the time of your life on board this Whitsunday icon.

Whitehaven Beach and Hill Inlet Lookout
Be sure to have your cameras ready because you wont want to miss the opportunity to capture the most incredible view of the swirling sands of Hill Inlet and Whitehaven Beach! Our tour guide will take you for a scenic bush walk up to the lookout, and when you're finished there, its time to hit up the beach! You will have plenty of time to soak up the sun, go for a refreshing swim, even wade among baby sharks and stingrays.

---
Sample Menu
Night one
Evening snack: Party pies and sausage rolls with dipping sauce
Dinner: Pumpkin soup with either garlic bread or warm crusty bread with butter
Day one
Breakfast: Breakfast which is three cereals, white, wholemeal and fruit bread, baked beans or spaghetti, yoghurt, milk. Spreads including: margarine, vegemite, peanut butter, honey, strawberry jam and marmalade. Orange juice.
Morning tea: Assortment of biscuits or fruit cake
Lunch: Lunch varies every trip. BBQ sausages, veggie burgers, pasta salad, potato bake/salad/mash, green salad and fresh cob loaf
Afternoon tea: Fresh fruit Platter
Evening snack: Nachos with melted cheese, salsa and sour cream
Dinner: BBQ chicken or chicken curry (either green curry, satay or Italian) with rice greek salad and yoghurt and cucumber sauce
Day two
Breakfast: Breakfast which is three cereals, white, wholemeal and fruit bread, baked beans or spaghetti, yoghurt, milk. Spreads including: margarine, Vegemite, peanut butter, honey, strawberry jam and marmalade. Orange juice.
Morning tea: Assortment of biscuits or fruit cake
Lunch: Cold meat platter, a selection of salads including: cucumber, tomato, sprouts, lettuce and carrot, cheese, tuna salad, curried eggs, pasta bake/salad, and a fresh cob loaf
Afternoon tea: Fresh fruit platter and fruit cake
Evening snack: Dips (sour cream and sweet chilli or sour cream with corn relish and tabasco), cheese plater with crackers, green olives, carrot, gherkins and kabana
Dinner: Roast beef, gravy, roast potatoes, roast pumpkin, corn on the cob, peas, fresh warmed plait bread with butter and vegetarian lasagne for vegetarians.
Dessert: Chocolate cake or fruit salad with ice cream and chocolate sauce
Day three
Breakfast: Breakfast which is three cereals, white, wholemeal and fruit bread, baked beans or spaghetti, yoghurt, milk. Spreads including: margarine, Vegemite, peanut butter, honey, strawberry jam and marmalade. Orange juice.
Morning tea: Assortment of biscuits or fruit cake
Lunch: Warmed quiches, caesar salad with croutons, bacon, egg, parmesan and cos lettuce, couscous salad, greek salad with cucumber, capsicum, black olives, red onion tossed with balsamic or Italian dressing.
Afternoon tea: Fresh fruit platter and fruit cake

CALL 1800 550 751 OR LIVE CHAT US NOW!
---
Heading south to Fraser Island?
Package your Whitsundays and Fraser Island tours together and start saving $$! Talk to an East Coast specialist today.
Unique Fraser Day TourCool Dingo Guided Tour 2D/1NNomads Tag Along 3D/2NDropbear Tag Along 3D/2N
More Information
What To Bring
Swimmers
Change of clothes
Small, zipperless overnight bag
Sunscreen
Excess luggage can be stored at several places in town including most boat check-in offices, a 24 hour locker shop on The Esplanade, most hostels, or at your accommodation. Most charge between $5-10pp for the duration of your trip.
What's Included
Skipper
Crew
Drinking water
Meals
Licensed bar
Linen
Wetsuit hire
Snorkelling equipment
All Marine Park fees
Wet weather jackets if needed
Free pickup and drop-off if required
Environmentally friendly bag provided upon check-in
What's Extra
Alcoholic beverages and soft drinks are to be purchased from licensed bar (no BYO allowed)
Please read the following questions carefully
Do you currently have an ear infection?
Do you have a history of ear disease, hearing loss or problems with balance?
Do you have a history of ear or sinus surgery?
Are you currently suffering from a cold, congestion, sinusitis or bronchitis?
Do you have a history of respiratory problems, severe attack of hayfever or allergies, or lung disease?
Have you had a collapsed lung (pneumothorax) or history of chest surgery?
Do you have active asthma or history of asthma, emphysema or tuberculosis?
Are you currently taking medication that carries a warning about any impairment of your physical or mental abilities?
Do you have behavioral health problems or a nervous system disorder?
Are you or could you be pregnant?
Do you have a history of colostomy?
Do you have a history of heart disease or heart attack, heart surgery or blood vessel surgery?
Do you have a history of high blood pressure, angina, or take medication to control blood pressure?
Are you over 45 and have a family history of heart attack or stroke?
Do you have a history of bleeding or other blood disorders?
Do you have a history of diabetes?
Do you have a history of seizures, blackouts or fainting, convulsions or epilepsy or take medications to prevent them?
Do you have a history of back, arm or leg problems following an injury, fracture or surgery?
Do you have a history of fear of closed or open spaces or panic attacks (claustrophobia or agoraphobia)?
If any of these conditions apply to you, you will need to tell the staff when you board the vessel.
Terms and Conditions
*A $20 per night (per person) Public Holiday Surcharge is applicable to tours departing on the 24th, 25th and 26th of December 2019. New Years surcharges may also apply, please enquire at the time of booking.
All departures and itineraries are subject to weather. Tours may be changed or cancelled for any reason at the discretion of the Tour Operator. It should be noted that adventure travel involves risk. Whilst we make every effort to safeguard clients, we cannot be responsible for personal injury or loss due to actions of our clients which are beyond our control. We recommend that all clients have travel insurance covering illness, injury, loss or damage to personal belongings and not being able to travel on the confirmed date of departure. Please be aware operators pass on credit card merchant fees so there is a non-refundable 2.5% surcharge for VISA and MASTERCARD card purchases.
This is a water-based activity, for safety reasons ALL passengers must be able to swim and speak fluent English. Please advise us before booking if any passengers are under 18 years old to ensure this is the appropriate trip.
Also, please note that you need to allow time prior to the boats departure to check in, please ask us for more details.
Cancellations
All cancellations made result in 25% cancellation fee of the recommended retail price (RRP), not discounted or sale prices. Any cancellations made 60-30 days prior to travel will result in a 50% cancellation fee and any cancellations made inside of 30 days to departure will result in forfeit of full trip fees. If the sailing company has to cancel the trip (prior to the boat's departure) and we cannot offer a suitable alternative, then a refund will be given minus card fees. We strongly recommend that you have travel insurance, especially during the wet season.
Please note it is the responsibility of ALL passengers travelling to advise both your travel agent at the time of booking and vessel check-in agent before boarding of ANY medical conditions including food allergies you may suffer from.
Thank you for booking with Mr Travel/Sailing Whitsundays. If you would like any advice or assistance in arranging accommodation, transfers or additional tours, please do not hesitate to contact us.
"Everything was brilliant!"
Zara
"During my stay at Solway Lass, I felt comfortable because of the good quality of service that the crew members gave me!"
Juan
"Awesome holiday, relaxing and comfortable, the crew was friendly, respectful helpful!"
Manuel
"My 6th trip on Solway Lass and as always it was awesome! Fabulous crew who were very friendly, helpful and knowledgeable. I will continue to highly recommend this trip to family and friends."
Deborah
"Delicious food, clean and tidy. Everything we needed was there. Loved the additional information about the region and marine life that we could see."
Laura
"The boat and the crew really make this experience special. I loved that we went to so many different places. Thank you friends!"
Nathan
"Had an amazing 3 days on the Solway Lass. The crew was so friendly ad helpful and made it so fun. The food was incredible with 3 full meals a day, and we got to see Whitehaven and snorkel with turtles! I will recommend this trip to all my friends!"
Adele
"Our 3rd trip on the Solway Lass and it never disappoints. Excellent crew, a great mix of passengers and the beautiful Whitsundays combine to create the ideal 3 day trip. The food was exceptional and of course they take you to all the best places including Whitehaven. Cabins are compact but comfortable (including aircon), there are showers on board and you can buy alcohol at the bar, everything else is included in the price. This is not a backpacker party boat, it's fun for all groups and ages."
Margot
"It has been a very good trip with a lot of fun. Nice to be on a sail boat with a lot of history :)"
Simon
"Great crew, great bays, great food, good mix of people, great experience!"
Fiona and Daniel
"Great trip! Crew was amazing, food was great and the boat is beautiful! I am a vegetarian and the food provided was great and I was given a good non-meat option at every meal!"
Hailey
"Had an amazing 3 days on the Solway Lass. The crew was so friendly ad helpful and made it so fun. The food was incredible with 3 full meals a day, and we got to see Whitehaven and snorkel with turtles! I will recommend this trip to all my friends!"
Edel
"Crew was excellent and tried to make all the passengers comfortable and happy. I enjoyed snorkelling and the rope swing was really great! The boat was very clean and comfortable! Thanks!"
Leisha
"Had an amazing time. Great job from the crew to always be friendly and helpful. "
Lina
"Lots of fun, and great passengers! There was beautiful scenery, excellent food and comfortable cabins!"
Gemma
"Great trip! Crew was amazing, food was great and the boat is beautiful! I am a vegetarian and the food provided was great at every meal!"
Hailey Hudsen
"It has been a very good tour! The staff were very nice and professional - it was an amazing experience... and I saw a reef shark!"
Nanna
"We really enjoyed our trip here. The crew were positive, friendly and helpful. We were extremely happy that the weather conditions put no restrictions on activities. Totally exceeded our expectations! "
Katy Frankcombe
"It has been a very good tour. The staff were very nice and professional. An amazing experience and I saw a reef shark!"
Nanna
"Had a brilliant time, amazing snorkelling made even better by tips from the crew! All staff went out of their way for us and made us comfortable throughout. Great atmosphere on board and the perfect mix of people! Really glad we came along. Thank you!"
Dan and Lisa
"Lots of fun, great crew, great passengers and beautiful scenery. There was excellent food and comfortable cabins. The experience cannot be criticised in any way!"
Gemma
"Had an amazing 3 days on Solway Lass! Staff are so friendly and helpful and made it fun. Food was incredible with three full meals a day. Got to see Whitehaven Beach and snorkel with turtles. Will be recommending to all my friends!"
Edel
"Loved the crew and the friends we made on Solway Lass. Everyone was great! We had 3 children and the crew and other travellers were lovely! Highly Recommend it. One child has food allergies and they were so accommodating and helpful. Wonderful experience for all!"
Anon
"My husband, friend and I spent 3 nights on the Solway Lass and absolutely loved it. The crew was fantastic, thank you! The food was good and served often, the balance of adventure and relaxation was perfect, and the diving and snorkelling was just beautiful!"
Keezia
"Very pleasant experience, crew worked hard to make everyone comfortable, and were great with children onboard."
Larson
"Great atmosphere created by the crew. Very relaxed and welcoming, Highly professional. Meals were excellent! All days were good fun, informative and relaxing. The crew have created the perfect balance of relaxation and entertain and involvements. Thanks guys."
Emily
"It was a really good experience and the sites we visited were amazing. The crew did an amazing job! "
Fraucois
"Great crew, very welcoming and friendly. The food was excellent. A very good experience, we will recommend to others."
Kristin
"Had a great time in a wonderful area. Crew put in a huge effort all the time - friendly, helpful and never stopped working. "
Ronnie
"I would highly recommend the trip with Solway Lass! It was great!"
Dena
"Awesome crew. Thank you for everything. I had a wonderful sailing trip!"
Anette
"The crew were better than expected and suitable for a girl, 2 and half years old, and myself and I am 68! The crew were professional, friendly but not to much."
Acerbi
"This has been a great trip. We have seen many beautiful places and experienced many new things. Very happy about the crew and the food was fantastic!"
Charlotte
"Fantastic trip! Thank you , thank you to the crew. Weather, snorkelling, sailing and everything else was great. "
Luke
"Great trip, great crew, amazing atmosphere and great information about sailing."
Nancy
"The crew, boat and trip in general were fantastic! We were lucky to have a lot of wildlife sightings which made it even better. Favourite part of the boat was the rope swing, improvement point would be seat cushions for mid week."
Tyler
"Quickly became comfortable and very pleased with the sailing experience. Fun and friendly crew, great food, very accommodating. We will spread the word! Special thanks to Tim for giving me a turn at the wheel."
Jeff
"Great atmosphere, awesome crew and food (great options for vegetarians). Cabins were comfortable and clean."
Karin
"The spots were awesome and the Solway Lass is a highlight itself, not comparable to all the other boats. The swing rope is a special thing as well, which has made so much fun. The trip with the Solway Lass is definitely one of the highlights on our holiday! And a BIG thank you to the crew! "
Stephanie
"Great 3 day trip, worth every penny. Top crew making the experience even more better!"
Jeremy
"If you have the time, go for the three night trips, they are worth every penny! Top crew and great food, made the experience that much better. "
Jeremy
"Awesome, fabulous crew, fab food, great crew, really enjoyed sailing."
Tom
"Awesome trip, awesome ship, bloody awesome crew! Enjoyed every second of it. "
Tim
"A fantastic trip with my family - passionate crew, knowledgable and great hosts. Thank you to all for such a memorable holiday. "
Sara, Darren, Mila and Luca
"I ve been on a tour 8 years ago and I have to say that this trip was so much better! The crew was amazing and the food very delicious. Thank you !"
Sabine
"Once in a lifetime experience, good crew and great food! "
Doug Allen
"Fantastic Time. PARADISE"
Rosie & John
"Great Staff/ crew, tost of fun and a good blend of people on the trip"
Jenny
"Very friendly and helpful crew. Loved the shade area on the middle for meals"
Roth Family
"It was a fantastic trip! and I had a lovely time!!!! Especially the food!!! I need to emphasise our cooks amazing talent! The whole crew gave us an amazing time on sea."
Josephine
"10/10
Crew is friendly and always try to share background into like history and culture. Food is great as well. Overall its a trip ill recommend to my friend. So thanks for the service. "
Yong Sheng
"Big Thanks to the Solway Lass Crew - all 9/10 rating"
Paul
"Had a wonderful trip - it wasn t the boat we booked but he had a great time. Being able to do a range of activities (walk, swim etc) was a good experience and we were able to explore the Whitsundays. Crew was helpful and fun. 10/10"
Quetzal
"Very informative Trip, I would recommend it to other people"
Adam
" Check in office 8/10 Quality of Adventure 9/10 Your Crew 10/10 The quality of food 10/10 Presentation of the boat 9/10 "
Bernahrd
"We had a fabulous 3 days, really relaxing trip and crew were great. The chef was superb. The food was excellent. Kurt was a good barman. All the crew were helpful and attentive. Would be helpful to have more lighting on the boat and more cushioned seating. "
Panesar
"What a wonderful adventure and the heaven held back on the rain even though Jan the wet season. We saw whales!! yea really and dolphins ands turtles and squid and so many amazing coloured fish and coral I didnt get seasick! yay!"
Karen Guyer
"Everything was perfect for value. Kin & crews beautiful ship. Great foods, 10 point surely!"
Tak Lee
"À wonderful adventure. Well planned. Food very good. Crew members very friendly and helpful."
Johanna
"This trip was everything we expected and so much more. Everything from the atmosphere to the food was top class. The crew and passengers made the trip a great adventure for us."
Maria Caluo
"Had a fabulous time, the food was excellent, dave works miracles in his small gallay and all the crew were easy to get along with. We were also lucky to have a really great group of fellow travellers. "
Sue & Rob Davies
"10/10
Awesome trip, first time on a boat, great crew, daves food, cooking soooooo nice. Bunks, showers, everything was good. Recommend to others sail on Solway lass. Having a bar on-board was super. Nikki very nice and obliging. "
Sandra Goddard
"10/10
The crew made this trip unforgettable, the friendly atmosphere and the care they took planning our ventures made for one of the best trips I've been on in a long white. The entire family loved this trip! "
Amie Goddard
"Crew were all very welcoming and friendly, food was exceptional and the facilities on board very good. Bar prices very reasonable. Places we visited were great. Especially Whitehaven Beach"
Laura
"Everything was fantastic, food way great! Crew was knowledgeable and crew fun!"
Shirin Adobehj
"AMAZING. I want to quit my desk job and work on this boat ! Awesome Crew + Amazing food Thank you !"
Sophie
"Absolutely fantastic trip, enjoyed every second! This was the perfect way to end my trip to Australia, gutted to be leaving. Thanks!"
Paul Grainger
"10/10. Amazing! I had so much Fun! "
Emil Fredriksson
"Despite the clouds the trip was everything we expected and more. The crew are friendly and it is admirable to see how experienced and great they are at there jobs. It is clear that they enjoy and take pride in what they do. The tour was amazing and I really appreciated the care they took in planning the route dependent on weather."
Sabrina Williams
"Excellent food, friendly crew, great boat."
Nick Car
"Good experience & mix of passengers, crew knowledgeable and informative. Quality of food and chef excellent. Shame about non use of toilet in room 8. Price of drinks - good value. "
Peter, Helen, Robert & Julie
"Great hosts and awesome trip! Staff good, food good and perfect weather so we are absolutely happy!"
Rein
"QUALITY OF TRIP - 10/10
CREW - 10/10
FOOD - 10/10
BOAT -10/10
Would be helpful if the crew warns the diving people the day before of not taking pills against stress. Trip was amazing and I enjoy it very much."
MArcella Muerich
"The whole trip was really great - the crew very friendly and informative of what was planned. Ellie was a great host behind the bar. Sarah did a great job of preparing wonderful food. "
Antony Blackburn
"Ellie was awesome!!! Cool bar! Only bad this was the weather at the beginning. Sarah also great - awesome food! Rope swing fun! More info at the beginning ie breakfast times, trip plans etc."
F Brown
"10/10
The crew was great - very funny, helpful, informed. We got lots to see incredible areas in the Whitsundays and it was wonderful experience. "
Amelia Ulsh
"Crew super helpful and vigilant, non intrusive. Fun adventurer and felt very safe 24/7. Enjoyed the company of like minded travellers. Wonderful Experience. once could so as much or as little as you liked. "
Glenda McGill
"great crew, great boat. Had a lot of fun! Thanks guys"
Sophie Schogl
"QUALITY OF TRIP - 10/10
CREW - 10/10+
FOOD - 9.9/10
BOAT -10/10
The most amazing trip I have ever experienced. The crew were so caring that it didn't seem they were working. It was as fun as could, we had so much laugh. If every humans cared in the same ways the world would be a most beautiful place and happy. The sailing was awesome! "
Jacques Gentil
"QUALITY OF TRIP - 10/10
CREW - 10/10
FOOD - 9/10
BOAT - 9/10
Would you travel again - YES
Had a wonderful time, great supporting crew, safe and steady captain & bosun. Friendly and helpful bar, deckhand and chef and jolly. good snorkelling, walking and sailing experience terrific scenery. Made more enjoyable by the great weather. Fun bunch of travelling companions. "
Stephen McGill
"Had a fantastic 3 days, made especially good for the crowd on board. Couldn't have been better."
Paul & Tine Jennings
"The trip was a ripper. Almost everything was excellent only the food could of been better.
QUALITY OF TRIP - 9/10
CREW - 8/10
FOOD - 6/10
BOAT - 8/10
Would you travel again - YES"
Riess Family
"It was a fantastic stay on such a beautiful ship with such an interesting history. There was a really relaxed atmosphere on board thank to the crew and the rest of the group. Id definitely recommend Solway Lass to friends."
Suzanne Rodriges
"Good Stuff: Private cabins! The food! The cheap bar, The friendly crew, The windows to keep bad weather out. The rope swing. Areas for improvement: It would have been good to stop at hill inlet. It would also have been good to snorkel on day 1.
QUALITY OF TRIP - 8/10
CREW - 9/10
FOOD - 9/10
BOAT - 8/10
Would you travel again - YES"
Agatha Mems
"Great crew, good food and music. I loves the swing with the rope. Thank you guys for a fantastic sailing trip, Cheers mate
QUALITY OF TRIP - 10/10
CREW - 10/10
FOOD - 10/10
BOAT - 10/10
Would you travel again - YES"
Guido Fuchs
"Good informations. Nice trip. Awesome experiences, thanks
QUALITY OF TRIP - 10/10
CREW - 10/10
FOOD - 10/10
BOAT - 10/10
Would you travel again - YES"
Patrick & Lisa
"A beautiful ship and wonderful crew. Lots of relaxation with a good amount of activities. Good music on board. Food was delicious and well worth the money. Better than any other meals I've had on other tours or even luxury cruises. Barman should know more languages. QUALITY OF TRIP - 8/10 CREW - 9/10 FOOD - 10/10 BOAT - 9/10 Would you travel again - YES"
Stephanie Liu
"Absolutely lovely! Crew was totally friendly and professional. Loved to talk to them and watching them sailing. If your not already in kove with the sea as I am you will fall in love on this boat. QUALITY OF TRIP - 10/10 CREW - 10/10 FOOD - 10/10 BOAT - 10/10 Would you travel again - YES"
Tobias Goldbach
"Wonderful sailing experience, friendly crew members, awesome foods. enjoyable trip! Particularly appreciate the sharing of boat knowledge & boat/sailing experience from different crew members"
Barry Ho
"Crew was awesome. Very friendly, patients and informative. Food of very good quality."
Smith family
"Excellent, well run and varied activities, good food, approachable crew."
Ann James
"Very good trip and lovely crew. Beautiful scenery snorkelling was very good, wish we could do more diving. Need more sitting around tables for dining... really had a good time, thanks to the crew."
Aude
"Very Magical experience. Even better than we expected. great food. Friendly crew Just excellent."
Philip & Hanna
"Brilliant adventure! absolutely no complaint. Well run trip. Food fantastic - crew excellent. "
Jeanette, Wigel & Rach
"Crew were fantastic and were so kind and patient with our 7 year old daughter. It will be a holiday that will be hard to beat! Thank you "
Sarah Bull
"Great trip with fantastic crew and amazing people!!!!"
Santiago Ramos
"Really enjoyed the snorkelling and intro dive. The crew was excellent as was the relaxed atmosphere of the ship."
John Donegen
"Very nice experience. The crew have been fantastic."
Heyang, Ying & Hailong
"Very great tour. A really nice and good crew."
Claudia Fuchs
"Solway Lass has been the greatest adventure and awoken me to life - This is like!! From being a pirate castaway left on a secluded Island 5star meals and fantastic crew and passengers I have had such an awesome amazing time. Environmentally sustainable and friendly practices also added to my highlights. "
Eileen Khouw
"Excellent trip! would gladly recommend it to friends and family. The crew were all so helpful and generous with their time - and the food was delicious. "
John White
"Fabulous trip, very helpful crew, lovely scenery. Cute turtles! Thank you :) "
Rebecca, Terry & Lesley McCabe
"Crew were knowledgeable, helpful and enthusiastic. If anything perhaps there could have been more activities and or some for of entertainment in the evenings. But having said that the trip, wether and scenery were all fantastic, And I was impressed with every aspect of the food."
Andrew Blackburn
"Amazing trip the crew made you feel very welcome the moment I boarded the Solway Lass. Everyone onboard was very friendly. I would definitely recommend this trip to friends and family."
Stephen Mackie
"The tall ship Solway Lass was a beautiful old ship that sailed in the First and Second World Wars. The vessel was gorgeous and wooden, Here I went scuba diving for the first time! I saw beautiful reef, and loads of different fish, including a clown fish (Nemo!), and a giant blue fish (Elvis the locals called him) with intricate designs all over it. Also, there was a rope swing(!) (as you can see),it was great, Anyway, the boat was beautiful, and I spent 3 nights on board. It was lovely and peaceful, and I had a wonderful time. "
Joelene
"Great crew, polite, nice sense of humour and knowledge of the islands and history. Good fun."
Vincent Romeo
"Dave is an amazing chef, better than my many cruises before. Reggie is very funny, great comedian. All crew fun and personable and good at what they do."
Cassandra Hamilton
"Not a big Sailor so need to adjust but the crew was extremely helpful... Had a blast and some really good fun."
Allie H
"I had an amazing time on this boat. The crew was awesome as well and the quality of the food was just amazing. thanks for that David!!!"
Torben Brauer
"I have travelled many places around the world, but never have I experienced a more connected experience due tot he staff on 'Solway Lass' they made you feel part of their family and truly wanted you to have a wonderful experience, which they succeeded to do! Thank you so much - we will do this again!"
Marjorie & Natalie & Nieves
"This was such a wonderful trip! The Solway Lass is a beautify ship with so much character! There were many interesting areas on the ship to explore. My favourite was the sundeck. This trip would be great for all ages and backgrounds, I was impressed with the diversity of the group. The food was extremely delicious and exceeded my expectations. I was impressed by the exceptional crew on board, not only by their muscular calves, but by their beautiful and shining personalities!"
Natalie
"I can't put into words how great this adventure was. The staff was amazing and I loved every minute of it. On the boat you really become a family and they make you feel right at home. The staff was very professional yet very fun. They really made my experience in Australia very good. Thank you for a wonderful experience!"
Cristina
"A thoroughly enjoyable few days, would definitely recommend to family and friends."
Paul & Jeni
"This Adventure was very good. The Crew and all the group is very nice. I have spend a good time. The programme was wonderful. (The visit, walk, scuba-diving, swing, show by crew, the food) Thank you for all."
Mathilde
"very good Crew!!! Explications, friendly, amazing cooking. We have enjoyed our trip in the Whitsundays. Thank you very much."
Lebretan
"Very good trip - Amazing experience, never forget!"
Tim
"Trip of a lifetime! the boat itself is a thing of beauty, the crew had the right balance of knowledge and crack! Top marks to the chef who created marvellous food including smashing veggie meals. All in all top notch and highly recommended."
Siobhan
"A good deal learned on anchoring procedure. Seeing all sails set and adjusted for the angle of the wind was a great experience. Crew showed great seamanship."
Gary
"I really enjoyed the stay on board. Even when the trip was more expensive than other offers I am glad I took this one. I liked that everything was well organized. The only downside was that I had to check in personally in Airlie."
Annette
"Great and humorous crew with high standards of care and patience. "
Tom Mac
"I had an awesome time! The boat was clean , well equipped and had plenty of space. The crew were very helpful and great fun. Overall it was an amazing adventure and I will recommend it to friends."
M Riches
"The Dive spot was better, bush walk was awesome. No wind but awesome weather."
Allie & Bard
"Excellent all round expedition... such a good experience. Big thank you to Elliot and Lauren, not to mention Reggies stand up and Daves excellent food."
Stephen F
"The crew's passion for the boat and the wildlife and environment was obvious and infectious. We really appreciated the time taken to observe the animals. The crew also went out of their way to make the trip enjoyable and fun. "
Tim
"Good Fun, beautiful landscape, beautiful ship and his crazy crew. Not lucky with the weather but it was still an amazing trip and experience to finish the end of my 2 wonderful years in Australia. Thanks to the crew"
Benjamin