Sea Kayaking
CLOSE
View More Thumbnails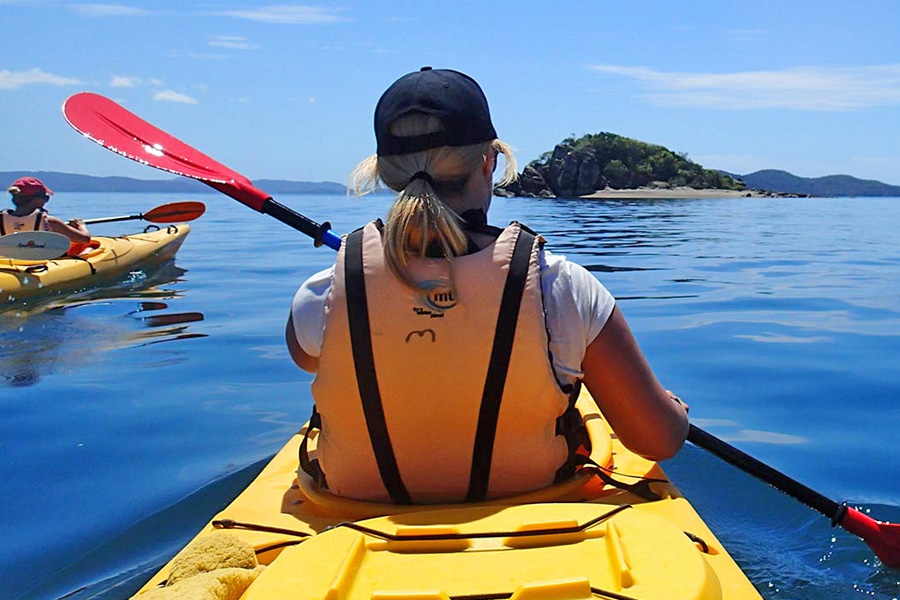 Loading...
Pricing Options
$90 AUD per Person
- Adult Double Kayak - Half Day
(Between: 15 Oct 2016 and 30 Jun 2018)
$145 AUD per Person
- Adult Double Kayak - Full Day
(Between: 15 Oct 2016 and 30 Jun 2018)
$80 AUD per Person
- Child (under 15 yrs) - Half Day
(Between: 15 Oct 2016 and 30 Jun 2018)
Sea kayaking Island experience!
Based in the spectacular Whitsunday Islands, Salty Dog's Sea Kayaking Expeditions have been operating since 1997. Comprising more than 70 islands, the Whitsunday Island Group is the largest offshore island chain on the east coast of Australia. And as part of the Great Barrier Reef Marine Park, its tropical, clear, warm waters offer some of the most breathtaking and accessible paddling in the world. Join us for an unforgettable experience on one of our fully-guided trips or extended expeditions.
Salty Dogs Sea Kayaking Adventures is a family owned and operated business - their passion for adventurous water sports led them to this amazing part of the world and now they share their love of nature and sea kayaking with visitors like you! Sea Kayaking guides are carefully selected, as much for their character and local knowledge as their more obvious sea kayaking skills. They are without exception extremely experienced and fully qualified and importantly love their job and lifestyle. The kayaks and equipment are replaced regularly to ensure the best standard of equipment is available to our clients.
Tours Available

1. Half Day Guided Kayak tour
This half day kayak experience tour is designed to be appreciated by both experienced paddlers and beginners alike, with the emphasis on fun and enjoyment, not hard work.

Departing from base at Shute Harbour, you will kayak over fringing coral reefs and explore nearby tropical islands. These waters and islands are home to an amazing diversity of marine and bird life including giant sea turtles and soaring eagles. Between the months of July and September, there is also a chance to encounter the magnificent humpback whales which arrive to give birth to their calves before returning to Antarctic waters. You will stop off at White Rock, where there is time to swim, snorkel or kick back and relax. We provide cold drinks accompanied by a cheese and fruit platter, allowing you to refresh before our return to Shute Harbour.

Departs at 8.30am and Returns to town by 12.15pm
Suitable for beginners to experienced paddlers, children welcome if accompanied by adult.
2. Full Day Guided Kayak tour
Enjoy a great day of sea kayaking in the Whitsundays with an experienced guide and a small group of paddlers.

Kayaking directly from base at Shute Harbour, you will wind your way through the inner harbour islands before crossing over to nearby White Rock. Time is spent here snorkelling & swimming before the group paddles across the Molle Passage to Sandy Bay at South Molle Island. The waters off the Molle Group of Islands are home to giant sea turtles, dolphins, soaring sea eagles and a myriad of colourful tropical fish. At South Molle kick back and relax on the beach or take another opportunity to snorkel over fringing coral reefs.

For the more energetic people, there is time to trek part of the Mount Jeffries walking track, lined with ancient grass trees which attract many varieties of butterflies. The walk boasts panoramic views across Whitsunday Island, Hamilton Island and the vast Conway State Forest plus equally stunning aerial views down into Sandy Bay and Shute Harbour. A delicious beach-based buffet lunch is provided before kayaking back to base in the afternoon.

Appox 10-12 kms
Departs Airlie Beach 8.30am and Returns to Airlie Beach by 4.15pm
Suitable for beginners to experienced paddlers, medium level of fitness required.
FAQs

HOW FIT DO I NEED TO BE?
A medium level of fitness is required. if you are concerned about your level of fitness - then a half day kayaking tripis probably the most suitable trip for you.

I AM A BEGINNER, IS THIS OKAY?
Yes, we have beginners most days -half day or day trips are suitable here. If you wish to hire a kayak you need to have kayaking experience and there must be a minimum of 2 people.

DO I HAVE TO BE ABLE TO SWIM?
No, we do provide life jackets and our kayaks are very stable. You must however inform the guides prior to the trip if you a non-swimmer and they will keep a close eye on you.

CAN CHILDREN COME ON THE TRIP?
Absolutely! We like to encourage families. If your child is under 15, they must be accompanied by an adult (1 adult per child, so they share the kayak). For smaller children, a half day trip is usually long enough, please talk to us in advance and we will endeavour to suggest a day when the weather is at its best.

ARE WE LIKELY TO TIP OUT OF OUR KAYAK?
No, our kayaks are specially selected for stability, comfort and storage space.

CAN I SAFELY BRING A CAMERA
If your camera is waterproof, then bring it along. We do have dry bags - but we would suggest that you leave your non-waterproof camera behind. Our guide takes professional photos along the way . You can purchase a disc of photos at the end of your trip - however there is no hard sell and absolutely no obligation to do so!

WHAT ARE STINGERS? SHOULD I WORRY ABOUT THEM?
Stingers are a jelly fish, & some do sting. In line with recommended procedures, we provide stinger suits with us for anyone wishing to swim or snorkel. These are made of lycra, are full length and zip up the front (a great photographic opportunity here !).

IS FOOD PROVIDED?
Yes, on our Half Day Trips, we supply drinks, fruit, cheese/crackers and nuts. Our Full Day Trip, morning tea and a buffet lunch including salads, cold meats and breads are provided. Please inform us of any dietary requirements at time of booking.

WHAT SORT OF SAFETY GEAR DO YOU CARRY?
Our guide carries extra water, first aid kit, flares, V-sheet, vinegar, maps, waterproof vhf radio and mobile phone, Each kayak has a pump and sponge. If you are hiring a kayak, we provide flares, V-Sheet, first aid kit, pump, sponge, vinegar and a VHF radio if you are likely to be out of mobile range. We suggest you bring a mobile phone Telstra works best on the islands.

DO YOU CANCEL IF IT RAINS?
Naturally your safety is of utmost importance & we want you to enjoy your sea kayaking experience. We dont cancel if we have light rains, however if becomes torrential and this causes visibility problems - then we have to cancel or reschedule. Fortunately the rain here is warm! Strong winds make life on the water difficult and dangerous so we cancel or reschedule trips if winds exceed 20 knots

ARE MOSQUITO AND SAND FLIES A PROBLEM?
Not on our Day trips or Half Day Trips, however we recommend that you bring insect repellent if you are staying overnight on the islands
BOOK WITH US TODAY! CALL 1800 550 751 OR (07) 4914 2425 IF LOCAL
What To Bring
Sunscreen, suitbale footwear and clothes that dont mind getting wet and water bottle.
What's Extra
Top quality kayaks and accessories, snorkelling gear, stinger suits, dry bags, morning tea, buffet lunch, safety briefing and guide/s
Terms and Conditions
Advance booking of kayaks is advisable, especially in school holidays. We require payment in full at time of booking. Please note there is a 2.5% credit card fee.
Cancellations
Cancellation of half day and day trips within 48 hours forfiet total ticket price. No refunds are made for cancellations within 48 hours. All other cancellations incur a 30% cancellation fee. Cancellation of an overnight tour or hire agreement within 5 - 21 days will incur a 100% cancellation fee. No refunds will be made for cancellations within 5 days. No refund on any portion of a guided trip or hire can be made after departure. Please note that in the event of a no-show, full payment is required.