Samurai
CLOSE
View More Thumbnails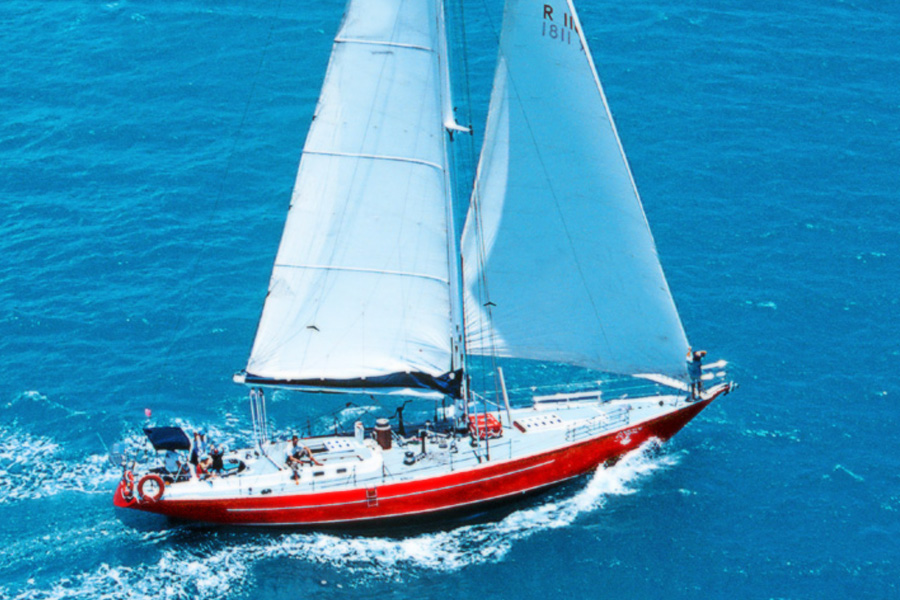 Loading...
Departure Times
Departs: 8:30am - Monday, Thursday & Saturday
Returns: 4:00pm - Tuesday, Friday & Sunday
Sail away with Samurai for a 2 day, 1 night trip in the Whitsundays!
Samurai offers a 2 day, 1 night sailing tour with all the comforts of modern design to enjoy while you sail around the Whitsundays! Samurai is known for her impressive racing history that make her a fun and fast vessel to enjoy while exploring the Whitsunday islands. Since making the Whitsundays her home, she now sails the waters of the Whitsundays with up to 22 passengers at a time during an unforgettable 2 day, 1 night trip.
This tour is no longer available. For similar 2D/1N sail options, please refer to Short on Time, or ask one of our friendly consultants.
More Information
What To Bring
Please only bring a small soft overnight bag without any zippers (ie. a re-usable shopping). A zipless souvenir bag can be purchased at the boat's check-in office for a few dollars. Ensure you pack clothes, a hat, swim-wear, beach towel, sunscreen 30+, warm pullover for the evenings (seasonal) and cash/card for on board purchases. You will also need to bring your own alcoholic beverages, available for purchase in town. No glass bottles please.
Excess luggage can be stored at several places in town including your boat's check-in office, a 24 hour locker shop or at your accommodation. Most charge between $5-10pp for the duration of your trip.
What's Included
Tea and coffee
Showers
Fresh linen
Meals and snacks
What's Extra
BYO alcohol (no glass). Soft drinks available for purchase on board.
Please read the following questions carefully:
Do you currently have an ear infection?
Do you have a history of ear disease, hearing loss or problems with balance?
Do you have a history of ear or sinus surgery?
Are you currently suffering from a cold, congestion, sinusitis or bronchitis?
Do you have a history of respiratory problems, severe attack of hayfever or allergies, or lung disease?
Have you had a collapsed lung (pneumothorax) or history of chest surgery?
Do you have active asthma or history of asthma, emphysema or tuberculosis?
Are you currently taking medication that carries a warning about any impairment of your physical or mental abilities?
Do you have behavioral health problems or a nervous system disorder?
Are you or could you be pregnant?
Do you have a history of colostomy?
Do you have a history of heart disease or heart attack, heart surgery or blood vessel surgery?
Do you have a history of high blood pressure, angina, or take medication to control blood pressure?
Are you over 45 and have a family history of heart attack or stroke?
Do you have a history of bleeding or other blood disorders?
Do you have a history of diabetes?
Do you have a history of seizures, blackouts or fainting, convulsions or epilepsy or take medications to prevent them?
Do you have a history of back, arm or leg problems following an injury, fracture or surgery?
Do you have a history of fear of closed or open spaces or panic attacks (claustrophobia or agoraphobia)?
If any of these conditions apply to you, you will need to tell the staff when you board the vessel.
Terms and Conditions
All departures and itineraries are subject to weather. Tours may be changed or cancelled for any reason at the discretion of the Tour Operator. It should be noted that adventure travel involves risk. Whilst we make every effort to safeguard clients, we cannot be responsible for personal injury or loss due to actions of our clients which are beyond our control. We recommend that all clients have travel insurance covering illness, injury, loss or damage to personal belongings and not being able to travel on the confirmed date of departure. Please be aware operators pass on credit card merchant fees so there is a non-refundable 2.5% surcharge for VISA and MASTERCARD card purchases.
Please advise us before booking if any passengers are under 18 years old to ensure this is the appropriate trip. Also please note that you need to allow time prior to the boats departure to check in, please ask us for more details.
Cancellations
All client cancellations forfeit 25% of total ticket price and all client cancellations made less than 21 days prior to departure will result in complete forfeiture of the full price of the sailing holiday. If the sailing company has to cancel the trip (prior to the boa''s departure) and we cannot offer a suitable alternative, then a refund will be given minus card fees. We strongly recommend that you have travel insurance, especially during the wet season.
Please note it is the responsibility of ALL passengers traveling to advise both your travel agent at the time of booking and vessel check-in agent before boarding of ANY medical conditions including food allergies you may suffer from.
Thank you for booking with Mr Travel/Sailing Whitsundays. If you would like any advice or assistance in arranging accommodation, transfers or additional tours, please do not hesitate to contact us.
"Had a great trip on Samurai. Would definitely recommend to anyone! Rick and David looked after us very well and worked morning 'till night to make sure everyone was happy. Catering was very good. Overall had a wicked time. Thank you very much!"
Jess and Brad
"Had a great trip on Samurai! Rick and David were fab! The boat was amazing and the food was delicious!"
Amelia
"The food was great and the people were nice! Thanks David! We had a great time."
"Absolutely incredible tour. Awesome team. The Captain and first hands knowledge and enthusiasm is second to none!"
Alex
"Had an amazing time on the Samurai - Rick and DJ were very friendly and welcoming! Safety of everyone always came first. We will definitely recommend Samurai to others!"
Jaleesa and Terri
"This trip is very good! We like snorkelling, and the beach. The landscapes are amazing. The crew is perfect, food bed, and all the boat is great. Thanks for the trip! A bientot!"
"If you're looking for a great experience - go with Samurai! You will have heaps of fun. They have a great crew, they will do whatever they can to make sure you have a great tour. I've been on a couple of boats before and this is by far the best one. We look at the stars after a nice BBQ and got to swim with turtles the next day. Go with Samurai, you won't regret it!"
"Had a great trip on Samurai - would definitely recommend to anyone! Rick and David looked after us to well and worked morning until night to make sure everyone was happy. Overall we had a wicked time - thank you!"
Jess
"We had a great time! Thanks for the great trip!"
Kevin
"I guess the best part about being on the boat was that we actually SAILED! The adrenaline rush was thrilling! Needless to say I never got sick once, I was so excited I don't think the thought ever crossed my mind :) I would highly recommend the Samurai to anyone remotely interested in sailing the Whitsundays."
Sam
"Diving was absolutely brilliant and perfectly organised. Sailing was brilliant, I would recommend this tour to anyone wishing to see the Whitsunday islands. Great value with the free dive."
Anon
"Best 3 days in Australia yet! Loved every minute - snorkelling, diving and sailing. Thanks Samurai."
Anon
"3 nice days on the Samurai, good food, beautiful places, good diving instructors, beautiful snorkel spot!"
Anon
"Awesome! First time diving, was a great experience. Whitehaven, snorkelling with turtles was amazing. Friendly and helpful, funny staff, would definitely recommend to others. Thanks!"
Anon
"Whitehaven Beach - wow. Swimming with turtles, corals reefs were so beautiful! And the great veggie food was an added bonus, thanks!"
Anon
"Great trip! The food, diving and snorkelling were good, the crew was really nice and I was happy to get involved with the sailing. Beautiful location!"
Wilson
"Must be the best experience of my life in Australia. I would recommend Samurai to everyone!!!"
Wilson
"Great trip! Good Dive and snorkel places Nice crew"
"My trip was great :) Good fun, friendly crew, good safety talks Thanks "
Jenny
"Great crew, made the trip that more enjoyable. The food - amazing! Private Rooms very spacious. It was the highlight of our trip in Australia so far!"
Justine
"It was fun! Best view I had ever seen and the diving and snorkeling with turtles was awesome."
Guest
"The food was much better than expected. The crew were really fun and helpful. Had the best 3 days on my travelling so far."
Guest
"great! Loved the sailing, the turtles and the fact we werent too rushed."
guest
"Proper Nawii! Had a class time and the free dive was unexpected but nevertheless awesome! "
Guest
"The trip was a lot of fun. It was nice to be able to relax! I like the deck cushion idea. Very good trip, good food & good fun."
"great crew, great company, looked after us very well. Snorkelling was wicked. Invest in some cushions for the deck?"
Guest
"I ad so much fun. Nice people and Nice Trip <3 Thanks :)"
Chiri
"Thanks, was a great trip, good staff, good food & lovely boat. Cheers!"
Mati
"Cheers guys for this amazing trip and awesome memories"
Jona
"Very nice trip! All the staff was very funny! Thanks"
Federico
"Cheers guys! You took us to all the best spots! Thanks! Food great, so much fun x"
"Thanks for everything! my first trip boat, its been perfect! Awesome people and amazing places. Memories enough for an eternity and remember. Piu Figa Per Tutti!"
Paolo
"It was my first travel in a boat I really enjoy it. Thanks to the crew for the good service. Continue enjoying the ocean. !!! The best trip ever!!!"
Javier
"10 out of 10! Good food, nice people and crew members, fund adventures and great boat!"
"Spent fantastic and magic three days. Mickey, Ricky and changer was very funny. Snorkelling and diving was amazing. We loved swim with turtles. Food was very tasty and very generous. We met nice people and we hope to see them again. Thank you for all. "
Frenchies
"Thanks for this great experience. My first stay over on a boat , my first dive, first reef snorkelling. First time I saw heaps of coral and animals and ive only seen a turtle on zoos before. Im glad I had this delightful experience with you guys. You were great hosts, nice company, great captain and wonderful instructor. Good people. May thanks wont forget it! "
Pieter
"Absolutely incredible trip, great crew and food. Jimmy's tea/gravy was awesome :) Diving was the highlight, snorkelling was also good. Thanks guys :) "
Laura
"Very nice trip, relax vibe, nice food great snorkelling and diving experience, rooms are bad smelling."
Guest
"Trip of a lifetime. Staff was organized and really helpful. I would recommend this trip to anyone. They were very accommodating and worked well together. Everyone seemed to have a great time and wanted the trip to be longer which is a very positive sign :) "
Anna
"Good times!! Woo Hoo! HAPPY DAYS! Nice crew, good food, lovely locations and so on. Thumbs up! "
Guest
"I had my first diving experience here and it was awesome! The snorkelling was epic with all the colourful fishes and coral. WE had a nice group and crew. Thanks James and Rick"
Jacco
"Three brilliant days with Samurai. had a lot of fun, loved the snorkelling & diving. Good experience! "
Sarah
"The crew was really cool, I enjoyed the sailing and the diving was amazing! Good trip!"
Tim - Netherlands
"It was a great experience! THis was my first dive and I was really scared, but it was sooo nice! Thank you for these awesome 3 days."
Suzanne
"Enjoyable trip, great stuff"
Jake
"Sailing was really nice as well as snorkelling and diving. Good crew, good fun"
Alesno - Italy
"Nice crew, good food, great experience! Jing Xui from China"
Jing Xui
"Awesome trip! good food, nice weather "
Guest
"Good Music, Great Crew, Good laughs, Matt was awesome!! Sleeping outside was fun, until it rained. Shell Shots!!!"
Guest
"Amazing time, really chilled, crew were really helpful, met some great people!"
Guest
"Had a great time, Whitehaven beach was amazing, food was good. The shower was an experience... Maybe less people for the amount of beds would have been good. But overall the trip was great, everyone was really friendly and chilled, crew were great and we had an awesome time!"
Adelaide 8
"Nice crew, nice spots. Too often the same song being played. Very good trip and well organised in general. However the crew made it stress sometimes with hurrying up. Very nice spots specially with turtles. "
Guest
"First time dive and snorkel for me! Great experience. Thanks"
Guest
"Great trip, amazing sites, loads of different animals and fish! Yummy, yummy food and lots of it! Friendly crew and amazing experience. Thank you. "
Guest
"Really enjoyed out trip, the boat and crew were great! lots of fun and loads of fishes. "
Guest
"We had an awesome time, good food and nice snorkelling and terrific crew! But thicker mattress for the on the deck sleeping are recommendable. And even though we weren't expecting sailing includes being on an angle we had a blast! "
Guest
"Great crew! Great food! Really fun and relaxing trip, with great sailing experience on the first day! Thanks"
Connor & Harry
"An amazing trip! I had never been diving but James was a great instructor and to get such freedom on my first dive was incredible! Great food & great company. Thanks to Rick, AJ, James and all the other travellers "
Jordan
"Had 3 days on the boat, didn't miss anything! Great sailing, diving, snorkelling, deleicous food and amazing crew which made the trip perfect! Keep it like this! Cheers"
Rohan
"Nice boat, nice very, we had some very good snorkelling and diving and food was surprising good as well. Good Job! "
Sarah
"Just perfect! Excellent crew, good food, good schedule, only like to suggest more shade on the deck. Thank you or a wonderful experience and diving with the turtles. "
Victoria
"It was amazing! The crew were a lot of fun and I swam with a turtle! One of the best experiences I've had."
Rhiannon
"Amazing crew, good food, fun times!!!"
Guest
"Awesome experience, worth every penny, amazing crew! "
Jack
"WOW diving was amazing, thanks for everything."
Guest
"Very enthusiastic crew, wonderful boat to sail on and went to fantastic locations!"
Georgia
"Amazing trip! Great experience, would highly recommend it! Good team and good food. "
Guest
"Awesome combo with sailing, diving and snorkelling. We were really happy that we got to sail so much. And we got to see the turtles. Great crew and good food. Could have informed us that their would be some time between meals and we could plan on earing snacks. "
Guest
"Best part of the East Coast, great lads, thanks for the trip!"
Guest
"Great time had on Samurai. Thanks for the awesome company and dives."
Guest
"AMAZING! Lots of love to the crew and all my new found friends. and I did my first dive which was awesome!"
Guest
"Top Blokes on board. Ricko, James & the Changmeister. Thanks for an experience I'll never forget."
"What a fantastic experience! My compliments to the Chef! All the crew were terrific, attentive and always there at every corner. Will be recommending to all my friends when they visit Aus. "
Mark
"thank you for this great trip. Thanks to you I could swim with a turtle and see one of the most beautiful beaches in the world. "
Caroline
"That was amazing, thank you guys for everything!"
Stef
"Great time! Crew were awesome. Easy to talk to, funny and knowledgeable about reefs, fish, islands etc. Never went hungry. Was never bored. Seeing turtles and dolphins was my highlight. thanks for the memories."
Sam
"Awesome trip, loved every second of it, thank you for looking after us all!!"
"Fantastic trip! Thank you a lot. Great time had by all, definitely recommend it to others and do it all again."
Greg
"We had an amazing trip with you guys! Thanks fir all the great views! Thanks for the experience of diving as well."
"First time I have ever dived and it was awesome. Whitsundays are beautiful! We partied hard at night and danced in the moonlight! Ill never forget this trip."
not supplied
"That was great, we had a wonderful time with the very funny team. Diving was awesome!!! Thanks for everything!! :)"
Samurai
"Brilliant 3 days, incredible experience sailing around the islands & being able to dive. Great food, Great people & great fun! 5 out of 5!!"
Samurai
"A great trip, food was beyond my expectations and compliments to everyone. Really nice vibe on the whole trip and that is thanks to the crew who seemed more like friends than guides. Thought Whitehaven was something truely magical, Thanks "
Charlie
"Excellent trip, scuba dive was great saw dolphins and turtles. Whitehaven was amazing. crew was all great"
Mikus
"Great trip! First time diving and I felt very safe. Whitehaven beach was truly amazing. Saw dolphins, swam with a turtle and a ray. Good food. Thank you! Viviane"
Viviane
"Amazing trip - enjoyed the free time we had and the little bits of information thanks for everything"
Karen
"Samurai is defiantly the best boat to sail the Whitsundays! Had a brilliant time, lovely crew ad awesome snorkelling! Thanks guys. "
Rose
"Great all round! Great crew, activities and atmosphere :)"
Rick
"Diving was the best! Epic trip! nice atmosphere, food good, crew really nice :) Had a wonderful time :)"
Lucy
"Pure awesomeness! Exactly the experience I was hoping for. Incredible beaches, views & places. Had a rip snortingly good time! "
Tom
"Couldn't have asked for a better 3 days in the Whitsundays. The complete package, got to do everything I came here to do. Would definitely recommend the Samurai to anyone coming to the Whitsundays. "
Joel
"Good atmosphere, good alternative to party boat. Good activities, good crew equal good times! We really enjoyed our time! Thanks to Ricky, Mickey & Shanger! It was AWESOME"
Anna, Lydia, Ray
"Incredible! Excellent food, hospitable crew and great captain. The diving and all around experience was unforgettable. We will certainly be recommending Samurai to our friends. thank you for an incredible experience and great time, cheers"
Justin & Lee
"Great trip! Awesome crew who made sure we went to all the best spots when everyone else wasn't! "
Alex
"Thanks for this great trip. Was my first time Scuba dive and im even thinking about now getting the certificate. I hope to see you all when I get back Muah!!"
Maria jose
"Thank you so much for the trip! It was amazing. I love every minute and a huge part of that was due to the excellent friendly crew and maybe a little to the reef! Cheers!"
Mira
"Incredible trip! Loved the snorkelling in particular seeing the turtle. Was a great atmosphere on the boat thanks to the crew and how we were looked after! Cheers"
"Awesome trip! Scuba diving was definitely the highlight! Loved getting to see the best parts of the Whitsundays on a boat with great atmosphere, friendly crew and tasty food etc... Cheers Guys!"
Scott
"Spent a fantastic three days on the Samurai. Enjoyed every minute of the trip. Would definitely recommend the Samurai to friends. Food was very tasty and very generous portions. The tree gusy Mickey, Rickey and Changer did everything to ensure all passengers enjoyed the trip."
Laugan
"Absolutely awesome really relaxed and easy going trip. Rickies food was A!, Mickeys diving was ACE and Changer was Great CRAIC. "
Yvonne
"What did the pirate say when he hit and Iceberg...? Shiver me timers!!!! Nah but really this pirate crew - absolutely loved our training on the Samurai. Lovely boat, lovely salty crew. Amazing islands, animals, fish, imaginary whales (is a country) dolphins, turtles, etc :) Heaps of food, and seriously you guys ROCK THE BOAT! Loved everything. We will love you & remember you for sure - Heaps of LOVE - THE PRIATES Rrrrrrgh"
Steph,Leo, Laura
"Mind blowing. Absolutely amazing - will never forget it! Dolphins, turtles, whales, Whitehaven Beach.... Thanks Samurai for an amazing trip <3"
Kira
"A little message to give you my feedback from my AMAZING experience with Samurai. I had a wonderful time on this racing boat, enjoying a perfect weather with a very good group, and I would like to thank you all V-E-R-Y MUCH for this really nice opportunity to see the Whitsundays with such a nice boat and crew ! Hill Inlet Lookout was magical, Whitehaven Beach was really heaven, and I won't forget my very first dive with Samurai. I would like to insist on the food which was excellent, freshly cooked on the boat by the very friendly crew. I had personally a LOT of fun, "
Laetitia
"These 3 days with you lovely schnuckiputzis were the best we had in Australia. We had so much fun, food was very good and it was just amazing. Thanks love ya & take care Lisa & Marry "
Lisa
"Thanks for a wonderful trip. We enjoyed every second with you guys. Food was great. You guys rock dudes! Have fun and good luck for your future. Best sailing trip ever! So much fun! See ya Nicola & Alex"
Alex
"Kind of hard to find the right words to describe it but I think THIS IS F*** AMAZING could be the right thing :-0 Thanks mates"
Cathrin
"Good Vibes, breathtaking views, awesome people and crew!Fish and turtles were amazing. smiling during 3 days non stop. Thanks for that. Long life to SAMURAI and his crew "
Morgan
"Great, great trip. So glad we booked our Whitsundays Experience on that boat. Fantastic food, boat and of course fantastic sea- Grazie :-) "
"Nice Trip, beautiful corals, good meals thanks for the dive - good stuff"
dave
"SAMURAITASTIC - Had a great time even with the rain in the cosy tent. Keep going Samurai :-)"
Marie, Germany
"Better than restaurant food and awesome Crew - good times!"
Anders, Norway
"One of the best weekends of my life! Will never forget how awesome the diving was also how cool everything was. I will be back :-)"
Maren
"The Italians really enjoyed the trip!!! The crew was friendly and professional. Ellie s pasta was tasting as italian pasta. WE hope to see you AGAIN !!! Valentina, Minty Mirko Simone"
Valtentina
"Nothing can be improved on this trip, the intro scuba dive with Ellie was really fun. Amazing stops for the snorkelling and I think this is the best trip I ve done in all of Australia. I will never forget the games Alex provided, was very entertaining !!!!"
Anna
"Had a great trip! Enjoyed Scuba diving and snorkeling so much! the corals are amazing. The food was lovely too. Thanks Aine and Richie"
Aine
"Great ! Thanks man!! The freedom was nice and the crew was helpful and friendly. thanks for one of the coolest things ive ever done!!"
Muzik
"Crew were good friendly, helping with sailing more sailing would be better more wind would help! Free Scuba experience is Ghetto !!"
Marsh
"Very Cool, the guys were great fun, new all the really great spots. Amazing bunch of people on board. loved it!! Could have stayed longer!!"
Turner
"Have had such an amazing time scuba diving is definately the best activity I,ve ever experienced and feel confident enought, Thanks to gentle encoragement to have another go later on. Been an awesome few days and crew work hard to maek sure everybody has a good time. Thanks!"
Fisher
"Great experience it was worth every single dollar. The Crew, Our new mates, gave everything for us!! we had a lot of touching times and sang Tom green songs.Perrrrrrrrrrrfect !! Diving was also great our mates took care of us Excellent company and the cook (chris) deserves Michelin stars"
Tmlinson
"Great Trip, awesome crew really friendly made the experience better. good last night, great fun!"
Relman
"Relaxed Friendly Fun, got the most out of the time we had"
Pinelle
"Awesome time crew rocks, food Yummi, Diving and snorkelling amazing, good on the goon, cool group, beautiful spots, flies suck! All in all Id always hop on this boat and have the best sail trip possible!!!"
Hannah
"Great Crew Who really made sure we got the best of the time we had. they made sure we packed a lot into the 2 days. "
Owen