Ride to Paradise Resort Stay
CLOSE
View More Thumbnails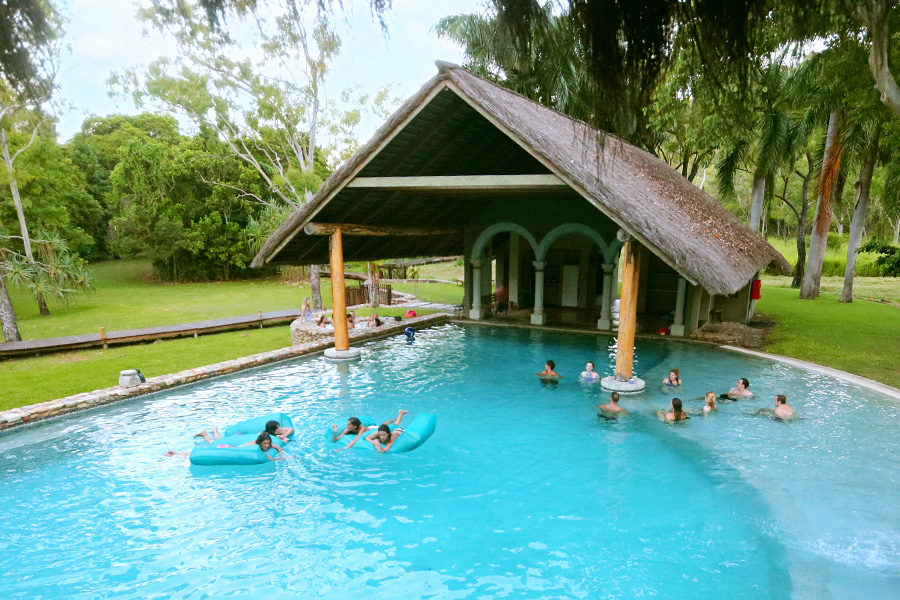 Loading...
Departure Times
Departs: 2pm - Mondays, Wednesdays and Saturdays
Returns: 12:30pm - Wednesdays, Friday and Mondays
Pricing Options
$569 AUD per Person
- Shared Single
(Between: 31 Mar 2017 and 29 Sep 2017)
$649 AUD per person
- Private Double/ Twin Room (requires 2 people) ($1298 Total)
(Between: 31 Mar 2017 and 29 Sep 2017)
$699 AUD per person
- Private Rainforest Retreat with ensuite (requires 2 people) ($1398 Total)
(Between: 31 Mar 2017 and 29 Sep 2017)
$749 AUD per person
- Dream Villa (requires 2 people) ($1498 Total)
(Between: 31 Mar 2017 and 29 Sep 2017)
$260 AUD per Person
- Fly into Paradise add-on
(Between: 20 Jun 2017 and 30 Mar 2018)
WE OFFER GREAT DISCOUNTS ON THIS TOUR, ASK US HOW IN OUR LIVE CHAT LINE!
Ride to Paradise offers unique resort accommodation combined with an amazing boat tour for two amazing days and nights of adventure.
What do you get when you combine the Whitsundays new, specially-designed catamaran with resort-style accommodation in a hidden sanctuary in Airlie Beach? You get a touch of paradise, in paradise! This tour features two nights at an exclusive, action-packed, fun-filled resort, with shared or private accommodation, as well as a trip around the magnificent Whitsunday Islands.
Ride to Paradise is the ultimate way to see and stay in the Whitsundays - all with a bit of style! Ideal for all types of travellers, guests will have the chance to spend their days exploring and relaxing in this little piece of paradise. Cruise around the islands on board Wildcat, a fast cat built for speed and stability that will take you where you need to go in comfort. As one of the quickest vessels around, Wildcat will get you to your destinations at top speeds, leaving you more time to explore Whitehaven Beach, Hill Inlet Lookout and to go snorkelling. You'll spend your nights at the amazing Paradise Cove Resort, where you have a variety of on-land accommodation to choose from, including shared and private rooms. When you are at your oasis accommodation, enjoy some socialising, relaxing or just admire the serenity of this hidden gem. The resort features a pool and hot spa, tennis court, SUP boards and a number of hammocks and outdoor bath tubs so you can soak up some privacy. Guests also have the option of adding on a scenic flight while at Paradise Cove Resort, for a little added excitement, where they will get to see the Great Barrier Reef from above. This trip is ideal for the young and young-at-heart who want to see all the best of the Whitsundays alongside like-minded travellers.
Ride to Paradise Features:
Relax at an exclusive resort
A stylish way to see and stay in the Whitsundays
Visit Whitehaven Beach and Hill Inlet
Snorkel in beautiful, vibrant reefs
Shared or private accommodation
Relax in privacy or socialise at the resort
Option to add on a scenic flight over the Great Barrier Reef
Hammocks to relax in seclusion
Resort pool, hot spa and SUP boards
Tennis and volleyball courts onsite
Bush walk to Hill Inlet Lookout
Fast vessel with more exploring time
Delectable meals freshly made!
BYO Alcohol
Paradise Cove Resort Layout
Tap the hotspots on the resort layout below to view Paradise Cove.
Loading...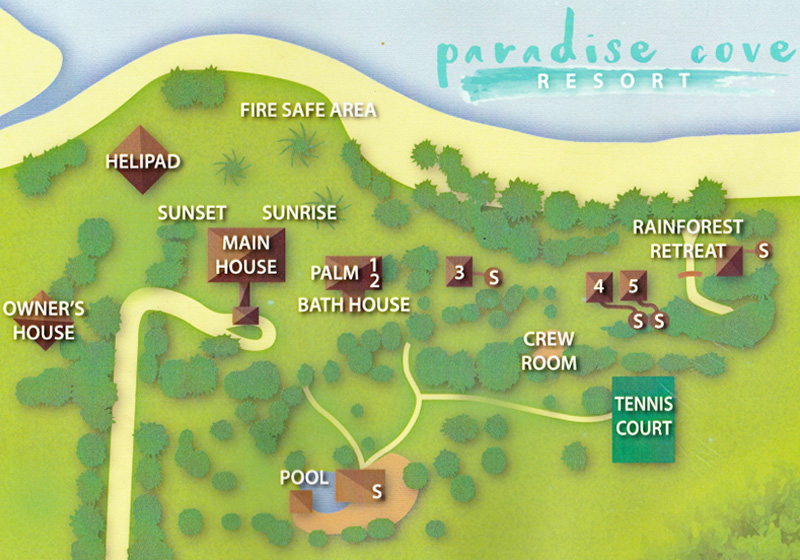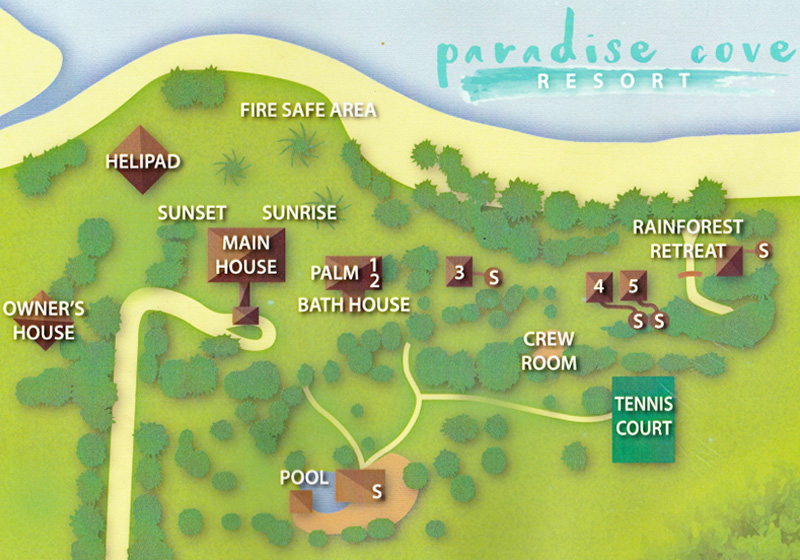 Sample Itinerary
Day 1
Depart from Abell Point Marina at 2pm and head to your exclusive retreat at Paradise Cove Resort, where you can relax and enjoy the resort. Enjoy a hearty dinner or fire at the beach before turning in for the night.

Day 2
Enjoy a bit of a sleep-in, followed by a hearty breakfast with fresh fruits, cereals and toast. Leave the resort around 9am and cruise on board Wildcat, heading to Whitehaven Beach on Whitsunday Island. Go on a bushwalk to the world famous Hill Inlet Lookout and before enjoying some beach time on the beautiful beach below. Afterwards, head over to Mantaray Bay for a snorkel, followed by a stop at the popular Langford Sandbar. Next, it's time to head back to Paradise Cove Resort for some drinks, relaxation, socialising and a dip in the pool.
Day 3
Depart the resort once again at around 9am and head to Langford Sandbar for a snorkel and more time on the beach. Keep an eye out for interesting locals such as green sea turtles or colourful parrot fish as you check out the amazing coral structures. Afterwards, hop back on board Wildcat before returning to Abell Point around noon.
Please note: Itinerary may vary due to conditions.
Sample Menu
Day 1
Afternoon Tea: Delicious cakes and biscuits with tea and coffee
Dinner: BBQ herbed white fish with creamy mashed potato and coleslaw
Dessert: Hot strudel with vanilla custard
Day 2
Breakfast: Fresh fruit, cereals, toast and spreads served with a selection of juice, tea and coffee
Lunch: Build your own picnic lunch on the beach with fresh rolls and wraps
Afternoon tea: Nachos on the deck with tea and coffee
Dinner: Thai green chicken curry with rice and Yum Cha
Dessert: Build your own ice cream sundaes
Day 3
Breakfast: Fresh fruit, cereals and warm croissants served with a selection of juice, tea and coffee
Morning tea: Large fresh muffins with a selection of cookies
Please Note:
Passengers with any dietary requirements will need to pay a surcharge of $12 per person payable on check in. This does not include vegetarians or passengers with a nut allergy.
Food allergies and dietary needs to be requested at time of booking.
Departs/ Returns
Departs: Mondays, Wednesdays and Saturdays at 2pm
Returns: Wednesdays, Friday and Mondays at 12.30pm

Please note: Ride to Paradise is for those aged 18 and over only.
Please enquire for private charter rates after April 1 2017.
---
You May Also Like One Of These Products:
TongarraWhitsunday AdventurerPowerplayOn Ice
---
BOOK WITH US TODAY! CALL 1800 550 751 OR (07) 4914 2425 IF LOCAL
What To Bring
Sunscreen, sunglasses, towel and a hat
Practical clothing and footwear (warmer items during winter)
Underwater camera
BYO alcohol (no glass or red wine)
A sense of fun and adventure
What's Included
2 nights accommodation at Paradise Cove Resort
Daily trips to the best spots in the Whitsunday Islands
Fresh clean linen
Free use of snorkelling equipment
All meals plus morning and afternoon snacks
Tea and coffee
Environmental Marine Charges, Queensland Parks and Wildlife, Fuel Levy and Admin
What's Extra
$50 deposit will be taken for the 30ltr dry bags and given back to the passengers when the bags return after trip.
Please be advised $15pp holiday surcharge for 24th and 31st December departures applies (payable on check-in ).
Passengers with any dietary requirements will need to pay a surcharge of $12 per person payable on check in.
Terms and Conditions
All departures and itineraries are subject to weather. Tours may be changed or cancelled for any reason at the discretion of the tour operator. It should be noted that adventure travel involves risk. Whilst we make every effort to safeguard clients, we cannot be responsible for personal injury or loss due to actions of our clients which are beyond our control. We recommend that all clients have travel insurance covering illness, injury, loss or damage to personal belongings and not being able to travel on the confirmed date of departure. Please be aware operators pass on credit card merchant fees so there is a non-refundable 2.5% surcharge for VISA and MASTERCARD card purchases.
Cancellations
All client cancellations forfeit 25% of total ticket price and all client cancellations made less than 21 days prior to departure will result in complete forfeiture of the full price of the package.In the case of a booking made that has an outstanding balance to pay on arrival then your credit card details will be passed on to the accommodation to secure your booking. If the tour operator has to cancel the trip and we cannot offer a suitable alternative, then a refund will be given minus card fees. We strongly recommend that you have travel insurance, especially during the wet season.
Please note it is the responsibility of ALL passengers traveling to advise both your travel agent at the time of booking and vessel check-in agent before boarding of ANY medical conditions including food allergies you may suffer from.
Thank you for booking with Mr Travel/Sailing Whitsundays. If you would like any advice or assistance in arranging accommodation, transfers or additional tours, please do not hesitate to contact us.
"This trip was so awesome! Could not recommend enough. 'Ride to Paradise' was a great way to fit in so much in a small time frame. Leaving at 1pm on Friday, going on a half a million dollar speedboat cruising around the Whitsundays to an awesome snorkel spot where you can snorkel up close and personal with turtles amongst coral, then being taken to a 5 star resort where you can choose between private rooms or awesome fancy dorm rooms. The pool at the resort is HUGE, complete with jacuzzi, stand up paddleboards and kayaks to take out to your own personal beach at your own leisure, or just chill and read a book in the hammocks. There is a group of people on this tour, around 15, so the perfect amount to make great friends or keep to yourself - whatever you want!"
Jack
Sun 11 Jun 2017
"My ride to paradise experience was amazing! The staff and crew were very friendly and helpful. Jay Jay and Rolly were the best!!! Would do it again and recommend to friends/other travellers. Definitely best part of my East Coast trip. The resort is absolutely beautiful as well. Very happy with my experience."
Asha
Thu 27 Apr 2017
"We just came back from Ride to Paradise 3 day tour and we totally loved it! The food, the music, the boat trips were PERFECT. We are all just amazed by the whole experience. Go for it!"
Amy
Tue 21 Mar 2017
"It was just AMAAAAZING!!!! Everything was perfectly organised, the food, snorkelling... the resort is incredible, you have everything and it seems that you are on your own island!! The group of people was super nice and font forget our awesome guides BILLY and DYLAN, they were just greaaat!! Trying to help everyone, having fun and smiling all the time!!! I will recommend this tour to EVERYONE, you will not regret!!!!"
Jamie
Fri 10 Feb 2017
"Incredible! Perfect balance of chill, exploring and adventure! The resort was unbelievable, better then what I had imagined & saw in the brochure. Food was soooooooooo yummy! Whitehaven beach was breathtaking! The snorkeling locations we were taken too were so beautiful, better then I saw in Cairns and I even got to swim with 5 turtles! Big thank you to the crew for making me and everyone feel so welcome. I honestly did not want to leave."
Amy Lees
Fri 11 Nov 2016
"A huge thankyouuuu to Chelsea at Sailing-Whitsundays for hooking me and my friends up with a sweet deal and good times on Ride to Paradise for New Years...we had a awesome time, the resort was amazinggg, the food was delish and the day trips out to the crystal clear blue water were breathtaking! Can\'t wait to visit this ridiculously stunning spot again! I would honestly recommend Ride to paradise to everyone I know looking for a fun, relaxing, adventurous and memorable holiday! Thank you Ride to Paradise Crew, you are absolute gems!☺️xx"
‎Madonna Luhrs
Thu 13 Oct 2016
"The accommodation was beautiful and such a lovely break from hostels - a holiday from our holiday! Very glad we had the whole resort grounds to run around rather than being cramped on a boat! The food was really good and the guides Billy and Steve took the time to take us on a wildlife tour in the evening which really added to the experience."
Aneliese
Fri 07 Oct 2016
"My husband and I just arrived back after a trip with Ride to Paradise just wanted to say how amazing it was, from start to finish. Billy and Steve were awesome, super knowledgeable, helpful and approachable. Everything you would want! The food was so good, the best I have eaten in ages! Thank you!"
Mary
Mon 18 Jul 2016
"The accommodation was beautiful and such a lovely break from hostels - a holiday from our holiday! Very glad we had the whole resort grounds to run around... The food was really good and the guides Billy and Steve took the time to take us on a wildlife tour in the evening which really added to the experience!"
Aneliese
Sun 15 May 2016
"Ride to Paradise was AWESOME! Steve and Billy great fun and very knowledgeable and looked after us very well. Food was amazing... Blown away by the resort, luxury all the way! The WildCat boat was great for speed to get to us to Whitehaven and snorkelling faster than other boats, so we had more time to snorkel, relax, explore. Overall this trip was amazing!"
Laura
Wed 20 Apr 2016