Ragamuffin II
CLOSE
View More Thumbnails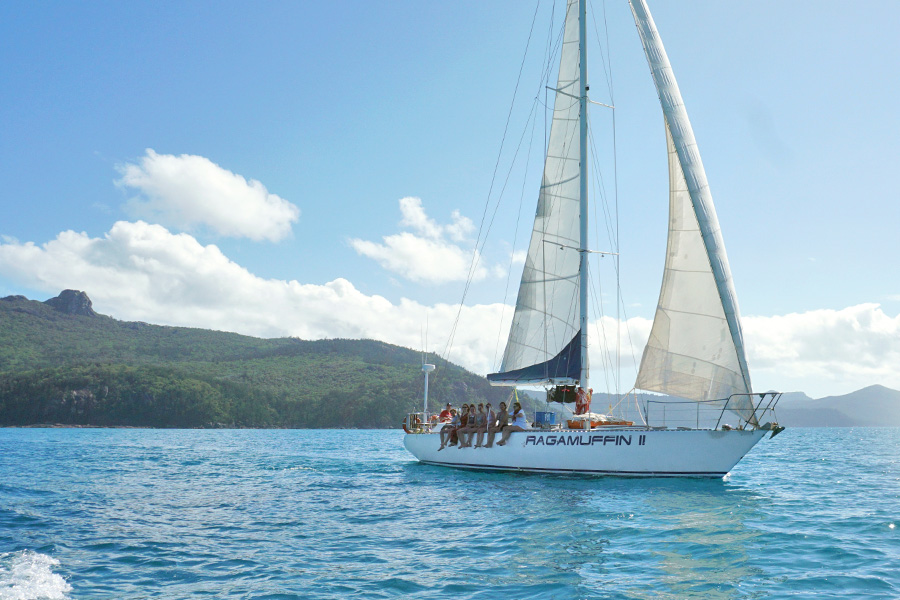 Loading...
Departure Times
Departs: 9:30am - Thurs & Sun
Returns: 4:30pm - Sat &Tue
Pricing Options
$505 AUD per Person
- Shared Accom
(Between: 01 Apr 2017 and 30 Apr 2017)
$79 AUD per Person
- 1 pre-booked dive
(Between: 01 Apr 2017 and 31 Mar 2018)
A slightly longer trip for more time relaxing and sailing the whitsundays without feeling rushed.
Ragamuffin II is renowned as one of the best valued sailing trips. Taking out a maximum of 13 guests, this vessel is the perfect choice for guests after a smaller group experience on an incredible sailing vessel.
Ragamuffin II 3 days and 2 nights, will sail you around the magnificent Whitsunday Islands, taking you to all the region's hot spots, including the impressive Whitehaven Beach. Choose to get involved with the crew by taking the helm or hoisting the sails, or simply kick back and enjoy your idyllic surroundings. Past passengers have raved about the length of this trip, saying that having 3 full days as opposed to 2 full days makes the world of a difference... more time to snorkel the vibrant coral reefs, soak up the sun at the beach and more time to experience the rush of fast sailing in a tropical oasis. Ragamuffin is an ex-racing yacht was designed for the Admiral's Cup by Australia's famous America's Cup Yacht Designer, Ben Lexcen. After competing in many yacht races around the world including the Sydney to Hobart Yacht race,

Ragamuffin II Features:
13 guests, 2 crew offering a personalised and intimate trip
Maxi racing with the comforts of cruising yachts
Lots of deck space to enjoy the thrill of the ride, sunbake and relax!
A guided Island Bush Walk to the world famous Hill Inlet Lookout
Snorkelling gear and instruction all included
Fresh, clean linen is provided to all guests
Delicious food prepared onboard
Rendezvous diving available upon request
Ragamuffin does not only get her fame from her impressive race history, but also from the fact that she offers one of the best trips in the Whitsundays. With her low numbers and friendly crew, Ragamuffin II will take you on an unforgettable adventure around the Whitsundays in style and comfort.
Boat Layout
Ragamuffin 2 offers shared accommodation only:
There are single beds in bunk-style available as well as 2 shard double beds at the front of the boat.

Sample Itinerary

Operating since 1985, Ragamuffin II has perfected her itinerary to ensure you get the most out of your Whitsunday experience. For 3 days and 2 nights, your experienced crew will show you the ropes (literally!) and sail you around the spectacular islands and reefs. With all the essential Marine and Park Permits, they are able to take you to the best locations, planned around the prevailing winds and tides. There are many smooth water bays nestled around the islands, so achieving a peaceful overnight anchorage for a sound sleep is no hard task for the crew.

During the day, explore the underwater world as you visit some of the most vibrant coral gardens in the world! When you're not getting up close and personal with the aquatic wildlife, bask in the sun on the World Heritage Listed Whitehaven Beach. Learn about Australia's rich nature as your crew take you on a guided bush walk through lush tropical rainforest.
Ragamuffin II prides it self on the ability to provide an experience one will never forget while escaping the large crowds... a fast ex-racing boat with low numbers, great food and friendly crew!

SCUBA DIVING
Ragamuffin II offers all passengers the chance to experience the underwater world through an exciting rendez vous scuba dive with her sister diving vessel, Tornado. As a guest on board, you have the option to complete Introductory or Certified dives. For Introductory dives, guests will be guided with a qualified instructor and enjoy a dive experience which will last 35 to 35 minutes. Please let us know in advance if you wish to scuba dive so that we can arrange for your exciting adventure!
Sample Menu

Day One
On Arrival: Fresh fruit platter or tea/coffee & biscuits
Lunch: Warm quiche, pesto pasta salad, garden salad & fresh bread
Afternoon Tea: Fresh fruit platter or tea, coffee & biscuits
Nibbles: Nachos
Dinner: BBQ chicken breast fillets with either satay or thai green curry sauce, rice, damper bread, green salad, yoghurt & cucumber dip
Dessert: Fruit cake & tea & coffee

Day Two
Breakfast: Cereal, toast, spreads, tea & coffee
Morning tea: Either fresh fruit platter or tea, coffee & biscuits
Lunch: BBQ sausages, potato salad, asian rice salad, green salad & fresh bread
Afternoon Tea: Fresh fruit platter or tea, coffee & biscuits
Nibbles: Cubbed cheese, olives, pickled onions, carrot sticks, dips & biscuits
Dinner: Spaghetti bolognaise, garlic bread, fresh mixed salad
Dessert: Fruit cake, tea & coffee

Day Three
Breakfast: Cereal, toast, spreads, tea & coffee
Morning tea: Either fresh fruit platter or tea, coffee & biscuits
Lunch: Cold meat platters, lettuce, tomato, cheese, carrot, tuna salad, pasta salad & fresh bread
Afternoon Tea: Fresh fruit platter or tea, coffee & biscuits

Please note this is a sample of menu and is subject to change and amendments

---
You May Also Like One Of These Products:
Eureka IIIcebergWaltzing MatildaWhitsunday Adventurer
---
BOOK WITH US TODAY! CALL 1800 550 751 OR (07) 4914 2425 IF LOCAL
What To Bring
Please bring only a small soft bag with: change of clothes, hat, swim-wear, beach towel, sunscreen 30+, warm pullover for the evenings (seasonal). You will also need to bring your own alcoholic beverages, available for purchase in town. No glass bottles please.
Excess luggage can be stored at several places in town including most boat check-in offices, a 24 hour locker shop on The Esplanade, most hostels, or at your accommodation. Most charge between $5-10pp for the duration of your trip.
What's Included
Skipper, host, drinking water, meals, linen, snorkelling equipment, wetsuit hire, Marine Park fees and wet weather jackets if needed.
What's Extra
BYO alcohol (no glass) and pre-booked scuba diving. Soft drinks available for purchase on board. Please note dives are subject to age, weather, other conditions and the dive instructors discretion.

Your safety in the water is our primary concern. To ensure your comfort and safety divers must be 18 years or over and they may require that you have a Divers Medical Certificate for certain medical conditions.

Please read the following questions carefully:
Do you currently have an ear infection?
Do you have a history of ear disease, hearing loss or problems with balance?
Do you have a history of ear or sinus surgery?
Are you currently suffering from a cold, congestion, sinusitis or bronchitis?
Do you have a history of respiratory problems, severe attack of hayfever or allergies, or lung disease?
Have you had a collapsed lung (pneumothorax) or history of chest surgery?
Do you have active asthma or history of asthma, emphysema or tuberculosis?
Are you currently taking medication that carries a warning about any impairment of your physical or mental abilities?
Do you have behavioral health problems or a nervous system disorder?
Are you or could you be pregnant?
Do you have a history of colostomy?
Do you have a history of heart disease or heart attack, heart surgery or blood vessel surgery?
Do you have a history of high blood pressure, angina, or take medication to control blood pressure?
Are you over 45 and have a family history of heart attack or stroke?
Do you have a history of bleeding or other blood disorders?
Do you have a history of diabetes?
Do you have a history of seizures, blackouts or fainting, convulsions or epilepsy or take medications to prevent them?
Do you have a history of back, arm or leg problems following an injury, fracture or surgery?
Do you have a history of fear of closed or open spaces or panic attacks (claustrophobia or agoraphobia)?
If any of these conditions apply to you, you will require a Divers Medical Certificate before you can scuba dive.

A Divers Medical Certificate can be obtained from:
The Doctors
283 Shute Harbour Road (Opposite McDonalds)
Airlie Beach
Ph: 07 4948 0900
Terms and Conditions
All departures and itineraries are subject to weather. Tours may be changed or cancelled for any reason at the discretion of the Tour Operator. The Operator also reserves the right to alter the tour or the itinerary of any of it's tours and organise alternative carriers to those advertised if necessary. It should be noted that adventure travel involves risk. Whilst we make every effort to safeguard clients, we cannot be responsible for personal injury or loss due to actions of our clients which are beyond our control. We recommend that all clients have travel insurance covering illness, injury, loss or damage to personal belongings and not being able to travel on the confirmed date of departure. Please be aware operators pass on credit card merchant fees so there is a non-refundable 2.5% surcharge for VISA and MASTERCARD card purchases.
Please advise us before booking if any passengers are under 18 years old to ensure this is the appropriate trip. Also please note that you need to allow time prior to the boats departure to check in, please ask us for more details
Cancellations
​All cancellations made result in 25% cancellation fee of the recommended retail price (RRP), not discounted or sale prices. Any cancellations made 60-30 days prior to travel will result in a 50% cancellation fee and any cancellations made inside of 30 days to departure will result in forfeit of full trip fees. If the sailing company has to cancel the trip (prior to the boat's departure) and we cannot offer a suitable alternative, then a refund will be given minus card fees. We strongly recommend that you have travel insurance, especially during the wet season.
Please note it is the responsibility of ALL passengers travelling to advise both your travel agent at the time of booking and vessel check-in agent before boarding of ANY medical conditions including food allergies you may suffer from.
​
Thank you for booking with Mr Travel/Sailing Whitsundays. If you would like any advice or assistance in arranging accommodation, transfers or additional tours, please do not hesitate to contact us.
"Had a great time and beautiful experience!"
Etienne
Thu 02 Feb 2017
"Amazing place, good time and good people."
Karla
Tue 13 Dec 2016
"Best boat trip I've ever been on - thanks guys!"
Mareike
Mon 28 Nov 2016
"Great crew, great guests, great place! We has a blast with enough time to snorkel and explore Whitehaven!"
- Ignacia
Sat 22 Oct 2016
"The crew was really prepared, great food, and very entertaining. I enjoyed every bit of this holiday!"
Gabriele
Thu 13 Oct 2016
"I really enjoyed this trip! Thank you so much that you made the Whitsundays so special. All the best to you guys!"
Miriam
Sun 02 Oct 2016
"The crew and food were great. I really enjoyed the atmosphere and the snorkelling was amazing. Great group on the boat. "
Franke
Fri 27 Nov 2015
"So much fun, worth every cent. The crew were absolutely fantastic. Id definitely tell friends to book on the Ragamuffin 2."
Susan
Wed 28 Oct 2015
"Trip was great. Saw of the animals we expected and hoped to see. Crew was knowledgeable and great. Food was fantastic!"
Hubert
Mon 28 Sep 2015
"The food was great. Great breakdown of time for excursions, ie. Whitsundays, Whitehaven Beach and snorkelling. Felt safe, great trip!"
Kathleen
Tue 22 Sep 2015
"Trip was great. Saw all the animals we hoped to see. Crew was knowledgeable and great. Food was fantastic!"
Hubert
Tue 21 Jul 2015
"Wonderful food. Great balance of time with sailing, hiking, snorkelling and anchored. Great time on Whitehaven Beach!"
Lindsay
Thu 16 Jul 2015
"Great adventure, crew made the most out of it. Awesome food."
Caroline
Fri 12 Jun 2015
"Loved the experience - the crew were very informative and helpful. Food was awesome and Dave had heaps of knowledge to share with us. "
Sarah
Mon 13 Apr 2015
"Diving was great! I saw more nice spots during the trip than I expected. The sailing with big waves was exciting!"
Mousees
Tue 24 Mar 2015
"Great trip. Morgan and Dave were awesome. Boat was nice and route we took was fun."
Cott and Lauren McGill
Sun 08 Mar 2015
"The scuba dive was too short. Crew was great and very accommodating to all needs"
Jennifer
Sun 01 Mar 2015
"Dave & Rogan worked very hard and made everything look fun. All dietary needs were catered for despite there being very many different ones. Great effort, great trip."
Ian
Sat 31 Jan 2015
"Great last minute boat assignment! Black island was the best snorkelling for coral, where the other spots were best for fish."
Ciaran McGill
Mon 12 Jan 2015
"Good variety of activities and entertainment"
Gabrielle
Sat 29 Nov 2014
"Good mix of activities. Would have liked more planned or guided social activities"
Dave
Sat 22 Nov 2014
"Crew was awesome had a great time both the captain and first mate made this trip great, would recommend this trip to others. "
John Knisely.
Tue 18 Nov 2014
"Wonderful trip loved it!!"
Rangsiya
Wed 05 Nov 2014
"Its amazing for the past 3 days. We saw turtles, fish, jellyfish., corals and more and more. I loved it a lot! I would appreciated if three underwater camera provided on boat (rent or buy) I missed the chance to take photos., But Ill come back again. "
Lili Ru
Tue 22 Jul 2014
"Awesome Food Awesome snorkelling Lots of Fun :)"
Sarah
Sat 19 Jul 2014
"Great trip, great crew, great delicious food. The best food I have had one of my tours."
Sonia
Mon 14 Jul 2014
"The crew was really friendly and we got to do lots of awesome stuff the places were amazing."
Lara Pena
Thu 10 Jul 2014
"Great Adventure!! Well choose spots.. great food!"
Brendan Kelly
Wed 09 Jul 2014
"Very nice beautiful beaches, nice weather, food, group of people. Would like to do the trip again"
Elke
Sat 05 Jul 2014
"Weather could have been better, crew was excellent.
QUALITY - 9/10
CREW - 10/10
FOOD - 10/10
BOAT - 10/10
"
Nora
Tue 01 Jul 2014
"Great crew, friendly and helpful. Very knowledgeable and friendly Enjoyed the experience! Thanks"
James Cofone
Sun 29 Jun 2014
"I wanted a 3 days/2 night , small number of passengers and ragamuffin was excellent. Very friendly crew, made us feel safe and relaxed. Good opportunities to snorkel (stinger suits were a bit old) food was tasty and never ran out, shame about the weather."
Claire
Wed 25 Jun 2014
"Great trip and crew. Fridges - ice lacking by second day."
Ben
Wed 25 Jun 2014
"It is difficult to cook for a group - it shouldn't bee too much, it shouldn't be too less. maybe the left over salad from lunch could be used again in the evening?. I really loved the trip, it was amazing"
Julia
Sat 21 Jun 2014
"Very good trip! Would be good with some more information each day.
QUALITY - 9/10
CREW - 9/10
FOOD - 9/10
BOAT - 8/10
"
Katarinna Emannelsson
Sun 01 Jun 2014
"Great atmosphere on the boat, good food and guidance.
QUALITY - 10/10
CREW - 10/10
FOOD - 10/10
BOAT - 09/10
"
Erik Sundell - UK
Thu 22 May 2014
"Good variety of activities on offer - could mane do something on board to provide interaction between different groups. Crew - good knowledge of area, V. Informative. (Ed and butterflies) Good selection of food on offer. 9/10"
Jen Thompson
Mon 12 May 2014
"Good trip. Dave and Braydon were great. Very helpful and had complete faith in them. Looked after us well."
Alison Searle
Mon 03 Feb 2014
"Excellent crew and food was particularly good. Could see Chris takes much pride and was always plenty of extras. Snorkling locations were great with plenty of fish and turtles to cap the third day. "
Jamie
Fri 24 Jan 2014
"Had a great time would return again. snorkelling fantastic. Mate made excellent food and was very informative and pleasant. "
Luke Charlton
Wed 22 Jan 2014
"Really enjoyed the trip - had an absolutely fantastic time. It was really well planned out and the crew were very helpful, informative and good fun. Impressed with 'finding nemo' quotes. Most enjoyed turtles and dolphins :) :) To improve maybe add paddle boarding or kayaks - more activities."
Katie
Fri 17 Jan 2014
"Good Banter, friendly group and some amazing experiences. "
Diana Geal
Thu 09 Jan 2014
"The food was a lot better than expected and Dave and Chris were very humorous & friendly. Loved the dive and turtle snorkelling!"
Samantha
Sun 05 Jan 2014