Hammer
CLOSE
View More Thumbnails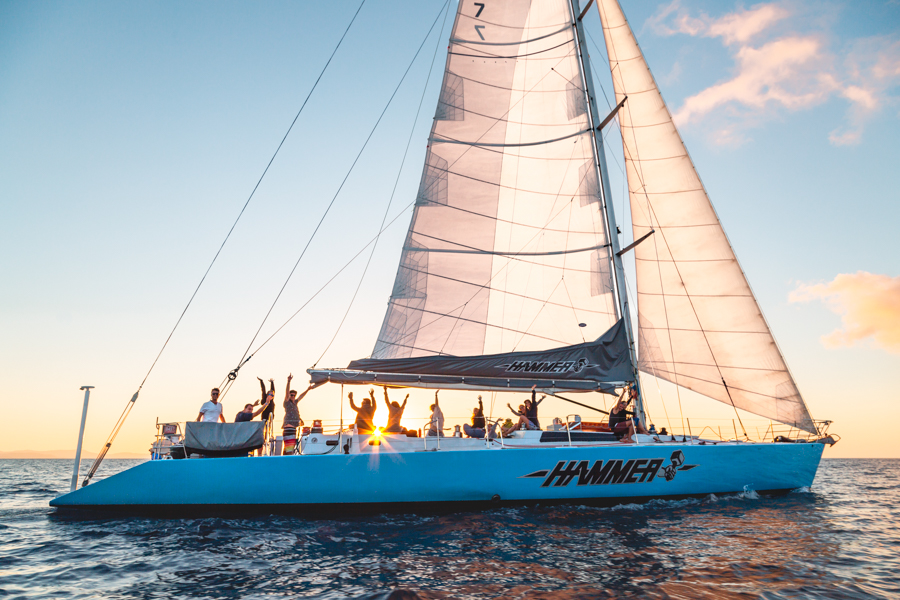 Loading...
Departure Times
Departs: 8:30am - Even Dates
Returns: 4:00pm - Odd Dates
Pricing Options
$399 AUD / Person
- Shared Accom
(Between: 01 Apr 2019 and 01 Apr 2020)
Attention all thrill-seekers, socialites, and those looking for a fun action-packed tour: Hammer is for you!
Young, fun tour on an Australian yachting legend
Unforgettable sailing experience with a fun itinerary
Visit Whitehaven Beach and Hill Inlet Lookout as well as fringing coral reefs in the Great Barrier Reef Marine Park
Affordable and budget friendly without compromising fun or adventure!
Ideal for backpackers and solo travellers
Hammer is the ultimate MAXI experience! For 2 days and 1 night, your crew will ensure you make it to all the hot spots of the Whitsunday Islands in true speed. Your exciting itinerary includes a visit to the infamous Whitehaven Beach and Hill Inlet Lookout, an incredible snorkel over some of the best reefs in the world and of course, a great party in the evening after your action-packed day to unwind and make new friends.
---
Hammer Features
Fast sailing with an experienced crew
23 guests for a fun and sociable experience
Roll out shade awning on deck for your comfort
Lots of deck space to enjoy the thrill ride whilst sunbathing and taking in your surroundings
Great food and lots of it, prepared freshly onboard by your awesome crew
A guided Island bush walk to the world famous Hill Inlet Lookout
Snorkelling gear and instruction provided to make the most of your time in the water
BYO alcohol
When you only have 2 days to see all of the Whitsundays, speed does matter! Hammer will ensure that no time is wasted as they sail you at true racing speeds from one incredible destination to the next!

---
Boat Layout

A true Maxi was designed and built purely as a racing machine. Sailing on a Maxi combines the sheer size and power with the thrill of speed. Together with their fascinating racing history, the Maxi yachts make for an unforgettable overnight sailing experience, unparalleled to any of their competitors!

The Maxi adventure allows you the opportunity to participate, take the wheel, hoist the sails and grind the winches on some of the most famous yachts in racing history, whilst visiting the very best destinations the Whitsundays has to offer.

---
Sample Itinerary
Wasting no time at all, your 2 day and 1 night adventure cruise begins at 8am, departing from Coral Sea Marina. During your two days, you will cover around 90 nautical miles or 160 kilometres. You will begin by sailing across the Whitsunday Passage to Blue Pearl Bay off of Hayman Island. Next you will sail around the southern side of Hook Island, pass through Hook Passage and speed sail your way to Cataran Bay on Border Island. Afterwards, you will head to the northeastern side of Whitsunday Island to Whitehaven Beach, where you will take a guided bush walk up to the ever-talked-about Hill Inlet Lookout. Don't forget to bring your camera as this will be a view you will want to capture forever. You'll get to enjoy the amazing beach below, taking time to swim in the warm shallow waters. Your crew will proceed to find you a nice and protected anchorage site for a night of fun. In the morning, you will make your way back to Airlie beach, where you will pass along the western coast of Whitsunday Island, through Hook Passage and follow the eastern coast of Hook Island, passing the Molle Islands.

Itineraries are flexible, and this itinerary is an example only. Trips will differ depending on the prevailing breezes and tides. Itineraries are planned by the Captain considering the safety and well being of guests and crew. If you have a special place that you would like to visit, they will do their very best to see what can be done.
---
Sample Menu
Day one
Morning tea: Fruit and Lamingtons
Lunch: Bread rolls served with cold meat selection, cheese and salads
Afternoon tea: Homemade nachos served with beans, salsa and sour cream
Dinner: Roast chicken and stuffing served with creamy mashed potato, steamed vegetables, gravy and damper bread

Day two
Breakfast: Cereals and toast, fruit salad, served with tea, coffee and a full array of condiments
Morning tea: Tea and coffee and an assortment of biscuits
Lunch: Burritos made with beef mince, tomatoes, lettuce, sour cream, cheese and guacamole
Afternoon tea: Fruit platter

*Please note that this is a sample menu and is subject to change and amendments.

CALL 1800 550 751 OR LIVE CHAT US NOW!
---
Heading south to Fraser Island?
Package your Whitsundays and Fraser Island tours together and start saving $$! Talk to an East Coast specialist today.
Fraser ToursCool Dingo Guided Tour 2D/1NNomads Tag Along 3D/2NDropbear Tag Along 3D/2N
---
More Information
What To Bring
Please bring only a small soft bag, containing NO zippers, with: change of clothes, hat, swim-wear, beach towel, sunscreen 30+, warm pullover for the evenings (seasonal). You will also need to bring your own alcoholic beverages, available for purchase in town. No glass bottles, please.
Excess luggage can be stored at several places in town including most boat check-in offices, most hostels, or at Airlie Beach Bag Storage. Most charge between $5-15pp for the duration of your trip.
What's Included
Skipper
Crew
Meals
Linen
Drinking water
Wetsuit hire
Snorkelling equipment
Marine Park fees
Wet weather jackets if needed
What's Extra
BYO alcohol (strictly NO glass, or red wine). Soft drinks available for purchase on board.
Please read the following questions carefully:
Do you currently have an ear infection?
Do you have a history of ear disease, hearing loss or problems with balance?
Do you have a history of ear or sinus surgery?
Are you currently suffering from a cold, congestion, sinusitis or bronchitis?
Do you have a history of respiratory problems, severe attack of hayfever or allergies, or lung disease?
Have you had a collapsed lung (pneumothorax) or history of chest surgery?
Do you have active asthma or history of asthma, emphysema or tuberculosis?
Are you currently taking medication that carries a warning about any impairment of your physical or mental abilities?
Do you have behavioural health problems or a nervous system disorder?
Are you or could you be pregnant?
Do you have a history of colostomy?
Do you have a history of heart disease or heart attack, heart surgery or blood vessel surgery?
Do you have a history of high blood pressure, angina, or take medication to control blood pressure?
Are you over 45 and have a family history of heart attack or stroke?
Do you have a history of bleeding or other blood disorders?
Do you have a history of diabetes?
Do you have a history of seizures, blackouts or fainting, convulsions or epilepsy or take medications to prevent them?
Do you have a history of back, arm or leg problems following an injury, fracture or surgery?
Do you have a history of fear of closed or open spaces or panic attacks (claustrophobia or agoraphobia)?
If any of these conditions apply to you, you will need to tell the staff when you board the vessel.
Terms and Conditions
All departures and itineraries are subject to weather. Tours may be changed or cancelled for any reason at the discretion of the Tour Operator. It should be noted that adventure travel involves risk. Whilst we make every effort to safeguard clients, we cannot be responsible for personal injury or loss due to the actions of our clients which are beyond our control. We recommend that all clients have travel insurance covering illness, injury, loss or damage to personal belongings and not being able to travel on the confirmed date of departure.
Please note that in the unlikely event of your trip being cancelled or stood down, all guest communication is required to go through our Online Store via telephone or email. While there is a Sailing Whitsundays retail outlet located Airlie Beach, please be aware that they operate as a separate entity and are unable to access reservations made by the Mr Travel online department.
Please be aware operators pass on credit card merchant fees so there is a non-refundable 1.5% surcharge for VISA and MASTERCARD card purchases.
This is a water-based activity, for safety reasons ALL passengers must be able to swim and speak fluent English. Please advise us before booking if any passengers are under 18 years old to ensure this is the appropriate trip.
Also, please note that you need to allow time prior to the boats' departure to check in, please ask us for more details.
Cancellations
All cancellations made result in a 25% cancellation fee of the recommended retail price (RRP), not discounted or sale prices. Any cancellations made 60-30 days prior to travel will result in a 50% cancellation fee and any cancellations made inside of 30 days to departure will result in forfeit of full trip fees. If the sailing company has to cancel the trip (prior to the boat's departure) and we cannot offer a suitable alternative, then a refund will be given minus card fees. We strongly recommend that you have travel insurance, especially during the wet season.
Please note it is the responsibility of ALL passengers travelling to advise both your travel agent at the time of booking and vessel check-in agent before boarding of ANY medical conditions including food allergies you may suffer from.
Thank you for booking with Mr Travel/Sailing Whitsundays. If you would like any advice or assistance in arranging accommodation, transfers or additional tours, please do not hesitate to contact us.
"Loved my trip on Hammer, I had never sailed before but they literally showed us the ropes! Crew made it extra fun, especially our skipper Ellen, really loved the nachos!"
Diane
"I went on Hammer with a couple of friends while in the Whitsundays, I had never been proper sailing before! It was a perfect mix between fun and social and relaxing but also adventure and the crew definitely made it even better. You can get involved with the sailing and see how the proper racing yachts can go so fast. Loved escaping the real world for a night too."
Emily
"I really loved the sailing and was given the chance to steer, awesome crew and would recommend to all my friends."
Jennifer
"I had a wonderful time sailing around the Whitsundays with Prosail. The crew (Clancy, Molly, Sas, and Yasmine) were SO great - helpful, relaxed, and a lot of fun. The food was top notch. I have a ridiculous number of food allergies, and they were able to accommodate them graciously with no fuss, being very mindful of cross contamination. I highly recommend booking one of their tours!"
Stephanie C
"I booked for this boat with one of my friend without knowing how it was going to be. It was totally amazing. The crew was really nice and fun. The fact that a girl is running the boat is really nice too. Her name is Saskia and she is really nice. She's calm and make us feel really safe. The other members of the crew, Clansy and Jay, are amazing too. (GIRLS, BE READY - they are really sexy, funny and they are cooking the food... Wow!). The food was really good by the way. Enough for everyone and everything was really fresh. Another good thing is that they take the time to choose the right spot for the snorkelling. Also, they are often giving information about what we are seeing or about the boat. Really interesting. If you are hesitating, you should totally book with the Hammer! And hope that you are going to have these amazing people with you for your trip!"
Annabelle Marcoux
"Excellent crew, excellent vibe, excellent food, EXCELLENT. 10/10 would recommend!"
Dan Sawyer
"My friends and I have just come off The Hammer 2 day/1 night sailing adventure and could not even believe how beautiful it was and how much fun we had! The crew were hilarious and extremely responsible, we all felt really safe and comfortable around them. The food was delicious and so much if it, with 2 breakfast, 2 lunches, 1 dinner and a bunch of snacks being included (NACHOS for afternoon tea anyone?). The bathrooms and showers aboard The Hammer were always clean, and to be honest we didn't even need the showers as we were in and out of the beautiful ocean so often. We saw so much marine life including sea turtles, parrot fish, and beautiful coral gardens, and we fed these massive batfish of the side of the yacht where they would come close enough to touch! If you chose to sleep on a bed rather than on the deck (not me) it was comfortable and a good temperature to sleep in. I slept on the deck and listened to my hilarious group belt singing and having an amazing time while I was laughing, and looking up at the full moon above and all of the stars! All in all, an absolutely INCREDIBLE experience and one I will recommend to everyone I come across. Cheers guys!!"
Georgie
"Booked the 2 day 2 night on the Hammer boat... The boat was awesome. There was cabins below deck to sleep but it was beautiful weather so we chose to sleep on the deck underneath the stars which was amazing. The crew were awesome, took us to a few of their special snorkelling stops and fed the fish (they even found us a Nemo fish). Nicki even took us to his secret beach near Whitehaven Beach! I was worried travelling solo that I would be by myself but the people on the boat were awesome, the crew were really friendly and facilitated a fun social scene (shout outs to Jared, Georgie and the crazy Brazilian guys!) All around, a great trip. Definitely worth the money. Only downside was the trip was the trip had to end!!"
Nic
"We sailed on 'Hammer' with Ellen, Dani and Niko. They were a fantastic crew and the sailing was incredibly fun."
Maddison M
"Thanks for a brilliant 2 days sailing on Hammer - I had a fantastic time! The islands were beautiful, the crew were fun, friendly and professional and the boat was clean and comfortable and we had a great time sailing it. It was also a great opportunity to meet some really lovely people... Thanks again!"
Sarah