GSL Island Explorer Scenic Flight
CLOSE
View More Thumbnails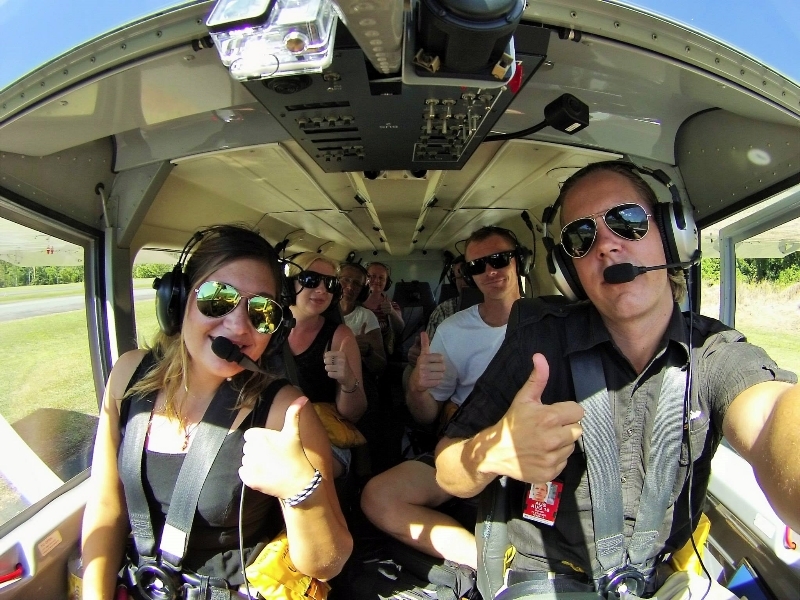 Loading...
Pricing Options
$129 AUD per Person
- General
(Between: 01 Apr 2018 and 31 Mar 2019)
The perfect scenic flight of the Whitsundays for those who are short on time.
Why not appreciate the wonderful Whitsundays from above with this popular scenic flight of the Whitsunday islands. During your 25 minute GSL Aviation flight, you will soar over the best of the region, including Whitehaven Beach and more.
You Might Also Be Interested In:
Perfect Highlights PackageHeart of the WhitsundaysGSL Aviation Fly n Cruise Package 1 - Northern ExposureGSL Aviation Fly n Cruise Package 1 - Southern Lights
---
The GSL Island Explorer Scenic Flight is the shorter option for those who are wanting a bird's eye view of the Whitsundays. Requiring a minimum of 2 passengers, everyone is guaranteed a window seat on the high winged aircraft! Have your camera on standby as you soar over the white sands of Whitehaven Beach and Hill Inlet, Shute Harbour, Hook Island and the beautiful blue waters.
GSL Island Explorer Scenic Flight Features:
Guarantee window seat on your 25 minute scenic flight
See the amazing Whitsundays from above
Fly over Hamilton Island, Hill Inlet, Hook Island and Whitehaven Beach
Friendly, experienced pilot
If you are seeking a shorter scenic flight which still shows you the Whitsundays' best assets, this one is for you.. book now.
Wanting a scenic flight over Heart Reef and Great Barrier Reef?
Reef and Island Scenic Flight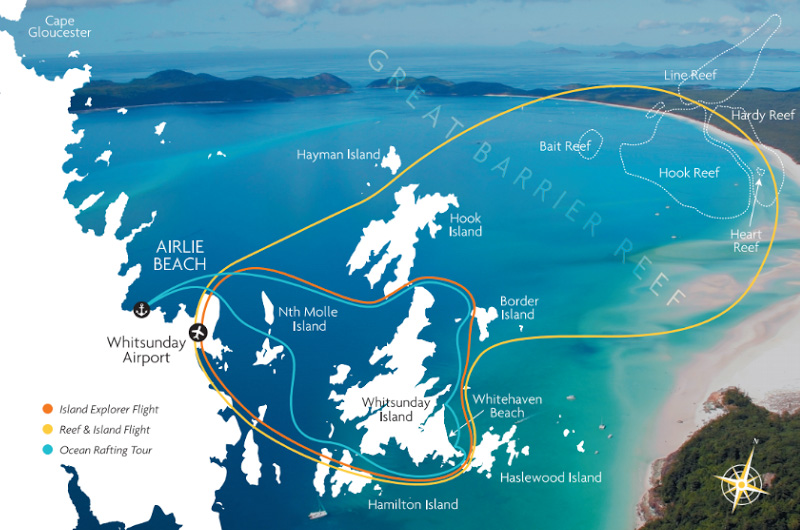 Please note: Flights needs a minimum of 2 passengers to book. This tour departs from Whitsunday Airport-Shute Harbour, Airlie Beach.
Island Scenic Flight with Hamilton Island Airport Transfer features:
Scenic flight over the Whitsunday Islands
All passengers have windows seats with our over wing aircraft
Courtesy transfers to and from Airlie Beach accommodation
Transfers to and from Hamilton Island airport
In flight commentary
Please note, guests are allocated 15kg of luggage per person and charges apply for anything over that limit.
Please note:
Passengers depart Whitsunday Airport (Airlie Beach) and fly direct enroute to Hamilton Island and the arrival/departure point is at Hamilton Island airport main terminal.
Direct flight transfers from Whitsunday Airport (Airlie Beach) to Hamilton Island depart 70 minutes prior to Domestic Airline departure time at Hamilton Island Airport, and passengers are encouraged to be at Whitsundays Airport 30minutes prior to GSL flight departure
Due to aircraft baggage restrictions, oversize bags may be rejected for carriage regardless of their weight, please confirm this with your booking agent prior to date of travel. Standard weight restriction for baggage is 15kg; additional weight will only be carried at pilots discretion
Soft bags are preferred to avoid any delays in departure
Extra large baggage, large strollers and car baby seats cannot be accommodated on flights
Please note:
You MUST include your body weights and pick up location when booking this tour.
BOOK WITH US TODAY! CALL 1800 550 751 OR (07) 4914 2425 IF LOCAL
What To Bring
Camera and/or video camera, Light jacket for cooler months
Terms and Conditions
All flights are operated at the discretion of GSL Whitsundays, and are subject to weather conditions, air traffic control and other influences outside of our control. There is a 2.5% credit card surcharge
Cancellations
Once a reservation has been made a cancellation fee of 100% will be charged if cancelled within 72 hours prior to departure. All cancellations will forfeit up to 30% of total ticket price. We recommend travel insurance