Condor
CLOSE
View More Thumbnails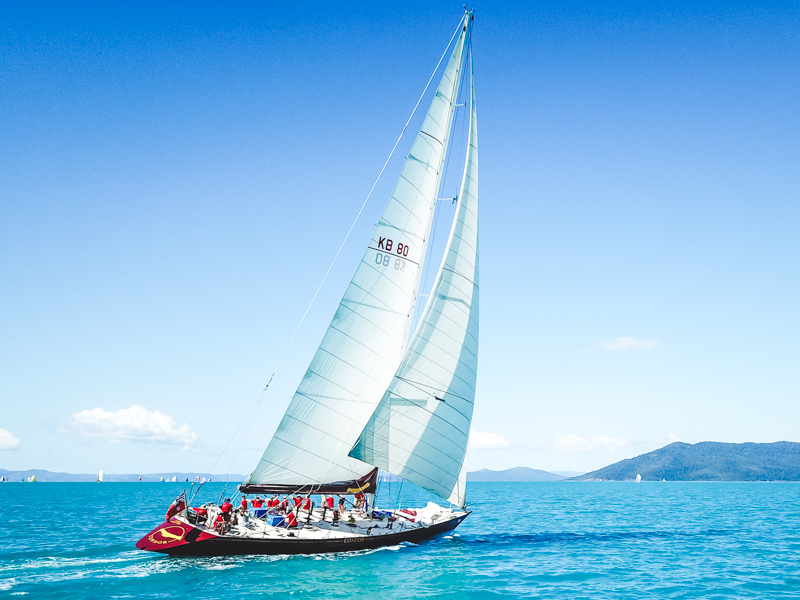 Loading...
Departure Times
Departs: 2:00pm - Tuesday, Thursday, Sunday
Returns: 11:00am - Thursday, Saturday, Tuesday
Pricing Options
RRP $489

$429 AUD / Person
- Shared Accom
(Between: 01 Oct 2018 and 01 Apr 2019)
Take a racing maxi yacht tour that will have you flying!
Condor is a fast, sleek and famous racing yacht
Fun tour with great crew who will keep you laughing and enjoying the best of the Whitsundays
A tour designed for pure speed, power and an authentic sailing experience!
Designed for those craving fun and adventure in one of the best parts of Australia
Hop aboard Condor and enjoy all the Whitsunday islands has to offer on the ultimate speed machine! Snorkel the beautiful coral gardens of the Whitsunday Islands, hike through Australian National Parks, wander the brilliant white sands of Whitehaven Beach or set the sails and cruise into the sunset! Condor features a Kevlar composite hull and a mast which, at the time of her launch in 1981, was the tallest single spar in the world. Perfectly designed and maintained, Condor cuts through the waves with ease, offering a smooth and stable ride that comes with the thrill of speed!

---
Condor Features
Young, fun and social demographic - very popular tour for 18-35's!

Authentic sailing experience with an amazing itinerary
Huge deck space for sunbathing and relaxing
Delicious and fresh meals provided by highly trained crew
Quality time at Hill Inlet Lookout and Whitehaven Beach
Top snorkel locations- Snorkel the fringing reefs of the Great Barrier Reef!
Snorkelling equipment, wetsuits, fresh linen and all taxes included
BYO Alcohol
For guests who want to be involved, help the crew set the sails, have a turn on the wheel, and get some amazing sailing photos! Sail the Whitsundays on Condor to experience the power and speed of a world-famous racing vessel!
---
Boat Layout

Comfortably refitted to accommodate up to 29 guests, Condor offers spacious accommodation and comfortable sleeping areas. The upper deck has ample space and is great for sun-baking, sightseeing or general relaxation! Condors accommodation is open-planned, you have the option of either a Shared Single or Shared Double:
Shared single: Single bed, usually a bunk bed.
Shared double: Double bed, usually with a single bunk on top.
*Both options include a designated personal storage space
Designed purely for racing, maxi yachts cost millions of dollars to construct, but their speed and power is second to none. Just one trip on a maxi will leave you wanting more, as you experience the ultimate combination of speed, size and adrenaline.



Condor is a very social and fun vessel, with a relaxed, party atmosphere. The perfect trip for anybody seeking a fun-filled adventure, and to make some great new friends along the way, Condor is one of the most popular maxi yachts operating in the Whitsundays. Come see for yourself what makes Condor so special!

---
Sample Itinerary
Condors itinerary will have you sailing around many of the Whitsundays Islands during your 2 day and 2 night adventure. As a maxi yacht, Condor is a performance sailor which means you will be travelling around at speed all with the help of wind power. Guests are able to give the crew a hand and help set sail, raise a sheet and have a go at the captain's wheel to give them to full sailing experience! Not only will you visit the famous Whitehaven Beach, but you will also get to the Northern end of the Whitsundays, where the best fringing coral reefs in the Whitsundays are found around Hayman Island, Langford Reef and Mantaray Bay.

You'll also get to visit the infamous Hill Inlet Lookout, where you can see one of the best views in Australia and snap some unforgettable photos to show family and friends back home. When you are not beach-hopping and seeing the sights, guests can do some snorkelling at two locations with fringing coral reefs which extend right from the edge of the Islands.
*Please note, itineraries can change due to the weather, tides and your captains professional judgement.

---
Sample Menu
Day one
Afternoon Tea: Cheese platter with crackers and dip
Dinner: Roast chicken with stuffing, creamy potato mash, freshly tossed salad, gravy and damper bread
Dessert: Cookies and cream cheesecake
Day two
Breakfast: Cereals, toast and fruit salad served with tea, coffee and a variety of condiments
Morning Tea: Tea and coffee with an assortment of biscuits and fruit platter
Lunch: BBQ burgers served with bread rolls, cheese and a selection of salads
Afternoon snack: Homemade nachos served with salsa, beans and sour cream
Dinner: Burritos made with beef mince, tomatoes, lettuce, sour cream, cheese and guacamole
Evening snack: Chocolate brownies served with whipped cream
Day three
Breakfast: Cereals, toast, yoghurt and fruit salad served with tea, coffee and a variety of condiments
Morning tea: Fruit platter

Please note that this is a sample of menu and is subject to change. Most special diets can be catered for upon request, please advise us of any dietary requirements at the time of booking.
Condor is also available for Private Charter.

BOOK WITH US TODAY! CALL 1800 550 751 OR LIVE CHAT US NOW!
---
Add to your Whitsundays experience... Combine multiple tours to unlock exclusive discounts!
Featured Add-on's for Condor:
CW ReefworldBase Hostel AccommodationSkydive Airlie BeachHeart Reef
---
More Information
What To Bring
Please bring only a small soft bag, containing NO zippers, with: change of clothes, hat, swim-wear, beach towel, sunscreen 30+, warm pullover for the evenings (seasonal). You will also need to bring your own alcoholic beverages, available for purchase in town. No glass bottles please.
Excess luggage can be stored at several places in town including most boat check-in offices, most hostels, or at Airlie Beach Bag Storage. Most charge between $5-15pp for the duration of your trip.
What's Included
Skipper
Crew
Drinking water
Meals
Linen
Wetsuit hire
Snorkelling equipment
Marine Park fees
What's Extra
BYO alcohol (strictly NO glass, or red wine). Soft drinks available for purchase on board.

Please read the following questions carefully:
Do you currently have an ear infection?
Do you have a history of ear disease, hearing loss or problems with balance?
Do you have a history of ear or sinus surgery?
Are you currently suffering from a cold, congestion, sinusitis or bronchitis?
Do you have a history of respiratory problems, severe attack of hayfever or allergies, or lung disease?
Have you had a collapsed lung (pneumothorax) or history of chest surgery?
Do you have active asthma or history of asthma, emphysema or tuberculosis?
Are you currently taking medication that carries a warning about any impairment of your physical or mental abilities?
Do you have behavioral health problems or a nervous system disorder?
Are you or could you be pregnant?
Do you have a history of colostomy?
Do you have a history of heart disease or heart attack, heart surgery or blood vessel surgery?
Do you have a history of high blood pressure, angina, or take medication to control blood pressure?
Are you over 45 and have a family history of heart attack or stroke?
Do you have a history of bleeding or other blood disorders?
Do you have a history of diabetes?
Do you have a history of seizures, blackouts or fainting, convulsions or epilepsy or take medications to prevent them?
Do you have a history of back, arm or leg problems following an injury, fracture or surgery?
Do you have a history of fear of closed or open spaces or panic attacks (claustrophobia or agoraphobia)?
If any of these conditions apply to you, you will need to tell the staff when you board the vessel.
Terms and Conditions
All departures and itineraries are subject to weather. Tours may be changed or cancelled for any reason at the discretion of the Tour Operator. The Operator also reserves the right to alter the tour or the itinerary of any of it's tours and organise alternative carriers to those advertised if necessary. It should be noted that adventure travel involves risk. Whilst we make every effort to safeguard clients, we cannot be responsible for personal injury or loss due to actions of our clients which are beyond our control. We recommend that all clients have travel insurance covering illness, injury, loss or damage to personal belongings and not being able to travel on the confirmed date of departure. Please be aware operators pass on credit card merchant fees so there is a non-refundable 2.5% surcharge for VISA and MASTERCARD card purchases.
This is a water-based activity, for safety reasons ALL passengers must be able to swim and speak fluent English. Please advise us before booking if any passengers are under 18 years old to ensure this is the appropriate trip.
Also, please note that you need to allow time prior to the boats departure to check in, please ask us for more details.
Cancellations
All cancellations made result in 25% cancellation fee of the recommended retail price (RRP), not discounted or sale prices. Any cancellations made 60-30 days prior to travel will result in a 50% cancellation fee and any cancellations made inside of 30 days to departure will result in forfeit of full trip fees. If the sailing company has to cancel the trip (prior to the boat's departure) and we cannot offer a suitable alternative, then a refund will be given minus card fees. We strongly recommend that you have travel insurance, especially during the wet season.
Please note it is the responsibility of ALL passengers travelling to advise both your travel agent at the time of booking and vessel check-in agent before boarding of ANY medical conditions including food allergies you may suffer from.
Thank you for booking with Mr Travel/Sailing Whitsundays. If you would like any advice or assistance in arranging accommodation, transfers or additional tours, please do not hesitate to contact us.
"Had a really great experience! The crew were all really friendly, fun and approachable. I felt in safe hands the whole time. The food was really yummy and there was always a large amount. My favourite bits were Whitehaven Beach, the snorkelling trips, and seeing 3 dolphins! Thank-you to the great crew! 10/10!"
Lorna Turner
"Friend and I travelled on the condor for 2d/2n. We had a great crew who were helpful and friendly. They involved us with setting sails and were able to answer any questions. The food available on board was delicious and had plenty to go around. We were shown the beautiful Whitehaven beach and had days snorkelling. We had stinger suits and all snorkelling equipment provided within the tour price. Would highly recommend."
Anne Marie
"Crew were awesome! Food was lovely! Trip was great! Snorkelling was unreal - better than Cairns!"
Stacey + Joe
"FAB Crew - Always let us know where we are and what was going on, very friendly and approachable, really made the trip! Food was good too! Locations were great and we had just the right amount of time on Whitehaven Beach itself. Evenings were good fun too - very chill! :)"
Anya Brentnall
"Went for the Condor package... One of the best things I've done in Australia. Crew (Nicko, Matt and Zack) were so fun and knowledgeable. Food was good, accommodation is decent and the boat was clean and comfortable. Great snorkelling and beach visits. Couldn't ask for more!"
Kenny
"What an amazing crew to take us on such a brilliant adventure thank you Condor!!"
Emma J
"Sailing on the Maxi race yacht Condor was one of the best experiences of my trip to Australia. The spirited crew (Dave, Ben, Wally) managed to keep all participants happy during my trip! Dave tried a new spot for snorkeling that was less crowded and Wally's cooking was much appreciated. Ben kept everyone involved who wanted to actively participate in handling the ship by hoisting the sails and manning the cranks. Good speed (and heeling) sailing at more than 35 knots of wind on second day! My personal highlight was getting the opportunity to be helmsman under sails."
Andreas
"had the best time sailing with Condor crew (Mark, Mat and B-rad) on this trip. They are very knowledgable, friendly, funny and organized. We did snorkling at different spots, saw amazing fish and corals, fed the sea eagles, swam at the spectacular whitehaven beach, spotted turtles, played games on the boat, and listened to endless sailor jokes I really appreciated the crew for accommodating my dietary requirements and Mat for being a super human and brought back my swimsuit after I left it on the boat. How nice is he!! Overall, I would highly recommend it :)"
Fifi
"Had the most amazing time with the crew on the Condor. They made it so wonderful and there was such an amazing atmosphere with everyone on the boat. Whitehaven beach was just beautiful."
Bronwen
"It was great that there was a focus on doing a lot of sailing and the crews willingness to socialise was much appreciated. "
Andrew
"This was an absolutely wonderful experience for me. Being a first time sailor I thought this was simply amazing and breathtaking. The crew were helpful and knowledgeable. Thanks for everything!!"
Hillary
"I had a really good time on the boat, especially the first scuba dive of my life which was amazing. Met really nice people and lots of compliments for the staff. Thanks to you!"
Jeroen
"Very good trip. Crew seemed very knowledgeable of boat & area. Not been on a boat in 13 years after a bad experience, my view has now been changed!"
Caroline