Broomstick
CLOSE
View More Thumbnails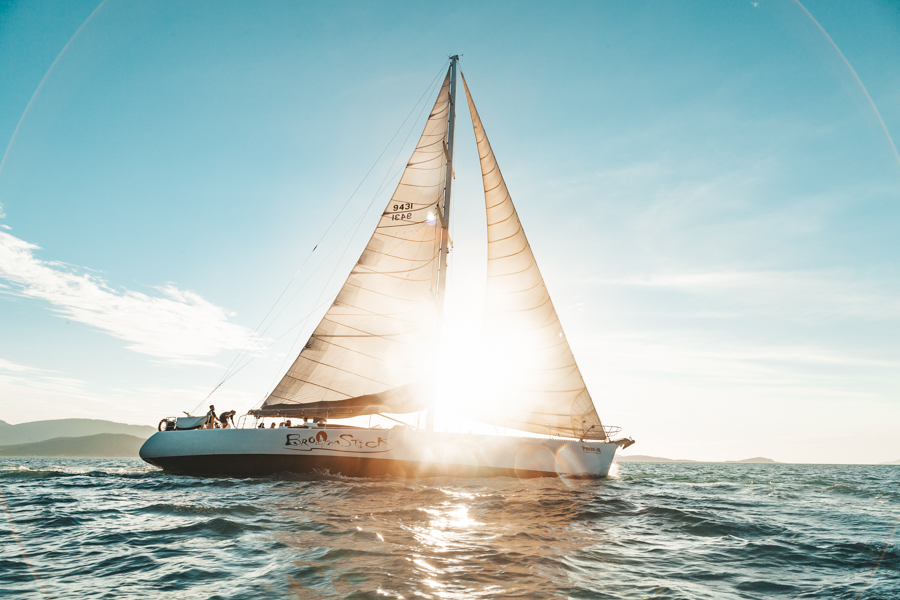 Loading...
Departure Times
Departs: 2:00 pm - Monday, Wednesday, Saturday
Returns: 11:00 am - Monday, Wednesday, Friday
Pricing Options
$499 AUD / Person
- Shared Accom
(Between: 01 Apr 2019 and 31 Mar 2021)
Feel the need for speed? Broomstick can offer you this and more!
Enjoy the thrill of sailing around the Whitsunday Islands on a speedy maxi yacht
Designed for speed, you will have the time of your life on board Broomstick!
Your fun crew will take you to the best parts of the Whitsundays including Whitehaven Beach, Hill Inlet Lookout and the fringing reefs of the Whitsunday Islands
Explore by day and relax by night and get into the Whitsundays spirit!
For 2 days and 2 nights, the experienced crew of Broomstick will take you on a thrilling adventure throughout the Whitsunday Islands, taking you to all the most popular destinations. Join 24 other like-minded passengers as you participate in activities such as snorkelling, bush walking and of course, sailing! This fun tour is ideal for those who are craving adventure and the thrill of sailing around as the world passes by!

---
Broomstick Features
22 meters of deck space for socialising, relaxing and sunbathing!
Fun, knowledgeable crew
Relax on board while you sail around
Visit the world famous Hill Inlet Lookout and Whitehaven Beach
Sailing tuition and hands on sailing experience
Snorkel multiple coral reefs for an amazing underwater experience
Snorkel equipment all inclusive for your convenience
Freshly prepared meals made by your awesome crew
BYO alcohol
If you have been craving to see what it is like to cruise across the sea at great speeds, don't hesitate and book your Broomstick adventure today!
---
Boat Layout

All of the accommodation on board Broomstick is shared. You have the option of a shared double bunk or single bunk.

Taking out a total of 25 passengers (average age group of 18 - 35 years) and 3 crew, Broomstick is a true maxi yacht giving you a taste of the life of a racing vessel. With a spacious interior of open style layout, Broomstick offers the perfect social environment where you can meet like-minded travellers, making new friends along the way. Enjoy the exciting activities by day and join in on the fun evening festivities; Broomstick is well known for her party spirit!
---
Sample Itinerary
Whitehaven Beach
Stop at the famous Whitehaven Beach where you can swim and explore along the stretches of soft silica sands. As one of the most famous beaches in the world, Whitehaven Beach should be on every beach-lovers bucket list! The unique sand, warm waters and tropical surroundings make for the best beach experience around. Take the time to relax on the cool sands or take a dip in the ocean - this is the ultimate place for relaxing!


Hill Inlet Lookout
Take the ultimate selfie at this stunning lookout point! Each trip to the lookout is unique in that the sands are never the same twice! The coloured swirls change with the tide every minute of the day, creating a stunning masterpiece in the sand that makes for the ultimate view. Ask your crew to take a group shot here - there's plenty of room for everyone on the observation deck and the inlet makes the best background.

Snorkelling
Your crew will take you to some of the colourful reefs that can be found around the Whitsunday Islands. Here you will find calm coves and bays where you can hop in and explore the teeming reefs that await below! Expect to see colourful corals, funny fish, stunning sea turtles and more. Our reefs host a huge variety of marine life that will give you great insight into the Great Barrier Reef Marine Park. All your snorkelling equipment is supplied for you, so all you need to bring along if a sense of adventure!

Sailing
Sailing on a maxi yacht combines sheer size and power with the thrill of speed. With their fascinating racing history, the maxi yachts make for an unforgettable sailing experience! Overnight maxi sailing adventures are unique to the Whitsundays, where guests can enjoy spending a few nights at sea, sailing and exploring. A maxi adventure allows you the opportunity to participate, take the wheel, hoist the sails and grind the winches on some of the most famous yachts in racing history, whilst visiting the very best destinations the Whitsundays has to offer.


History
Broomstick was built in South Africa to win the Cape Town to Rio Yacht Race and is able to reach speeds like no other in the Whitsundays. Like a true maxi, she is big, comfortable and very fast. Her track record shows her competing in many of the world's most famous sailing events including Sydney to Hobart Race, which is very well known here in Australia! Broomstick finished racing in 2000 and was converted to a charter boat in 2001 and has since been hosting guests for sailing tours around the Whitsundays!
---
Sample Menu

Day one
Afternoon tea: Cheese platter with crackers and dip
Dinner: Roast chicken with stuffing, creamy potato mash, freshly tossed salad, gravy and damper bread
Dessert: Cookies and cream cheesecake
Day two
Breakfast: Cereals, toast and fruit salad served with tea, coffee and a variety of condiments
Morning tea: Tea and coffee with an assortment of biscuits and fruit platter
Lunch: BBQ burgers served with bread rolls, cheese and a selection of salads
Afternoon snack: Homemade nachos served with salsa, beans and sour cream
Dinner: Burritos made with beef mince, tomatoes, lettuce, sour cream, cheese and guacamole
Evening snack: Chocolate brownies served with whipped cream
Day three
Breakfast: Cereals, toast, yoghurt and fruit salad served with tea, coffee and a variety of condiments
Morning tea: Fruit platter

Please note this is a sample of menu and is subject to change and amendments

More Information
What To Bring
Please bring only a small soft bag, containing NO zippers, with: change of clothes, hat, swim-wear, beach towel, sunscreen 30+, warm pullover for the evenings (seasonal). You will also need to bring your own alcoholic beverages, available for purchase in town. No glass bottles, please.
Excess luggage can be stored at several places in town including most boat check-in offices, most hostels, or at Airlie Beach Bag Storage. Most charge between $5-15pp for the duration of your trip.
What's Included
Skipper
Crew
Drinking water
Meals
Linen
Wetsuit hire
Snorkelling equipment
Marine Park fees
What's Extra
BYO alcohol (strictly NO glass, or red wine). Soft drinks are available for purchase on board.

Please read the following questions carefully:
Do you currently have an ear infection?
Do you have a history of ear disease, hearing loss or problems with balance?
Do you have a history of ear or sinus surgery?
Are you currently suffering from a cold, congestion, sinusitis or bronchitis?
Do you have a history of respiratory problems, severe attack of hayfever or allergies, or lung disease?
Have you had a collapsed lung (pneumothorax) or history of chest surgery?
Do you have active asthma or history of asthma, emphysema or tuberculosis?
Are you currently taking medication that carries a warning about any impairment of your physical or mental abilities?
Do you have behavioural health problems or a nervous system disorder?
Are you or could you be pregnant?
Do you have a history of colostomy?
Do you have a history of heart disease or heart attack, heart surgery or blood vessel surgery?
Do you have a history of high blood pressure, angina, or take medication to control blood pressure?
Are you over 45 and have a family history of heart attack or stroke?
Do you have a history of bleeding or other blood disorders?
Do you have a history of diabetes?
Do you have a history of seizures, blackouts or fainting, convulsions or epilepsy or take medications to prevent them?
Do you have a history of back, arm or leg problems following an injury, fracture or surgery?
Do you have a history of fear of closed or open spaces or panic attacks (claustrophobia or agoraphobia)?
If any of these conditions apply to you, you will need to tell the staff when you board the vessel.
Terms and Conditions
---
Your Responsibilities:
Please advise us before booking if any passengers are under 18 years old to ensure this is the appropriate trip.
You must reconfirm all booked tours prior to travel as specified on your voucher. If applicable, notes such as dietary requirements, pick-up locations and additional fees should also be confirmed at this time. Reconfirmations cannot be actioned through Sailing Whitsundays/Mr Travel, and must be done so directly through the Service Operator as specified on each ticket.
It is your responsibility to notify us of ticket discrepancies. Please read through the details on your voucher thoroughly to ensure all details such as passenger names, ages and dates of travel on vouchers are correct.
It is the responsibility of all passengers travelling to advise both your travel agent at the time of booking and vessel check-in agent before boarding of any medical conditions including food allergies you may suffer from.
You need to allow adequate time to check-in prior to the specified departure time.
---
Prices/Extra Costs:
All prices are stated in Australian dollars and include GST. Surcharges over peak holiday seasons may apply.
The Service Operator reserves the right to alter prices and extra costs. Extra costs may include EMC fees, Stingersuit/Wetsuit Hire, Luggage Storage, Insurance, Linen Hire, National Park Fees, Fuel Levies, Dietary Fees, etc. Bonds may also apply.
We will also endeavour to communicate these extra costs with you at the time of booking, and on your ticket. However, it is your responsibility to confirm which (if any) additional costs apply with each Service Operator upon reconfirming your trip.
---
Travel Risk/Insurance:
It should be noted that adventure travel involves risk. Whilst we make every effort to safeguard clients, we cannot be responsible for personal injury or loss due to the actions of our clients which are beyond our control. We highly recommend that all clients have travel insurance covering illness, injury, loss or damage to personal belongings and not being able to travel on the confirmed date of departure. You should also ensure your travel insurance will cover special circumstances including weather events preventing guests from travelling to their tour departure destination and cancelled flights due to unforeseen circumstances.
---
Merchant Fees:
Please be aware operators pass on credit card merchant fees so there is a non-refundable 1% surcharge for VISA and MASTERCARD card purchases.
---
Other:
Terms and Conditions (including the Cancellation Policy) are subject to change. The most recent versions can be found online on the relevant product pages.
All ticket/voucher reissues attract a $20 administration fee.
---
Cancellations
---
Client Cancellations:
All cancellations forfeit 25% of the recommended retail price (RRP) - not the discounted/sale price. Cancellations made 60-30 days prior to travel date forfeit 50% of the RRP. No shows or client cancellations made within 30 days of departure forfeit 100% of the total ticket price.
Transfers between tours can be made at the suppliers discretion, however, it should be noted that supplier fees may apply. Tour transfers also incur a $20 administration fee.
It is compulsory that all cancellation requests are in writing and sent via email to admin@mr-travel.com. Cancellations attempted via online chat or phone will not be actioned.
---
Supplier Cancellations:
The Service Operator reserves the right to alter prices, alter itineraries, apply a fuel surcharge, cancel departures, arrange alternative transport and vary itineraries and services if necessary.
All departures and itineraries are subject to weather. Tours may be changed or cancelled for any reason at the discretion of the Service Operator. If the Service Operator has to cancel the trip or activity (prior to departure) and we cannot offer a suitable alternative, then a refund will be given minus a 20% administration fee and any associated card fees. We strongly recommend that you have travel insurance, especially during the wet season.
In the unlikely event of your trip being cancelled or stood down, all guest communication is required to go through our Online Store via telephone or email. While there is a Sailing Whitsundays retail outlet located Airlie Beach, please be aware that they operate as a separate entity and are unable to access reservations made by the Mr Travel online department.
---
Refunds:
All refunds are in Australian Dollars and must be made to the card of payment. Sailing Whitsundays/Mr Travel is not liable for exchange rate fluctuations or fees, or any other merchant/bank fees associated with domestic and/or international transactions.
Where a full refund is applicable, there is the option to transfer the whole cost of the tour to another tour or "Credit" to avoid the administration fee. A transfer fee of $20 will apply.
You will be emailed confirmation once the refund has been processed. Once the refund has been processed, it may still take time for the banks to clear the amount. Please allow 7-10 business days for the funds to clear into Australian accounts and up to 21 business days for international accounts.
---
Accountability/Misconduct:
All Service Operators have the right to provide client feedback and to cancel bookings based off of feedback from other Service Operators.
Please enjoy your travel experience in a kind and responsible manner.
Sailing Whitsundays/Mr Travel will treat this as any normal client cancellation and therefore the cancellation fees stated in the Client Cancellation Policy will apply.
---
Thank you for booking with our East-Coast travel experts here at Mr Travel/Sailing Whitsundays. If you would like any further advice, assistance in arranging accommodation, transfers or additional tours please get in touch.
---
"I just got off the Broomstick tour and had the most amazing time! The Crew were so fun and even let us join in with the sailing! It was my first time sailing but it will definitely not be my last. To top it off we saw dolphins at the back of the boat on BOTH NIGHTS! Thanks team Broomstick, see you at the after party tonight!"
Sara
"Thank-you for all your kind attention. You are a lovely crew, thank-you! Thanks to the captain for his love of life, and love for the sea. Thanks a lot to Mackenzie and Crispy for all your smiles, kindness and your meals! Thanks, see ya!"
Nancy
"We had the best trip sailing the Whitsundays on Broomstick. The crew were amazing and went above and beyond to make us feel comfortable and make the experience as enjoyable as possible. The food was awesome on the boat - nachos for a snack, yes please! And there was plenty of food. Can't wait to return. Thank you Zach, Tash and Crispy for an incredible experience! We also had the option to sleep on the deck on yoga mats - amazing!"
Amy O'Shockalockaa
"Awesome experience!!! Highly recommended. Nice, funny, caring and also good looking crew! Good food (healthy and delicious), very clean, cozy - and we had sooooo much fun! They took us on 3 snorkeling trips, and 3 beaches, sailing with them is such an amazing adventure. I stayed for two nights on the Broomstick - Wanted to stay longer - but like my mom used to say "you should leave when the party is at its best". Definitely want to do that again! Thanks you guys: Captain Josh, Crispy, Stian, Benny!"
Nancy Engel
"We hopped on the boat (Broomstick) on New Year's Eve, we had the best time ever, couldn't recommend a sailing team enough! Food was fantastic, staff were so friendly, helpful and informative, not only did they get us all back in one piece after our first time sailing but they made our New Year's Eve and day! Taking us to the Whitehaven beach! Special thanks to Remy, Krispy and Josh!"
Jessica Hutley
"Guys, very much appreciate your effort for the vegan food, it was awesome! Also loved the snorkeling, especially last day. Plus sleeping on deck and under the stars was a very unique cool experience. Plus, I loved the tropical front, thanks for making it happen!"
Michelle
"Amazing crew - girls were badass! Perfect amount of time at Whitehaven. Last snorkel place was my favourite!"
Maggie
"We did the two nights two day tour around the Whitsundays on the Broomstick. The boat was really clean and all you needed. The crew (Dave, Cat and Myrthe) were great - really friendly and very knowledgable about the area. The sailing was great despite the fact there was limited wind. Would definitely recommend!"
Sarah
"Had an absolutely amazing, heavenly and unforgettable sailing tour through the Whitsundays! I just enjoyed every single minute on the Broomstick and time passed too fast. Special thanks to the fantastic crew Clancy, Dave and Saskia! Everything was perfect! Highly recommend!"
Katja He
"Amazing 2 days and nights on the Broomstick with Rod, Xav and Saskia! Couldn't recommend it enough. The tour took us snorkeling, sea swimming, to Whitehaven Beach. Made some great friends along the way! Booking process was super easy too."
Ben M
"Fantastic couple of days on Broomstick, the crew were brilliant! Snorkeling, great views, great food, Whitehaven Beach, etc all amazing! Only complaint was that cabins were super stuffy at night, but Xev said that air-con was planned!highly recommend this trip."
Ben M
"We did a 2D/2N sailing tour on the Broomstick and had a very good time! The experience of sailing is in itself unforgettable, the landscapes in the Whitsundays are stunning. Good initiation to the snorkelling as well, and very good food on board. What we preferred was definitely jumping from the boat in the middle of the ocean!"
Estelle
"We did a 2D/2N sailing tour on the Broomstick and had a very good time. The experience of sailing is in itself unforgettable, the landscapes in the Whitsundays are stunning. Good initiation to the snorkeling as well, and very good food on board. What we preferred was definitely jumping from the boat in the middle of the ocean!"
Estelle
"We did a 2D/2N sailing tour on the Broomstick and had a very good time. The experience of sailing is in itself unforgettable, the landscapes in the Whitsundays are stunning. Good initiation to the snorkeling as well, and very good food on board. What we preferred was definitely jumping from the boat in the middle of the ocean!"
Estelle
"Thanks Heaps! It was an awesome trip. Whithaven beach was definitely one of the highlights. thanks to the crew for all the involvement, care and commitment!! "
Benjamin
"Had an awesome 2 days and nights on Broomstick. Captain Rob and crew where just the best. We got so much time in each place. Some places no other boat was there. So had it to ourselves. And being one of the first at Whitehaven Beach was just great. Thanks guys "
Gemma
"Sailing on broomstick was a great experience! Of course whitehaven beach was breathtaking! The sailing and snorkeling was great! The crew went out of their way! Not one complaint! Great value! Truly worth it!"
Sofia