AW Reef And Whitehaven Adventure
CLOSE
View More Thumbnails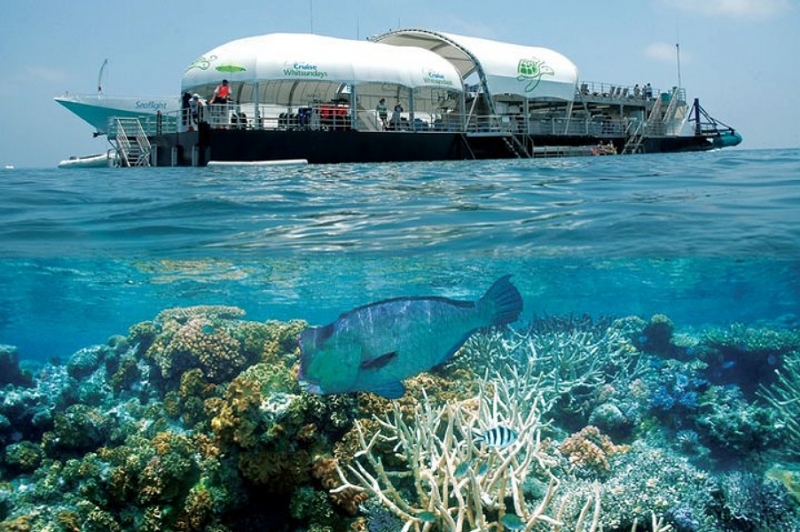 Loading...
Pricing Options
RRP $491
$473 AUD per Person
- Dorm Accommodation at Nomads
(Between: 01 Apr 2018 and 31 Mar 2019)
AW Reef And Whitehaven Adventure Features:
1 day at Reefworld, on the Great Barrier Reef
Snorkelling gear and wet/stinger suit
Buffet lunch
3 nights at Nomads Backpackers or Base Backpackers
1 lay day in Airlie Beach
1 day sailing trip on Camira
1.5 hour visit to Whitehaven Beach
You May Also Be Interested In:
Awesome FoursomeReef, Camira & Island HopperCastaway PackageIsland Hopper Pass
---
AW Reef And Whitehaven Adventure features the best Outer Reef day cruise in The Whitsundays, teamed up with a Whitehaven Beach adventure and accommodation over 3 days and 3 nights! Submerge yourself into the pristine waters of the Great Barrier Reef at Hardy Reef and you will quickly find yourself in a state of awe with the magnificent corals and abundance of tropical marine life. You will also experience the wonders of the Whitsunday Islands on board one of the world's fastest sailing catamarans, exploring the magnificent Whitehaven Beach & Hill Inlet, venturing through the Whitsunday Islands National Park and visiting one of the region's secluded bays! Team this with top notch accommodation in Airlie Beach and you have the perfect package! This Package is suitable for 18-37 year old guests.
Day One
Go on the ultimate Great Barrier Reef trip on Reefworld one of the most comfortable and modern vessels in Australia! Offering unsurpassed comfort, space and stability, Cruise Whitsundays takes you out Hardy Reef on the Outer Great Barrier Reef where the water visibility and marine life are stunning beyond belief! Cruise past the Whitsunday Islands, taking in the spectacular scenery and then make your way to the pontoon on Hardy Reef.
Reefworld Features:
Snorkelling gear and wet/stinger suit
Buffet lunch
Morning and afternoon teas/coffees
Semi-submersible
Underwater viewing chamber
Waterslide off the top deck into ocean
Sun loungers on top deck
Several other activities available for purchase onboard such as scuba diving and scenic flights
Experience Queensland's most innovative and spacious reef pontoon located at Hardy Reef. Featuring Queensland's largest and most spectacular underwater viewing chamber and being the only reef pontoon in Australia with a giant waterslide, you'd be crazy to miss out on this exciting day trip!

Scuba Diving & Snorkelling
The Cruise Whitsundays Reefworld pontoon is adjacent to coral walls, the length of which you can explore by snorkelling as much as like during the days. It has its own ecosystem with magnificent corals and a diversity of marine life found only in sheltered areas. It provides a unique world for you to explore and the prolific fish life will surprise and delight you especially the giant groper!
Guided snorkelling tours are also available to purchase on board with small groups the guide will take you to very special spots where giant Maori Wrass, coral formations, tropical fish, turtles and reef sharks are there to be seen. Dont worry if not a keen summer you can enjoy the sights from the comfort of a semi submersible or viewing chamber.
There is no better place to experience the magic of your first scuba dive than at the outer Great Barrier Reef, no experience necessary. Experienced divers can enjoy spectacular dives at specially selected sites with a variety of coral formations and marine life. Intro and cert dives are all booked and paid for onboard the boat, please see staff on ferry ride out. Another bonus of the Reefsleep tour for the certified divers is the rare chance to do a night dive, these must be pre-booked at time of tour booking to make sure dont miss out. These are the current dive prices, please note age and medical restrictions apply.
Introductory Dives - $139pp for 1st dive and $59pp for 2nd dive
Certified Dives - $99pp for 1st dive and $59pp for 2nd dive
Certified Night Dives - $150pp for 1 dive

Night One
Stay at the Airlie Beach property of your choice!
Nomads Backpacker Resort: Set amongst 7 acres of tropical gardens abundant with native flower and fauna, Nomads Backpackers Airlie Beach offers a number of accommodation types, perfect for laid back travellers, looking for a great atmosphere and friendly staff. All rooms are ensuited with air-conditioning, lockers & individual reading lights in dorm rooms. Choose from one of the dorm or private rooms on offer. Nomads Backpackers Airlie Beach also offers great facilities and hospitality. After a tough day why not join us at the bar and experience the relaxed atmosphere and cheap drinks.
Base Backpackers: Set in 6 acres of lush tropical gardens in the heart of Airlie Beach, Base Backpackers is your direct access to the Whitsunday Islands and the Great Barrier Reef. Only 50 metres away from Airlie Beach lagoon and a hop, skip and a jump away from all the local shops, restaurants, cafe's and bars. Base Backpackers could not be in a more perfect location and you pay hostel prices for great quality accommodation. Choose Base Resort Airlie Beach when you come to visit the Whitsundays!
Day Two
Top up the tan by the pool, at the Lagoon or on the beach. Airlie Beach is a lively little town with plenty of bars, restaurants and shops. More than enough to keep you entertained for a day!

Night Two
Stay at the Airlie Beach property of your choice!

Day Three
Sail your way on Camira through the beautiful Whitsunday Islands. Experience the rush of quick sailing with the comfort of great stability at the same time. With its size and design, Camira cuts through the sea with unbelievable grace.
Departing from Port of Airlie at 8am and returning just before 6pm, you will not find another day tour that offers these extended hours. This means more time for you to enjoy!
Camira Features:
A visit to Whitehaven Beach (approximately 1.5 hours)
Morning tea, lunch, afternoon tea and all refreshments included!
*licensed to serve beer and wine from 11am
Beach activities
Spacious vessel with indoor and outdoor seating areas
Snorkelling gear and lightweight wet suits available free of charge
Pack all of the Whitsundays must-dos into one relaxing day! When youve only got one day to explore the Whitsundays, speed is vital! Camira is capable of sailing at up to 30 knots and will ensure that you do not miss out on anything! You will have plenty of time to soak up the sun at your prime destination, Whitehaven Beach, and get up close and personal with the Great Barrier Reefs spectacular marine life!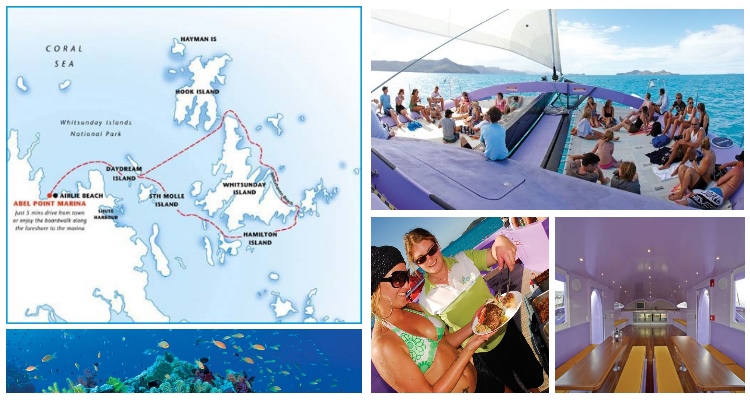 All aboard! As soon as Camira leaves the Marina, setting the sails becomes top priority and a sight to be awed. See how the crew use a combination of manual technique and powerful mechanical winches to pull up the mammoth sails. Choose from laying on the nets, lounging on the comfortable seats or seeking out the snacks in the spacious interior cabin... wherever you are on board the vessel, you are sure to find yourself at ease. Camira is the fastest sailing catamaran in the Whitsundays and the ONLY sailing tour that is able to visit Whitehaven Beach during a day trip.
Snorkel the coral reef
You will sail your way through the Whitsunday Passage with great speed. When the crew turn the engines off, you will find yourself in a paradise with nothing but the sounds of nature surrounding you. Your knowledgeable crew will commentate as you weave through the unique islands that make up the region. Learn about how they were formed, named, discovered and how they have developed over the years. Your first destination will be Hook Passage: here, you and the other guests will have the opportunity to admire the spectacular coral reef gardens on a supervised snorkel.
The beach that everyones been talking about...
Following your in-water experience, you will once again set sail and head south along Whitsunday Island until you arrive on Whitehaven Beach. The crew will transfer you to the beach where you have the chance to do whatever you like. You may choose to take a stroll along the lengthy beach, simply sit and soak up the scenery and rays or you may join the beach activities put on by your crew. You will have ample time at the beach, working up an appetite that will be beyond satisfied when you re-board the boat for a full BBQ buffet lunch.
Night Three
Stay at the Airlie Beach property of your choice!

*Backpackers must be aged 18-35, have a valid backpacker card OR have proof of staying at an Airlie Beach hostel (receipt) or campervan receipt.
---
BOOK WITH US TODAY! CALL 1800 550 751 OR (07) 4914 2425 IF LOCAL
What To Bring
Reefworld: Please bring only a small bag with: hat, swim-wear, beach towel, camera, sunscreen 30+, cash or credit cards for on board purchases and jumper or jacket.
Camira: Do not forget your hat, sunglasses, sun cream, beach towel, a light jumper for your return journey, swimmers and your camera.
What's Included
Reefworld: Snorkelling equipment, Wet/stinger suit, buffet lunch, morning and afternoon tea/coffees.
Camira: This is a fully inclusive day trip. All activities, morning tea, a delicious barbecue lunch and drinks are included, with beer, wine, soft drinks, tea & coffee available throughout the day (Free)* Alcohol is available after 11am. Also on board are stinger suits free of charge and all local fees are included.
What's Extra
Reefworld: Drinks, alcohol, snacks, photographs, souvenirs, scenic flights and guided snorkelling tours.
Scuba diving is also available to purchase on board for certified or introductory divers, is subject to medical conditions and age restrictions..
Camira: Nothing! Its all Inclusive.
The Backpacker Prices shown are only available to bona fide VIP, ISIC, IYTC, ISE, YHA, Nomads, Base, SUT, Travel Bugs, Adventure Travel or Peterpans card holders. Backpackers are further defined as 18-35 years of age and staying in backpacker accommodation or a campervan. Clients will be asked to present their card at check-in. If they cannot produce it then they will not be able to travel without paying a surcharge and may face cancellation fees on the packages. Awesome Whitsundays retains full rights to grant or refuse a backpacker discount at its discretion. Discounts are only available on the products where specifically stated. Please assist us by adhering to these conditions.
Terms and Conditions
All departures and itineraries are subject to weather. Tours may be changed or cancelled for any reason at the discretion of the tour operator. It should be noted that adventure travel involves risk. Whilst we make every effort to safeguard clients, we cannot be responsible for personal injury or loss due to actions of our clients which are beyond our control. We recommend that all clients have travel insurance covering illness, injury, loss or damage to personal belongings and not being able to travel on the confirmed date of departure. Also please note is select swag accommodation this is a camping experience so sleeping on deck open to the elements and weather. Please be aware operators pass on credit card merchant fees so there is a non-refundable 2.5% surcharge for VISA and MASTERCARD card purchases.
Please advise us before booking if any passengers are under 18 years old so we can make sure appropriate trip. Please ask us for more details
Cancellations
All client cancellations forfeit 25% of total ticket price and all client cancellations made less than 7 days prior to departure will result in complete forfeiture of the full price of the tour. If the tour operator has to cancel the trip (prior to the departure) and we cannot offer a suitable alternative, then a refund will be given minus card fees. We strongly recommend that you have travel insurance, especially during the wet season.
Please note it is the responsibility of ALL passengers traveling to advise both your travel agent at the time of booking and vessel check-in agent before boarding of ANY medical conditions including food allergies you may suffer from.
Thank you for booking with Mr Travel/Sailing Whitsundays. If you would like any advice or assistance in arranging accommodation, transfers or additional tours, please do not hesitate to contact us.