AUSI Open Water Course
CLOSE
View More Thumbnails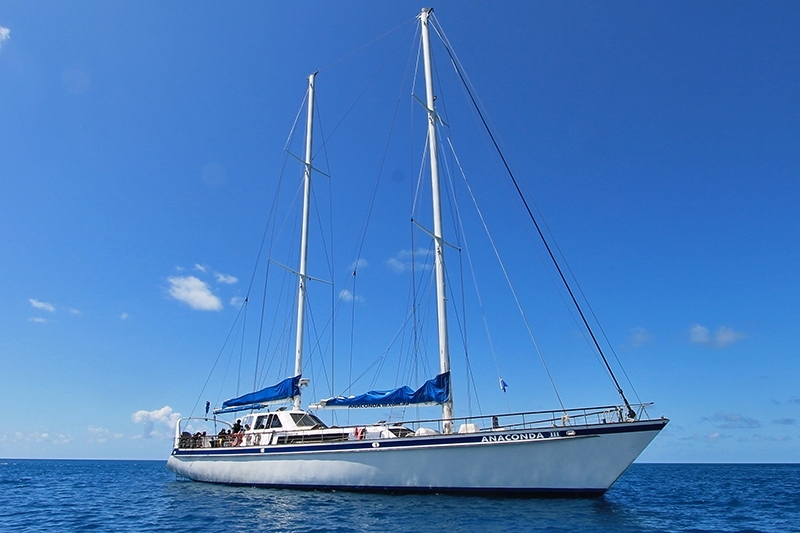 Loading...
Departure Times
Departs: 9:45am - Mondays and Thursdays
Returns: 3:00pm - Fridays and Mondays
*Please note Anaconda III will no longer be operating after January 9 2018
Get certified whilst diving some of the World's best reefs!
Learn to scuba dive in the warm tropical waters of the Great Barrier Reef and Whitsunday Islands, as you gain World recognized Open Water Certification! Complete your AUSI Open Water Dive Course on board Anaconda III, with the added bonus of visiting some of the top dive sites in the world! This course is limited to a maximum number of just 8 students, so you won't get lost in the crowds. Once you've successfully completed the course, you will receive your certification and be able to dive anywhere else in the world...
*Please note Anaconda III will no longer be operating after January 9 2018
The AUSI Open Water Dive Course is by far one of the best value courses on the East Coast of Australia. Learn how to scuba dive, see the Whitsundays and experience the Outer Great Barrier Reef for one great value low price! Learning how to scuba dive should be at the top of everyones bucket list, and we want to make sure you can do this without compromising your Whitsunday experience or emptying your pockets.
AUSI Open Water Dive Course Features:
Full 5 day courses
4 student Scuba dives in the Great Barrier Reef Marine Park at no extra cost
Amazing facilities
Night dives available (additional cost)
Textbook, workbook, logbook and dive tables
All dive equipment included
Highly trained, well respected and experienced instructors to make sure you get the most out of your course
AUSI (Australian Underwater Scuba Instructors) Certification
2 days of pool skills and theory
3 days/3 nights onboard maxi yacht Anaconda III
Sample Itinerary
2 Days Pool and Theory Training:
Your first 2 days of training start on a Thursday or Monday, and are conducted in a teaching pool and classroom, in the days prior to your Anaconda III trip. Here you will learn all the skills and theory needed to conduct safe diving in open waters, including kit assembly and the physics behind the sport. These 2 days will include theory assessments, pool dives and a swim test (tread water for 1 minute).

3 Days/3 nights Whitsunday Sailing:
The open water scuba dives take place in the sheltered waters of the Whitsundays, on board the mega yacht Anaconda III. Your first open water dive will take place at the local Whitsunday fringing reefs, offering calm, shallow and comfortable conditions, perfect for first time diving! Once youre comfortable and ready to go, youll make your way to the Outer Great Barrier Reef where youll complete 4 skill training dives in the open water, a requirement needed to complete the course. Your experienced dive instructor will demonstrate all the necessary skills and youll be under their expert guidance the entire time.
Anaconda III is a 101ft Mega Yacht boasting a large air-conditioned saloon and bar, with TV and comfy lounges. She also flaunts a huge lifting table on which a smorgasbord breakfast, lunch and dinner are served in a buffet style. They take pride that all meals served on board are prepared by the on board chef, using only the best local produce. With prior notice given, any special dietary requirements can also be catered for, please make sure to advise at the time of booking. The licensed on board bar prices are very reasonable too, with a daily happy hour and a large selection of wines and beers available.
| | |
| --- | --- |
| Day 1 | Students meet at the dive centre at 9:00am with passport photos and all necessary paperwork i.e Medical Certificate. Here, you are introduced to your instructor. Day one consists of 3 theory sessions with instruction and 3 pool sessions. Youll need to bring your own lunch, drinks & snacks or you can purchase them from the local shop. |
| Day 2 | By this stage, as a student, you will be assembling your own gear and then experience a further 2 theory sessions and 2 pool sessions. Youll need to bring your own lunch, drinks & any snacks. At the end of day 2, youll sit an exam to gauge your level of competency. You will finish course around 3pm so can check in for your boat trip at Magnums. At 6:30 pm youll board the magnificent dive vessel Anaconda III for a 3 night live aboard sailing cruise in the Whitsundays, where your 4 open water dives will take place. |
| Day 3 | Wake early to begin your open water training sessions on the Great Barrier Reef and Island Reefs of the tropical Whitsundays. |
| Day 4 | On this day, you will complete your open water training sessions. Its not all theory and skills training during the cruise though! Youll also have time to relax and enjoy what the beautiful Whitsundays have to offer. Enjoy the amazing white silica sands at Whitehaven and the spectacular views at Hill Inlet Lookout, and of course youll see an abundance of marine life and colourful corals during your training scuba dives too. Once you are certified, you can undertake a night dive with a guide if you so desire (additional fees apply). |
| Day 5 | Youll now have time to relax and take part in your new found scuba skills with friends youve made along the way. Later on, youll return to Airlie Beach, where the party is just getting started! This evening is a chance to celebrate your qualification and the crew invite you to join them for a few drinks after the cruise. Next morning you are issued your World recognized certification card. Congratulations! |

Your Boat
Anaconda III Features:
All meals are freshly prepared by your crew
Morning tea and afternoon tea
Tea and coffee
A visit to the world famous Bait Reef, located at the Outer Great Barrier Reef
Snorkeling equipment included
Large spacious decks and cabins
Licensed bar on board - with happy hour specials!
32 guests making for a sociable and action packed experience
Anaconda III offers a variety of spacious accommodation styles, all featuring air-conditioning and en-suite bathrooms. Anaconda III has one queen cabin, two private double cabins, two private twin cabins and also several quad share cabins. Each cabin has en-suite bathrooms with shower, toilet and basin. The sleeping arrangements are designed to make Anaconda III the perfect pick for both couples, groups and single travelers. With spacious decks, large lounging areas and a saloon, Anaconda III is one of the most comfortable yachts in the Whitsundays! Please note for safety reasons you MUST be able to swim to get in the water to snorkel or dive, if you can not swim afraid that cant do the course.

To commence the Open Water course all students will need to bring 2 passport photos. You must also fill in a medical questionnaire prior to commencement of course that will be sent to you via email, at time of booking. Depending on results of medical questionnaire you maybe asked to complete a Australian Dive Medical AS45001 prior to course. This is at your own expense.
BOOK WITH US TODAY! CALL 1800 550 751 OR (07) 4914 2425 IF LOCAL
What To Bring
Boat - Please only bring a small soft overnight bag without any zippers (ie. a re-usable shopping). A zipless souvenir bag can be purchased at the boat's check-in office for a few dollars. Ensure you pack clothes, a hat, swimwear, beach towel, sunscreen 30+, warm pullover for the evenings (seasonal)and cash/card for on board purchases. Please feel free to bring on board a reusable water bottle and/or additional snacks. All alcohol is to be purchased from the licensed bar on board - NO BYO alcohol allowed on board. Excess luggage can be stored at several places in town including your boat's check-in office or at your accommodation. Most charge between $5-10pp for the duration of your trip.
Open Water Course - 2 passport photos, pen and paper, dive medical if requested, you will need to bring with you lunch, snacks and drinks for both days.
What's Included
Boat - Skipper, crew, water, meals, linen, snorkeling equipment and all Marine Park fees

Open Water Course - Workbooks, Logbook, 4 Scuba Dives and AUSI Open Water Certification.
What's Extra
Boat -
You are required to wear a full length wet/stinger suit to snorkel or dive, you can bring own or hire one on board for $22pp for whole trip
Dinner on the day of departure is not provided, please have dinner before boarding the vessel
Alcoholic beverages to be purchased from licensed bar (Beer - $4.50; Glass of wine - $3.50; Spirits - $5.50)
Soft drinks and water available for purchase on board
Further Scuba diving is an additional cost - all diving can be decided on and paid for on board. Conditions apply
Open Water Course -
2 passport photos.
Lunch, snacks and drinks.
If over 45 or if advised to get a dive medical they can be obtained from 121 medical centre, Cannonvale, 07 4946 4622 or The Doctors, 283 Shute Harbour Road, (Opposite McDonalds) Airlie Beach, 07 4948 0900. This is at own cost (approx $60AUD).
Scuba Diving:
Your safety in the water is our primary concern. To ensure your comfort and safety divers must be 18 years or over and they may require that you have a Divers Medical Certificate for certain medical conditions and also if you are over 45 years old.
Please read the following questions carefully:
Do you currently have an ear infection?
Do you have a history of ear disease, hearing loss or problems with balance?
Do you have a history of ear or sinus surgery?
Are you currently suffering from a cold, congestion, sinusitis or bronchitis?
Do you have a history of respiratory problems, severe attack of hayfever or allergies, or lung disease?
Have you had a collapsed lung (pneumothorax) or history of chest surgery?
Do you have active asthma or history of asthma, emphysema or tuberculosis?
Are you currently taking medication that carries a warning about any impairment of your physical or mental abilities?
Do you have behavioral health problems or a nervous system disorder?
Are you or could you be pregnant?
Do you have a history of colostomy?
Do you have a history of heart disease or heart attack, heart surgery or blood vessel surgery?
Do you have a history of high blood pressure, angina, or take medication to control blood pressure?
Are you over 45 and have a family history of heart attack or stroke?
Do you have a history of bleeding or other blood disorders?
Do you have a history of diabetes?
Do you have a history of seizures, blackouts or fainting, convulsions or epilepsy or take medications to prevent them?
Do you have a history of back, arm or leg problems following an injury, fracture or surgery?
Do you have a history of fear of closed or open spaces or panic attacks (claustrophobia or agoraphobia)?
If any of these conditions apply to you, you will require a Divers Medical Certificate before you can scuba dive.
A Divers Medical Certificate can be obtained from:
Whitsunday Doctors Service
257 Shute Harbour Rd (Opposite xBase)
Airlie Beach
Ph: 07 4946 6241
Terms and Conditions
Only available for purchase for Anaconda III passengers. All departures and itineraries are subject to weather. Tours may be changed or cancelled for any reason at the discretion of the AUSI dive company or Anaconda sailing company. It should be noted that adventure travel involves risk. Whilst we make every effort to safeguard clients, we cannot be responsible for personal injury or loss due to actions of our clients which are beyond our control. We recommend that all clients have travel insurance covering illness, injury, loss or damage to personal belongings and not being able to travel on the confirmed date of departure. Please be aware operators pass on credit card merchant fees so there is a non-refundable 2.5% surcharge for VISA, MASTERCARD and AMEX card purchases. Please note for safety reasons you MUST be able to swim to get in the water to snorkel or dive, if you can not swim afraid that cant do the course.

Please advise us before booking if any passengers are under 18 years old to ensure this is the appropriate trip. Also please note that you need to allow time prior to the boats departure to check in, please ask us for more details.
Cancellations
All client cancellations forfeit 25% of total ticket price and all client cancellations made less than 21 days prior to departure will result in complete forfeiture of the full price of the course and boat trip. If you are advised to get a dive medical please do so as soon as possible because if you fail the medical and is inside of the 21 days notice you may forfeit the full price of the course and boat trip. If the AUSI dive company or Anaconda sailing company have to cancel (prior to the departure) then a refund will be given for it, minus card fees. We strongly recommend that you have travel insurance especially during the wet season.

Students must travel on the Anaconda 3 3 day/3 night reef trip to participate in the openwater course, advanced course and dive packages. Stinger suithire not included in price. For divers safety, all dives are subject to the participant using stinger protection equipment. Night dives to be conducted at instructors discretion. We advise adventure travel involves risk. Whilst we make every effort to safeguard divers, we cannot be responsible for any damage, personal injury or loss due to actions beyond our control. We recommend all divers take out travel and dive insurance. We reserve the right to alter destinations and/or activities at staffs discretion, due to prevailing weather and tidal conditions, and to substitute vessels at any time for any reason. Cancellations due to failed dive medical will be fully refunded upon presentation of medical certificate. Transfers will incur a fee of $20.
AGE REQUIREMENTS - Minimum age to take part in course is 12 years old with parent or guardian consent. There is no maximum age but if over 45 year old will need a medical prior.

Please note it is the responsibility of ALL passengers travelling to advise both your travel agent at the time of booking and vessel check-in agent before boarding of ANY medical conditions including food allergies you may suffer from.

Thank you for booking with Mr Travel if you need any advice or assistance making arrangements for your accommodation or transfers please do not hesitate to ask.
"Great staff, helpful, friendly and responsible. Felt very safe in the water with thorough briefings and adequate safety steps. Diving spots were great too and Andy and Jiana were fantastic, really nice guys and made the trip."
Row
Mon 11 May 2015
"Theory & Pool: Good simple and repetitive instruction the basics to get used to the equipment and breathing. Felt comfortable in shallow water. Ocean Instruction/ Diving: Nice and relaxed first few minutes at our own pace which allowed us to get used to the water/gear. Brilliant dive, stayed as group at a nice and easy pace and depth. it was our fist dive and was amazing."
David
Fri 27 Feb 2015
"Pool and Theory: Very easy to understand, easy going instructor very helpful.
ocean dives: Amazing dive sites, calm instructor, need everything easy, will recommend."
Niklas Renier - Sweden
Mon 23 Feb 2015
"Pool and Theory: Very easy going but professional.
Ocean dives: Amazing. Beautiful dive sites, great time. "
Jacky - USA
Wed 11 Feb 2015
"Pool/ Theory: Very well done, course & training very through. Ocean diving: Great! Instructor kept things fun but still clearly explained concepts if required and answered all questions."
Ryan
Fri 06 Feb 2015
"I was in confidence with the instructors, they are calm and the instruction were very clear. A incredible experience underwater! "
Satiza - France
Mon 19 Jan 2015
"Very good, easy to understand and good that was small groups. "
Nik and Julia - Germany
Tue 13 Jan 2015
"Staff were helpful and great fun to be around...enjoyed ever minute of it!"
Thomas Hogan - Ireland
Wed 07 Jan 2015
"Very thorough and helpful. The instructor was very helpful and diving was an amazing experience. "
Ciara Griffin- Ireland
Fri 02 Jan 2015
"Theory and pool instruction: Everything was easy to understand and clean. Ocean Instruction and diving: Same as the theory, instructor was so friendly, understanding and concerned by what they do. Thanks again!"
Damien
Sun 28 Dec 2014
"Theory & Pool is really interesting and enjoyable! The ocean instruction/ diving is really good ! A lot of fun :)"
Natalie
Thu 23 Oct 2014
"Beautiful areas, patient caring dive instructors, enough time to see everything and felt safe during diving "
Honigbiene
Sat 13 Sep 2014
"Really good , information was very helpful, instructor has lots of knowledge and that helped a lot. very friendly as well. "
Youssef - Netherlands
Thu 11 Sep 2014
"Very good Instructor, relaxed Guy. Good explanations. "
Niels Van der Plas - Netherlands
Tue 09 Sep 2014
"Good. Peter help good with everything, the instructions were clear, and it feels really safe. "
Susanne
Sun 07 Sep 2014
"The diving was awesome. I did dive around the Whitsunday Islands and the Outer Reef. I felt safe and the turtles were amazing."
Thu 28 Aug 2014
"Good practice, good pace, everything step by step though. Got really confident. Would recommend. "
Julian Springer - Netherlands
Mon 18 Aug 2014
"Instructors were very clear. Everything was explained clearly and understandable. Peter had good patience and good teaching abilities. Ocean diving was very good as well. Peter was very clear on everything the only think was the visibility of the water wasn't that great. "
Primo Van Dam- Netherlands
Sun 17 Aug 2014
"It was great, definitely one of the best experiences I've had on my trip in Australia. Would recommend it to a friend and do it again."
Barnaby
Sat 02 Aug 2014
"LAND PART - Very good chance to cover basics in a controlled environment. Instructor accommodating to all needs both in theory and whilst in pool. Instructor very focused whilst we in underwater environment. BOAT PART - Good experience to attempt deeper dives while instructor still present. Points and features were pointed out and checks were continuous."
Andrew Pullen - Aus
Wed 30 Apr 2014
"LAND PART - Excellent, Good prep for ocean BOAT PART - Very helpful and knowledgeable. Two thumbs up!"
Alister Rose - Aus
Wed 30 Apr 2014
"AWESOME!! Great diving + tuition, just a shame the trip got cut short due to a cyclone on its way! Friendly staff + nice vibe, will recommend + want to do again."
Charlotte
Fri 25 Apr 2014
"Theory and pool instruction - Pretty cool, good way to get used to breathing under water and stuff. Ocean instruction - Very nice experience, looking forward to do more dives in the ocean. Great value for money."
Caete Wiedmann
Mon 17 Feb 2014
"Theory thorough, clear, fun and informative. Jacks delivery was informal which was good. Pol was good. instructions clear and instructor patient and attentive to needs. Loved it, amazing conditions, great instructors all crew involved have been fantastic."
Karen Franks - UK
Sun 09 Feb 2014
"Awsome! Sad, that it is over already. Best experience in Australia so far! Jono rocks! like hell! Excellent Dive instructor: felt save all the way and had a really good time"
Niklas
Fri 08 Nov 2013
"Very good. The atmosphere was relaxed while focused. Perfect for individually adjusted learning. Nothing was rushed. Enough time for all questions and it stayed fun. IT was great to combine the skills with experiencing the reef."
Tobais
Tue 01 Oct 2013
"Very thorough and personalized. Covered everything and felt comfortable in the pool before heading to Ocean. Good progress of difficulty in the ocean. Always felt comfortable and safe. Great diving"
Robert
Wed 11 Sep 2013
"Great experience, well structures and easy to understand. Cool atmosphere."
Chris
Mon 09 Sep 2013
"We had fun sessions in the pool, also in the theory classes, lots of good discussions about all the different aspect of diving. Great instruction! Thumbs up John. The ocean Instruction was even more awesome, really a great experience to take home. Thanks for being our diving instructor John. You really did the best job at it!"
Kilian
Fri 09 Aug 2013
"Rick was a great teacher - it was useful to have revisions of what we had done in class as well as in the pool. I was amazed Rick was able to answer all out detailed questions. On the top of that it was fun! James was also a very good teacher... he was able to explain us any details and make us be independent divers while still under supervision. "
Tamara
Tue 19 Feb 2013
"Wow! Was amazing! Best instructor ever, learned alot ans lost my fear of water. Felt very comfortable and safe..."
Sakia
Tue 19 Feb 2013