Whitsunday Blue 3 Day, 3 Night
CLOSE
View More Thumbnails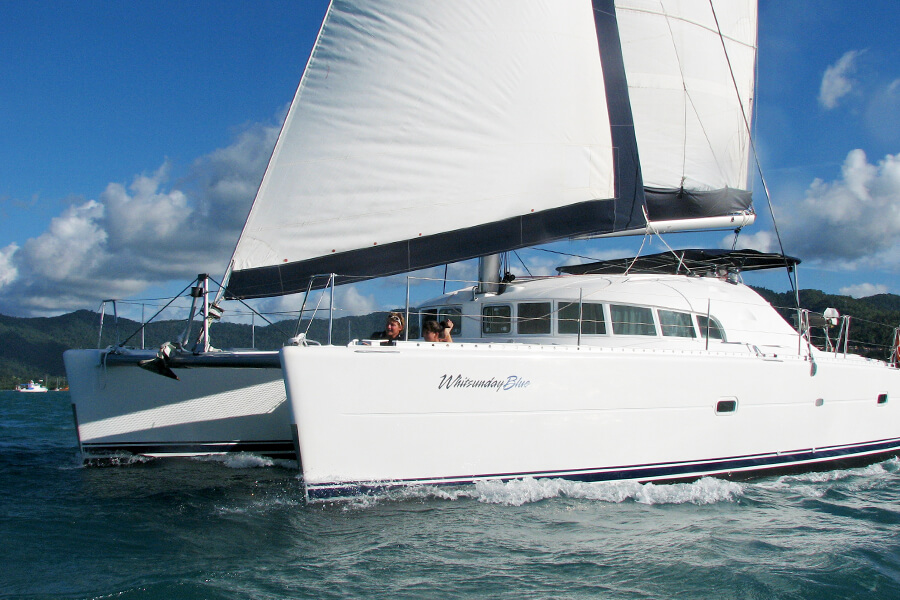 Loading...
Departure Times
Departs: 3:00 pm - Saturdays
Returns: 12:00 pm - Tuesdays
Pricing Options
$879 AUD per person
- Private Double Cabin with Shared Bathroom (requires 2 people) ($1758.00 Total)
(Between: 15 Sep 2016 and 30 Mar 2017)
$899 AUD per person
- Private Double Cabin with Ensuite (requires 2 people) ($1798 Total)
(Between: 16 Sep 2016 and 30 Mar 2017)
$79 AUD per Person
- Pre booked dive
(Between: 02 Aug 2015 and 30 Mar 2017)
The ultimate in comfort and style!
A custom built yacht designed purely for intimacy and relaxation, Whitsunday Blue offers the best in comfort and style with its romantic atmosphere. Four private cabins fully equipped with en-suites make up the spacious interior, along with a comfortable saloon and dining area. Onboard your experienced skipper and friendly hostess will take care of your every need with their exceptional service and local knowledge.
You Might Also Be Interested In:
Sail & Stay in StyleBlue Coral Package
---
Relax onboard Whitsunday Blue as you sail through the beautiful Whitsunday Islands, the ultimate paradise. Visiting between July and October? Be amazed by the sight of Humpback Whales as they breach and play in the sunny waters. These gentle giants make every trip to the Whitsundays and unforgettable experience! Whitsunday Blue offers the very best in personal treatment, with only 8 passengers per trip and two crew, you are the most important person onboard! Snorkel the Great Barrier Reef, wander the beautiful white sand of Whitehaven Beach, try out our stand-up paddleboards and much more. Whitsunday Blue is a modern and very comfortable vessel, designed for relaxation and style.
Whitsunday Blue Features:
Alfresco dining and air-conditioned spacious saloon area
Three private cabins with en-suite
Special underwater blue lights which attract marine life
On-board snorkel equipment and wet-suits provided for your convenience
Portable DVD players in each cabin
Clear bottom kayak (explore the reef without getting wet!)
Professional Skipper and hostess
Stand-up Paddleboard
Delicious meals made from local sourced ingredients prepared on-board by your professional crew
BYO alcohol
Make your dream holiday come true in romance and comfort with Whitsunday Blue. Exclusive rates and unbeatable prices available.. Advanced bookings are a must on this popular catamaran.
BOAT LAYOUT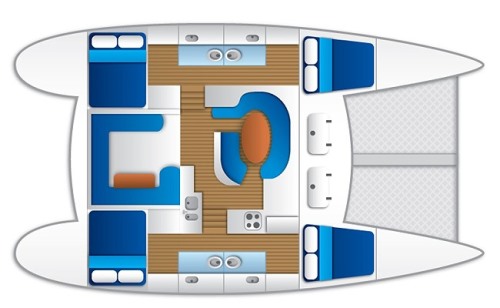 A very spacious vessel, Whitsunday Blue has four private cabins all with en-suites. The interior saloon seats all passengers for evening meals or you can dine under the stars on our aft-deck seating area. The spacious for-deck is ideal for sunbathing and there's plenty of shaded area to escape the heat and relax in the shade.
Sample Itinerary
The Whitsunday Islands is one of the worlds premier holiday destinations and you'll find out why! A sailing and boating paradise, you'll be marvelled by the beauty of this majestic island chain, with its snug anchorages and endless bays and coves, each more picturesque than the last.
Whitsunday Blue is never shy of fun adventures and activities, with each day more exciting than the last! Sailing, swimming and snorkelling the beautiful Great Barrier Reef is just a normal day in the Whitsundays. Explore Australia's national parks and spot the local wildlife, wander the pristine white sands of Whitehaven Beach or take the walk to Hill inlet lookout, the third most photographed place in Australia!
Whitsunday Blue is designed to operate to the wishes of our guests, so you enjoy the ultimate holiday experience in the Whitsunday Islands. No two trips are the same as we take you from one idyllic island location to the next.



SNORKELLING
The Whitsunday Islands boasts some of the most marvellous and diverse corals in the world. Experience the magic of this underwater paradise up close as you snorkel and swim in some of our most beautiful and protected bays and coves. Never snorkelled or unsure? Our qualified crew are there to help you learn, and we also provide a range of flotation devices to make your experience more enjoyable and comfortable.
WHITEHAVEN BEACH & HILL INLET LOOKOUT
World famous and incredibly beautiful, you'll find out why Whitehaven Beach attracts thousands of people to Australia every year. The third most photographed place in Australia, Hill Inlet is a view you will never forget. Take the bushwalk up to the lookout and listen as our crew impress you with their local knowledge of the area and some of the fantastic history of the Whitsunday Islands.
Take a walk down to the beautiful beach and wander the pristine white sands and crystal clear shallows. Chase stingrays and small reef sharks as they flit through the warm, sunny waters or relax on the sand and soak up the sunshine! Whatever you choose to do, Whitehaven Beach will stay with you forever.
CLEAR KAYAK
Perfectly transparent with two person seating, these fantastic kayaks are the ultimate reef toy. Experience the thrill of colourful and diverse marine life right through the clear hull. The vibrant coral life is a magical sight and the waters teem with curious fish that often come closer to investigate you. Turtles are not uncommon and these wonderful creatures can often be seen in close proximity to kayakers.
Cant swim? These clear kayaks are the perfect choice. Our friendly crew are there to give you a helping hand to make your experience all the more enjoyable.
GOURMET CUISINE
We guarantee the quality of our food aboard Whitsunday Blue and we promise you wont be disappointed. Fresh fruit, cookies, tea and coffee are always available. All dietary requirements are catered for and we are happy to help with special occasions, such as birthdays and anniversaries. Here is a sample of what you can look forward to aboard Whitsunday Blue.
SAMPLE MENU
Day One
On Arrival: Tropical/seasonal fruit selection pineapple, rock melon, mango and kiwi fruit
Sunset snacks: Fine dips accompanied by crispy strip vegetables and savory crudites
Dinner: Flamed Tuscan chicken served with a fresh Greek salad, lashings of Feta, sun-dried tomatoes and olives. Accompanied with oven baked crisp dinner rolls
Dessert: New York style cheese cake with berries and cream

Day Two
Breakfast: Fresh fruit platter, Swiss muesli, cereals, warm croissants and banana bread
Morning Tea: Individual French pastries
Lunch: Superb smorgasbord of champagne leg ham, Waldorf salad, spinach and pine nut salad, traditional Greek salad with wholegrain and scotch rolls
Afternoon Tea: Delicious fudge cookies with tea/coffee and hot chocolate
Sunset snack: Antipasto platter
Dinner: Rib fillet topped with a delicious red wine mushroom gravy, served with potato gratin and steamed seasonal vegetables, accompanied by cheese and herb ciabatta bread
Dessert: Chocolate cake or warm apple pie

Day Three
Breakfast: Fresh fruit platter, Swiss muesli, cereals & pancakes with all the yummy toppings to with it. Served with tea, coffee and orange juice.
Farewell meal: Antipasto platter with olives, sun-dried tomatoes, a variety of soft and hard cheeses and more...

Looking for a different trip on Whitsunday Blue?

What does Eco Accreditation mean? What does WCBIA mean?
Please note:
Minimum age is 18 year old and guests must be able to swim if they would like to snorkel. This sailing adventure is only suitable for active people and a basic level of fitness and mobility is required.
---
You May Also Like One Of These Products:
Whitsunday Blue 3Whitsunday Getaway 2On IceWhitsunday Adventurer
---
BOOK WITH US TODAY! CALL 1800 550 751 OR (07) 4914 2425 IF LOCAL
What To Bring
Please bring only a small soft bag with: change of clothes, hat, swim-wear, sunscreen 30+, warm pullover for the evenings (seasonal). You will also need to bring your own alcoholic beverages, available for purchase in town. No glass bottles please.
Excess luggage can be stored at several places in town including most boat check-in offices, a 24 hour locker shop on The Esplanade, most hostels, or at your accommodation. Most charge between $5-10pp for the duration of your trip.
What's Included
Skipper, crew, drinking water, meals, linen, wetsuit hire, bath towel, snorkelling equipment and all Marine Park fees.
What's Extra
BYO alcohol - no glass bottles, with the exception of Wine and Champagne. Soft drinks available for purchase on board.
Terms and Conditions
All departures and itineraries are subject to weather. Tours may be changed or cancelled for any reason at the discretion of the Tour Operator. It should be noted that adventure travel involves risk. Whilst we make every effort to safeguard clients, we cannot be responsible for personal injury or loss due to actions of our clients which are beyond our control. We recommend that all clients have travel insurance covering illness, injury, loss or damage to personal belongings and not being able to travel on the confirmed date of departure. Please be aware operators pass on credit card merchant fees so there is a non-refundable 2.5% surcharge for VISA and MASTERCARD card purchases.
Please advise us before booking if any passengers are under 18 years old to ensure this is the appropriate trip. Also please note that you need to allow time prior to the boats departure to check in, please ask us for more details.
Cancellations
​All cancellations made result in 25% cancellation fee of the recommended retail price (RRP), not discounted or sale prices. Any cancellations made 60-30 days prior to travel will result in a 50% cancellation fee and any cancellations made inside of 30 days to departure will result in forfeit of full trip fees. If the sailing company has to cancel the trip (prior to the boat's departure) and we cannot offer a suitable alternative, then a refund will be given minus card fees. We strongly recommend that you have travel insurance, especially during the wet season.
Please note it is the responsibility of ALL passengers travelling to advise both your travel agent at the time of booking and vessel check-in agent before boarding of ANY medical conditions including food allergies you may suffer from.
​
Thank you for booking with Mr Travel/Sailing Whitsundays. If you would like any advice or assistance in arranging accommodation, transfers or additional tours, please do not hesitate to contact us.
"Wonderful experience with very informative briefs from the captain. We were looked-after very well by the crew, and would recommend to friends and family. "
Rick and Jane
Tue 11 Aug 2015
"Highly recommended. Greatly experienced crew, fantastic food and awesome company. Loved every bit of the adventure!"
Louise
Fri 24 Jul 2015
"Crew (Jas and Charlotte) were fantastic! Looked after us really well and showed us the best of the Whitsundays. Excellent beaches and snorkelling, loved the swirling sands and the aboriginal lands/stones."
Helen
Mon 04 May 2015
"Sam - very amiable and knowledgeable as to Whitsundays & snorkelling spots - Ali - great cook & 'mother' Endless supply with foods - my highlight was the barramundi and I don't eat fish. The boat is comfortable and the right size for 8 guest and 2 crew The highlight of the trip was whale sighting, snorkelling - I have been wanting to do this for years."
Neil
Sat 04 Oct 2014
"THE CREW - 4/5 Really liked the contact of both. Learned a lot from both, very accessible.
THE FOOD - 5/5 Food was very good, we didnt think wed get that level of dinner.
THE BOAT - 4/5 It was a nice boat. Rooms were perfect and had enough place. We really enjoyed it!
HIGHLIGHT - The Whitsunday Beach."
Lea Coussa-Jandl - Canada
Sun 28 Sep 2014
"THE CREW - 5/5
THE FOOD - 5/5 Fantastic!
THE BOAT - 5/5 Couldn't be better!
HIGHLIGHT - All of it."
Caroline & Jan Thomas - UK
Mon 22 Sep 2014
"THE CREW - 5/5 Both Aaron and Allie were wonderful! They were attentive to all the guests - called us by each name right from the start, made sure we were comfortable with all the activities and generally treated us like royalty.
THE FOOD - 5/5 Ever meals was superb. Allies planning, prep and presentation were flawless - I need to take lesson from her.
THE BOAT - 5/5 Mu first time on an overnight boat I loved the sway of the boat, the glimmer on the water. The smell of the salty ocean. The boat was fairy easy for me to get around even with my limited physical agility.
HIGHLIGHT - Aarons Humour, the trampoline, visiting around meal times, snorkelling. "
Terry & Susan Clarke - USA
Tue 22 Jul 2014
"The crew were very pleased professional and friendly, very knowledgeable. All the food was very well presented, plentiful and varied. The boat was 1st class. The highlight was Whitehaven sands and snorkelling. 5 out of 5"
Harry & Alison - UK
Wed 07 May 2014
"THE CREW - 5/5 Both ally and Aaron made us and the whole group feel very much at home. We had such an amazing trip and as out 2nd rime on Blue we shall be back again for sure! THE FOOD - 5/5 Couldn't be better - A great choice for all preferences! Well fed and well looked after. THE BOAT - 5/5 Excellent, very comfortable. HIGHLIGHT - Great scenery and the knowledge passed on by the crew. "
Issy Hennessy - Australia
Tue 06 May 2014
"THE CREW - 5/5 Amazing Captain with an outstanding knowledge of everything and excellent and very attentive host. THE FOOD - 5/5 So much food and all to an excellent standard. THE BOAT - 5/5 Amazing boat and well kept. HIGHLIGHT - Snorkelling with George the wrasse. Best trip EVER!!!"
Sam Bird - UK
Mon 05 May 2014
"THE CREW - 5/5 Azza a great bloke, great sailor very knowledgeable on local geography, history, marine like etc. Aly extremely friendly, great cook, kept morale up, clean cabins. Both excellent customer service! THE FOOD - 5/5 Aly a very competent cook. Awesome variety, never went hungry. Only complaint was too much food! THE BOAT - 5/5 Always clean and tidy and safe. HIGHLIGHT - BLOODY BRILLIANT! Whitehaven Beach, crew awesome and great travellers with us! "
Nick Plaister - Aussie
Mon 05 May 2014
"CREW - Very personal - happy to have net Aaron and Ali. FOOD - Great food - definitely didn't need as much as was served, but very good! BOAT - 5 out of 5 HIGHLIGHT - First snorkel and paddleboard. "
Garyn & Jason Magder - Canada
Tue 22 Apr 2014
"Best crew on the Whitsundays for sure!! Wish you all the best! Great and tasty food.. refreshing and light breakfast. Followed up by a great dinner in the evening. Enough space for everything if you wanted privacy or be social. Nice and well cleaned. Excellent ride on the water. Best boat trip in my life!!! Highlight - Albert, Elvis and sea turtles!"
Bard Salem - Norway
Tue 15 Apr 2014
"Aaron & Aly were amazing. Heaps of knowledge & always there to help or answer questions. Would love to go on another trip with them in the future. Great food - amazing what can come out of that tiny kitchen. The boat very well maintained & always clean & tidy thanks to lovely Aly."
Rebecca
Fri 04 Apr 2014
"Captain - the best I've seen! So knowledgeable + skilled! Host - absolutely lovely, amazing chef!! The food - really really appreciate the effort to provide special food for me (gluten free + vegan). The food was absolutely amazing. Thanks very much. Our veggies + fruits taste lovely + fresh. Very impressed with the boat - I want one :)"
Katarina
Fri 28 Mar 2014
"Really relaxed atmosphere. Food cooked with love! Highlight was Allie and Dolphins."
JAmin & Maik - GERMANY
Wed 26 Feb 2014
"Crew - Aaron was very knowledgably and shared his experiences with us. I felt very safe while on-board. Ali very friendly and never stopped catered us very well. Excellent trip! Food - Excellent range, well prepared was never hungry. Boat - met all our needs, suitable for journey comfortable and well stocked! Highlight - several, sunsets and snorkelling with the fish."
Ynonne - UK
Mon 24 Feb 2014
"Aaron and Ally were very competent and made our tour a great and memorable experience. The food - plenty of it, we loved the nachos, lots of salads. "
Carl & Diana - CANADA
Fri 14 Feb 2014
"Aaron is very knowledgeable, informative helpful and entertaining. We were very comfortable about all aspects of the boat, snorkelling and area. There was no way we could eat all the food offered, the variety was great. Ria was great, worked hard and was very attentive. "
Marianne & Roger - CANADA
Fri 14 Feb 2014
"The crew was very friendly, good fun and always making sure everyone is happy. The food was Yummy :) never go hungry!! The boat was lovely, clean and cabins were spacious for a boat."
Jess
Sat 14 Sep 2013
"We booked the sunset tour because we wanted 3 nights on a boat. The skipper took us to the Whitsunday Peak lookout and that along with the beach was the highlite. Absolutely loved the trip thanks to Nat for looking after us so well. The boat is very tidy and was above our expectations.."
Kurt Willheim
Sun 08 Jul 2012