Iceberg
CLOSE
View More Thumbnails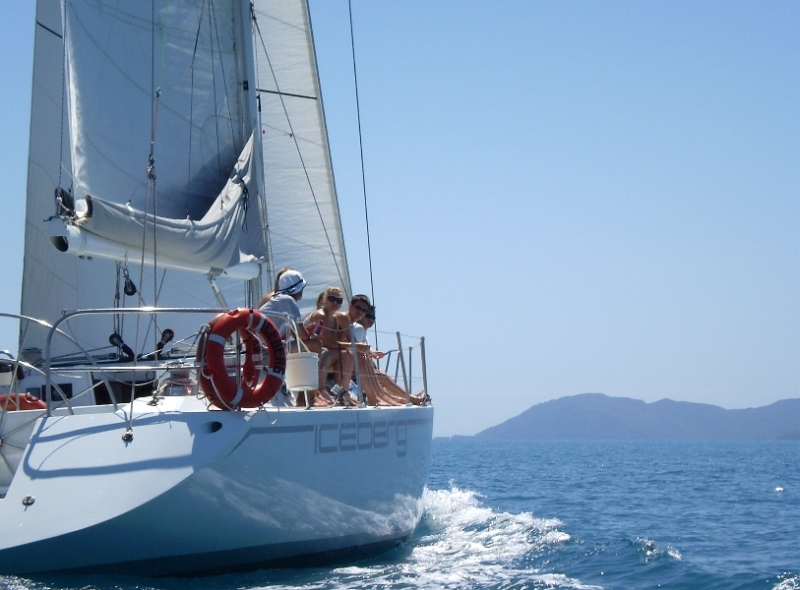 Loading...
Departure Times
Departs: 8:30 am - Mon, Thu & Sat
Returns: 5:00 pm - Tue, Fri & Sun
Pricing Options
$379 AUD per person
- Shared Accom
(Between: 01 Apr 2016 and 03 Oct 2016)
$465 AUD per person
- 2D2N Shared Accom
(Between: 04 Oct 2016 and 31 Mar 2017)
$409 AUD per person
- Private Double Cabin (max 2 people) ($818.00 Total)
(Between: 01 Apr 2016 and 03 Oct 2016)
$409 AUD per person
- Private Twin Cabin (max 2 people) ($818.00 Total)
(Between: 01 Apr 2016 and 03 Oct 2016)
$522 AUD per person
- 2D2N Private Double Cabin (max 2 people) ($1044 Total)
(Between: 04 Oct 2016 and 31 Mar 2017)
$522 AUD per person
- 2D2N Private Twin Cabin (max 2 people) ($1044 Total)
(Between: 04 Oct 2016 and 31 Mar 2017)
Exclusive numbers, high speed and top value for those short on time and don't want to miss a thing
Until October 4th, 2016, Iceberg will take you on a 2 day 1 night sailing experience around the Whitsunday Islands, offering you a high quality and personalised experience at an affordable price. This 52ft sports yacht sails with speed, but without compromising comfort and style. Taking out a maximum of only 12 guests, Iceberg provides an intimate and relaxing atmosphere perfect for couples or those wanting to get away from the large crowds. Over two relaxing days, your professional crew will take you to all the Whitsunday Island hot spots and unforgettable snorkel locations.
Iceberg will be changing to a 2 day, 2 night tour beginning October 4th, 2016.
Iceberg two-days and one-night trip is independently owned, operated and skippered by brothers Luke and Tristram Mairs, who have both been sailing since a young age. With their years of experience, they have learned all the best spots in the Whitsundays, taking you to all of its hidden gems. Taking out a maximum of 12 passengers, Iceberg is able to access a number of pristine uncrowded snorkelling locations as well as hidden beaches, inaccessible by many larger boats, for an exclusive and amazing experience. Whitehaven Beach is the highlight of the Whitsundays and a prime destination of Iceberg's agenda. As one of the most famous and beautiful places in all of Australia, it is promised to be the experience of a lifetime. If want to see the best of the Whitsundays without the large crowds for one night, then Iceberg is the perfect choice for you.
Please note Iceberg will be changing to a two-day, two-night tour beginning October 4th, 2016 and will not longer be running a one-night tour.
Iceberg Features:
12 passengers creating a more personal experience
Real sailing on a fast modern boat
Fresh linen and bath towels provided for all guests
All meals freshly prepared on board by your highly trained crew
Morning tea and afternoon tea
Tea and coffee
Wetsuit hire and snorkel gear provided
Private cabin accommodation available
Boat Layout
Iceberg offers spacious and comfortable accommodation for everyone, with 3 types to choose from:
Share accom - single and double beds in shared area
Private double cabin - one double bed in a private cabin for two people to share
Private twin cabin - two single beds in a private cabin for two people to share

​Sample Itinerary
Choose to bask in the sun on the decks, or join the crew in hoisting the sails and preparing to tackle the Whitsundays waters. Take time to relax and kick back and read a book or splash into the sea for an exciting snorkel or swim. Iceberg will spend time at Whitehaven Beach, one of the top 10 beaches in the world and labelled as Queensland's most beautiful beach, for an unforgettable experience. You will normally spend a full morning or afternoon enjoying the 7 kilometres of pure white silica sand, including a visit to the spectacular Hill Inlet lookout, where you will access a panoramic view of the beach. Your crew will take you for a short bushwalk up to the lookout giving you insight into the region's local wildlife and history along the way so you can get the know the area better. From Hill Inlet, you will be able to capture postcard-perfect photos and depending on the tide, may even be able to spot sting rays and baby sharks with the naked eye!
You'll have the opportunity to enjoy the amazing fringing reefs of the Great Barrier Reef during your time in Whitsunday Islands, to see the beautiful corals and marine life up close. The remarkable reef systems fuse together some of the most spectacular corals, tropical fish, giant clams, sea turtles and thousands of species of stunning and unique marine life to create one of the most diverse ecosystems in the world. The islands offer protection from wind and waves, providing you with calm and comfortable areas to snorkel, making it perfect for beginners and experienced snorkellers alike. Our crew will do their best to take you to uncrowded sites to give you a more exclusive experience and allow you to have the time and space to explore the beautiful fringing reefs.

Sample Menu
Day One
Lunch: Roast chicken, potato salad a la Tristram, fresh green salad, and various sauces
Sunset snack: Hot spring rolls with various dipping sauces
Dinner: Beef stroganoff, roasted vegetables, rice.
Morning and afternoon tea: Coffee, tea, milk, biscuits - served throughout the trip

Day Two
Breakfast: Freshly brewed coffee, tea, orange juice, muesli, cornflakes, cocoa pops, milk, English muffins and a selection of spreads
Lunch: Deli sandwich rolls
Morning and afternoon tea: coffee, tea, milk, biscuits - served throughout the trip
* Please note this is a sample of menu and is subject to change and amendments

Iceberg will be changing to a 2 day, 2 night tour beginning October 4th, 2016
Please note:
Minimum age for children is 10+. Guests under 18 must be able to swim.
Guests under 18 cannot be booked into shared accommodation. (except where group will occupy an entire shared area). In other cases the parent need to occupy the shared area and child share private cabin with other parent)
Only suitable for active people. A basic level of fitness and mobility is required, for example you should be able to climb a ladder easily.
Iceberg is also available for Private Charter.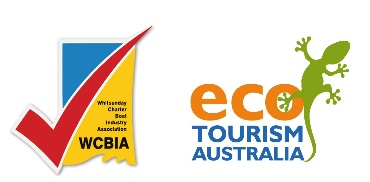 ---
You May Also Like One Of These Products:
BlizzardOn IceWaltzing MatildaPrima
---
BOOK WITH US TODAY! CALL 1800 550 751 OR (07) 4914 2425 IF LOCAL
What To Bring
Please bring only a small soft bag with: change of clothes, hat, swim-wear, beach towel, sunscreen 30+, warm pullover for the evenings (seasonal). You will also need to bring your own alcoholic beverages, available for purchase in town. No glass bottles please.
Excess luggage can be stored at several places in town including your boat's check-in office, a 24 hour locker shop or at your accommodation. Most charge between $5-10pp for the duration of your trip.
What's Extra
BYO alcohol - no glass. Soft drinks available for purchase on board.
What's Included
Skipper, host, drinking water, meals, bath towels, linen, wetsuit hire and snorkelling equipment and all Marine Park fees.
Terms and Conditions
All departures and itineraries are subject to weather. Tours may be changed or cancelled for any reason at the discretion of the Tour Operator. It should be noted that adventure travel involves risk. Whilst we make every effort to safeguard clients, we cannot be responsible for personal injury or loss due to actions of our clients which are beyond our control. We recommend that all clients have travel insurance covering illness, injury, loss or damage to personal belongings and not being able to travel on the confirmed date of departure. Please be aware operators pass on credit card merchant fees so there is a non-refundable 2.5% surcharge for VISA, MASTERCARD and AMEX card purchases.
Please advise us before booking if any passengers are under 18 years old to ensure this is the appropriate trip. Also please note that you need to allow time prior to the boats departure to check in, please ask us for more details.
Cancellations
All client cancellations forfeit 25% of total ticket price and all client cancellations made less than 21 days prior to departure will result in complete forfeiture of the full price of the sailing holiday. If the sailing company has to cancel the trip (prior to the boat's departure) and we cannot offer a suitable alternative, then a refund will be given minus card fees. We strongly recommend that you have travel insurance, especially during the wet season.
Please note it is the responsibility of ALL passengers traveling to advise both your travel agent at the time of booking and vessel check-in agent before boarding of ANY medical conditions including food allergies you may suffer from.
Thank you for booking with Mr Travel/Sailing Whitsundays. If you would like any advice or assistance in arranging accommodation, transfers or additional tours, please do not hesitate to contact us.
"We just arrived back on land after an awesome overnight trip on Iceberg. Our crew were Craig an Mitch and they were great. They were extremely knowledgeable, experienced, friendly and kept us entertained. They went above and beyond to get us snorkelling in three locations on the first day and after Whitehaven on the second day we went over to Daydream Island and went for another snorkel. It was so much more than we expected. The food was great, the boat was clean, the sailing was so much fun! I highly recommend this trip for other travellers!! "
Nikki
Sat 23 Jul 2016
"We had a wonderful two day, one night tour with Iceberg.The crew members have a great passion about sailing, and deep love for the ocean. The captain has a very friendly and curious mate (a big fish) named George. I want to come back to sail with them and say hi to George again!"
Sylvia
Thu 12 May 2016
"We highly recommend the trip on Iceberg. The crew were incredibly helpful and took us to all the interesting places around Whitsundays. It was a great experience and it was the right choice to explore this beautiful part of Australia."
Paco
Wed 30 Dec 2015
"We had the most amazing time sailing through the Whitsundays on Iceberg. We got the chance do some real sailing, to see the magnificent Whitehaven Beach and relax there for about 2 hrs. Then a nice sleep in our nice cabin. The second day we went to great snorkeling spots, we even got the chance to swim with turtles and see the most amazing reef. Absolutely recommended for your trip to the Whitsundays."
Camilo
Thu 17 Dec 2015
"We spent two incredible days with Icebergs crew. Awesome places, good company and the best crew. Craig cooked very good food and the skipper let us sail and help with boat tasks. Whitehaven Beach is the best beach ive ever seen! The sunrise and sunset at the boat are other remarkable experiences we had onboard."
Javi
Wed 04 Nov 2015
"We had two fantastic days on this sail boat! We experienced everything what you can expect from it and more, an amazing afternoon at Whitehaven Beach and snorkelling around the reefs. We saw turtles and dolphins and whales and colourful corals and fish, we had great fun sailing and got the chance to get some sailing training ourselves. The crew entertained as very well, they knew exactly what was the best to do and made these two days great fun. The food was very good and we enjoyed very much to spend the evening together on the boat."
Alessio
Tue 27 Oct 2015
"Even if the weather was not always perfect (one day without sails) - the crew always gave their best to make us feel comfortable. One thing definitely not to miss in The Whitsundays: the experience of being on the boat and see all the stars at night was just amazing!!! "
Margarete
Sat 11 Apr 2015
"I just wanted to mention that I had an excellent trip on the Iceberg this weekend. Luke and Shawn, the crew were excellent and went out of their way to make sure that everyone was having a good time, or solving problems if not. I was very impressed by the level of customer service."
Paula
Wed 20 Feb 2013
"We really enjoyed this 2 days 1 night sailing trip on the Iceberg. It is really worth it. You are only 12 people on the boat which is really enjoyable. The sailing is great, snorkeling as well and the food is very good. That was one of the best experience we have had in Australia so far, would certainly recommend..."
sarah
Mon 05 Nov 2012
"Jesse and Cam were our sailors who were at all times professional and focused on our safety and enjoyment. Just an amazing experience. They got us involved with helping with the boat (but not too much if you didnt really want to help). Not a single negative except that I kept forgetting to put sunscreen on my toes and they got fried!!"
Mon 05 Nov 2012
"We did the overnight trip with Iceberg from 08 August to 09 August with Luke and Mink. This was the perfect adventure, the ideal mixture between action and relaxion. We had a great time on the boat, experienced picturesque snorkling spots and relaxed on beautiful beaches. Luke and Mink gave us safety, delicious food, interesting explanations and silence when approriate. This trip and team is highly recommended. Reiner and Manuela, Berlin (Germany) "
Reiner and Manuela
Mon 24 Sep 2012
"I have just arrived home to Ireland from a wonderful three week trip to Australia. Part of the trip involved a two day one night sail on the Iceberg. Both my daughter and I were absolutely blown away by first of all the amazing crew - Dave and Sally (fantastic), the boat and then of course the trip around the Whitsundays, snorkelling etc. Dave and Sally went out of their way to make the trip memorable for us. We both would highly recommend this trip with them. Also I commend that staff at ABC travel they were extremely helpful to us. "
Pamela
Thu 30 Aug 2012