From us...
Whitsundays Guide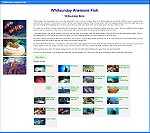 Did you know Sailing-Whitsundays has the most comprehensive online Guide to the Whitsundays ?
Sailing Whitsundays goes mobile
The best guide to the Whitsundays has launched a new mobile version for your iPhone or Android phone. So you can see the best Whitsunday holidays while youre traveling. Next time you surf this site on your mobile phone, youll view it in all its mobile glory!
Whitsundays, a complete guide.

'The Whitsundays' are 74 tropical islands nestled against the back drop of the mainland's tropical rainforest. All the Islands are located very close to each other providing a myriad of passages, lagoons and inlets for you to explore. We have an exhaustive database of places to see and visit in the Whitsunday Islands, from Beaches and Bays to Dive Sites, townships, dive sites, resorts and cool things to do and see ...

You can refine the page by selecting a type of place in the drop down list and if there's something you'd like to see here, and we haven't got it online yet, drop us a line and we'll get it up for you !







| | |
| --- | --- |
| | OUR BOATING EXPERTS READY TO HELP YOU |
| | Based in Airlie Beach |
| | Can answer all your boat questions |
| | Our experts are all experienced locals |
| | We will build you exclusive packages to save you money |
| | Whitsundays biggest boat cooperative |






Feb 2014

Nando's confession: We removed Bowen's Big Mango

The Whitsunday region has been a buzz with speculation over who stole the BIG mango, well now we know! NANDO'S have confessed it was them who stole Bowen's Big Mango.

Feb 2014

Modern Family move to the Whitsundays for filming a few episodes

Its the Whitsundays second time in a month for visiting mega stars. Two weeks ago Airlie Beach Hosted Brad and Angelina, whilst filming UNBROKEN.

Feb 2014

Brad Pitt and Angelina Jolie

The world famous acting couple are shooting a movie here in the Whitsundays Islands. The couple recently dined at one of our favorite restaurants

Jan 2014

What Chinese visitors think of Australia

Results released by Tourism research Australia, show what our Chinese visitors like and dont like about Australia. For us here in the Whitsundays the Great Barrier Reef, Whales, Dolphins and our beautiful beachs get a big tick of approval