From us...
Whitsundays Guide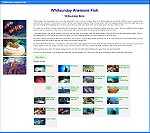 Did you know Sailing-Whitsundays has the most comprehensive online Guide to the Whitsundays ?
Sailing Whitsundays goes mobile
The best guide to the Whitsundays has launched a new mobile version for your iPhone or Android phone. So you can see the best Whitsunday holidays while youre traveling. Next time you surf this site on your mobile phone, youll view it in all its mobile glory!
Whitsundays, a complete guide.

'The Whitsundays' are 74 tropical islands nestled against the back drop of the mainland's tropical rainforest. All the Islands are located very close to each other providing a myriad of passages, lagoons and inlets for you to explore. We have an exhaustive database of places to see and visit in the Whitsunday Islands, from Beaches and Bays to Dive Sites, townships, dive sites, resorts and cool things to do and see ...

You can refine the page by selecting a type of place in the drop down list and if there's something you'd like to see here, and we haven't got it online yet, drop us a line and we'll get it up for you !







| | |
| --- | --- |
| | OUR BOATING EXPERTS READY TO HELP YOU |
| | Based in Airlie Beach |
| | Can answer all your boat questions |
| | Our experts are all experienced locals |
| | We will build you exclusive packages to save you money |
| | Whitsundays biggest boat cooperative |
| | 提供廣東話及普通話翻譯服務的旅遊顧問 |
| | 提供广东话及普通话翻译服务的旅游顾问 |






Dec 2014

Free wi-fi at Whitsunday Coast Airport

FREE wi-fi will be available to everyone inside the terminal at Whitsunday Coast Airport. Mayor Jenny Whitney said she was pleased Whitsunday Regional Council was able to provide the service to passengers.

Dec 2014

Whitsunday Council donates money for NYE fireworks

WHITSUNDAY Regional Council has donated $8000 to four local events to conduct their fireworks displays.

Dec 2014

Hamilton Island launches competition to name the joey

THE first photos of Wild Life Hamilton Islands latest arrival, a female baby joey, have been released.

Dec 2014

Sweet success for the Whitsundays!

NINE Whitsunday tourism businesses were rewarded for their outstanding achievements and contribution to the Queensland tourism industry at the 2014 Queensland Tourism Awards held in Brisbane on Friday night.