From us...
Whitsundays Guide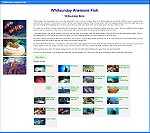 Did you know Sailing-Whitsundays has the most comprehensive online Guide to the Whitsundays ?
Sailing Whitsundays goes mobile
The best guide to the Whitsundays has launched a new mobile version for your iPhone or Android phone. So you can see the best Whitsunday holidays while youre traveling. Next time you surf this site on your mobile phone, youll view it in all its mobile glory!



| | |
| --- | --- |
| | OUR BOATING EXPERTS READY TO HELP YOU |
| | Based in Airlie Beach |
| | Can answer all your boat questions |
| | Our experts are all experienced locals |
| | We will build you exclusive packages to save you money |
| | Whitsundays biggest boat cooperative |






Jul 2014

Hamilton Island withdraws from America's Cup

THE Hamilton Island Yacht Club (HIYC) has officially withdrawn as the challenger of record for the 35th America's Cup, citing costs of competing as the reason for their decision.

Jul 2014

BANDS BATTLE FOR WHITSUNDAY MUSIC FESTIVAL SPOT

ORGANISERS have labelled the weekend's Airlie Beach Battle of the Bands "a huge success", with 16 acts competing over two days for $1500 cash and a spot on the Airlie Beach Music Festival line-up in November this year.

Jul 2014

Night of fashion and fun at Frocktails in The Whitsundays

LOCAL fashionistas will be able to enjoy the very best that Whitsunday fashion houses have to offer at Frocktails, on Friday, August 8.

Jul 2014

New arts and cultural centre for Airlie Beach

AIRLIE Beach is about to gain a new attraction with the Whitsunday Arts and Cultural Centre (WACC) set to open on Waterson Way next month.