From us...
Whitsundays Guide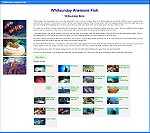 Did you know Sailing-Whitsundays has the most comprehensive online Guide to the Whitsundays ?
Sailing Whitsundays goes mobile
The best guide to the Whitsundays has launched a new mobile version for your iPhone or Android phone. So you can see the best Whitsunday holidays while youre traveling. Next time you surf this site on your mobile phone, youll view it in all its mobile glory!
What to bring:
What's Extra
What's Included:
Terms and Conditions:
Cancellations:



| | |
| --- | --- |
| | OUR BOATING EXPERTS READY TO HELP YOU |
| | Based in Airlie Beach |
| | Can answer all your boat questions |
| | Our experts are all experienced locals |
| | We will build you exclusive packages to save you money |
| | Whitsundays biggest boat cooperative |
| | 提供廣東話及普通話翻譯服務的旅遊顧問 |
| | 提供广东话及普通话翻译服务的旅游顾问 |






Aug 2014

Hopes up for transparency on dredging near Great Barrier Reef

WHITSUNDAY tourism operators were keen for last night's Four Corners program to end some of the confusion over the debate surrounding proposed dredging at Abbot Point and dumping of spoil adjacent to the Great Barrier Reef.

Aug 2014

Piece of Utopia made in the Whitsundays

LOCAL photographer, cinematographer and film colourist Justin Heitman has played an important role in the production of the new ABC television series Utopia.

Aug 2014

High speed sailing is coming to Hamilton Island

ONE of the world's fastest sailboats for its size and type will be scorching across the waters off Hamilton Island during next week's Audi Hamilton Island Race Week.

Aug 2014

Airlie Beach Race Week founder is honoured at 25th event

TWENTY-FIVE years ago, Airlie Beach Race Week was little more than a three-race series run by the Whitsunday Sailing Club.