From us...
Whitsundays Guide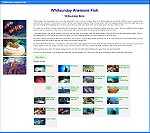 Did you know Sailing-Whitsundays has the most comprehensive online Guide to the Whitsundays ?
Sailing Whitsundays goes mobile
The best guide to the Whitsundays has launched a new mobile version for your iPhone or Android phone. So you can see the best Whitsunday holidays while youre traveling. Next time you surf this site on your mobile phone, youll view it in all its mobile glory!



| | |
| --- | --- |
| | OUR BOATING EXPERTS READY TO HELP YOU |
| | Based in Airlie Beach |
| | Can answer all your boat questions |
| | Our experts are all experienced locals |
| | We will build you exclusive packages to save you money |
| | Whitsundays biggest boat cooperative |
| | 提供廣東話及普通話翻譯服務的旅遊顧問 |
| | 提供广东话及普通话翻译服务的旅游顾问 |






Aug 2014

Royal Flying Doctors Service to land at Whitsunday Coast

THE Whitsunday Regional Council has donated more than $9000 in landing fees for the Royal Flying Doctor Service (RFDS).

Aug 2014

Whales make a splash during Race Week on Hamilton Island

WHALES have put on a show for sailors during the ongoing Audi Hamilton Island Race Week. Playful humpback whales were spotted on the racetrack at the Hamilton Island event, breaching next to race boats in the Whitsunday Passage.

Aug 2014

Hamilton Island's qualia named best hotel

HAMILTON Island's luxury resort, qualia has been named the Best Australian Hotel/Resort in the Australian Federation of Travel Agents 2014 National Travel Industry Awards - the premier industry event of the year.

Aug 2014

Maxi Ragamuffin makes a yacht racing comeback

OL' TIMER: Maxi Ragamuffin in action during Audi Hamilton Island Race Week just off Dent Island. Photo by Andrea Francolini/AUDI.